Geographically, Sapa is 380 kilometers northwest of Hanoi and located in Lao Cai province. After having the trip in the bustling and hustling city, are you willing to discover the paradise high land – Sapa? There are various means to travel to Sapa from Hanoi. In the article, Travel Sense Asia will analyze both of the advantages and disadvantages of three methods getting Sapa from Hanoi for you. Read carefully and make the final decisions in the trip in Sapa.
By train, bus or motorbike to travel to Sapa from Hanoi
High recommendation for you is to move to Sapa by train at night, it is more comfortable and safer than a bus or motorbike, and a lot cheaper than hiring a car. Traveling by train takes about 8-9 hours and the train only stops in Lao Cai, the province which Sapa belongs to. You need to take one hour to get to Sapa from Lao Cai station. The final 30 kilometers to Sapa is traveled by minibus (50,000 – 60,000 VND), taxi (350,000 VND) or private transfer ( example hiring motorbike, or bus of tour firm). One of the reasons is when you choose a private operator, you will sleep in private, clean and comfortable cabin with four berths and fully equipped.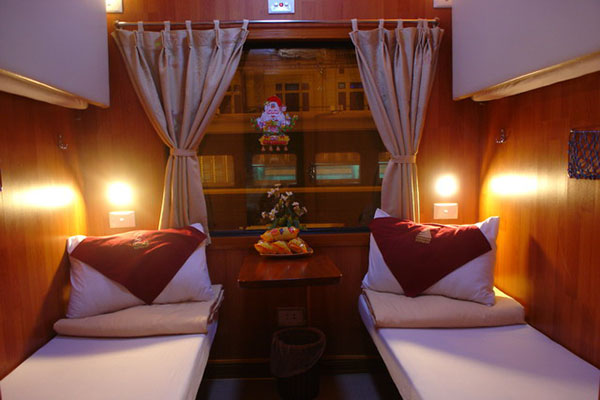 Sapa can also be reached by bus which is faster but it is less comfortable and less safe — although there have been no reported serious accidents on that particular route if you can't get booked on the train or want an option with cheaper price. There are two options such as by sleeper bus or express Hanoi to Sapa bus. By sleeper bus, it takes you 8-9 hours to go directly to Sapa town. Or you can catch the bus at three bus stations such as My Dinh, Gia Lam, Yen Nghia and Nuoc Ngam with the bus named Hung Thanh, Hai Van or Ha Son. The price is around 250,000 – 350,000 VND. Depending on traffic and weather, it takes about 6 hours to travel to Sapa from Hanoi. You should book a bus at night to save time and have a relax. By bus, you will enjoy the scene of the Vietnamese countryside along the road and it is by far the quickest and easiest way to travel between Hanoi and Sapa.
If you want to gain more experience in the journey, you can hire the motorbike to travel Sapa. You shouldn't drive directly to Sapa from Hanoi by bike because of your safety. However, currently, many tourists want to come to Sapa by motorbike to gain more experience during the journey. It makes more time than others. The suggestion for you is that putting your bike on the train, then driving to see the amazing scenery around you or rent a motorbike in Sapa. On the road, you are comfortable to take photograph beautiful scenes and video the awesome moments while driving private.
The most popular destinations in Sapa
Ta Phin village is located in the Northeast of Sapa town. This village is surrounded by mountain slopes with the rice terraces. In Ta Phin Village, there are two ethnic minorities living like the Red Dao and the Black Mong. Therefore, it is this time for the tourists experience the unmixed cultural life of Black Hmong and Red Dzao minorities. You come to Ta Phin can find many distinctively hand-made brocades made by ethnic people. All of the products have a numerous bright colors and patterns such as a bag, purse, skirt, and even backpack and coat.
Muong Hoa Valley is considered as the largest farmland for rice growing in Sapa. Moreover, it is a place accumulating strange carved stones, along through the mountains. Of course, you need to explore the magnificent Muong Hoa Valley to enjoy its breathtaking landscapes. Then you will visit small, isolated hamlets and villages in order to meet the Black H'mong, Zay and Red Zao at home. Muong Hoa River peacefully flows through the valley. On rice season, the rice farmland valley is mixed different shades of green and yellow.
Terraced rice fields are the attractive things of best tours of Vietnam as they were voted as one of seven most beautiful and impressive terraced rice fields of Asia. And the terraced rice fields will look like golden silk scarves above green mountain slopes, which make the mountainous beautiful landscape in two months as for September and October.
Cat Cat village and cross Muong Hoa River before approaching the foot of the mountain. Cat Cat village is located in a beautiful valley, which is also the old village of ethnic groups. And then it attracts foreigners for its distinctive customs and practices which have been lost in almost ethnic villages. This is a village of Black H'mong people where you can discover many interesting facts about their daily life as well as culture and architecture. Continuously, you can view the village of Sin Chai below you getting smaller and smaller as the road climbs to the pass at 2047 meters. The trip will stop at the pass for you to breathe the mountain air while viewing the mountains and forests below. Sin Chai is a village where the Red Dao ethnic people live. The women in here wear beautiful clothes with an enormous red turban and distinctive silver jeweler. Take a walk around an ethnic minority village and interact with the local people, the very special thing is that, all the kids in the village will be your companions during the adventure as you will fall in love with them. They will be around all the time, singing, dancing or anything to make you smile. Moreover, you can teach them songs, poems that you used to love when you were a child.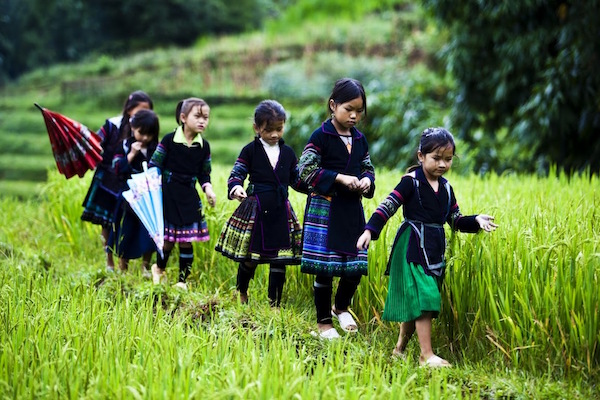 You will see the water flows so that the local people called the waterfall with the romantic name, the Silver Waterfall is located on Ham Rong Mountain. This destination offers stunning views over surrounding mountains and lush forests belonging to Hoang Lien National Park.
Stone Church was created by the shaped stones in combination with a mixture of sand, lime, and molasses even from the smallest details; that makes the church becomes more special. Moreover, it is also the main place to travel to Sapa from Hanoi for keeping many cultural traditional activities of the ethnic people in there.
Sapa is well-known as one of best tours of Vietnam because there are many weekly markets – an integral part of daily life of local people, who exchange goods and there are meetings. Some features make absolutely indispensable: overflowing on the sidewalks of the main street, the variety of local products and especially the colorful clothes and big smiles of minorities. There is Bac Ha market on Sunday, Can Cau market on Saturday, Coc Ly market in Tuesday, Market Cao Son on Thursday and so on. Visiting Sapa market in the morning, you will see a hundred of Hmong and Red Dao people at food stalls to enjoy favorite breakfast of "mèn mén" (steamed corn wheat), "thắng cố" (horse soup) and corn wine. Any tourists come here must try these traditional foods and beverage of local people in Sapa.
The most traditional foods in Sapa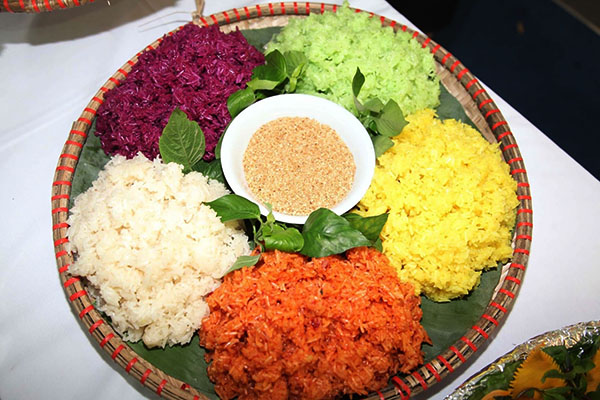 Sapa is famous for many beautiful scenes, the wonderful weather and the unique food of the Northwest forests. One of the traditional foods attracting foreigners is Bamboo cooked rice (Com Lam) cooked by sticky rice and grilled in the bamboo tubes. And five-colored "Xoi Nam Mau" of Tay ethnic people mixed with some types of leaves in the forest to create the attractive five colors of "xoi" including green, red, violet, yellow and white. Another food is chicken of Mong ethnic people with black skin, bone and meat, which proved to be good for health, especially your heart. The famous fruit in Sapa is peach with both sweet and a little bit sour that creates its unique flavor.