Vietnam has long been voted as one of the ideal tourist spots for newlyweds. Blessed with a lot of enchanting tourist attractions, ranging from spectacular mountains to stunning beaches and islands, this beautiful S-shaped country has much to offer, in regard to sights, flavors, and experiences, which may even elevate your honeymoon tour to its peak. Regardless of whether you wish to sweeten your honeymoon moments or celebrate a wedding anniversary, then the place should be added to your bucket list. That's why Vietnam Packages 2018 for new couples help you to make your dream vacation come true by the in-depth itinerary so that your mind can be blown with harmony, romance, and peace!
Wonder where to go and what to do when it comes to a romantic honeymoon holiday in Vietnam? Let us give you a hand with a top-to-toe guide on top honeymoon getaways you should not miss.
Best honeymoon destinations that Vietnam Packages 2018 can offer you
With a heady blend of untouched rainforest, enormous green rice paddies, remote stilted villages, and fabulous cities, holidays around Vietnam bring couples both enthralling and exciting feelings that can linger on their mind for a long time. The food is cheap, startlingly fresh, and exotic; the hillside treks and homestays are the best way to mingle with the local life, and the people are very kind and welcoming. Keep reading to find out what honeymooners can expect from Vietnam Packages 2018 within 14 days right now!
Hanoi – Where you can enjoy peace and comfort at best
Hanoi is widely known as the capital of Vietnam. Wonder why newlyweds should spend their honeymoon in this city? Although there is no blue ocean, magnificent mountain, or majestic waterfalls here, the capital still has its own magnet that cannot found be anywhere. Just holding hands tightly, having a comfortable promenade along the ancient and bustling streets of Hanoi in autumn days, and enjoying the distinctive fragrance of Milk Flowers in the air, you will surely gain unique memory and experiences. Don't forget to spend your day visiting some notable landmarks and interesting sites around the city, such as: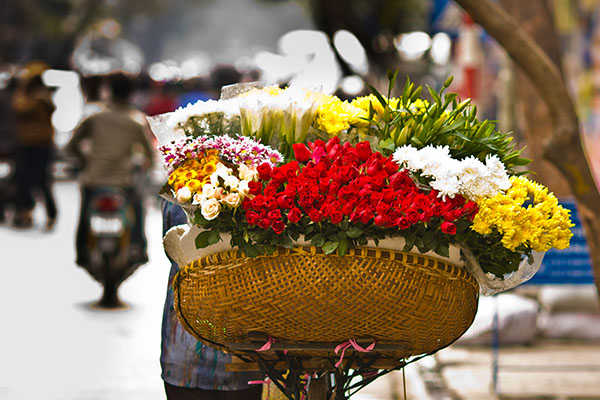 Ho Chi Minh Mausoleum: Located at the center of Ba Ðình Square, the mausoleum is a large memorial to the nation's Great Leader in Hanoi: President Ho Chi Minh.
Temple of Literature: As a temple of Confucius, it prominently functioned as the first university in Vietnam. You can see the temple on the back of the Vietnamese banknote of one hundred thousand.
The Vietnam Museum of Ethnology: What makes the museum outstanding is that it finely highlights the 54 officially recognized ethnic groups in the nation.
The Water Puppet Theater: The theater is perfect to relax and enhance your knowledge with a water puppetry show. Such show mainly focuses on Vietnamese traditional legends and historical tales.
Halong Bay – Where you can gain sweet moments together
As one of the 7 Wonders of Nature in the world, Halong Bay is another flawless place for your honeymoon in Vietnam. Halong Bay is understood as Bay of the Descending Dragon, or simply "where the dragon descends into the sea" in English. Located in the northernmost area of the country, such enormous bay consists of more than 1,600 limestone cliff islands of all shapes and sizes, along with breathtaking caves and grottos with stalactites and stalagmites. A trip to the Bay gives you a chance to have a super romantic scenic cruise along, enjoy the imposing scenery, sample delicious specialties on a boat, as well as partaking in a wide range of interesting activities, like swimming, kayaking, diving, etc. The following are our hints on what to do during a Halong Bay tour: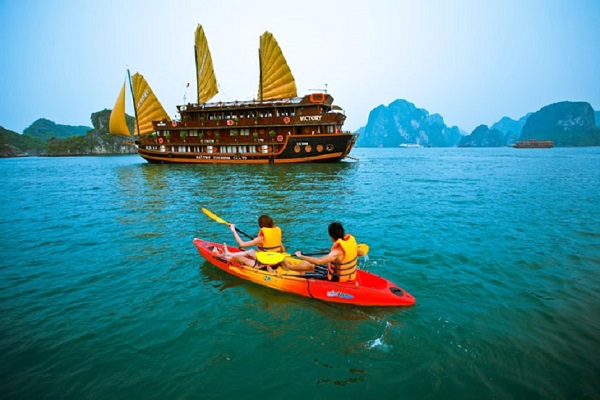 Enjoy a relaxing stay on a wonderful cruise while contemplating a number of islets in various shapes. This way, you are able to marvel at the Bay much closer up in a more informative manner.
Another attractive activity to explore the stunning allure of Halong Bay is a kayaking trip. Paddle through islands to unearth hidden caves, unspoiled beaches, lakes, floating fishing villages, and so on.
After dinner, let's spend your free time in squid fishing. Remember that this activity is mostly done at night and you will be instructed on how to fish a squid by local fishermen.
If you spend one night onboard, then you have an opportunity to enhance the sense of calm via attending the Tai-chi morning class. Sounds great, huh?
Danang – Where you can see the greenest area of the nation
Danang gains its reputable for some of the country's most beautiful and pristine beaches, like My Khe, Bac My An, Non-Nuoc, Nam O, Son Tra Peninsula. It is the greenest area in Vietnam, too. In addition, 5-star luxurious resorts along the coast would be a perfect paradise for newly married couples to create a lot of meaningful memories. A few attractions you should not skip while in there include: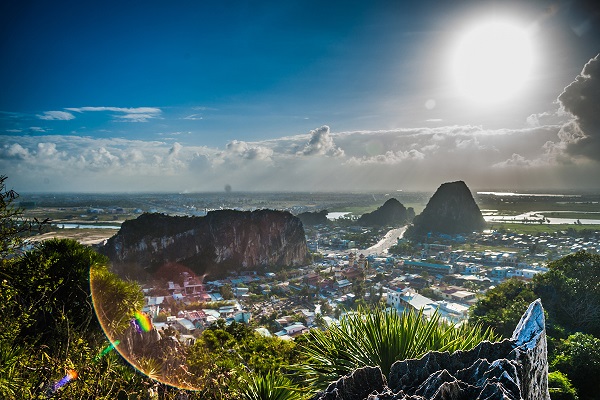 Marble Mountains: As a spiritual land, Marble Mountain is a reputable attraction among both local and foreign tourists. It generally includes 5 spectacular mountains also named after 5 elements of the Universe: Metal, Wood, Water, Fire, and Earth.
Cham Museum: This is the biggest collection of Cham artifacts in the world, which mainly focuses on the collection, storage, and sculptural relics of Cham Kingdom.
My Khe Beach: Voted as one of the most beautiful beaches on the planet by Forbes Magazine, My Khe beach steals your heart with a long coastline over 90 meters, crystal water, white sandy beaches, and high-end hotels.
Hoi An – Where you can get nostalgic feelings
A popular getaway destination included in Vietnam Packages 2017 is Hoi An town. The town wins an award for its narrow alleys, ancient house, quaint village ambiance, age-old art galleries, cheap tailors, as well as charming bars and restaurants. It is an ideal place to spend your romantic honeymoon from the bustling city traffics. Because everything here is always moving at a very slow pace, you find it easy to slow down your pace with comfort. Let's see what attractions you should visit during a trip to Hoi An now!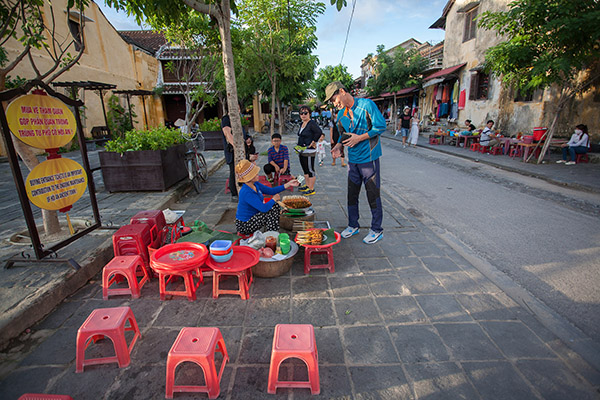 The Japanese Covered Bridge: It is not only the unique covered bridge on Earth that houses a Buddhist temple, but also attracts visitors with a distinctively Japanese character regarding ornamentation and references to Japanese history.
The Fujian Assembly Hall: Dating back to the 17th century, what makes the Fujian Assembly Hall apart from others are a massive gateway beautified with colorful carvings of Chinese mythological figures, as well as an imposing main courtyard.
Kim Bong Carpentry Village: A visit to the village helps you witness the intricate carvings of handcrafted-wood products and learn how artisans can get a simple piece of wood transformed into high-quality furniture.
Nha Trang – Where you can participate in many fun beach activities
Although Nha Trang doesn't possess dreamy and romantic beauty, just like Dalat city, the place still brings couples an amazingly spacious space and peaceful moments. Coming there allows you two a chance to take part in exciting parties on white sandy beaches, experience a relaxing time in hot mineral springs, or have a fun with thrilling games. Besides, a number of top-end resorts are also scattering around the city that ensures memorable nights.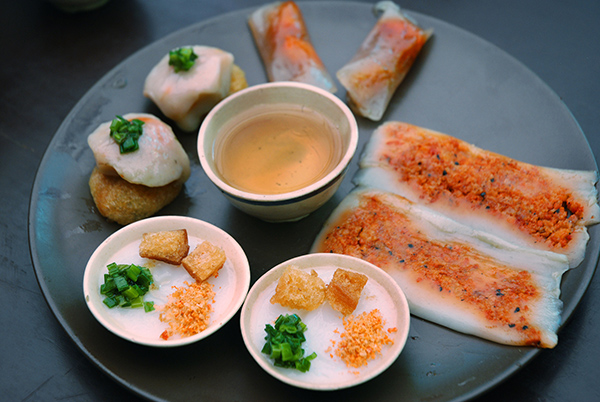 Hence, there is no need to worry about boredom as a lot of activities here will keep you busy, from historic sites and mud baths to scuba diving and hopping boat trips. And the biggest magnet for most visitors is to have a seat on the deck chairs at beachfront bars and then drink cocktails in their comfort. Some attractions you should check in after visiting the city include Tri Nguyen Aquarium, Hon Mun Island, Hon Tam Island, Po Nagar Towers, and Dam Market.
Ho Chi Minh City – Where you can mingle with the lively vibe of life after night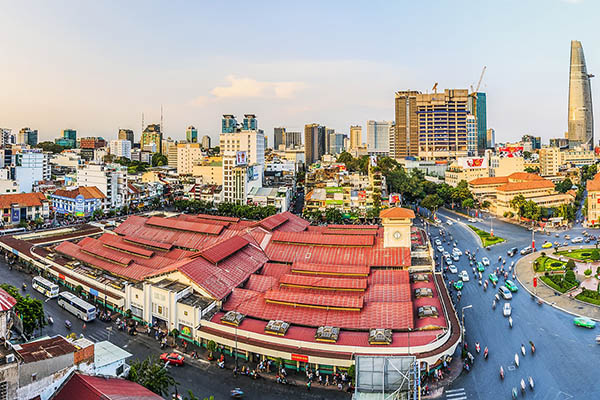 What makes the country's largest city appealing to honeymooners is its colorful life after the sun goes down. At night, Saigon is turned into the different world where the locals and visitors have their own way to lift them up after a long day of studying and working. Youngsters are fond of remix music and dances or having a gossip with friends, while old citizens simply want to spend time with their family in restaurants or café shops. It is easy to realize that the city's streets are always full of people in both daytime and nighttime. Modern office skyscrapers, impressive buildings, and spacious pedestrian zones to create a dynamic urban area. Some interesting ideas you can do while in there are sampling local food at Pham Ngu Lao street, walking around one of the busy night markets, watching A O show, etc.
Mekong Delta – Where you can experience the traditional Vietnamese rural life
As one of the longest rivers in the world, the mighty Mekong River is said to make up the large Delta. In general, Mekong Delta is the life-blood of southern Vietnam, which does a job of nourishing the region's vegetable plots, fruit orchards, and rice paddies. A boat trip through the myriad canals brings travelers a very real insight to the life in the countryside, from water buffaloes, tangled fruit orchards, and thatched-roof dwellings, to hardworking peasants, fishermen and lovely children everywhere. One of the must-do activities you should not overlook during a travel to the Delta is visiting floating markets – the distinctive characters of the Western region. And Cai Be is one of the well-known floating markets you can join in. Along with the busy vibe, the market is also where the locals sell and buy goods on rafts and boats.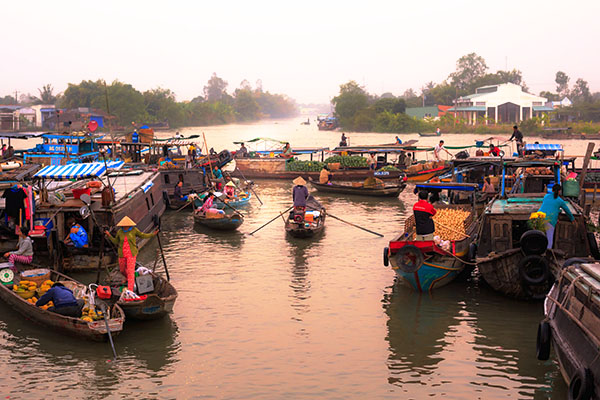 Other fun activities in such river region include taking a promenade around an ancient Mandarin house, visiting Phu An – an untouched remote area that reflects some of the best sights of the Mekong Delta, checking in Cai Lay, riding bicycle around the village, talking with the friendly farmers, stopping by fruit markets and plantations on the banks.
In short, we hope that you already have some cool ideas for your honeymoon trip in Vietnam after consulting what our Vietnam Packages 2018 has to offer.