Before my journey around Vietnam, I had no idea of eating snails or any kinds of underwater creatures except for typical food like fish, crab, lobster, shrimp, squid, or jellyfish. Snails were far from editable because as for me at that time, they were the same as the disgusting slugs with a lot of mucus plus an ugly shell.
How would people put these creepy things on the dining table?
What kinds of human beings would be able to eat such exotic food?
It was definitely not me; I used to think.
But things completely changed when I came to Hanoi several years ago. It was the beginning of the typhoon season, so the rain was expected. The weather didn't bother me that much as I always love the fresh air after dazzling. I remembered it was my last day in Hanoi before transferring to Halong for a night cruise. However, as a storm suddenly hit the Northern coastline, the sea turned rugged, my tour was canceled. I was upset a bit. But my private tour guide told me that there were many other exciting to do in Hanoi and he promised to show me the best-kept secret of this more than the 1000-year-old city.
And without telling the destination, he took me to a street vendor in close proximity to his university. The food stall was small, but there were packs of people, mostly college students waiting for their foods. This made me wonder what food besides Pho could attract so many people like this. The scent of the dish was appealing. It was an excellent blend of traditional herbs like lemongrass with a little spicy flavor of ginger. The smell already captured my heart before our order was done.
Still, I was shocked that there were snails on our table. I really questioned whether I should and whether I could eat them. The guide gave a pat on my shoulder told me to watch him enjoy the most unusual dish I had seen on Earth. Using a mental toothpick with sharp edges, he skillfully took out the snail meat from the shell and deep it into a special liquid from fish sauce. The satisfying expression on his face urged me to try at least once to find out: "Would the snail be that good?".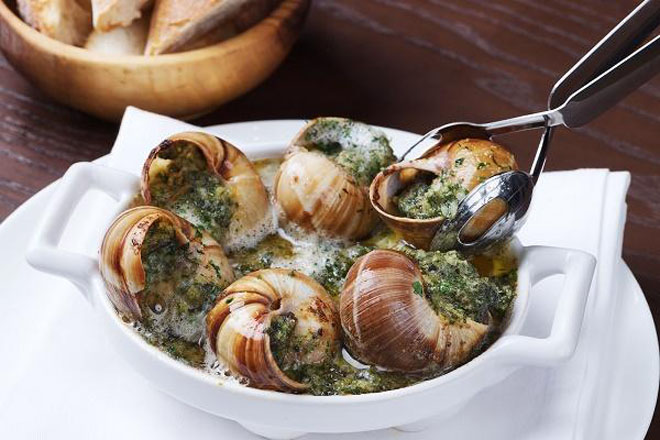 The thing is, it far exceeded my expectations. That time I knew I have fallen for snails.
We had two types of freshwater snails. The basic steamed snails and snails with tamarind sauces. Both were more than delicious. I could feel the freshness and the natural sweetness in the former dish while the latter struck me with the sourness and spiciness.
And now every time it is drizzling, the memory of my first time trying snails always comes back. It turns out that thanks to the sudden storm, I have found my all-time favorite food!
Ellie