Christmas is coming closer and closer. If you plan to say your prayers for this unique Christmas in Hanoi, here are the 7 age-old churches you should definitely check in.
St. Joseph's Cathedral – Hanoi
Instead of St. Joseph's Cathedral, Vietnames usually calls this church by a more casual name, Nhà thờ Lớn Hà Nội (which can be literally understood in English as "Big Church"). This would not come as a surprise to you if you visit the church in real life. Compared to the size of other churches around the world, Nhà thờ Lớn could not compete but in comparison to an abundance of Hanoi's ancient little quarter houses built around it, this so-called "Big Church" does live up to its casual name.
Two years after construction, Nhà thờ Lớn was finally inaugurated on Christmas Day in 1886. Notice a bit more and you see that its design closely resembles the architecture of Notre Dame Cathedral in Paris.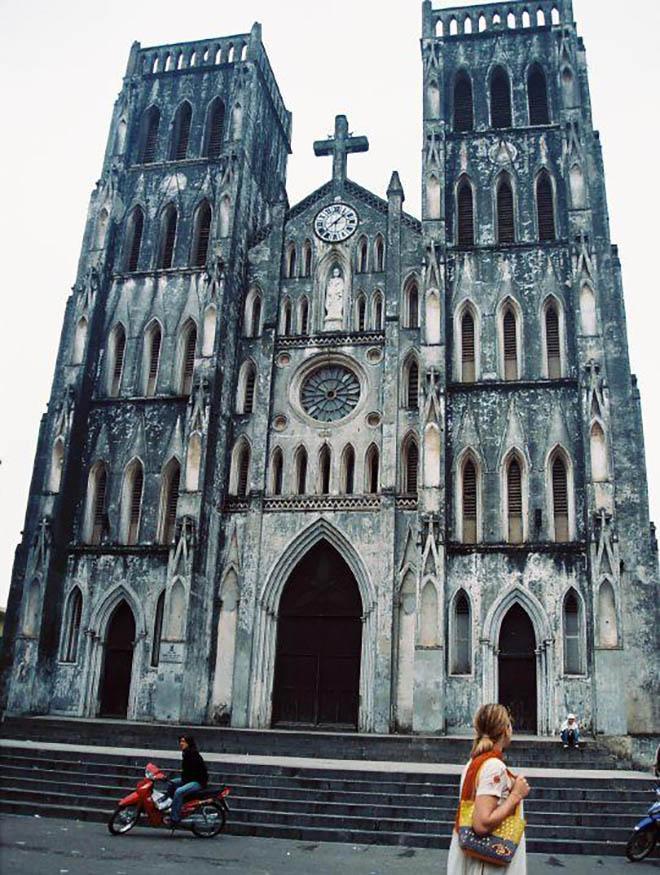 Located at 40 Nha Chung street, Hoan Kiem district, St. Joseph's Cathedral or Hanoi Cathedral is 64.5m in length, 20.5m in width with two bell towers of 31.5m-height. Although the exterior appearance of the cathedral from the doors, color-binding window glasses, to a handful of sophisticated paintings for decoration is influenced by Western style, the main interior part is decorated with a touch Vietnamese design, including two unique colours: yellow and red. In front of the cathedral stands the statue of dearingly Mother Maria.
Phủ Cam Cathedral – Hue City
Located at No. 1 Đoàn Hữu Trung street, Phước Vinh District, Nhà thờ Phủ Cam is one of the oldest churches in Vietnam. Its history can be dated back to 1682. At first, it was just a plain bamboo house, set up by pastor Langlois. Long after that, till 1898, bishop Eugène Marie Allys decided to rebuild the whole building under the influence of Western classical architecture. However, in 1960, the whole construction was destroyed for the new cathedral project. Finally after 40 years long, Phu Cam Church was completed in 2000, as you see nowadays.
With the structure followed modern construction techniques, Phu Cam Church still has a touch of the Western classical art.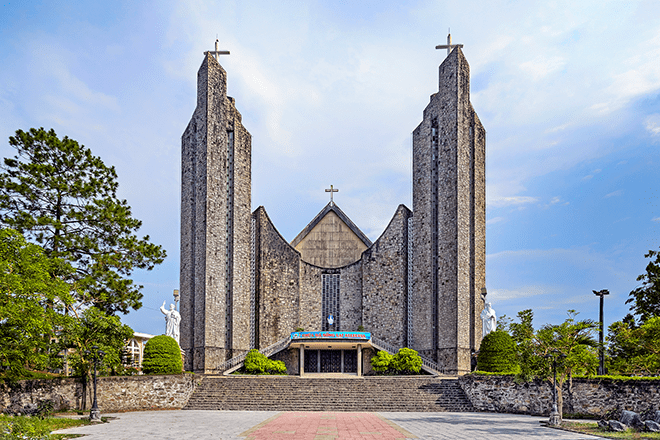 In front of the Phu Cam Cathedral stands two statues, also represent patrons of Phu Cam parish: Peter on the right, Paul.on the left. From the outside, Vietnam's biggest church will definitely wow any first visitors with its top stretches straight into the sky, full of light and hope.
Sapa Stone Church – Sapa
As one of the most distant parishes in Hung Hoa diocese, Sapa Stone Church is located in Sapa Town, Sapa District, Lao Cai Province, which is about 400 km from Hanoi. Most people come here for religious contemplation are ethnic H'mong.
Impressed by Roman Gothic style, the church stood out with soaring yet elegant roofs, arches and bell towers, designed with mostly pyramid shapes. Built entirely with hewn stone, Sapa Church is perfectly in sync with the green, foggy and mythical scenery of Sapa.
Besides local parishioners, Sapa Stone Church also attracts many curious travellers. If your next trip is to Sapa, don't ever miss this one unique destination.
Notre-Dame Cathedral Basilica of Saigon (Nhà Thờ Đức Bà Sài Gòn) – Ho Chi Minh City
At the heart of Saigon lies the one and only Notre-Dame Cathedral Basilica of Saigon. The church has a remark for its neo-Romanesque style architecture among many other modern buildings in the downtown of Ho Chi Minh City.
Much hard-work has been put into the construction as every brick and every colored glass window was originally made in French and then imported to Vietnam. Not only the materials but also the overall design style of this sensational Notre-Dame Cathedral follows that of the Notre-Dame de Paris.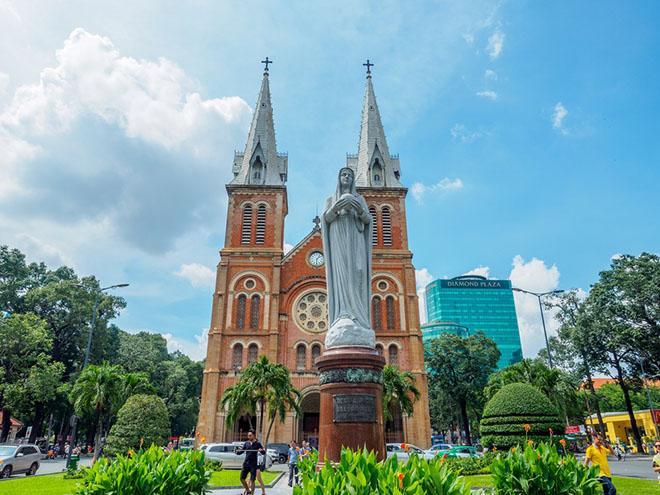 In front of the cathedral is a statue of the Virgin Mary. On a whole, the neo-Romanesque architecture and two 58-meter-high square towers tipped with iron spires dominating the city's skyline, creates a worth-seeing religious site!
Da Nang Cathedral – Da Nang City
As the cathedral of Danang Diocese, Da Nang Cathedral can also be called the Pink Church or Rooster Church. You might wonder why there is such a name but everything will come clear as you visit the church in real life. The light and eye-catching pink covers the whole building, creating a lovable appearance. On top of the church is a bell tower topped with rooster weathercock, which symbols the repentance and awakening in St Peter's story.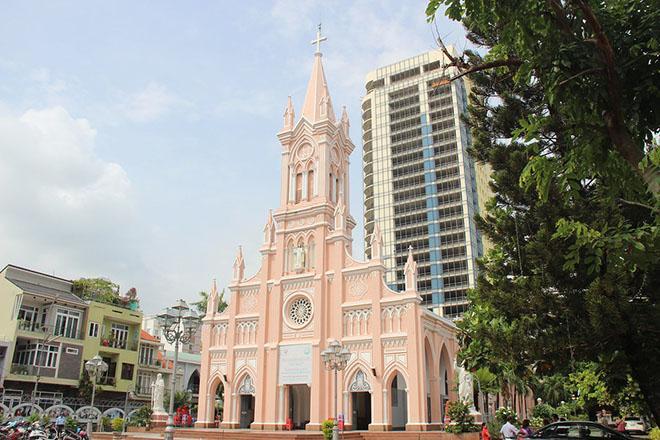 First planned in 1923, the church was officially opened in March 1924. At first, it served the French Catholics living in Da Nang at that time. Until now, Pink Church is still a lively place of worship for the catholic locals in Da Nang.
Tan Dinh Church – Ho Chi Minh City
Another church with the exceptional pink color in Vietnam is Tan Dinh Church. Although the construction was finished in 1876, the memorable pink color was first spotted in 1957 when the church was refurbished and repainted.
With the state-of-the-art pink color together with its remarkable design, no wonder why Tan Dinh Church always draw the attention of not only curious locals but also many foreign tourists coming here to admire its view and take artistic photos. 
This place is especially crowded when it's close to Christmas as only once a year, a Christmas Market is open. All the shimmering decorations, the eye-catching ornaments together with the familiar sound of classic Christmas songs will definitely set you right in the mood of this holiday's spirit. 
Sainte Marie Church – Hanoi
Hanoi also has another less well-known church which is Sainte Marie Church, built in the 19th century. Its main hall faces the bustling street of Hai Ba Trung, showing the wide lobby with arched brick windows with arched locks. 
The highlight of Sainte Marie Church is a small cylindrical bell tower, the inside of which has eight small columns, the outside has four large columns with very delicate designs, and on top of that is the Cross decorated with curling iron motifs
Despite its humble size, the church is a living proof for the appearance of Christian architecture during pre-colonial period.
St. Nicholas Cathedral – Dalat
Many choose Dalat for its delicate and sweet romance but many do come here to find peace and tranquility. If you're leaning more towards the second option, it would be great to take a chance to admire the significant view of St. Nicholas Cathedral, also called Dalat Cathedral, located on Tran Phu street, Dalat City.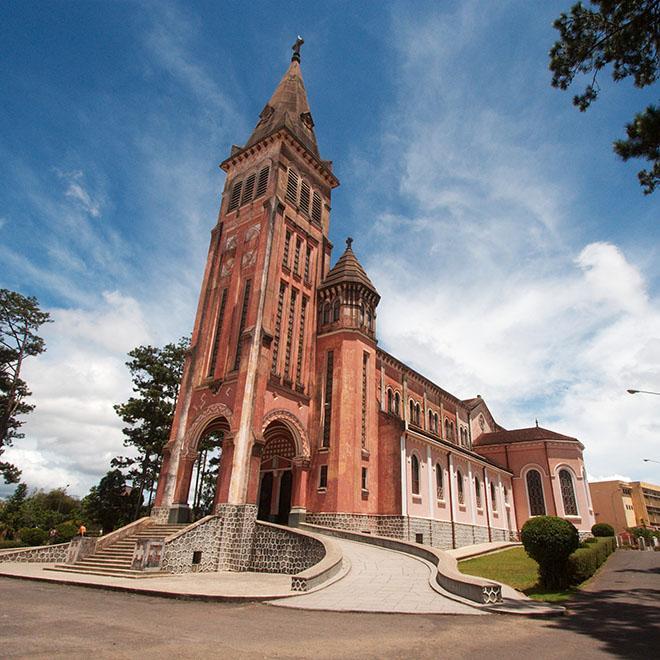 Soon as you get here, before your eyes stands the biggest church in Dalat. Its textures though simply designed with well-balanced composition can surprisingly catch your attention. Inspired by classical architectural style, the inside of this up to 65m high Cathedral possesses standard arch-shaped of Roman buildings, which can be described in 2 words: strong and decisive. So there is no doubt it is the distinctive architecture that create such an irresistible charm of Dalat Cathedral.
Christ the King Cathedral – Nha Trang
Christ the King Cathedral or as locals usually call, Nha Trang Mountain Church, is well located in the upper parts of Nha Trang, one of Vietnam's exceptional coastal cities. Like most churches in Vietnam, it follows the Western architectural style, to be more specific, Gothic Revival style. 
Besides the staid floors paved using entirely rocks, neon lights adoring the cathedral are a lively addition. There are red neon lights behind the crucifix, a form of white lights halo over the statue of the Virgin Mary, neon pink in the tabernacle and neon blue for every one of the arches of the sculpture. 
Another worth-seeing thing is an abundance of stained glass windows illustrating saints, consisting of several French saints: St. Joan of Arc, and St. John Vianney, and also episodes from Jesus's Life.
Phát Diệm Cathedral – Ninh Binh
Located in Kim Son District, Ninh Binh Province, Phát Diệm Cathedral is a perfect example of how two cultural architecture style can blend perfectly. With 2 main materials: both stone and wood, the architectural ensemble of Phat Diem stands out as a splendid combination of Buddhisque pagodas and Catholic churches.
In the surrounding area, there are also a sapphire pond, a bell tower called "Phương Dinh", four side chapels, a stone church (Chapel immaculté heart of Mary), two caves or artificial rocks, two porches and an ordeal, all of which are blessed by Mother Nature.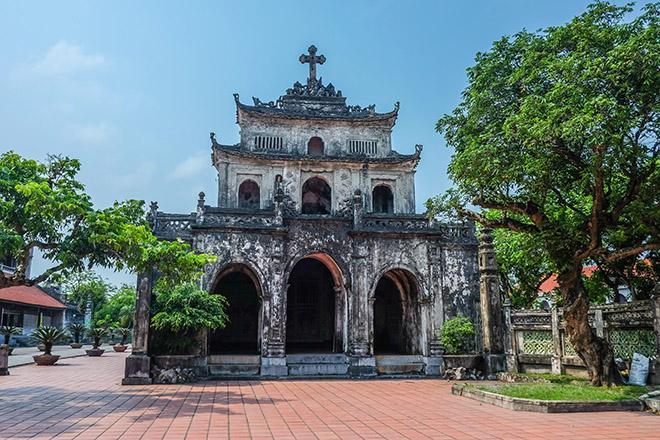 As we sincerely pay our tribute to the natural scenery here, we also show our genuine adoration to the meticulous and sophisticated sculptures and carvings spotted everywhere in Phat Diem Cathedral. 
Undeniably, Phát Diệm Cathedral is one of the most original churches in Viet Nam, day by day reminding us of all the hard-work put into it by our ancestors.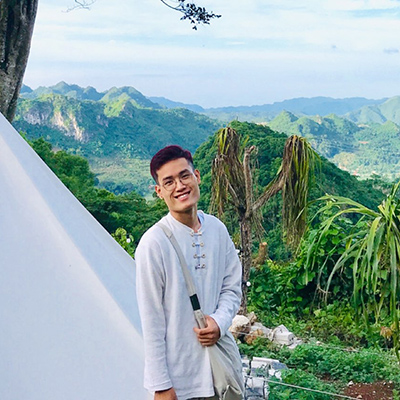 Anthony Icarus
I have always been an adventurous one since I was a little kid. My mom must have had a hard time making me sit still or just stay at home. Every travel to me, no matter long or short, low or high budget, always make me fall in love again and again with the magnificent nature, unique culture and endearing locals.
Christmas is just around the corner. If you happen to stay in Vietnam for the next couple of weeks, let's join our friendly local or parishioners anywhere and say our prayers together for this amazing year and hope for a promising one ahead.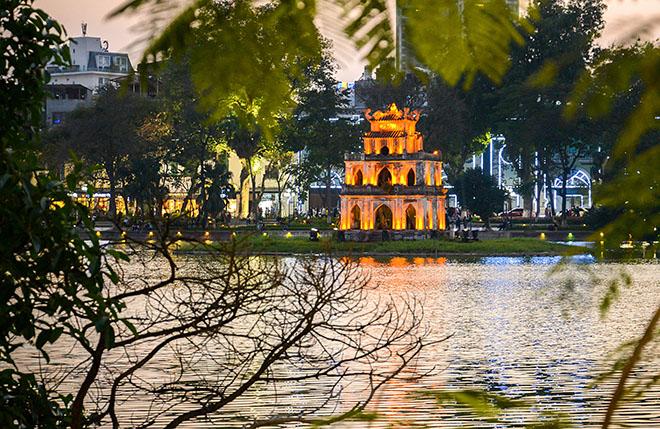 Vietnam Highlights Package 10 Days 9 Nights
The most popular destinations in Vietnam with all the highlights — all in Vietnam itinerary 10 days. Discover Hanoi with many foods, structure architecture and the stunningly beautiful UNESCO World Heritage Site of Halong Bay. Moving to culturally-rich Hue then spend time in incomparable and lovely Hoi An – one of the world's most charming towns. Finish the comprehensive Vietnam highlights tours in the South after Floating through the lush Mekong Delta, seeing vibrant Ho Chi Minh City. With same destinations in itinerary but you can start this trip from Hanoi or Ho Chi Minh city.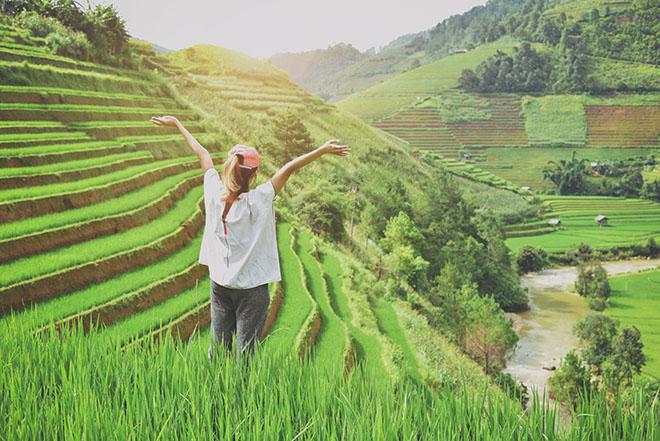 Essential North Package 7 Days 6 Nights
A fulfilling discovery of all Northern Vietnam signatures within a week is totally possible – with this tour. The package offers you a diverse experience of various attractive destinations in the area, from a tranquil mountainous Sapa to the splendid Lan Ha Bay, which will ensure both your natural and cultural exploration.
Or more Vietnam tours.