Banh mi or Pho must have got to your mind first whenever Vietnamese cuisine is mentioned, right? No doubt that these 2 signature dishes are such unforgettable specialties but when you move further down the northern part of Vietnam, even more iconic dishes await you. Some may even make you become addicted after the first taste.
We will guide you through the right way to admire the Mekong Delta's specialties like a real professional.
Unique flavors of Mekong Delta specialty
One of the things that signify Vietnamese cuisine is how many herbs and spices us local selectively choose for every dish. To name a few, most dishes in Vietnam have fish sauce, soy sauce, pickled chilies, garlic and onion, bean sprouts and a collection of local herbs or seasoned slice-cut carrots and kohlrabi.
Another feature that creates the whole sensation for Vietnamese noodle soup is how meticulously local cooks prepare for their broth. A traditional recipe passed down from generation to generation is kept a secret among family members, in some cases, only one person can know. This recipe of course includes hours of patiently stewing animal bones to get the natural juice. What separates one from another is which herbs or ingredients they put in to create such a distinctive taste for the dish.
With sweets, Vietnamese usually use very natural ingredients from coconut to mung bean to make coconut candy or Pia cake. To be honest, though at first, some dishes are not that impressive to me but the lingering taste is so one-of-a-kind that I could not resist a second try, and a third attempt, and just like that, dish after dish until my stomach is fully loaded with satisfaction.
Top dishes must try
Savory Food:
Hu Tieu originates from Cambodia then spread to Southern Vietnam and the Chinese community in South East Asia. Visually, you can see that this dish is made of crunchy noodles mixed with small pieces of pork, quail eggs and seafood, normally shrimps. Colors of each ingredient with background of the steams from the heavenly broth would make your mouth water right away (I am indeed wanting a bowl of Hu Tieu so bad while writing this article!).
 The broth is a mind-blowing consommé that Anthony Bourdain, Gordon Ramsay, and the 2013 MasterChef runner-ups once surprisingly sighed: "The assault of flavors right away."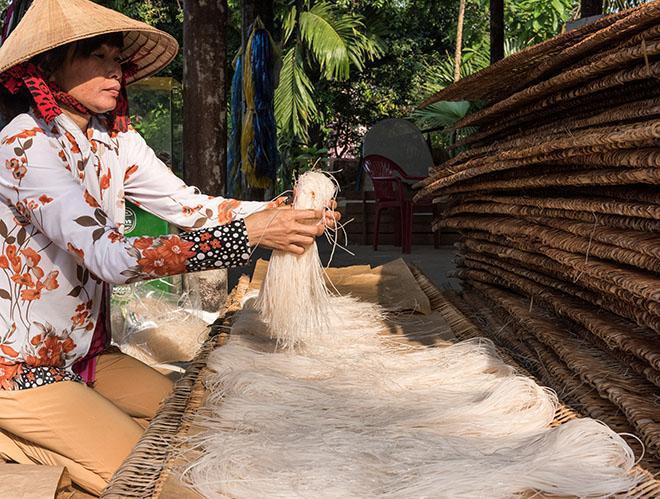 Hu tieu making 
Cơm Dừa Tép Rang – Steamed Rice and Roasted Baby Shrimp in a Coconut
In the land of coconut, Ben Tre,  coconut is used daily in cooking. Coconut drink or coconut candy may you try but I bet that rice steamed in a coconut is something you are yet to know but soon get addicted.
Simple as the name may sound but in reality to complete a perfect dish of Com Dua Tep Rang requires skillful cooking techniques and on top of that, great patience. The outcome in the end is truly worth the wait as you smell the rich fragrance of coconut in between every grain of rice or taste the exceptional caramelized shrimp. The details await you to discover.
Bánh Xèo (Vietnamese Pan Cake)
Although it can be called Pan Cake, Banh Xeo is actually a savory dish in Vietnam with crunchy texture filled with chopped bean sprouts, pork, shrimp and mushrooms. Some may call it Vietnamese Taco. 
Despite how common you may find the sight of banh xeo in many corners all over Vietnam, you will have to go a long way to find one bigger than those cooked in the Mekong Delta, where one pancake can take the force of two hungry diners.
Bánh Canh Hén Nước Dừa – Rice Udon with Baby Clams in Coconut Milk Broth
Among 10 different types of Banh Canh dishes in the Mekong Delta, the title of most unique would no doubt go to Banh Canh with baby clams in coconut milk broth. Despite being a folksy noodle soup, this specialty will rival any other soup in terms of flavors. 
The chewy banh canh noodles, covered by thick soup with diverse layers of taste will surely satisfy any picky eaters. The lingering of this buttery, fragrant, savory and sweet dish has made it hard to resist for a second bowl for any first-time eaters.
Sweet Food:
Coconut Candy, a signature sweet in the land of coconut, Ben Tre, is made in a very simple way with basic ingredients, consisting of coconut water, malt syrup, and sugar.
But don't ever underestimate its taste just by how simple it may look. Not only kids but also grown-ups (like me) even crazily addicted to this coconut candy. A hidden surprise is that once you peel off the paper wrap, you will see an almost transparent layer over the candy. Don't peel it off because it is edible. And that's what makes the candy so special.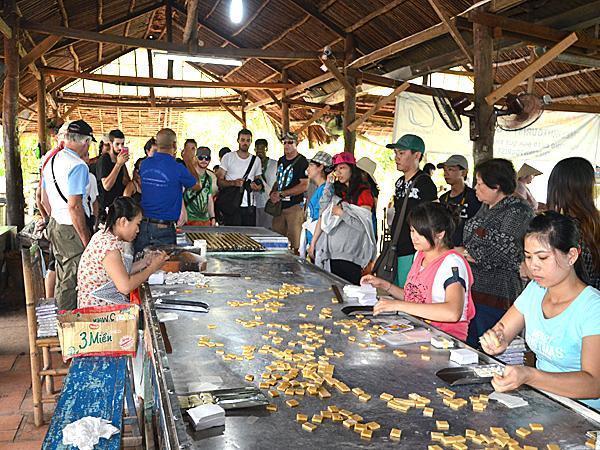 A typical coconut candy workshop
Durian is a controversial fruit. We gotta admit that. Even some locals are not familiar with its smell or its taste. But those who have fallen in love with it shall not resist the temptation. 
Pia Cake is also called Durian Cake since it signifies durian's smell and taste. While the cake's crust is made from both tapioca flour and wheat flour, its filling is made from sticky rice flour, mung bean paste, salted duck egg, pork fat and also the iconic durian.
Try once and you see why people fall in love with it so deeply.
Lá Dừa Cake – Coconut Leaf Cake
Another food that requires skills and patience from the cook is La Dua Cake, a popular snack in Mekong Delta. Wrapped by coconut leaf, the cake looks like tiny spring-rolls. Its recipe includes white rice, coconut, banana, and mung beans. Locals will hand-pick white rice very carefully and it is washed and soaked overnight.
The leaf used to wrap the cake must be young ones with yellow color. When it comes to wrapping process, they put the coconut leaf by layer, then add the rice and coconut (or mung beans) in the middle and then wrap it up.
All the hard work they put into the cake really pays off. The first bite leaves us all in awe, wanting to keep eating one after another.
To Sum Up
The list will go on as Vietnamese, in almost every corner, have at least 1 to 2 signature dishes. Even locals barely get the chance to taste all specialties here. Up in this article, we want to suggest some of the most unique dishes in Mekong Delta. In reality, feel free to try any interesting food you may find on the street. Remember to check for the clean-looking food stalls, okay? Hope you have a good time here.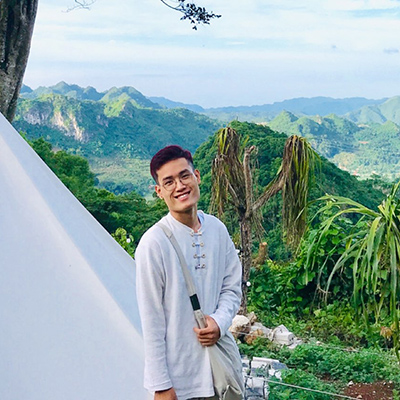 Anthony Icarus
I have always been an adventurous one since I was a little kid. My mom must have had a hard time making me sit still or just stay at home. Every travel to me, no matter long or short, low or high budget, always make me fall in love again and again with the magnificent nature, unique culture and endearing locals.
Travel To Mekong Delta And Experience The Cuisine With Us:

Vietnam Highlights Package 10 Days 9 Nights
The most popular destinations in Vietnam with all the highlights — all in Vietnam itinerary 10 days. Discover Hanoi with many foods, structure architecture and the stunningly beautiful UNESCO World Heritage Site of Halong Bay. Moving to culturally-rich Hue then spend time in incomparable and lovely Hoi An – one of the world's most charming towns. Finish the comprehensive Vietnam highlights tours in the South after Floating through the lush Mekong Delta, seeing vibrant Ho Chi Minh City. With same destinations in itinerary but you can start this trip from Hanoi or Ho Chi Minh city.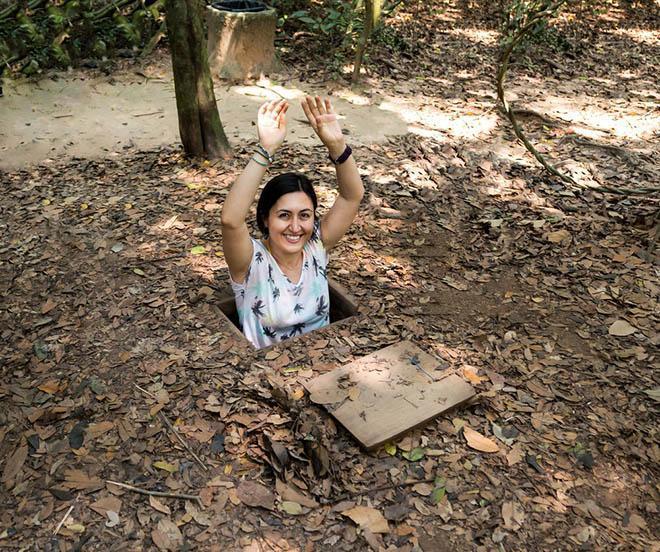 ESSENTIAL SOUTH PACKAGE 6 DAYS
Essential south package 6 days will be really wonderful when you discover the most bustling city in Vietnam. Visit Cu Chi tunnels – the historical place as well as some famous temple in the South. Move to the Mekong Delta to see amazing tributaries hidden among vibrant tropical fruit gardens, bustling floating markets that offer a cornucopia of items, and acres of emerald rice fields.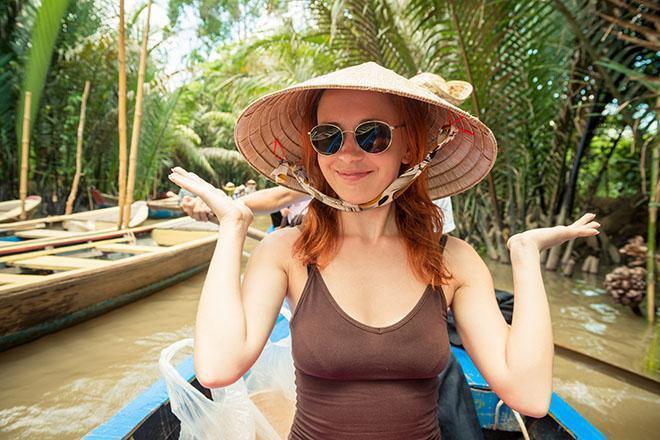 The Best South of Vietnam and Cambodia 7 Days 6 Nights
This 7-day package tour will offer you the sightseeing the best highlight of Vietnam and Cambodia. Specifically, you will discover the symbols of the biggest and busiest city of Ho Chi Minh. You also learn more about our Vietnam war by discovering the most complicated tunnels system in Cu Chi to know how we flight the invader. Adidtionally, a quick sightseeing to Mekong delta to enjoy the local atmosphere and know more about heir culture will be a highlight of this package. Coming to Cambodia, it offers you the visiting to Angkor complex, which cannot be missed while travelling to this small country.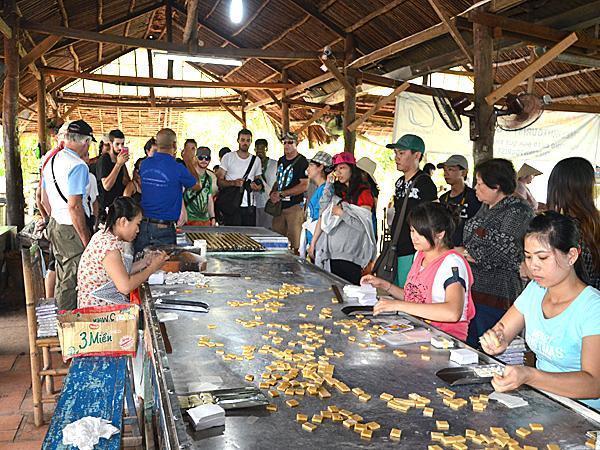 This two days trip, just give you a glancing for the local life of Mekong Delta. It is not enough time to see much , because life in the Mekong Delta revolves much around the river, and many of the villages are often accessible by rivers and canals rather than by road. Learn, relax & enjoy to touching on the Amazing Waterway on Mekong magic with Minh Viet home stay.
Or more Tours to Mekong Delta.