Cambodia is a land of temple and awesome ruins; however it is also well-known with lots of beautiful tropical beaches that satisfy tourists from all over the world not only those in the same region. If you intend to travel to this South-East Asian country then enjoy the coolest beaches ever in Sihanoukville, the following recommendations must be definitely useful for you.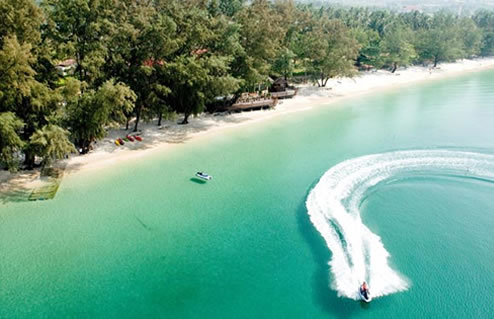 Angkor Wat, Angkor Thom, Silver Pagoda are those tied to tourism in Cambodia but little-known coastal city of Sihanoukville is enchanting tourists by pretty white-sand beaches and a smattering of tiny islands.  Sihanoukville, a small southern province of Cambodia and also known as Kampong Som or Kampong Saom, was founded in 1964, which is renowned for its white-sand beaches such as Ohchheuteal, Serendipity, Sokha, Pram Pi Chan and Deum Chrey with their quiet and cozy atmosphere with large stretches of white sand and clear waters. These seaside paradises are a must-see destination if you intend to travel to Cambodia.
Best time to visit
Sihanoukville can be visited throughout the year because of the year-round tropical climate- warm and humid. The provincial climate has three seasons: cool season (November-March), hot season (March- May) and rainy season (May-October). It is said that the best time for tourist coming here is cool season because of the dry, warm and breezy weather. The day temperatures are around 28-30 degree Celsius but the nights can get down to a chilly 20 degree Celsius. December and January are best with their balmy temperatures and blue skies. In general, the weather in Sihanoukville is rather suitable for traveling excepting the last two months of the rainy season when some countryside roads may be impassible. Therefore, you should notice this tip when planning to come here during the rainy season.
Must-see beaches
Independence Beach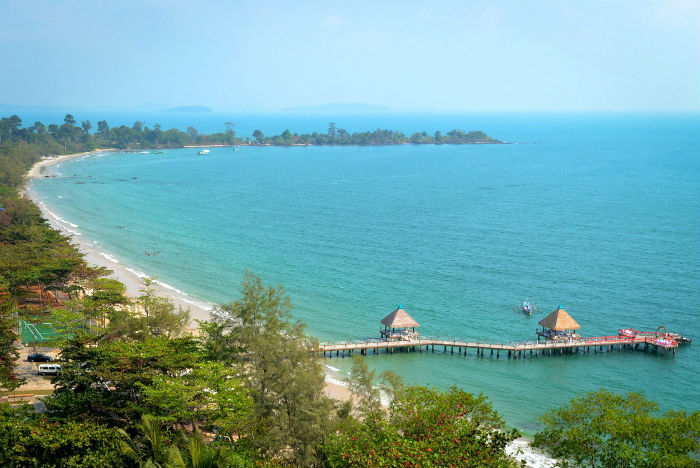 Independence Beach is named after 7-storey Independence Boutique Resort and Spa which is called Independence Hotel in the past. Locals call this beach "otel bram-pil chann" that means 7-storey hotel. You may be amazed by the beauty of this more than one-kilometer beach since when the tide is low, the beach is very beautiful because the sandy area is much narrower. The northwest end is near the small fresh water which supplies fresh water for the town and at the other end is a private beach at the Independence Hotel complex and the Holiday Palace Casino that you can put on the travelling list in Cambodia.
If you want to spend some quiet moments with your loved ones, Independence Beach is the most suitable destination when coming to Cambodia. It is one of the quietest beaches in the city with many fantastic sightseeing spots and a lovely resort, which will take you far away to a land of fantasy. You mustn't worry about doing something at the Independence Beach. You can relax and enjoy the quiet movements of nature in this beautiful beach. Moreover, you can sun bathing on the spotless clean seaside and refresh yourself with the cool sea breeze. If you get tired of the heat after sunbathing you can rest under shades of the grass umbrella surrounding the beach. Next to the Independence Beach in Sihanoukville is a lush green garden area which is decorated with statues. In addition, there are a lots small restaurants and food stores, thus you can fully enjoy delicious sea food dishes during you visit here. To sum up, Independence Beach is one of the beaches in Sihanoukville that is surely worth a visit.
Ochheuteal Beach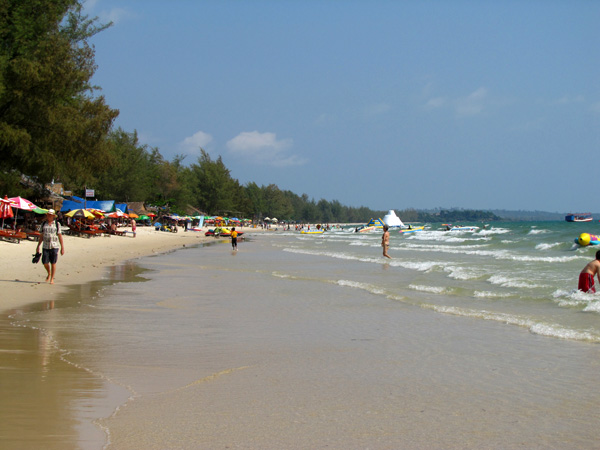 Ochheuteal Beach is on the East side of town which is now the most popular in Sihanoukville. It takes about 5 minute riding from downtown. Ochheuteal Beach is filled with the spectrum of beach venues such as upscale hotels, restaurants and bungalows. Coming to this lovely beach, you may be amazed by its beauty. Ochheuteal Beach is long about 3 kilometers, sandy and narrow with Serendipity Beach at the north, a golf-course development at the south and in the middle is an assortment of mid-range hotels and restaurants. From one end to the other of the beach, you can rest on grass umbrellas, rentable beach chairs and drink huts. You can be overwhelmed in the food world with seafood, burgers, pizza and booze. Most places serve Khmer style food but there are a lot of restaurants offer Western dishes. You can travel by boat starting from Ochheuteal Beach. The beach also offers many entertainment activities like karaoke, volleyball, jet skis, banana boat, disco, full moon parties and casino.
Otres Beach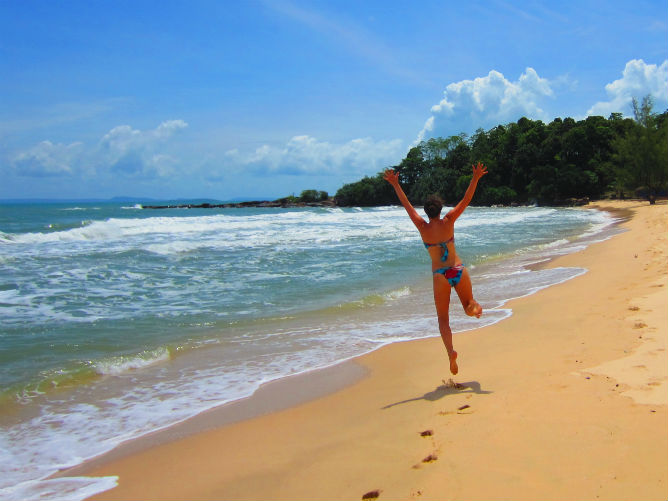 Otres Beach starts at Queen Hill resort and over the Otres river at the end of South Ochheuteal Beach. It is a three kilometer beach with white sand facing the southwest. It is said that Otres is less developed and visited than Ochheuteal but it is caught the eye of Forbes in 2014 and listed on the Top 22 Beaches in Asia.
One the special thing when you come to Otres Beach is no hotels, spas or large restaurants, just a string of bars and bungalows stretching along the sand. Most of food in Otres is seafood and each place has its own unique flavor. You will have fantastic time in bungalows or small guesthouses on the beach which is just about a few meters from the water. Interestingly, you mustn't worry about the price and quality of the rooms and bungalows because it varies and suits your budget and requirements. An useful recommend for you is get back before nighttime if you are not staying at night because there are no lights on the road.
Ream Beach
The most different feature of Ream Beach in comparison with the other beach is location. Ream Beach is located in Ream National Park. At the right end, it is long and narrow and the beach to the left have some stories which sell drinks and rent tubes. Specially, behind the beach is a mangrove swamp which you can see a wide variety of tropical birds whose songs can be heard all around. Ream Beach is really the ideal destination for visitors who like exploring the nature. Ream Beach is one of few beaches that are landscaped by mountains and waterfalls forcing lots of tourist travelling to Cambodia to take time and contemplate. This is an ideal destination for relaxation but it is advisable to bring your own before embarking on your way because there are not many places serving food in this poetic beach.
Sokha Beach
Sokha Beach is a private beach, one of the most beautiful beaches in Sihanoukville with wide sand stretched for kilometers, shallow and calm water which is suitable for swimming. A small part of the beach is opened to the public but most of visitors who book the hotel, allowed into the pool of the resort. Although Sokha was privatized, tourists can still go to relax outdoor dining at the beach. Sokha Beach Resort is set amidst 23.5 hectares landscaped beachfront and garden with 1.5 kilometers white sandy beach. All of rooms in this resort are decorated in traditional ancient and modern Khmer design. Thus, it is ideal opportunity for you to enjoy the magnificent view of tropical garden or the lovely sea from the balcony of resort. Visitors can enjoy perfect seafood, Chinese and Khmer cuisine. Moreover, you can indulge your senses in an exotic evening experience with singing and dancing or enjoy the worldwide fine wines in Sokha Wine Bar.
Those recommendations above should be highly listed on your must-sees in Cambodia, especially in the beautiful Sihanoukville. Take time and enjoy your fantastic holiday in such superb beaches then you can get most wonderful experiences ever in this South-East Asian country.