Cambodia is a country with typical and quintessential culinary culture of the East, influenced by Chinese and Indian styles. The cuisine of the Khmer people is famous for its rich flavor, different ingredients, and also equally fancy and unique. So today, let's find out which are the most popular traditional dishes in this special country?
1, Khmer red curry
If you are a spicy food fan, Khmer Red Curry is the perfect choice for you. However, this dish is less spicy than the curry of Cambodia's neighbor – Thai curry. Red curry is usually made from beef, chicken or fish, eggplant, green beans, potatoes, fresh coconut milk, lemongrass and very little chili , so it will be much easier to eat than Thai curry.
Red curry is often served with bread – this is influenced by the French era. This dish is often served at special occasions in Cambodia such as weddings, family gatherings and religious holidays like Pchum Ben, or ancestral days – the occasion when Cambodians make dishes to offer monks on behalf of the dead.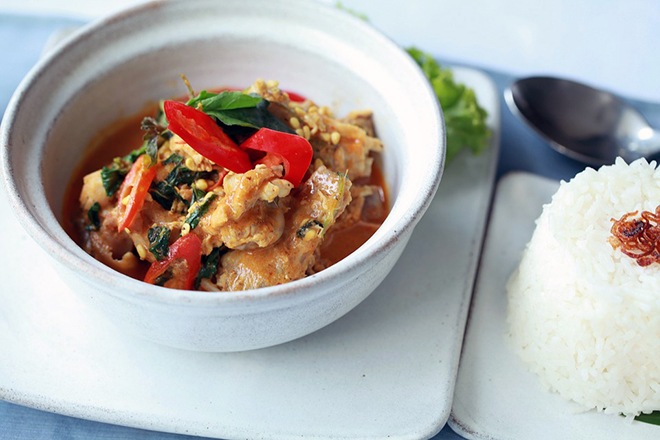 2, Fried crab with Kampot black pepper
According to many tourists coming to Cambodian, you should definitely try fried crab – Cambodian specialties in Kep town.
Cambodia is blessed with abundant fresh seafood thanks to its location adjacent to the coastline. In particular, crab is one of the most popular seafood due to its high nutritional value. Thanks to the skillful combination of spices and special processing, Cambodians have created extremely attractive black pepper fried crab.
Cambodian fried crab with pepper pepper was first born in Kampot province. Kampot province is considered the "capital" of Cambodia growing pepper with thousands of hectares of immense pepper hills.
Kampot pepper variety is a special pepper variety that no other country can grow. Only the Cambodian soil is compatible for this type of black pepper to grow and develop. The Kampot black pepper variety has a spicy, distinct aroma and flavor, different from the peppers in other countries.
Perhaps with the "unique" of this black pepper, Cambodian fried crab with pepper pepper also becomes more special for diners to enjoy.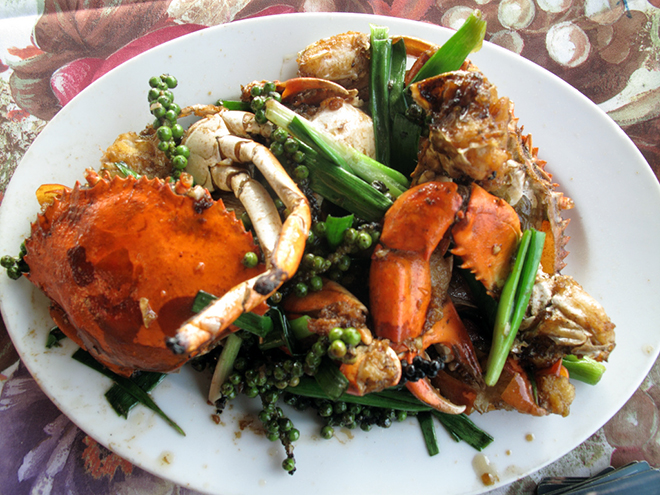 3, Amok steamed fish
Amok steamed fish is a unique traditional dish of Cambodians, which is meticulously processed and refined. Besides the rich ingredients, the main material used to make this dish is snakehead fish in the waters of Cambodian lake or catfish but the most delicious is still fresh fruit.
In addition, there are typical and unique flavors such as coconut milk, eggs, jaggery, prohock fish sauce and few seasonal leaves. Fresh fish is cooked with coconut milk and kroeung – a Kmer curry sauce, including lemongrass, turmeric root, garlic, shallots, and ginger.
What is more fascinating is that you will enjoy Amok steamed fish arranged in a "bowl" made from banana leaves.
Before serving, the chef will pour a patch of coconut milk and a few slices of chili. That is why, when diners enjoy the dish will feel all five flavors attacked at once, causing the all senses to be active. The first is the sense of smell the aroma of coconut water and banana leaves. After peeling off the leaves, try a slice, diners will be fascinated by the piece of fish inside the banana leaves layer. When eaten, the scent of coconut water spread along with the fat of the juice mixed with the sweetness of jaggery and the bitterness of the leaves  to help users not feel sick by the sweetness of coconut.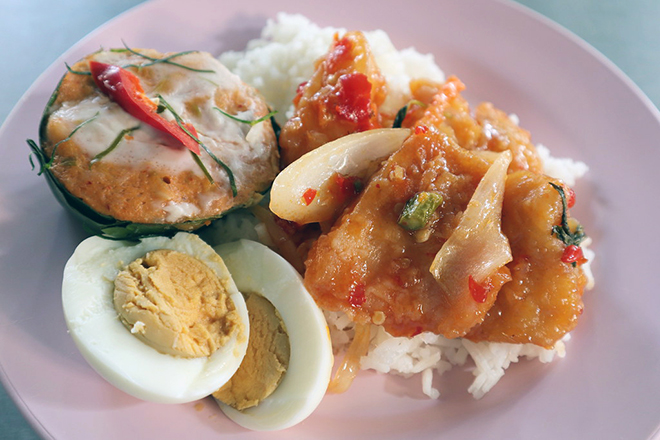 4, Stir-fried red ants with beef
When traveling to Cambodia, it is pretty sure that you will find strange yet tasty dishes made from insect processed quite a lot here. It is said that you will find almost all kinds of insects on the menu at restaurants in this country. The delicacies of Cambodian specialties made from insects have also become famous around the world. But the most unique is the dish of red ants stir fried beef and basil.
Red ants of various sizes from 2-3cm will be fried with ginger, lemongrass, garlic, shallots and thinly sliced beef. The dish has a unique flavor because of the delicate sourness secreted by the ants and absorbed into the beef.
This dish is more delicious when served with rice.
5, Jaggery wine
Palmyra has long been associated with the lives of Cambodians because it is an easy-to-grow tree that withstands drought and flooding. Not only is it a kind the bonsai popular in many gardens or parks but all parts of the tree have useful functions. There are many dishes in this country made from jaggery made from palmyra tree such as palmyra tea and palmyra wine.
This wine is often used in Cambodian parties, with a strong, delicious flavor and a very mild yeast, so it is quite easy to drink.
Most tourists come to Cambodia to enjoy the taste of jaggery wine, a specialty wine of Cambodian people. Jaggery in Cambodia is selling very well, tourists often buy as gifts, so you can consider a few bottles to enjoy.
6, Grilled Squid (Ang dtray meuk)
In Cambodia, BBQ street food is quite popular When the night has fallen, vendors appear around the markets and on busy streets, grilling various dishes for dinner.
Grilled squid is among the most popular grilled seafood there, which is a nutritious fresh dish that you can easily find in coastal cities like Sihanouk or Kep town.
Fresh squid is caught early on, then marinated with lemon juice or fish sauce, grilled on wooden skewers and served with a typical Cambodian dipping sauce, made from garlic, fresh peppers, fish sauce, lemon juice and sugar.
You can enjoy this dish while it's still hot without feeling anything fishy, instead, all of the spices create a very harmonious mixture that can make you mouthwatering.
Coming to Cambodia without enjoying grilled squid is truly regrettable.
8, Num Kachay
One scene you will often capture on Cambodian streets is mobile street vendors selling cute small cakes. These cakes are fried in a shallow pan, and made of glutinous rice flour and served with sweet and spicy fish sauce.
Chive biscuits, also known as Num Kachay, are a popular Cambodian street food originating from China. Although the ingredients are very simple, the taste is very good. The cakes are crispy on the outside and soft on the inside. When dipped in sweet spicy sauce, the flavor blends perfectly in the mouth. This is one of our favorite foods on the Cambodian streets.
You will find vendors Num Kachay mobile on the street everywhere, or on busy street corners at noon. You can also find Num Kachay at local markets. They are sold hot and remains the the chewy taste of glutinous rice.
9, Cambodian bamboo-tube rice
Lam rice is a type of sticky rice baked in bamboo tubes, originating from the mountainous provinces of Cambodia. This is not just a simple daily dish of rural people, but it is also a traditional dish popular in special occasions such as festivals or parties. Today, tourism has developed as a special dish, one of the most popular dishes among diners.
In addition to the thorough selection of ingredients, this dish is also meticulously prepared by the chef. After mixing coconut milk or peanuts into soaked sticky rice, this rice is put in a bamboo tube, sealed with the other end and put on a charcoal grill for baking. When baking, the chef must roll a tube regularly to cook rice evenly. Usually baking a tube of barley rice takes about an hour, when a little fragrant comes out of the bamboo tube, it means that the rice is cooked. Ripe rice has a bluish color and a rich aroma of rice and coconut milk.
Today, restaurants in Siem Reap, Phnom Penh or Sihanoukville still sell a lot of bamboo-tube rice dishes built into many different utensils but bamboo tubes are still an official fad for unique dishes.
If in Vietnam this dish is quite simple and easy to make, in Cambodia it is more picky in choosing the ingredients and the way of processing also requires the chef of certain skills.
10, Bai sach chrouk
You can find this dish everywhere in Cambodia, from alleys of villages to famous restaurants, mostly used as breakfast in the morning.
Bai sach chrouk, also known as pork rice, is a quite simple but delicious and popular dish and is listed as one of Cambodian specialties.
This dish includes fragrant, hot glutinous rice and the topping is thinly sliced pork marinated with coconut milk and garlic, grilled slowly on charcoal to keep the natural sweetness. Accompanied by a cucumber and radish, ginger and a bowl of chicken broth with fresh onions and dry shallots, which smells of the nose.
It's not too lavish, fussy or complicated and the the people of this country always worship the simplicity and pure in their processing, but the cuisine in Cambodia still has its unmistakable taste and I can assure you that once you've try those specialties, you will never forget how amazing they are. 

---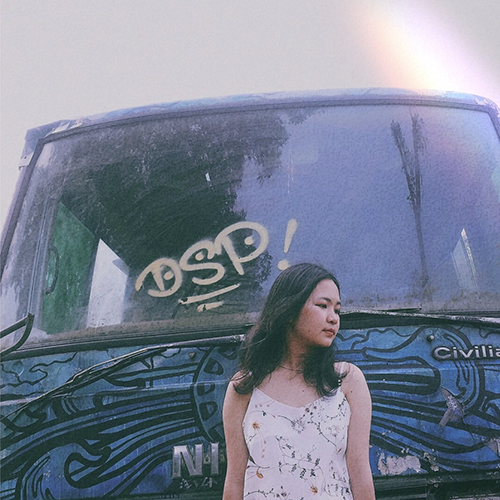 A wanderlust who is into photography and has special interest in chasing clouds and admiring the sky. Hoping that someday I will be able to see the sky from every part of the world.

Alida - Travel writer