Ninh Thuan – the miraculous land with wonderful landscapes from long-standing architectures like Cham's tower, unique traditional festivals, to pristine beautiful beaches such as Ca Na, Ninh Chu or Vinh Hy…is continuously welcoming visitors all around the world.
Ninh Thuan brings its serene beauty of white sand area blending well with sunshine and sea-wind. When coming to Ninh Thuan, you can not only immerse yourself in cool air blow, admire vast blue sea in pristine beaches such as Ca Na, Mui Dinh, Vinh Hy or stride along immense white sand dunes…but you also discover mysterious attraction of Po Klong Garai tower which is one of the most long-standing vestige still remained from Cham Pa kingdom period. Besides, brocade village in My Nghe and pottery traditional village in Bau Truc as well are extremely worthy visiting.
Traveling to Ninh Thuan on Tet holiday or traditional festivals
Ninh Thuan is known as the home of most Cham people living in Vietnam, thus, it will be greatest if you travel to Ninh Thuan on their special occasions to visit and experience Cham's culture deeply imbued with traditional colours. Visiting here, you should not miss out on interesting time of joining in Ramuwan and Kate festival usually occurred in July, annually. On festivals, you will have right chances to enjoy lissom dance named Shiva that is performed smoothly by Cham's beautiful girls, to listen Kanhi instrument, Paranung drumbeat and resounding Ginang drum at the same time.
Visting Ninh Chu beach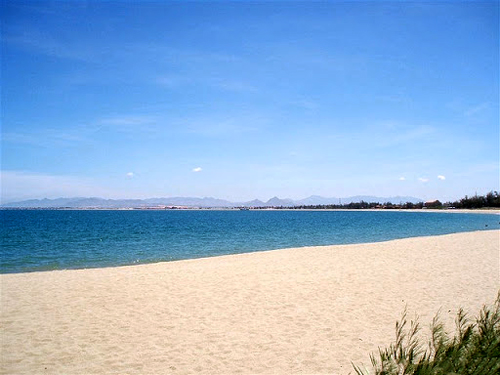 Ninh Chu,which is located in Khanh Hai commue, Ninh Hai district, 6 kms far from Phan Giang-Thap Cham town in the East, is considered as the most attracted place in Ninh Thuan. It is favoured with beautiful seascape and nice terrain, it not difficult for any tourist to find the road here. Ninh Chu beach possesses pure blue water, gently and calmly waving in the breeze that is wonderful for you to wallow in crystal water and leave stress out. Wonderfully, Ninh Chu is cool weather with sunshine all year round, so you can totally visit Ninh Chu in every season . Beside nice beach, you may drop in some other places near Ninh Chu like Nai reservoir of shrimp, fish and squid, Da Chong mountain, or Tan An mountain…One more, in Ninh Chu, you can easily choose many kinds of fresh seafood with reasonable price. If you are an active lover, you would be pleased with interesting outdoor activities here, definitely.
Visting Ca Na beach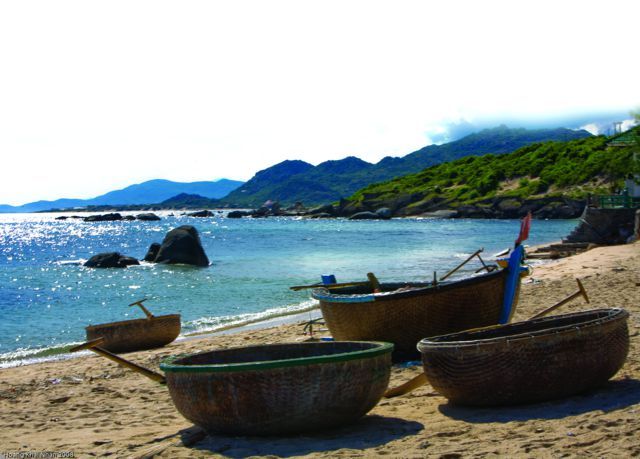 Ca Na beach lies on 1A highway and Thong Nhat railway as well, 30 kms from Phan Giang-Thap Cham city centre in the South . Ca Na is said to be one of the most beautiful beaches in Vietnam because of its so cool and pure blue water matching with long white sand beach. Especially, you will be surprised by seeing shoals of anchovy swimming under undulating waves or watching sea-birds freely flying in the sky from Hon Lao near the beach. For visitors those love peaceful space with cool air in moonlight, Ca Na is such a great place that they might be full of admiration of sightseeing views, listening wave sounds at bright moon night. After all, you will feel Ca Na is really ideal for your holiday.
Visiting Vinh Hy bay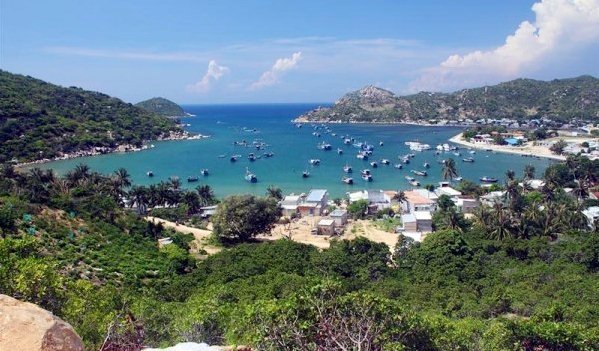 Vinh Hy is in the location of Vinh Hai commune, Ninh Hai district, 42 kilometers far from Phan Giang city in the Northeast. As traveling to Vinh Hy, you have experience of discovering vast blue sea; enormous forests and mountains. To tour around Vinh Hy bay on boat is very exciting for you while you can take a panoramic picture that is both pristine and quiet, but not less poetic. Then, you may take a visit to Chua mountain which is not far from Vinh Hy bay. Leaving Vinh Hy, you will go across a chain-bridge and spend 15 minutes walking to reach nature conversation area of Chua mountain. In fact, this place is so fresh and quiet that we could be restful and forget stress in daily busy life. Along with sightseeing, you are advised to swim in pure cool stream, feel relaxing moments.
Striding along Nam Cuong sand hill
Nam Cuong sand hill with total area of 700 hectares is located in Phan Giang town.When coming to Nam Cuong hill, tourists will admire smooth, iridescent yellow sand dunes under sunshine. Accidentally and intriguingly, you may catch Cham girls wearing graceful and charming Cham traditional dress. In original way, Nam Cuong sand dunes's shape is so changeable every hour, every minute and every second that you have never seen your footmark though you have just left it. The great time to visit sand dunes is in the sunrise, when standing on the top of Nam Cuong sand hill, you can sightsee and feel the glow of dawn is gradually rising up, prevasively spreading out sand dunes to make lithe, subtle, striking and eye-catching beauty. Also, from the sight of Nam Cuong, you will view grandiose beautiful Cha Bang– the mountain which is attached to Ponai legend of Cham people in the past.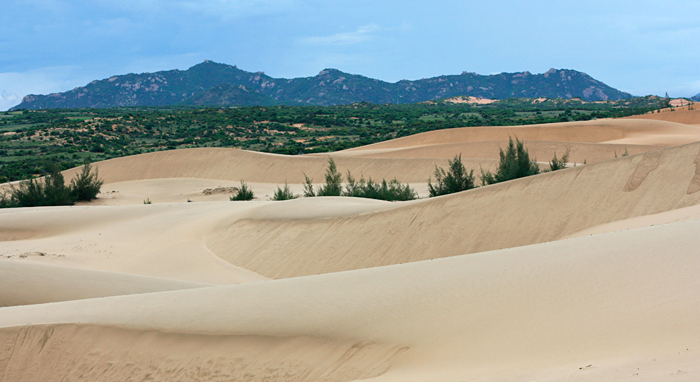 In Ninh Thuan, not only famous places but also its special dishes are valuable to enjoy. You are recommended to taste flavours of soup cake with fried fish, beef noodle soup, pork bologna, grape jam, grape wine or fried rice paper… these specialities make you appetizing, unforgettable. In brief, Ninh Thuan-the homeland of beautiful landscapes and seascapes with peace, coolness for relaxing as well as new things you have never explored before would surely leave impression and memorable time in your mind!
If you have any question about Ninh Thuan, please contact us via email: sales@travelsense.asia