You might have heard about Phu Quoc and about the spectacular views and appealing experience here. But are you still in total darkness about where exactly you should go and how you can experience the best out of Phu Quoc?
If you are, we would like to bring you the Phu Quoc travel guide with lots of information about vehicles, climate, outstanding landmarks and famous local products. Hopefully this guide will accompany you on upcoming trips to Phu Quoc.
Full Travel Guide To Phu Quoc
Overview
Phu Quoc is a beautiful archipelago located deep in the Gulf of Thailand, and belongs to Kien Giang provinceKien Giang province(Wiki) Located in the Mekong Delta region of southern Vietnam, 250 km from the Ho Chi Minh City. It is known for fishing and rice farming..
In the southern sea of the Vietnam, Ngoc Phu Quoc Island – the largest island of Vietnam, is also the largest of the 22 small islands here.
Phu Quoc is presented a wonderful gift by nature. It is not only given great landscape values but also bountiful ecosystems, which has been recognized by UNESCO as a world biosphere reserve. That has helped this land increasingly stronger in the field of tourism and gradually asserted the position of an island full of vivid sceneries.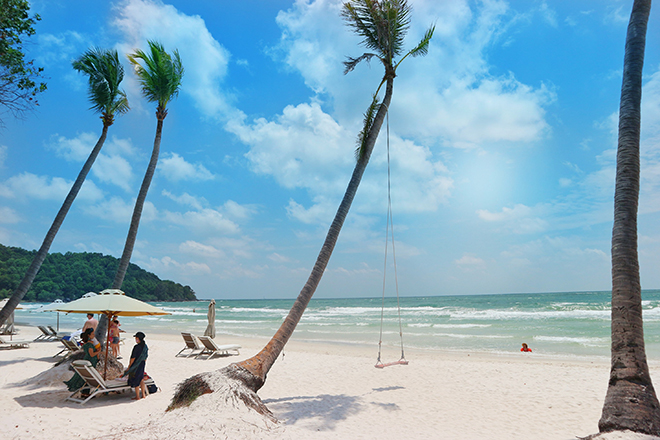 In addition to domestic flights, Phu Quoc international airport have already had the direct flights from some big cities of some Asian countries including: Seoul (Korea), Kuala Lumpur (Malaysia), Bangkok (Thailand), Guangzhou (China), and so on.
You should also note that from March 10, 2014, foreigners who enter, exit and reside in Phu Quoc island are exempted from visa for a temporary stay, which does not exceed 30 days.
Phu Quoc Visa-free policy for tourists with foreign passports
In accordance with the Decision 80/2013 / QD-TTg of the Vietnam Prime Minister, foreigners will receive visa exemption with temporary stay on arrival in Phu Quoc under 30 days since March 10th, 2014.
If foreigners enter an international border gate of Vietnam (including by air and by sea), stay in the transit area at that border gate, then transfer to Phu Quoc island, they will be exempt from visa as prescribed. This has created more favorable conditions to attract international tourists to come here for tourism.
However, this exemption can't be used for onward travel elsewhere in Vietnam. If you have this visa waiver and wish to travel from Phu Quoc to the Vietnamese mainland, you'll need to get a Vietnamese visa from the Phu Quoc Immigration Office. 
Best time to travel
The weather in a year of Phu Quoc
Phu Quoc is located in the Southwest region and in the tropical monsoon climate, so it has the characteristics of the southern weather with two distinct seasons: the rainy season and the dry season.
The rainy season starts from May to October and the Southwest wind is active regularly so the climate is very cool, mild and pleasant. Favorable for all recreational activities. There are storms sometimes but Phu Quoc is still crowded because this time falls in summer vacation of domestic tourists.
The dry season starts from November to April and winds come from the Northeast. Therefore, the temperature always fluctuates around 28 degrees Celsius.
However, because it is a marine area, there may be a few storms every year that affect tourism activities and cause danger, so visitors should update the weather forecast to have the best plan for the trip.
Best time to visit Phu Quoc
From October to March is believed to be the best time to visit Phu Quoc. Because the weather in the island at this time is dry, which makes it more convenient for tourist to take part in outdoor activities. In particular, the number of visitors to Phu Quoc during this time is much lower than the summer so you can easily book the service quickly.
This is also the time when a lot of traditional festivals occurs, such as Nguyen Trung Truc festival (falls on 27th of the eight lunar month, might fall in September every year), Suoi Da festival (from 25th to 26th in September), Nghinh Ong festival (falls on 15th and 16th of the eighth lunar month, which often happens in September every year). Therefore, you can truly have insight into Vietnamese culture, especially the spiritual life of the fishermen here.
The most important thing you should notice is still to follow the weather forecast to avoid stormy days.
Clothing And What To Prepare
When traveling, the choice of outfit needs to be light and not require  too much time to prepare before each trip. The essential items for a vacation in the an island full of beautiful beaches definitely cannot be missed like maxi dresses, swimsuit, bikinis for women and shorts, short-sleeved shirt, tank-top for men.
Moreover, if you do not want yourselves to be affected by the sun, then sunscreen, sunglasses are also accessories that you should bring.
For those who come to Phu Quoc during the rainy season, be prepared to bring along your raincoat to avoid the sudden rains at the beginning of the season.
Tips
It is definitely not recommended to go to Phu Quoc during the rainy and dangerous weather with storms. Moreover, boats will not be allowed to operate and outdoor activities are also limited
Hotels and motels often during peak season are fully booked quickly, so you should make a reservation about a month in advance.
Some places on Phu Quoc do not allow tourists to visit, so you need to strictly comply with not going into restricted areas.
The sun is super strong in Phu Quoc, you should remember to wear sun cream, all over and keep reapplying.
How to get to Phu Quoc
Travel by plane
Currently, there are 3 main airplane brands including Vietnam Airlines, Jetstar, Vietjet Air that fly to Phu Quoc Island.
Normally, there are 3 main departure positions to fly to Phu Quoc Island, which are Saigon, Hanoi, Can Tho. Depending on your the departure point, you can choose the airline with the appropriate flight and flight time. Here are some reference fares
–         From Hanoi – Phu Quoc: The price ranges from 3,000,000 tp 5,000,000 VND/ round-trip ticket. It will take you more than 2 hours to reach Phu Quoc.
–         From to Ho Chi Minh City to Phu Quoc: the price is from1,200,000 – 2,800,000 VND/ round trip-ticket. Flight lasts about 50 minutes.
–         From Can Tho to Phu Quoc: The price is about 1,200,000 VND/ ticket, the flight often lasts 1 hour.
If you plan to travel to Phu Quoc by plane, you should book flight tickets early to be able to purchase the cheaper ones.
Travel by boat
In addition to traveling by plane, visitors can also reach Phu Quoc Island by sea route. SuperDong and Savana are two ships going to the island, which depart from Rach Gia port.
Travel by ferry
The ferries often depart at Thanh Thoi ferry (Ha Tien) and stop at Da Chong port (Bai Thom, Phu Quoc). Ferries with large capacity can carry many kinds of cars.
It can last for more than 2 hours when using ferries. From Da Chong port to the center of Duong Dong town about 20km, you can go by bus, motorbike or taxi
Travel in Phu Quoc
There are three main roads:
– 30/4 Street, which is known as Phu Quoc Cuisine street. There are many restaurants and eateries, you can try seafood at roadside stalls for a better price than the night market. This road goes to Sung Hung Co Tu Pagoda, Tranh stream, Ham Ninh fishing village, Bai Vong wharf.
– Tran Hung Dao Street. This street has the most hotels and resorts in Phu Quoc, most of which include beaches. You can go from one beach of this resort to another freely.
– Hung Vuong Street. This road creates a junction with the road 30/04, which leads to Da Ban stream, Khu Tuong pepper garden, Ganh Dau national park, Ong Nguyen temple, Vung Bau tourist resort.
Things To Do In Phu Quoc
In Northern Phu Quoc
The North of Phu Quoc Island is a rich land with abundant forest ranges, various flora and fauna and countless beautiful beaches. Coming to the North Island is like coming to pristine nature. There are some spots that you shouldn't miss:
Khu Tuong pepper garden
:
Phu Quoc pepper is famous for its pungent aroma, which is stronger than that of other regions in Vietnam. On the way from Duong Dong to Ganh Dau, you will see two beautiful pepper gardens. After visiting, you can also buy some dried pepper as gifts for your loved ones.
Vinpearl land Phu Quoc
Built on a total area of ​​up to 170,000m², Vinpearl Phu Quoc entertainment area includes many interesting places such as: Water park, aquarium, outdoor play area, movie theater, shopping area, fairy castles and food street.
In addition, Vinpearl Land in Phu Quoc also has a dolphin performance area with the capacity of up to 1,152 seats and a water music stage with a capacity of up to 2,337 seats to meet the needs of International cultural events.
Phu Quoc National Forest
:
If you are interested in nature, this will be your favorite spot.  You can explore interesting things and the biodiversity in the forest with cool atmosphere and extremely rich and diverse botanical scenery.
Bai Dai (Long Beach)
:
Here you have the opportunity to immerse yourself in the sea and white sand of the beach voted by BBC as one of the 10 most pristine and beautiful beaches in the world.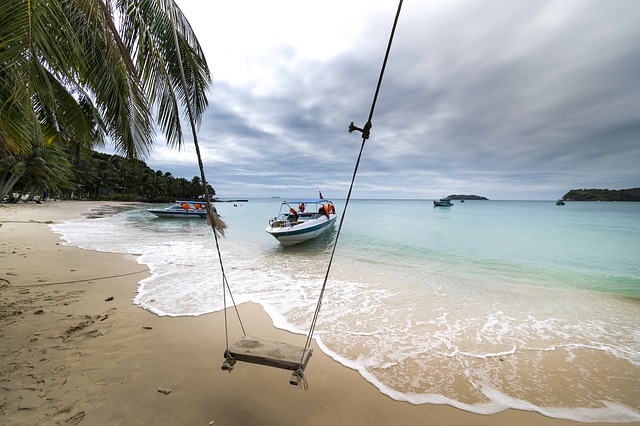 Da Ngoi Stream
,
which contains 7 waterfalls, is majestic and breathtakingly beautiful because it is still a secret for travelers who love to explore and adventurous. From November to April is the best time to visit Da Ngon stream, because if you travel in the rainy season, the rocks become slippery.
Nguyen Trung Truc Temple
.
This temple was built by the local people of Phu Quoc to commemorate the hero who contributed to the country and the nation. Every year, on August 28 of the lunar calendar, Phu Quoc people flock here to commemorate him.
The Eastern Phu Quoc
This is a lowland intertwined with forest, where the population of the island is concentrated. Some places should be in your list include:
Suoi Tranh (Tranh Stream)
:
Suoi Tranh is made up of many small streams, weaving through the canyon forest with water from June to September every year. It has beautiful natural scenery with flowers, mountains, sea and streams. This is also an interesting place for you to go camping and have a picnic with friends or family
Ham Ninh fishing village
:
This is a place where you can witness the fishermen diving for pearls, catching holothurians and spreading fishing nets. Watching the sunrise or enjoying the moonlit nights from this spot is an exceptional experience that any tourists want to have.
>> Read more: Discover pristine, natural beauty of Ham Ninh fishing village in Phu Quoc island
Bai Truong (Truong Beach)
From October to April every year, Truong Beach is the perfect choice because this is the most beautiful season here. Sunset Sanato Beach Club, also located in Truong Beach, is famous for the most unique beach in Phu Quoc with impressive works of art. This is the venue for the largest beach music festival in Phu Quoc – Epizode, which is held every year on New Year's day (according to Western calendar)
Barrels manufacturing fish sauce:
Coming here, you can learn traditional methods of brewing fish to create the rich taste of famous Phu Quoc fish sauce. You can also buy fish sauce at the factory.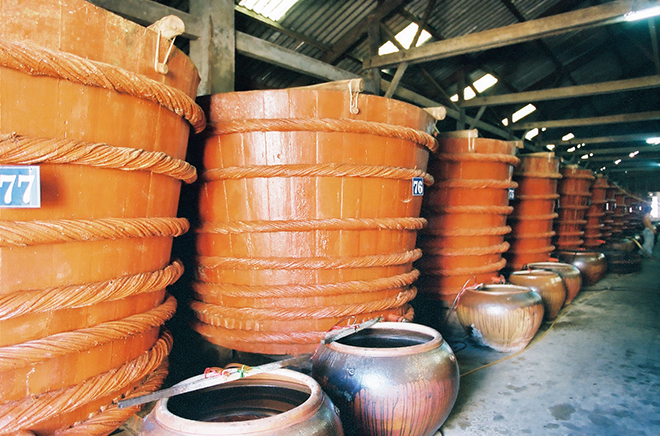 The Western Phu Quoc
Dong Duong Town
The main town, Dong Duong is 15 minutes far from the Port by motorbike, close to the long beach where local people usually take a walk and admire the sunrise from top of Dinh Cau in every morning. Alongside the way to town, you will pass small paths which run through the island, and catch houses, luxuriant fruit orchards around with shady coconut ranges.
Starting from Duong Dong town in Phu Quoc with the morning market. Duong Dong market buys and sells fresh fish, vegetables and consumer goods. This is a great market to buy fresh fruits and unique local like the Phu Quoc mushroom, fresh island pepper or Herring to make the infamous Herring salad. You would be surprised how cheap everything is here. The market is located behind the construction site of a new bridge which kind of makes it a bit difficult to find.
The Southern Phu Quoc
Nha Lao Cay Dua (Coconut Tree Prison Phu Quoc)
:
Coming to Phu Quoc Prison, you will witness the remnants of the Vietnam War and learn about the cruel tortures during the war in Vietnam, which happened around 50 years go.
Bai Sao (Sao Beach)
:
Sao Beach is one of the most beautiful beaches in Phu Quoc. This place has a white sand bank longer than 7 km, the shape is gentle and curved like the moon. At the peak season, Sao Beach is crowded with tourists, so if you like to go to Sao beach, you should go early to rent a hammock to rest.
An Thoi archipelago
:
An Thoi archipelago has 15 islands of different sizes located along the southwest. This destination is suitable for tourism activities such as nature exploration, sightseeing, fishing, squid fishing, swimming and scuba diving. Ticket price for squid fishing is about 200,000 VND / person. 
Some of the big islands in the An Thoi archipelago are:
+ Hon Mong Tay (Mong Tay island): This is the ideal place for outdoor activities such as camping, swimming or going deep to explore the wild nature. It is recommended that you should experience scuba diving to see the extremely rich coral ecosystem, with 17 types and many types of colorful sea anemones.
+ Hon May Rut (May Rut island): There is a very diverse ecosystem with more than 100 species of hard and soft corals, 125 species of fish, 150 species of mollusks along with many valuable marine species such as dugongs, tortoises ..
Phu Quoc Cable Car 
The cable car connects center of An Thoi to Hon Thom island. The total length of this cable car is 7,899m. 
Hon Thom Cable Car has two stations at An Thoi and Hon Thom, with 69 cabins, it only takes you 15 minutes to travel to the island, while traveling by boat takes 30 minutes. The cable car is more active for choosing what time to go and leave.
Also, by travelling by cable car tourist can enjoy panoramic view of Phu Quoc sea from above, still very high safety.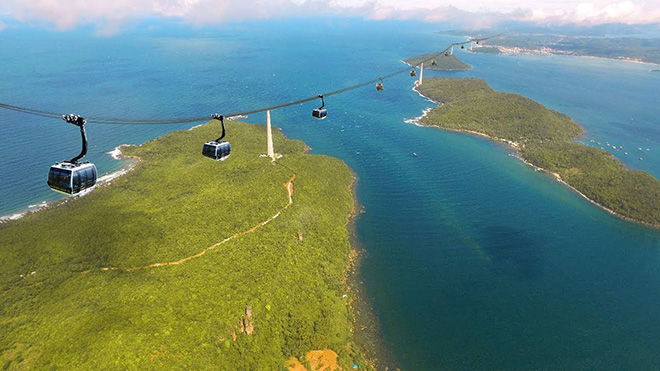 The cable car fare is:
–         500,000 VND for adults (Combo ticket including shuttle bus: 550,000 VND / person)
–         350,000 VND for children (Combo ticket including shuttle bus 380,000 VND / person). T
Note: The cable car fare includes round trip and services such as swimming, free freshwater bathing, free buoy house games …
Opening hours: 7:30 a.m. to 5:30 p.m. daily. Particularly, from Hon Thom island back to An Thoi is 7:30 a.m. – 7:30 p.m.
Phu Quoc nightlife
If you say Phu Quoc during the day is a tourist paradise, you might be surprised by Phu Quoc at night, which is less bustling than other tourist attractions like Nha Trang, Da Lat, Vung Tau. However, Phu Quoc at night also has a lot of interesting activities for visitors to enjoy. Let's look at some with us:
Watch the sunset and the night squid fishing in Phu Quoc
This experience not only allows you to enjoy the feeling of floating on the sea, sniffing the sea breeze, watching the sunset , gaining more knowledge about squid fishing. , but above all it will give you the joy of fishing.
The time for squid fishing is from 5pm to about 9pm. You can try your luck at catching squid at night by either joining an organized tour or by commissioning your own boat from Duong Dong town.
Phu Quoc night market
Phu Quoc Night Market is located on Bach Dang Street in the west of the island, which is home to selling souvenir and dining items, fresh seafood, local cuisine. The market has about 100 bars and stalls on both sides of the street. It impresses visitors with long shimmering lanterns along the market.
The most attractive place in Phu Quoc night market is the cuisine, especially seafood such as grilled fish, salads, grilled scallops, seafood porridge, fish cake…
Opening hours: 17h until 2am the next morning. The most crowded time is from 19:00 to 23:00.
 
Visit the bars in Phu Quoc
The bars in Phu Quoc are mostly just gentle bars and if possible, you should choose the bar located close to the coast. Sitting there listening to music, drinking a beer, watching the night sea and listening to the waves are exceptional experience for tourists.ư
Enjoy seafood and Phu Quoc specialties
Many restaurants here open late, which means tourists can have the chance to enjoy seafood in the evening. Besides, trying Phu Quoc specialties is recommended to be in your must-try list.
Must-try food
Herring rolls
Fresh herring is rolled with rice paper and many kinds of vegetables, a little grated coconut. When eating, the rolls are dipped in excellent fish sauce, which is also poplar in Phu Quoc. Herring rolls sauce is also very special, it is made from chili, garlic and roasted peanuts. All these are crushed and mixed together, and then added with Phu Quoc genuine fish sauce. This dish is totally not fishy and you can smell the aroma of vegetables, the fatty taste of coconut and crunchy fish pieces.
Rice noodle with crab soup (Banh canh ghe)
The soup is made from freshly cooked white rice flour and bone broth. Crab meat and sometimes other seafood flavors. The sweetness of the crab, the fragrant aroma of the broth make the crab soup bowl in Phu Quoc really stands out.
Grilled seafood: Grilled snail with salt and chilli, scallop grilled with onion and grilled egg-squid.
These are also worth trying dish when coming to Phu Quoc because of the fresh ingredients with the spicy peppers. These dishes can be found at almost every restaurant at Dinh Cau night market.
Melaleuca mushroom
Melaleuca mushroom is only found in Phu Quoc during the rainy season (April to September). If you come in the dry season, Melaleuca mushroom is definitely the type that has been dried or frozen, which is not as good as the freshly picked mushrooms. Fresh mushrooms are cooked with seafood such as shrimp, fish and squid. Dried mushrooms are stir-fried with abalone or sea cucumber.
Accommodation
Guests can find in Phu Quoc budget motels to luxury resorts of international class.
If you want to save money, you can stay in homestay. If traveling with a company, a family with young children, hotel is the best choice.
If you want tranquility and relaxation, you should stay at the resort, villa or bungalows near the beach.
Because the place to stay in depends a lot on your budget and preference so we would not give you much detail here.
We hope that our information can make it easier for you to plan a trip to Phu Quoc. As you can guess, it can take a lot of time to completely explore Phu Quoc, but we hope that you can pick out some outstanding destinations and activities that will make you have the best time and the most memorable experience during your trip here.