Less than one month has passed since WIPHA, the third storm in the East Sea reached Vietnam. And now, both the Vietnamese and international visitors in Vietnam have to be ready for the fourth storm named Podul.
If you are enjoying a holiday in Vietnam, this information is of utmost importance not to ruin your trip in a tropical cyclone. And don't forget to check out experts' tips for traveling during stormy season here.
Current Predictions Of The Movements Of Podul Storm
30/8: The fourth storm in the East Sea has landed in the coastline from Ha Tinh to Quang Binh Province in the early morning of August 30th.
After four days sweeping across the ocean, causing severe damage to the Philippine, Podul has entered the Middle of Vietnam, Under the influence of Podul, the coastal area from Nghe An to Quang Tri is enduring packing winds of level 8 to 10 while the mainland witnesses winds of level 6 to 7. The area near the storm eye can experience level 9. It also triggers off heavy rainfall from 100 to 250 mm for the provinces from Nghe An to Thua Thien Hue.
After landing, Podul has weakened into a Tropical Depression, traveling at a speed of 40 to 60 kph toward the Laos-Thailand border.
It is predicted to cause downpour for the the area from Thanh Hoa to Quang Tri and the West Highland until September 2nd. The rainfall varies between 40 to 300 mm.
29/8: As a potent storm is approaching, the Vietnamese government has gathered to make some preparations to cope with Podul.
In the next 24 hours, Vietnamese meteorologists forecast that the Podul will track across the Northwestern direction. The current speed allows it to travel a distance of 25 kilometers every hour.
As a result, in the early morning tomorrow (August 30), the storm lays its center at 120 km to the east from the mainland of Nghe An-Quang Binh. The strongest wind near the center of Podul will be at level 9 to 10 ( around 75-100 km / h). It can even rise to level 12.
Under the influence of Podul, the Middle of Vietnam from Thanh Hoa to Quang Tri, including some popular destinations such as Pu Luong, Phong Nha, Hue, Danang, Hoi An will suffer from downpours from late afternoon on August 29 until September 2.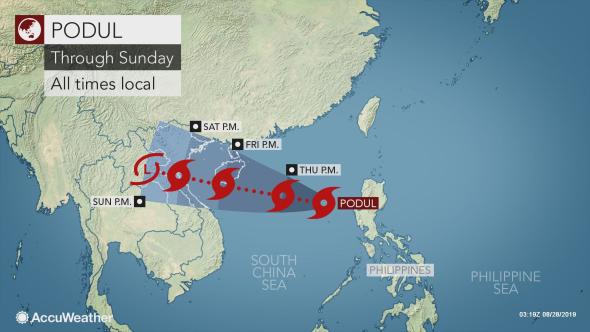 Flash Update About Podul Storm
Podul or Jenny was formed in the Philippine sea on August 26 as Low-Pressure Area. Only a few days after its formation, it has intensified into Tropical Depression, and now a Tropical Storm, the fourth storm in the East Sea this year.
After causing intermittent heavy rains for most areas of the Philippine, Podul is making its way toward the Southern and Middle coastline of Vietnam. Early this morning (August 29), The National Centre for Hydro-Meteorological Forecasting of Viet Nam reports that Podul storm is located in the northeastern part of the Paracel Islands (Hoang Sa). It is approximately 480 km from the mainland of Quang Tri-Quang Ngai provinces, which features the tourism hub of Danang and the ancient town of Hoi An.
The tropical storm of Podul currently possesses a maximum wind at level 9 to 11, a super dangerous level with the strongest wind up to 75-90 kilometers per hour. The gustiness of Podul has reached level 6 to level 8, more about 120 km from the center of the storm.
What Should You Do Right Now To Deal With Podul Storm?
Podul is a super-strong storm which continues to gain further vigor so don't forget to catch up with the latest news of Podul. More importantly, spend your time and read our Survival Guide For Typhoon Season In Vietnam in detail to prepare yourself in the stormy days. 
If you are considering to book a trip to Vietnam, perhaps it's better-off leaving some beautiful cities like Danang, Hue for the next travel

Check the weather forecast regularly to update about the destination's situation

Put your relevant documents and devices into waterproof cases during your journey

Be ready for some delay in transport, especially flights. If possible, you should rearrange the schedule either before or after the storm hits the land

Avoid going to remote places with a sparse population like some areas in the northern mountains

Remember to charge your phone and bring an additional battery or a portable charger to stay connected

Outdoor activities are not appropriate during rainy days. Instead, get some indoor fun in shopping malls or recreational centers
At Travel Sense Asia, we have professional travel experts to help our guests when the weather condition turns unexpected. We always update the weather situation and inform our guests as soon as possible to make necessary changes. This helps to minimize the cancelation cases and make sure you will have a pleasant and smooth journey.
In Case of Weather Emergency, How Travel Sense Asia Handle?
As an experienced tour operator, this is definitely not the first time we deal with such situation. Our travel experts always update the weather situation and inform our guests as soon as possible to make necessary changes. This helps to minimize the cancelation cases and make sure you will have a nice and smooth journey.
Here we have created some resolutions to conquer the fear of storms with you.
#1: If the pre scheduled destinations are subject to the affected zone, the travel expert who take care of your tour will contact you in advance and give you other options to visit. Otherwise, you can suggest other destinations for us and we will tell you if it's safe to go there.
#2: In case of sudden change in the weather, which puts a halt to the tour activities, you will get a refund for the part of your package that has been canceled.
#3: When the rough sea prevents you from a overnight cruise on Halong Bay, a spectacular site in the Northern Coastline, we will arrange a convenient hotel inland for you. And so as not to waste your time, we suggest a short trip to explore Halong Park. Or else, traveling back to Hanoi and going sightseeing in this ancient capital is another excellent alternative.