Saigon is one of the most attractive tourist destinations in Vietnam highlights tour. Beside the beautiful sceneries, the unique architectures and numerous delicious dishes, the shopping centers and bustling markets also fascinate visitors everywhere when coming this dynamic city. Goods in Ho Chi Minh is abundant in colors and categories, from ordinary items used in daily life to specialties in areas, from domestic products to the world's reputable brands. Shops are decorated beautifully with eye-catching colors. All these will certainly bring interesting feeling to you when shopping in Ho Chi Minh city also named the shopper's paradise.
Shopping in fashion streets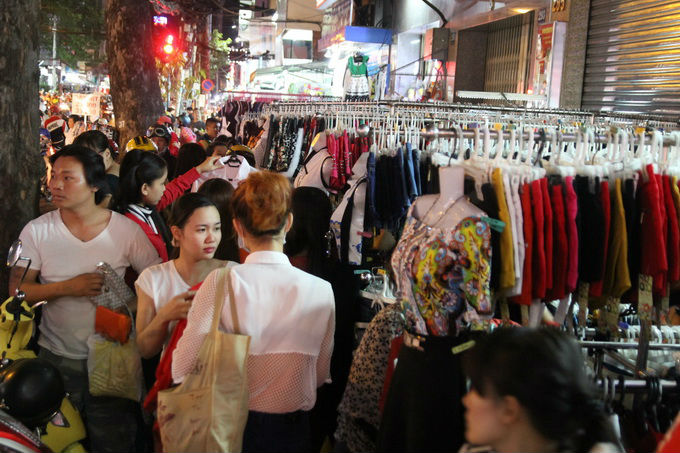 Nguyen Trai, Hai Ba Trung, and Le Van Sy are three streets of the dense fashion shops in Saigon. Each street has a multitude of big and small stores with famous brands for both common people and higher classes. Taking a stroll around fashion streets, you may admire stunning clothes and buy yourself the most satisfactory suits. Many locals shop for clothing in the stores along Nguyen Trai street or at Saigon Square. Along with Nguyen Trai street, Saigon Square has been outstanding strength in clothes, shoes, handbags, ordinary and middle goods so it is always crowed and busy buying and selling. As buying here, you are recommended to bargain carefully because overcharging.
Shopping at Ben Thanh market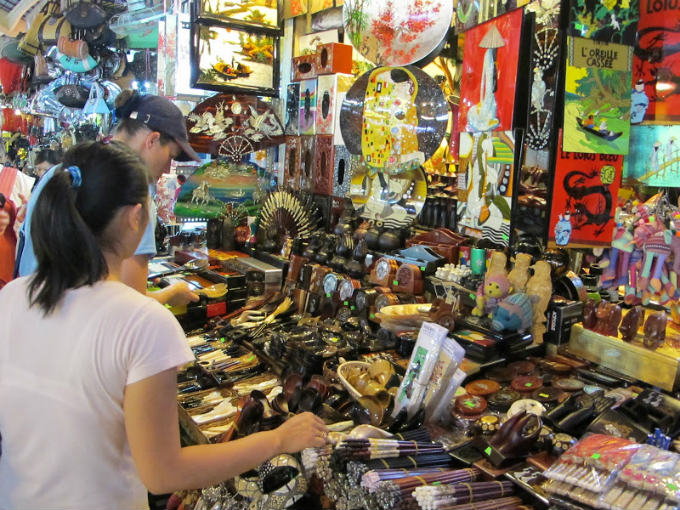 Ben Thanh market located on Ben Nghe Ward, District 1, is the striking shopping place in Ho Chi Minh city where mainly serves for tourists. Going to Ben Thanh market, you can find everything from clothing, fabric sold outside to kitchen appliances, souvenirs, handicrafts and food stalls when going inside. Also, you could see fashionable things including clothes for all seasons(spring, summer, autumn and winter) with various colors and styles here. Besides, the market is crowed and full of laughter all day, even on weekends. Coming to Ben Thanh market, you can not only admire its unique architecture, choose and buy different things and items, but you also experience interesting feeling at the ancient and typical market in Vietnam and the enthusiastic sellers speaking many foreign languages. If you travel to Ben Thanh market for the first time, you are advised to walk in group in order not to get lost in a large space. You should ask the seller about returning and exchanging goods or product's cost carefully before buying so as that you can get the valuable ones with reasonable prices.
Shopping at Binh Tay market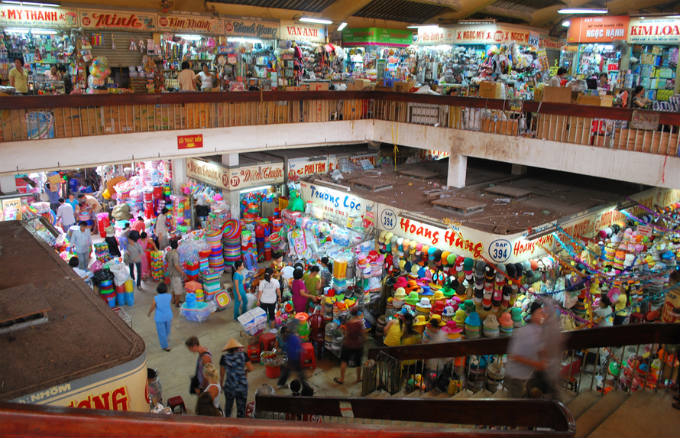 Binh Tay is the largest wholesale market in Ho Chi Minh city. Shopping here, you will freely select and buy numerous items from fabric, clothes to personal effects. You might explore that this market is the place of watches, it is easy to find watches having good quality or watches being impressive imitations. When walking along Binh Tay market or small shops around this market you can choose a watch with the better price than other shops around the city. Moreover, if you need a fashionable handbag or wallet, Binh Tay market is also the great place for you to buy.
Shopping at the antiques street (Le Cong Kieu)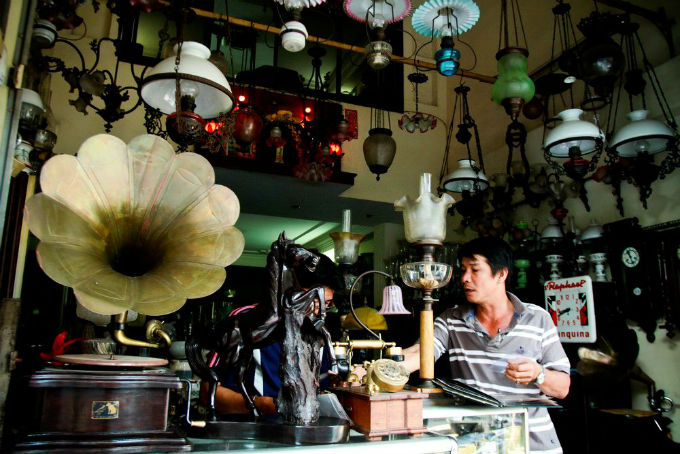 Antiques street (known as Le Cong Kieu street)is just outside Ben Thanh Market. People have commented that the stores are riddled by imitations but you may find a diamond in the rough! Items are sold consisting of old money, stamps, war memorabilia, figurines made of ivory or bone and more. That's so various! Antiques street opens at 9 am until 5pm every day. People collecting antiques consider here as where to purchase the precious items. Being a connoisseur in antiques and lucky, you may possess a valuable item with cheap price.
Shopping at painting streets

Tran Phu street has been similar to who are interested in painting. From still-life paintings, portraits to religious paintings, abstract paintings in different sizes… you can totally find all here. Though Tran Phu street is not long but painting shops are close together. The sellers exhibit the big and beautiful pictures in front door for sightseer to admire. Sometimes, you walk pass the painting street, you could see the artist being completely wrapped up in his work. The painting street provides a variety of paintings including canvas, lacquer painting and high-grade embroidered painting. Interestingly, you can buy available paintings or order to paint.
Shopping at bonsai street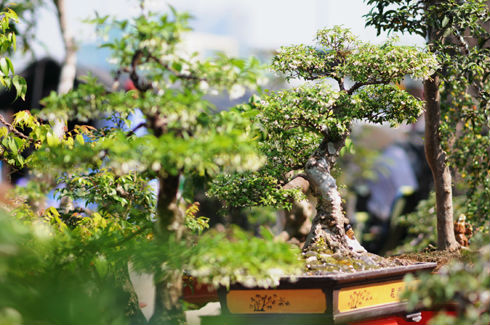 Having an idea about buying a small pot plant to decorate for your house or workplace, we suggest you going to bonsai street (Thanh Thai street, district 10). Walking along Thanh Thai street at noon, you will feel comfortable when seeing the green bonsai stores, the colorful pot plants placed next to each other or the shop owner spraying water to keep freshness for trees. Beside buying plants, you may also learn experience to take care for trees. The gardeners will dedicatedly guide you to keep the verdant tree.
Shopping at night market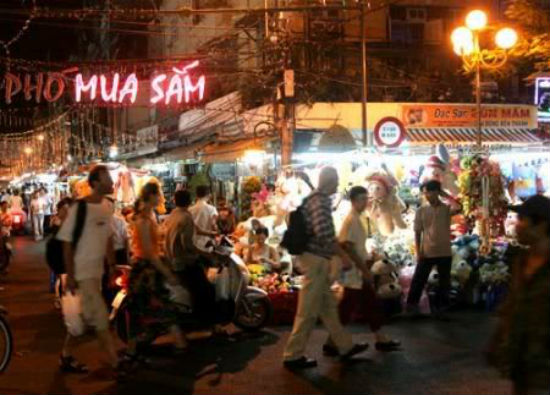 At night, Ho Chi Minh city becomes sparkling and charming with street lights. This time is excellent for you to go for walk and shop at night markets. The city has many night markets like Thach Thong Tay market in Go Vap, Bac Ninh market in Thu Duc that provides a lot of products such as shoes, sandals, trousers, shirts, cosmetics, food and drink. These locations are ready to meet the need of shoppers in Ho Chi Minh. Coming here, you can buy both your favorite items and gifts for your family and friends.
Taking a trip to Ho Chi Minh, discovering and enjoying its amazing food, delightfully shopping in markets and shopping centers will definitely leave particular and unforgettable impression in your mind.