It is no doubt that Thailand is one of world's active shopping paradises. Tourists to this kingdom usually set going shopping in their tripping schedules and you should, too if you intend to get the best moment and experience in Thailand. MBK, Tokyu, Central World and Siam Paragon are shopping malls that are so worth you a visit. Thus, you can consider some following information and tips on which you are highly recommended spending time.
Background
Shopping is one of the favorite activities for both the local and tourists to Thailand. As a visitor to this kingdom, you will need to know what and where to buy. Thailand owns its many kinds of shopping areas, ranging from mega malls to pavement stalls, in large modern cities or in rural ones with all kinds of goods such clothes, handicrafts, cosmetics, IT devices. Obviously, Bangkok is regarded as an essential part which makes up Thailand's shopping reputation. You can't help disappointing with the commodities, positions and services when shopping in this Asian country, because you could buy lots of fantastic things and experience the exciting shopping tour. Anyway, to get a perfect trip, you should polish or equip yourself with bargaining skills, which means you only need to pay for 60-70% of the listed price offered by the sellers. It is all up to your own ability to get bargain. For one more note, you should not wake up early for shopping as in other Asian tourism spots as Thai markets, supermarkets and shopping malls are mostly opened after 9:00am or even later.
Where to shop
1. Siam Paragon
This is regarded to be the shopping paradise in Bangkok since it is the largest shopping mall with biggest shopping departments and greatest cinema complex. Siam shopping spot is situated at the convenient position right the route of BTS sky train and provides with 50 internationally and domestically reputable brand names for clothing, jewelries, watches, sport equipment and so forth. There are a Siam Discover Center where sets out products of North Face, MAC, Kipling and Asia Books for sale and Thailand's biggest supermarket – Gourmet Market. Particularly, Siam Paragon is not only for upper-class people because commodities here are reasonable and up to various tastes.  Ground floor and the first one are only for Hermes, Chanel, Bruberry, Hugo, Boss, Gucci, Versace, Franck, Muller, Hary Winston and Rolex, meanwhile sport equipment and other entertaining devices, audiovisual equipment of Samsung, Plaza, Sony, Bang & Olufson and Boss, and spa systems are available in second floor; interior decorating furniture and great bookstores are in the third and fourth ones; and cinemas and entertaining complex are in the fifth and sixth ones.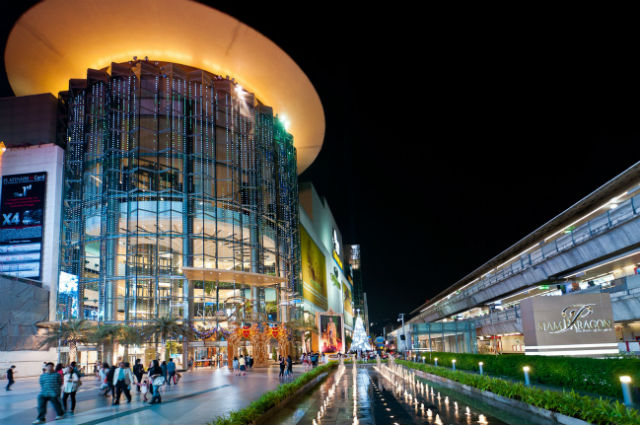 2. Mah Boon Krong
Located in Bangkok, Mah Boon Krong or MBK in short is an 8-storey building that is considered as one of Asia's biggest shopping centers with over 2000 stores and services, including 150 eateries and lots of large cinemas. You can find numerous favorite goods in bargains here such as clothing, cosmetics, jewelries, smart devices. MBK is suitable for shopaholics whether their budgets are tight or loose. Besides MBK, you can go shopping at Tokyu, Charn Issara, Pratunam and Central World as you are in Bangkok.
3. King Power
King Power is also one of the highly recommended shopping spots for your trip to Thailand. Coming to the kingdom, you should not miss out on this duty free complex. It not only is a location for various consumer goods and fashion products but also usually provided with interesting promotional campaign and lottery. Being one of Thailand's top attractions for shopping, though King Power is a little bit more expensive than other shopping spots, it is always worth you a visit even you do not want to buy something but looking around. It is an amazing destination for your trip in Thailand, definitely.
4. Local markets
The first recommendation for you is Pratunam market that is one of biggest markets in Bangkok with wide variety of vivid clothing and textiles in cheap prices. Another choice is King of markets in Thailand, even in the world – Chatuchak weekend market with 15000 stores with all kinds of goods spreading over the 15 ha area. You should take a walk to Suan Lum night market, too. Though it is smaller than Chatuchak partner since it only owns 3.700 stores, including souvenir shops, pottery shops, interior decorative store and unique OTOP, shopping in Suan Lum is less chaotic.
 Tips
– Always take your passport by your side and do not put it in the same place with money or other that you will usually take in and out
– Exchange money as you need and do not exchange in advance too much otherwise you may lose twice when you exchange the rest amount of baht into your currency again
– Remember to bring hotel's card as going shopping then you only need to give it to the driver and come back your hotel without lots of explanations
– Set up a detail shopping schedule in advance for wise considerations of where to go and what to buy to avoid losing time for confusion and traffic jams
– Thai taxis charge you by the hour instead of km and because Thailand traffic often gets stuck; the longer you stay on the taxi, the more taxi charge gets.  The best way to travel in this country is by sky trains or tuk-tuks.
– Remember to take a look around stores before deciding to buy something because the diversity of goods and prices
– Highly recommend to bring you a map for Thai shopping spots are usually so large
– Besides shopping, you can enjoy one-of-a-kind spa services in shopping malls and complexes in Thailand.
– Clothing in Thailand is free-sized in generally and you cannot try on if you go shopping in markets.