Siem Reap – a land of beautiful sceneries will cling your feet with hundreds of historical and cultural heritage sites and best creations from nature. If you want to indulge in an upcoming trip to this ancient town, the following guidelines will be of great help. If you are considering the next destination for your travel, they will upgrade your understanding of Siem Reap.
A Brief Overview Of Siem Reap
As you may already know, Siem Reap belongs to Cambodia, a country located in the southern area of the Indochina peninsula in Southeast Asia. The Kingdom of Cambodia emerges with several breathtaking sceneries that show the diversity of history, culture, and natural resources. Travel to the northwest of the country and reaching for Siem Reap, pristine landscapes will seduce you from long-standing temples, ancient monuments, traditional heritages to the glamorous natural beauty of evergreen rivers, beautiful forests, and spectacular waterfalls.
The history of Siem Reap originated from the 16th century when King Ang Chan defeated a Siam army (currently Thailand) invading Cambodia. Though the name of the city appeared pretty late, the iconic landmark of Siem Reap, Angkor Archaeological Complex has been built and flourished since the 9th century under the regime of the Khmer Empire.
So, if you are planning for your vacation somewhere in Asia, Siem Reap will be the perfect destination where inherits several tourist attractions from nature, and brings you unforgettable moments and most fascinating experiences ever!
Best Time Of The Year To Visit Siem Reap
Siem Reap features a tropical climate country, which maintains warmth all year round. The weather is also strongly affected by the monsoon. It divides the climate into two main seasons. One is the dry and cooling season; the other is hot and rainy. Therefore, the atmosphere balances a significant amount of sun, high rate of rain, and humidity.
International travelers can visit Siem Reap at any time of the year. However, the best time to travel to Cambodia is at the highest peak of tourism in this country: November to February. These months are in the cooling season, which is mild for discovering this charming kingdom in comfort but warm enough to enjoy beautiful sunny days on gorgeous landscapes. Besides, coming to Cambodia in this period can help avoid mud and flood with limit rain. It will be the best time for your perfect trip with exploration to the hidden heritages deep inside the evergreen tropical forest, and a great visit to ancient temples to contemplate the picturesque long-standing beauty under glowing sunshine! 

Must-do Experiences While Staying In Siem Reap 
Uncover The Largest Religious Complex Of Angkor
Siem Reap will hold your feet by picturesque natural landscapes and charming long-standing temples. At first glance at Siem Reap, Angkor Wat emerges as the most breathtaking wonder that every traveler must come when in Cambodia. Being well-known widely all over the world, Angkor Wat, which was built from the 12th century, is the largest temple complex and the most important religious monuments in Southeast Asia. Upon arrival, you can take a walking tour to discover this majestic heritage site. But it's inevitable that you will prefer staying on a hot air balloon and flying high up to the sky to contemplate the most exceptional panorama of the most beautiful historical attraction of the Indochina area.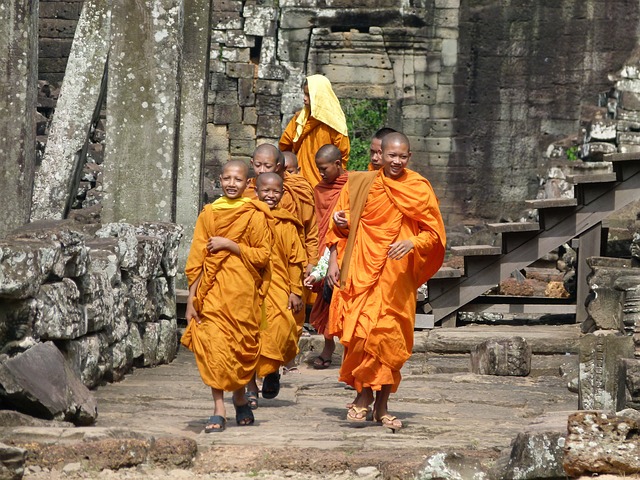 Besides, don't hesitate to explore other outstanding places such as Landmines Museum and School, where remains horrors from the Khmer Empire and poor rural schools that you can make a donation. Start a deep discover into the forest and visit Bayon – famous Angkor Thom Temple with smiling faces, which are the symbol of Mahayana Buddhist King Jayavarman VII. Reach other outstanding temples such as Banteay Srei, Ta Prohm Temple, or Terrace of the Elephants – a long wall decorated with carved elephants. Your trip will be unforgettable with impressive memories of a dazzling sunset on Phnom Bakheng. A cycling tour around the grey-headed temples complex will help complete your Angkor adventure. 
Spend A Day Tour To The Largest Freshwater Lake In Southeast Asia, Tonle Sap Lake
Leave the center of Siem Reap for a special trip to beautiful Tonle Sap Lake – the largest lake in Southeast Asia which attracts a considerable number of tourists every year. Tonle Sap has a unique ecological system and a lot of water wonders, which will make you fall in love with this rural area. With rich biodiversity, there is a wide range of flora and fauna with various species from fish, birds, reptiles to mammals. Being an animal-lover, don't forget to take a fascinating sightseeing trip to the Prek Toal bird sanctuary, where keeps a vast number of wildlife animals. When in this countryside, it is a good idea to join in the daily activities of local people in floating villages such as catching fish, which will bring you the most memorable experience ever.
Go Trekking With Nature In Phnom Kulen National Park
If you are a big fan of ecotravel, Phnom Kulen National Park is a destination you should check out. It is located 50 km to the north of Siem Reap. The park includes a holiday resort if you want to stay overnight. Still, a day trip around this a cultural and historical park is pretty enough to embrace the untouched nature and the ancient Khmer civilization. Spreading over 37, 500-hectare, this area is filled with breathtaking streams, spectacular waterfalls, and covered with hundred-year-old evergreen forests.
Located in the middle of Kulen National Park, the 1000 linga river becomes one of the fascinating mysteries worldwide. The small stream is decorated with not only transparent and fresh water from the high mountains but also numerous sculptures and carvings on stones. The image of more than 1,000 lingas submerging in the clear water is considered symbolizing the mighty and prosperous ancient days of the magnificent Angkor empire
Enjoy Quiet Moments At The National Museum
If you love the culture and art of this country, then surely the National Museum is the place to visit. Located along Charles de Gaulle Boulevard with more than 1000 exhibits on display. You not only have the opportunity to admire the symbols of Khmer culture but also see collections dated back many countries ago around the world such as China, Korea, India …
Party All Night Long On Pub Street
Ancient and rustic as it seems, Siem Reap doesn't lack dynamic activities for the young as well as foreigners who want to get high. Pub Street is right at the center of Siem Reap, close to Phsar Chas market. Of course, the vibe will be very different from Western parties. But if you want to have a drink with excellent acoustic music, this place is where you should go. There are also several Western-style bars in which people dance and drink overnight. In this area, fish massage is another popular service. You will dip your feet under an aquarium, and the fish inside will take away all the dead cells of your lower body parts.
Take Siem Reap Home With Souvenirs On Angkor Night Market
Angkor Night Market is a long street in the heart of Siem Reap. It features a wide selection of markets from food to jewelry and traditional crafts. That's why you can find a lot of goods to buy. When shopping in these markets, feel free to make a bargain. But only do it when you seriously want the item. Or else, it will be rude to the vendors
Local Knowledge You Should Be Aware Of
Currency
The official currency of the Kingdom of Cambodia is Cambodian Riel (KHR). However, an interesting fact that may facilitate your travel is that the US Dollar is used widely in many areas. You can even withdraw USD in some ATMs throughout the country. Besides, Thai Baht is also often accepted in the areas close to the Thai-Cambodia borders. Money exchanging into KHR or USD is available upon your arrival at the airport.
Transportation Around Siem Reap
There are several choices in transportation in Siem Reap. Tuktuk is the most popular one. Still, be careful to pay the price before getting on a tuk tuk. Many international tourists are overcharged due to transport travel cram with tuk tuk. The best choice for you is to can hire a whole-day to serve your private purposes. Motor Drop – a kind of motorcycle taxi, is very common in Southeast Asia. The boat is the best choice for your river trip with high speed and long-distance capacity. Public bus is also accessible here.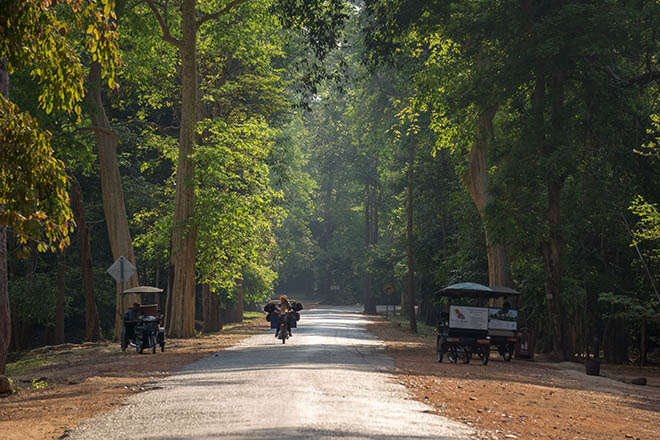 Languages
The official language of Cambodia is the Khmer language. Still, English is also widely used in many tourist attractions.
Etiquettes
Despite the influx of foreign tourists, Siem Reap remains a conservative society. It is deep-rooted in Buddhism and traditional values. In this country, the most common way of greeting is Sampeah. To do Sampeah, you put your both palms together in front of you chest and make a slight bow. Waving hands is acceptable too but hugging or cheek kissing for salutation may be considered impolite, especially to women.
If you visit a Buddhist temple, make sure your shoulders and legs are covered. Some places will not allow photo shooting, so remember to watch out for the sign. When you enter a pagoda, in most of the time, you will need to take off your shoes.
Packing Notes For Siem Reap
As the temperature is pretty high all year round, you should bring light clothes with some shawl to cover your body when needed. Hand sanitizer will come in handy when you are eating out. Don't forget to bring your reusable water bottle to reduce plastic. An important note is the tap water in Cambodia is undrinkable so that you can refill your bottle at the hotel or restaurant. You will also want to bring insect repellent as the hot tropical climate is super suitable for mosquitoes to reproduce.