Hanoi is one of the most attractive destinations of foreign tourists in Vietnam. Its beauty flaunts from history, landscape, friendly people, culture, and cuisine. We can find some dishes which also appear in some other provinces, but in Hanoi, due to skillful chefs they are likely more refined and charming. Why so? If you have a change to visit Hanoi, please enjoy some of following three dishes to find the answer of this question.
1. Pho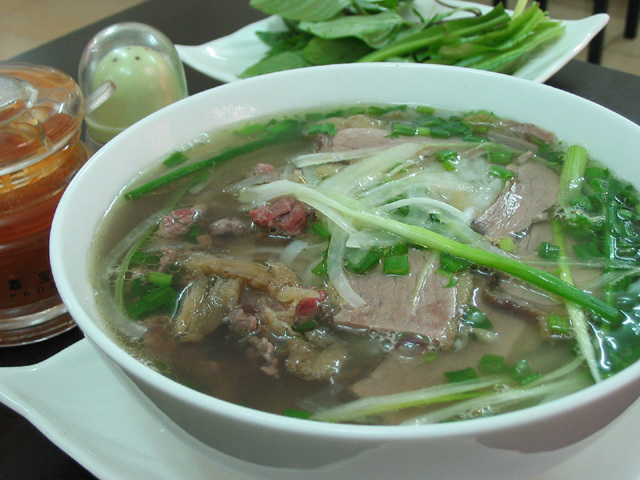 It can't deny that Pho is the most famous dish in Hanoi. Pho is a favorite dish of Hanoi people for over one hundred years. Traditional Pho is attractive from its banh pho (linguine-shaped rice noodles) and broth, meat and some spices. Banh pho is made of powered rice and required toughness and white. Broth is decisive factor to make special favor of pho. It is very euphuistic to cook broth. Chef has to simmer beef bones with spices such as ginger, coriander seed, cinnamon, clove and herbs. In the cool weather of Hanoi, serving hot pho is extremely wonderful. People creat many kinds of pho such as pho cuon (rolled pho), pho sao (stir-fried pho), but traditional pho is still loved most. At any time, the traditional pho makes everyone ever tasted remember its favor. If you really want to find a good pho restaurant in Hanoi, you look to one of the addresses like Pho Thin (Lo Duc), Pho Bat Dan, Pho Ly Quoc Su,etc. Its price is quite acceptable, from 30 thousand Vietnam dong to 50 thousand Vietnam dong including quay (fried bread) as a side dish.
2. Cha ca La Vong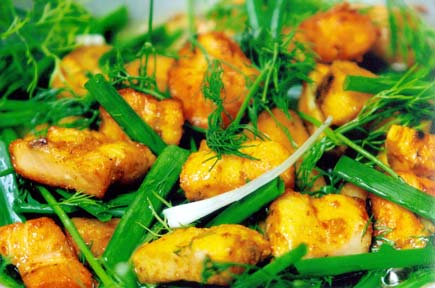 Cha ca La Vong can be translated as La Vong grill, which is a famous delicacy of Hanoi. This dish belongs to the Doan family at 14, Cha Ca Street in Old Square, so only this family has its arcana. Cha ca is made of a kind of fish callef hemibagrus, which has bits of bones and sweet meat. This meat will be lightly sliced along sides and mixed with some special spices such as fish sauce, pepper, saffron. After being grilled, it is fried in boiled cooking oil before served. It is the most delicious when it's still hot. We taste Cha Ca La Vong with fennel, spring onion, peanut, vermicelli. Cha ca is no longer flavorous if lacks of shrimp sauce. Some foreign tourists can't eat shrimp sauce, they can taste with fish sauce. In the winter you can sip Cha ca with alcohol, and beer in the summer. Each pan of Cha ca La Vong costs from 250-300 thousand Vietnam dong, equal to 12-15 dollar.
3. Nem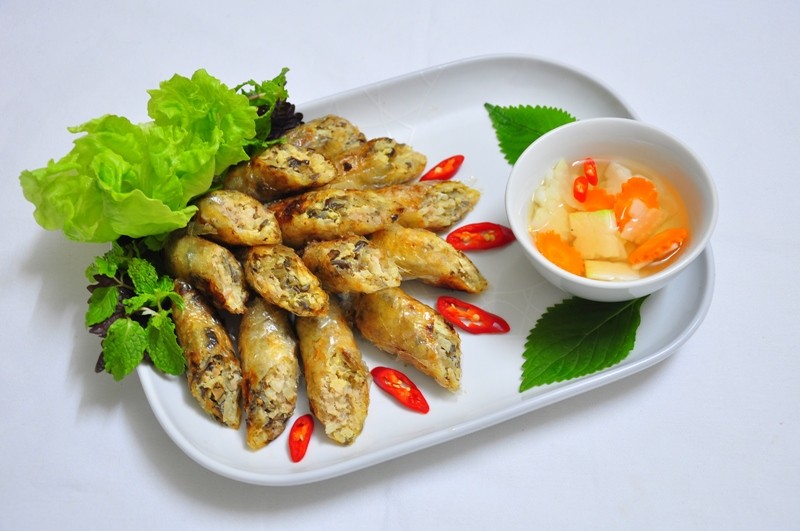 Nem, also call sping roll, is a traditional dish of Vietnam, especially Hanoi which is very well known by foreign tourists. Its ingredients can be find at every market in Hanoi with quite low price including minced low-fat pork, eggs, shrimp, vermicelli, carrot, onion, black fungus, shiitake, bean sprouts, pepper and some slices. The most important thing to make Nem is banh da nem, translated as rice sheet. All the ingredients are sliced into small pieces and blended together with associate amount of each slice such as pepper, salt. Rice sheet is used to roll ably the mixture inside. The shape and size of spring roll depends on the hobby of maker. After being rolled, spring roll is fried in boiled cooking oil until it turn yellow color on the whole surface. This dish is very popular and easy to cook, but the most difficult task is making up dipping sauce. It includes fish sauce, vinegar, sugar, garlic, chilli and water. There are many way to serve Nem, for example, with virmicelli or rice. You can find some addresses of the best Nem restaurants as Asian Restaurant at 123 Bui Thi Xuan, Hanoi.
If you travel to Hanoi, don't miss any change to taste as many delicacies of Hanoi as possible.