Located in the Northwest of Vietnam, Sa Pa is a quiet and peaceful town. But it has a strong attraction to any visitors thanks to the magic of nature, the cool climate, and the fresh air. Hiking in Sapa is a good option that is favorited by many travelers as it helps them understand and have great experiences in this beautiful land. If you are also planning to get a Sapa hiking trip in the near future, keep in mind some of the helpful tips below.
1. Stay at a guest house
In Sapa town and the surrounding area, there are hundreds of accommodations, from homestay with a cheap price to luxury resorts, hotels. So, you may be confused when choosing where to stay. Nowadays, many tourists get the good option like homestay while hiking in Sapa. As it is not only cheaper but also closer to the local living of this mountainous area. You will not only have a place to stay but also have the opportunity to experience the life of the ethnic group in Sapa, their activities,  traditions, and cuisine.
The hosts of homestays are locals people so they are very kind and generous. You can join the daily works, taste some specialties, drink their wine… Living as a true village in this mountainous land will be an unforgettable memory for you.
The hosts can also give you some advice to explore Sapa. In addition, the homestays are often located very close to the favorite sites while hiking in Sapa such as Ta Phin Village, Muong Hoa Valley, Y Linh Ho Village… So it's very convenient for you to move. In summary, a local homestay would be a great option for your trip.
2. Find a local guide
If you hiking in Sapa by yourself, you may face many difficulties or lost much time on search, asking for directions. In order to save time and energy, it's much better to hire a local guide who knows well the terrain, weather and tourist destinations in Sapa. As a result, your trip will be safer and you will have more enjoyable to explore the local life.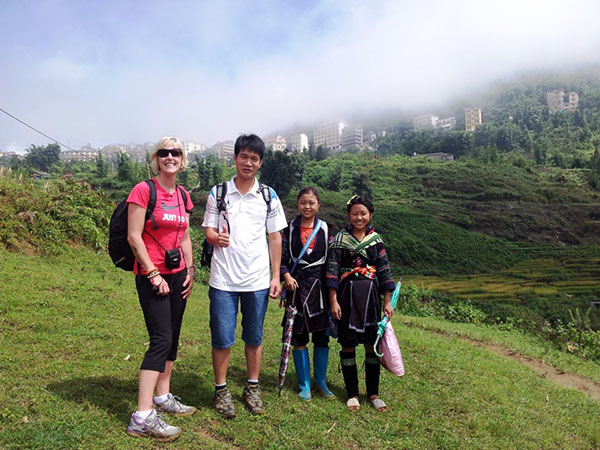 You can find a guide through a hotel in Sapa or the main tourism office found in town. The guides are mostly local and they can communicate fluently in English. So there's no reason to not hire one. They will help you much in the journey of hiking in Sapa.
3. Carrying reasonable baggage
Before hiking in Sapa, you should find the necessary information for your trip such as must-come destination, the weather forecast, the suitable clothes.  Remember only bring what is absolutely necessary to you. And you will have to carry them by yourself when trekking. At first, luggage may be lightweight, but after a time,  when you have become tired, they will become heavier and it's harder to carry. Some items needed are:
Food

: This is an important thing of your discovering journey in Sapa. You can lose energy after a long distance of hiking. So some fast and nutritious food can be useful for you such as bread, chicken egg, snack, orange juice, tangerine…

Medical supplies

: Don't forget to bring these indispensable items. You should prepare some wind oil, diarrhea medication, flu medication, medical alcohol, cotton, gauze, salon pass…

Climbing sticks

: You may have to climb to Ham Rong Mountain or Fansipan Mountain. In that case, a climbing stick is very useful during your trip.

Camera:

Sapa is beautiful with the ranges of mountains in the mist, the vast terraced fields, the peach blossom forest in the spring, the villages with special architecture… All will make you impress and want to keep them in the photos. That's why you should bring a camera fully charged.
4. Hiking route recommended  in Sapa
Day 1: Hiking in 5-hour to Cat Cat – Y Linh Ho – Ta Van Village
Depend on tourist's timing, they usually chose the different route for hiking in Sapa. But we recommend you to visit some highlight villages here such as Cat Cat, Y Linh Ho, Ta Van, Giang Ta Chai or Supan Village.
Firstly, from Sapa town, you can trek about 1 km to Cat Cat village.  Along the way, you can admire the beauty of nature such as the majestic waterfalls, the terraced fields, and the clear river… Located at the foot of Hoang Lien Son Mountain, Cat Cat Village is a place where the Black H'mong ethnic group lives for a long time. You can witness the daily life of local people, talk with them to understand more about their culture. After that, take a rest to prepare for the next trekking.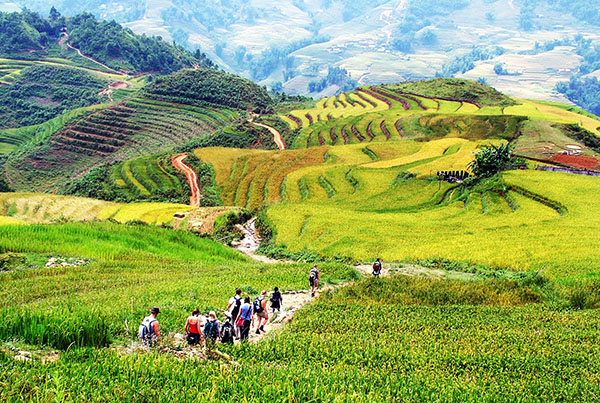 Leaving Cat Cat Village, we will continue the trip by hiking to Y Linh Ho, the village of another Black H'mong group, 7 km far from the center of Sapa. This place is favorited by the poetic of Muong Hoa Stream, the nice architecture of local people 's house and their friendliness. You will also have an opportunity to see their special dress that has the dark color in black and navy dyed with indigo. The daily activities of residents also attract the attention of tourists, especially foreigners. Y Linh Ho is one of the must-come destinations for whom love the adventurous hiking in Sapa.
Ta Van Village is the last destination on this hiking trip. Located 8 km from Sapa town, this is the village of the Zay communities. Trekking to this place can give some impressive experience for adventurous travelers because the pass path is quite creepy and steep. Visiting Ta Van will be unforgettable memories. You can discover the ethnic life,  unique custom, and long-standing culture. Moreover, there are many homestays here so you can choose to stay in this village to experience the local life. That will be very convenient and efficient for you to have relaxation after a long day of hiking in Sapa. In addition, you can find out more about the culture of ethnics people by taste their unique cuisine, visit local homes as well as schools.
Day 2: Hiking in 3 hours to Giang Ta Chai – Su Pan
The next morning, before continue exploring Sapa, you can enjoy a breakfast made by the local chef. Then we will go hiking to Giang Ta Chai.
After about a half hour trekking the trails, the beautiful rice fields, the pristine bamboo forests and cool waterfalls, you can see Giang Ta Chai, the village of Red Dao Group in Sapa. Located on top of the hill, from here, you can look down to see the beauty of Muong Hoa river. If you have much time, don't' ignore to visit Hau Thao village nearby, where you can see many Dao and H'mong women gather here for trading and exchanging handicrafts.
Finally, we will trek to Su Pan Village, the last destination in your hiking in Sapa trip. As well as the Lao Chai and Ta Van Village, Su Pan is located in the middle of Muong Hoa Valley. But it can be referred to as a mountainous commune. About 17km from Sapa town, this village retains more primitive features than any other village in Sapa. That's the reason why many adventure lovers especially like it. They can see a much rudimentary house built on the rocky land in which the locals grow corn and cassava as their main food, or the people work on their rice terraced fields. This will be an unforgettable experience
Whenever you go hiking in Sapa, you can catch the stunning scenery, the friendly smile of people here, the different cultures. Let's come here to discover and feel it!