Vietnam famous for agricultural and channel, why do not you explore these unique feature. 5 days in Vietnam- where to go is not a hard question. Southwest will be a best option for who want to experiences the hospitality as well as farming culture of Vietnamese people.
Cai Rang of Floating Marketing- The sign of Can Tho
Vietnam is the unique region which has floating markets. There are 5 floating markets in total. Two of them are in Can Tho province, the others are in Tien Giang, Hau Giang, An Giang province. They are all in the Southwest. The part of rivers are covered by small boats which using for trading as well as accommodation. There are three general features of floating marketing. Firstly, floating market is the place that inhabitants exchange goods, not only for tourism. Secondly, there is no brand sign on the boats. People just recognize the boats by looking to the shape, colors and selling products. Finally, there are a lot of boat from many nearby provinces. To know where is the boat from, just look at both side of the boat, there is the short name of its' original province. For example, if the boat is from Tien Giang province, short name is TG.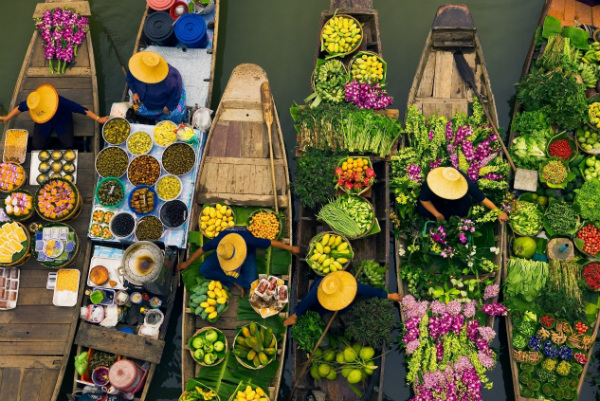 Cai Rang Floating market- Can Tho Province
The Cai Rang Floating Market is the largest wholesale floating market in the Mekong Delta that is about six kilometres from Can Tho provinces or about a 30-minute boat ride. Cai Rang Floating Market is open all day but it is busiest from sunrise to about 9am. The main items sold there are farm products and specialties of Cai Rang Town, Chau Thanh District and neighboring areas. Every boat has a long upright pole at its bow on which samples of the goods for sale are hung. During the early morning market hours, larger sized boats anchor and create lanes that smaller boats weave in and out of. The waterway becomes a maze of hundreds of boats packed with mango, bananas, papaya, pineapple, and even smuggled goods like cigarettes. Sellers do not have to cry out about their goods because their goods can be seen in a distance and their cries would not be heard in the vastness of the river and the noise of boat engines. Small boats that sell beer, wine and soft drinks go among the other boats to serve market-goers and visitors.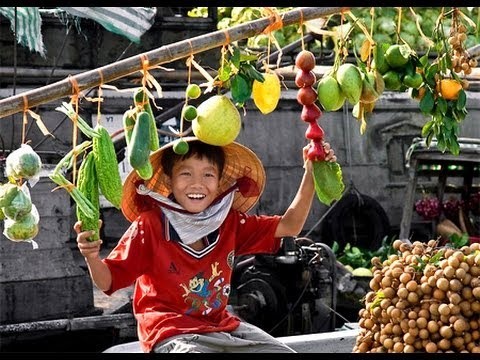 Sale fruits are hung on the long upright pole
Each boat is loaded with plenty of seasonal goods. Activities at the market are also an occasion for tourists to study the cultural aspects of southerners. Tourist can see the market in the distance, it does not look like much, just a mass of boats. The boats all display their wares on a mast so you can see what they have available. Many have agreed that visiting floating markets is among the can-not-miss experience in Southern Vietnam. There are a lot of travel agencies that offer a wide range of tours to Mekong delta with various tour duration and floating markets are included in most of them. Those without lots of time in their schedules are recommended to choose one Mekong Delta Tour with floating market in its itinerary that best fit their time-frame.
The densities of Cannel and Island in Tien Giang Province- Part of Mekong Delta
If you have 5 days in Vietnam-where to go next? Because after spending on Cai Rang market, visitors still have 2-3 days left. Continue the journey on the Mekong's Northern creek, around 80 kilometer from Saigon is My Tho, the capital of Tien Giang province. My Tho is a charming city with the colorful and long history. Most of the island of Mekong Delta contains fertilize soil.
With 20 kilometer length and 1 kilometer wide, Lion Island is the most important part of agriculture. This is well- known as relaxing zone and friendly atmosphere. The journey of many cannel's region continues by very traditional mode of transportation: the small boat with paddle. Fruit and vegetables will grow twice on island. There are also have education facilities for children and small hospital.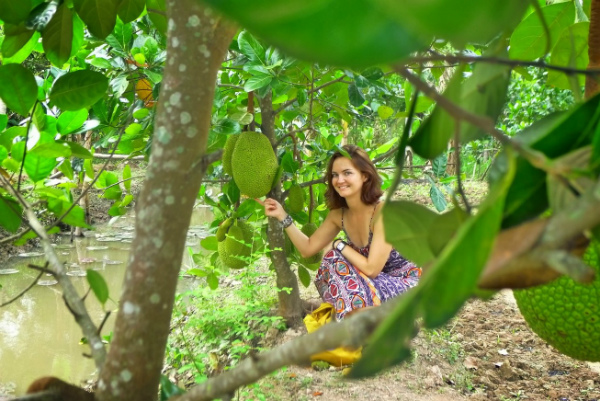 Fruit garden- Long island
The waves become stronger, the clear sign that reaching the Mekong creaks of Tien Giang, people must transfer to larger boat. It is difficult to discern the way due to the variety dimension of section rivers. The next island are known as sweeten popular specialties because the local has skill to produce confectionery which contains caramelized sugar and coconut. The sweet mixture are formed into block then cut and finally packaged as candy. Next is the honey region. Honey are produced through handicrafts process. The process is a complicated one and need many people. A cup honey-tea is a welcome gift for each visitor.
Stop by the very small island which are 64 kilometer square. There are just have 14 household but is full of tropical fruits such as rambutan, pomelo, The fruit is so fresh because the local pick and then eat immediately. Moreover, the tourists can enjoy local daily life by catching fish and shell by hand, cooking rice pancake with the local's instruction. In the evening, Vietnamese folk music was played with traditional instrument. It's also kind of local entertainment. In the evening, the peaceful screen appears due to the sunset, the field and harmony melody. In the end of the journey, the boat continues going through many small canals and passed coconut palms which provide materials for coconut candy and other inhabitant products. Endless rice field highlight the economic important of this place and has two are three harvest a year. An amazing screen appears when the large area are covered by rice filed that make a full green of yellow color depend on the time of crops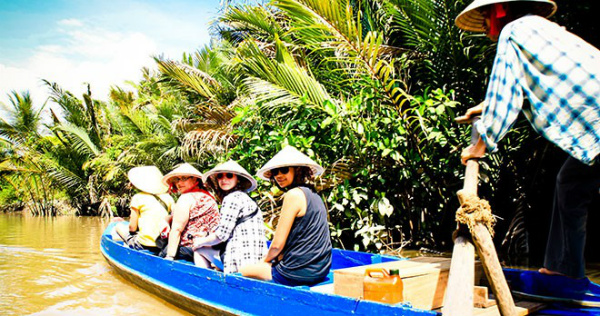 Means of transport in Mekong Delta
Then, the boat are rowing to the next place. People who living here live on rice paper- a traditional Vietnamese food. They put the mixture on the tools to make it round and then dry it.
Coconut Island and fruit garden- Ben Tre province
Ben Tre is famous for coconut which produce a lot of produce that made from coconut, most of them are exported. Coconut island is the next place that visitor can enjoy. There are so many coconut which are placed on boat and street. They are drying for the local easily take coconut milk and matting. Tourist can taste variety of coconut product. They also sit down under the coconut palm and listen to folk music.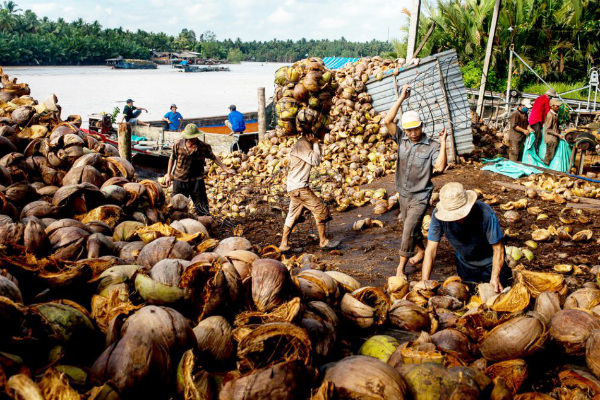 Coconut island- Ben Tre province
Vam Ho Bird garden is also a suggestion which hat more than 550.000 kinds of bird. Some of them are in red listed and nearly extinct in the world. On the way to Vam Ho bird. It's in the depth forest and the only means of transportation is boat. It is will be an amazing experiences.
Ca Mau province- the Southernmost of Vietnam
This is the final destination of the South. Ca Mau is 180km from Can Tho. With its dense rivers and canals system, Ca Mau is home to well-known forests: U Minh forest and Nam Can forest. Its interlacing rivers and canals have generated tangled flows in the province. Some offshore islands are: Hon Da Bac, Hon Khoai and Hon Chuoi. There are two types of forest in Ca Mau province: salt marsh and cajuput. The cajuput forest has the highest biological value among other types of natural forest, with high economic value and environmental protection. Ca Mau has great potential in developing ecological tourism thanks to the salt-marsh ecological system and diversified flora and fauna system. Ca Mau is well-known for U Minh cajuput forest and Nam Can mangrove forest.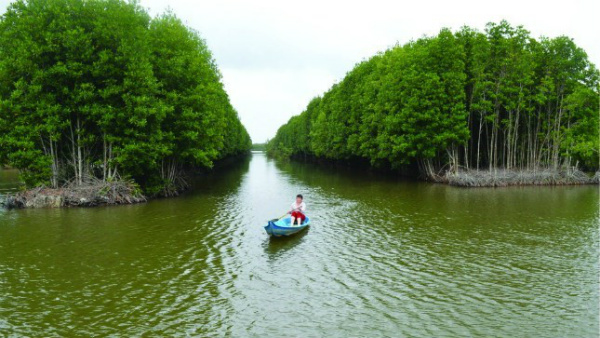 Nam Can mangrove forest – Camau province
If you don't want to go far to another province or you don't know where to go for 5 days in Vietnam and afraid to take a coach. Ca mau will be a best option due to many amazing destinations.
Southwest is the best answer for the question 5 days in Vietnam – where to go. Tourist can explore the water rice culture as well of the density of channel of Vietnam or the tradition of agricultural. To stay away from the busy city of the active beach and experiences from the local style of farming, Southwest of Vietnam is the perfect choice.