Halong Bay has been a popular destination for travelers in Vietnam for decades. This breathtaking UNESCO world heritage site also recently received the honor of being named one of the New Seven Natural Wonders of the World, so visiting its thousands of cliff islands is a must for any visitor to Vietnam. Halong Bay beach is large with white sand and stunning landscape around. Spending 3 days and 2 nights in Vietnam Hanoi to Halong Bay will bring for you the best feeling in the paradise with the charming beauty of the most surprising beaches and sports activities.
Day 1 in Vietnam Hanoi to Halong Bay: Transferring to Halong Bay and exploring Sun World Park
8:00 a.m – 8:30 a.m: You will be picked up at your hotel to transfer to Halong Bay, you must take 3-hour and a half drive to this place.
12:00 a.m: You will check in your hotel and have a lunch
13:00 a.m: One of the most attractive things in Vietnam Hanoi to Halong Bay is Sun World Park. Sun World Halong Park, a mega-project at continental-level including exclusive and innovative parks, is the largest complex entertainment of Vietnam. Visiting Sun World Halong Park makes you feel living in a "Dragon Land" with plenty of captivating and novel attraction. Queen Cable car system and Sun Wheel in Sun World Halong Park which has reached the world's record the most capacity cabin. Tourists can easily grace overview from above to get a perfect look of Hon Gai Port, Cai Lan port, Bai Chay Bridge and the entire of Halong Bay on the other side. Sun World Halong Park is a park that is appropriate for all ages. While the young are playing adventurous games, adults can relax by going for a walk in Zen Garden. In addition, One of the highlights visitors must visit in Halong Bay Tour is the Sun's wax museum.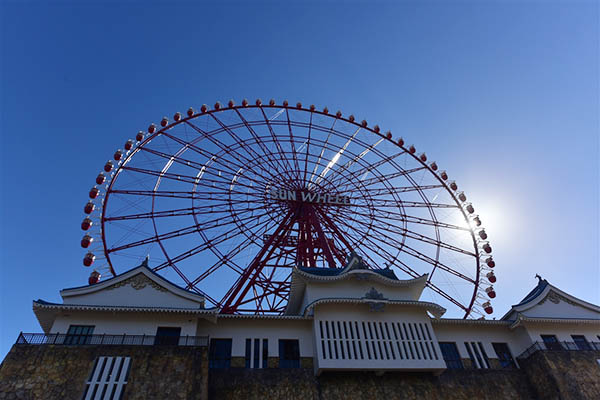 Ticket price for Queen Cable (the ticket includes Cable Car, Sun Wheel, and Ba Doi amusement center): 300.000 VND for adult, 200.000 VND for children (1 meter – 1,3 meter) and children which are under 1 meter are free.
Ticket price for Dragon Park: 400.000 VND for adult, 370.000 VND for children from Monday to Friday, 450.000 VND for adult, 380.000 VND  for children in the weekend.
Ticket price for typhoon water park: 330.000 VND for adult, 380.000 VND for children from Monday to Friday, 380.000 VND for adult, 340.000 VND for children in the weekend.
In the evening: You will be picked up to Tuan Chau Island to join some events in there.
Day 2 in Vietnam Hanoi to Halong Bay: Visiting some caves and Vung Vieng village in Bai Tu Long
8:00 a.m – 8:30 a.m: The tour guide will lead you to your cruise and check on the board. The staff will bring for you the Welcome Cocktail.
9:00 a.m – 11:30 a.m: You arrive at Tien Ong Cave, Sung Sot Cave, Dau Go cave participate in a guided tour in the cave. Dau go cave has three main chambers in the grotto which attracts many tourists by its solemnity and grandiloquence. The entrance to the grotto seen from afar which appears to be blue and has a shape similar to a jellyfish. Hundreds of stalactites falling down from the roof of the grotto look like a waterfall.
12: 00 a.m: The lunch will be served on the yacht. Depending on the services of the cruise brands, the menu is different. For example, the 5-star brand will offer the best meal with the good chief for travelers. However, its price is very high. Or you can call the required foods and other drinks. While you enjoy the buffet, you will transfer to Vung Vieng village in Bai Tu Long. Vung Vieng fishing village is one of the largest fishing villages in Halong Bay. After climbing up the mother boat, you will be departed by rowing boats or kayaks to enter Vung Vieng village. This village offers a great opportunity for you to experience the villager's daily life as well as observe the traditional culture and customs of the fishermen. Moreover, you have a short visit to Pearl Farm to learn how natural pearls are created and return to Paloma Cruise for your leisure or join one of the following optional activities: Sunbathing, traditional massage, swimming and so on. You will take 30 minutes to freshen up and finish packing then upon return to the boat.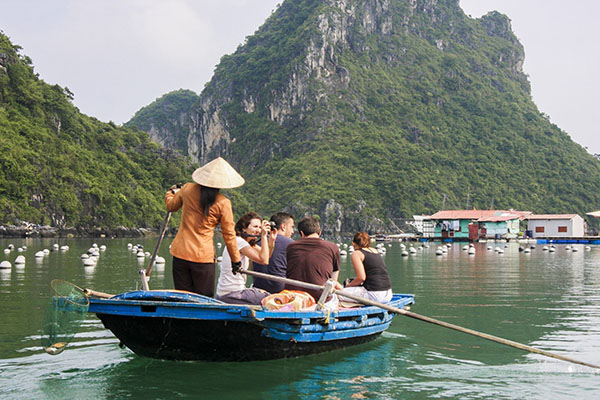 Not only that, you have another option in there, it is going kayaking by yourself at Ban Chan island. This beach brings a unique masterpiece, bewitching any public mind had. Its landscape is the harmony between the clouds and water. Ban Chan is surrounded by rocks and trees of green forest covering along the sea, nature points with a poetic beauty and charm to heart with the fresh air, blue water and white sand stretching for kilometers beneath blue casuarina pines. It ensures this place is very attractive as you can enjoy yourself on the beach, swim and play some volleyball or try your hand at some kayaking in the magnificent setting of Halong Bay
17:30 a.m – 18:00 a.m: Return to your cruise and have a bath then relax as the sun starts to set. Continuously, you enjoy the Happy Hour at the bar and on the sun deck and take part in our cooking class with the chef of your cruise. On the cruise, you should attend the cooking class to learn how to cook traditional Vietnamese foods.
19:00 a.m: The dinner is served. The menu includes much delicious seafood such as squid sausage, Cai Rong fish sauce, Halong Bay Lobsters, Fried Sea Snails… Besides, this time is to relax by participating in the activities such as the light music for dancing in the dining room, film entertainment and playing cards are provided, and massage services are available. Additionally, you may also try squid fishing and fishing from the boat. The entertainment activities are available till 22:00 a.m. Then you should go to your board to overnight.
Day 3 in Vietnam Hanoi to Halong Bay: Discovering Thien Son Canh cave and coming back to Hanoi
6:30 a.m – 7:00 a.m: Start your third day in the 3 days in Vietnam Hanoi to Halong Bay tour with Tai Chi exercise on the sundeck. Tai Chi is a combination of deep breathing and relaxation with slow, deliberate movements, meditation, and breathing exercises. Tai chi is very good for your healthy and safe for all ages and fitness levels. This session is a great benefit for relaxation and wakes up your body in the morning. It is a very practical way for you to refresh from a mind.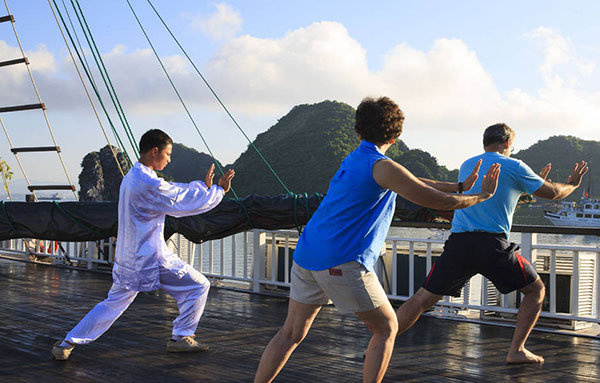 7:00 a.m – 9:00 a.m: Say good morning with a cup of tea or coffee and have breakfast while cruising toward Thien Canh Son Cave. Thien Canh Son Cave called Dong Co by local is a wild cave located on Bai Tu Long Bay, in the center of Cong Do Island. You have the feeling like climbing toward heaven as the pathway to Thien Canh Son Cave is set below the forest canopy and a stone cliff. Clearly, inside the cave, it is an ethereal wonderland with naturally carved images resembling a lotus, and a baby elephant. To catch up this cave, you would walk up about 100 stone steps, placed under the foliages and craggy cliffs which bring in a new feeling like climbing on the heaven gate's side. The ceiling of the cave is covered with a shiny 'gem carpet' and a large number of sparkling stalactites like 'hanging lamps'. Stone of seals and flowers build a paradise in the world. Thien Canh Son Cave offers a natural beauty. This is the reason why you should not miss this place to discover the geological value of the bay with family and friends in sparkling candlelight. It attracts a lot of tourists both domestic and foreign by a rare natural beauty, pristine limestone stalactites and beautiful surrounding landscapes.
09:30 a.m: Check-out room. Your luggage can be delivered to the reception area. You should check carefully to avoid missing some important items.
09:30 a.m – 11:00 a.m: Return to the Harbor. Then you have early lunch on board and disembark the cruise at around 12:00 a.m.
12:00 a.m – 16:30 a.m: Come back to the land, you can buy some souvenirs for your family and friends in here. There are souvenirs of a diverse variety such as Fine handicraft coal statues (local arts and crafts from coal), spirit valve and seashell jewelry, Vietnamese Rice grain painting, pearls and pearl art and sea products. Of course, you can be easy to find out the classic Halong Bay pictures, photographic accessories, and postcards in the souvenir shops.
Finally, the 3 days in Vietnam Hanoi to Halong Bay tour finishes and you transfer back to Hanoi at the hotel around 16:30 a.m