Are you setting the schedule of trekking in Sapa in 3 days? For long experience years, Travel Sense Asia offers the best popular tour for you to make the decision. Coming to Sapa, you will feel awesome by several particular points in the place. Sapa is an attractive destination for travelers who want to have a trekking in Vietnam.This town is a beautiful mountainous town and home to a great diversity of ethnic minority people. Especially, you have a chance to enjoy the breath-taking scenery of this land but also gets you to know more about the local style by 2 nights in a local house.
There are three types of trekking from easy to hard level. Depending on their trekking skills and ability, tourists can choose the trekking route which is most suitable, as Sapa offers a wide range of trekking spots from easy to hard level. However, in this article, if you spend 3 days, we have just offered the easy trekking and medium trekking in Sapa.
Before starting the tour, you should prepare some necessary items such as light package, comfortable shoes, much water… And you can check the weather again because in Highland region, the route is difficult for you to trek, and you should prepare raincoat and plastic boot…
Day 1 Trekking in Sapa: Trekking Cat Cat village and Y Linh Ho village
6:00 a.m: One suggestion for you is to transfer to Lao Cai province by train at night. The train catches up Lao Cai station, you will be warmly welcomed by our guide and driver. Then you will have breakfast at a local restaurant and short time for relaxing.
8:00 a.m: You will reach your hotel in Sapa town. If the room is already available, you can check in and take a short rest or else you will go downhill to Mong Sen where you start a dirt trail through rice fields and villages. Along the way, it is a wonderful scenery with a full of green.
11:00 a.m: You have lunch in the restaurant to enjoy the local foods.
After lunch, you continue your trek downhill towards Cat Cat village inhabited by Black H'mong people. You will need two hours to walk through Cat Cat Village locating near the bottom of the deep valley right at the foot of Fansipan Peak. Situated in a beautiful valley about three kilometers from Sapa Town, Cat Cat is the old village of ethnic groups which attracts tourists from all over the world for its distinctive customs and practices. This is a village of Black H'mong people where you can discover many interesting facts about their daily life as well as culture and architecture. In fact, it is also a good opportunity to purchase some traditional souvenirs and handicrafts right from the craftsmen such as twisting flax and weaving fabric.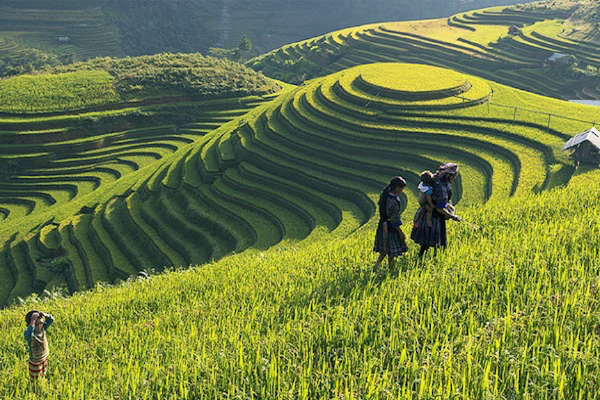 Continuously, A suspension bridge will lead you uphill to Y Linh Ho village, which is a small commune composed by many small hamlets scattering on the very tough mountain terrain with high and steep mountains. Y Linh Ho village is a place where the Black H'mong lives. They wear the dark clothing and navy dyed with indigo which often seen in the hands of older H'mong women. Their houses are built on their farmland and on the mainly cultivate corn, dry rice on the steep hillsides. As a result, the only way to get to the village is on foot on the road.
17:30 a.m: You will come back to your hotel and take a relax.
Day 2 trekking in Sapa: Continue hiking Lao Chai village and Ta Van village
7:00 a.m – 8:00 a.m: You have a breakfast then enjoy the atmosphere in the high land.
8:00 a.m – 11:00 a.m: After finishing the preparation for the trekking in Sapa on the second day, you come to Lao Chai – is a village of Black Hmong ethnic people. Coming here, you will be caught up their daily life and how to make their traditional clothes, handicraft, indigo… Moreover, you have a chance to visit the biggest valley which offers to you the best views of the golden rice terrace field in Vietnam. After the Lao Chai village, you walk to Ta Van, a village of Giay people. It is a small group of ethnic people living in Vietnam, they still preserve a rich and traditional culture. Of course, you will enjoy the lunch with a local family in one of the beautiful traditional houses located on their rice paddy fields. After that, you can have a short sleep in the local people.
13:30 a,m: You continue walking through a bamboo forest to Giang Ta Chai – one of the best trekking in Sapa where is home to a Red Dao ethnic minority village. Giang Ta Chai located in the opposite to Muong Hoa stream and was hidden by old trees and bamboo groves. You can explore the life of ethnic minorities; admire the spectacular natural scenery with the terraced rice fields. You visit Sapa's ancient rock with engraved images, both big and small – unique patterns of the ancients. Approaching the life of H'mong local people, you can know how they make their clothing. They buy the yarn at a local market; they still typically weave and embroider the fabric themselves. Their many crafts, their embroidery is stunning. Giang Ta Chai village in Sapa in Vietnam offers a superb view of mountain and rice paddy fields on the other side of Muong Hoa Valley.
Muong Hoa valley is blooming with lots of colorful flowers in a wide range of various beauties. It is the time that the rice terraces are full of water at which you can contemplate one of the best scenery like the reflection of the sunshine on the fields' surface. Silver fall is located about a half hour from Sapa town that offers stunning views over surrounding mountains and lush forests belonging to Hoang Lien National Park. After taking a rest nearby a waterfall to refresh, you will start climbing uphill to a road, the car and your driver are ready for your journey back to Sapa.
Day 3 trekking in Sapa: Exploring Bac Ha market and visiting Trung Do village
7:30 a.m: You wake up early to come to Bac Ha market and have breakfast in here. If you can drive a motorbike, you should hire the one to be convenient to move.
Bac Ha market is located about 76 km from the train station, Bac Ha is a remote district of Lao Cai province. Bac Ha market organized in every Sunday which is famous for the originality and authenticity that the traders still preserve. To approach the market, many ethnic groups have to walk a long distance passing mountains and hills. Yet the distance has never discouraged them from joining the Sunday colorful market. The main square where trading takes place is divided into smaller section, specializing in a particular product such as handicrafts, food, horse, poultry and blacksmith. Each has its own trait and worth joining. It is not simply a place for buy and sell but also an opportunity for people from different ethnicities to come and meet, for women to demonstrate their beautiful handmade traditional costumes and even for youngsters to find their dates. You want a relaxing place to get away from the tourist crowd in Sapa, or simply fond of taking unique photos, Bac Ha can be your option. It is worth investing for the road is curvy and challenging, even after significant improvement.
11:00 a.m: You have a lunch in the famous restaurant. The menu of a meal includes some famous local cuisines such as "mèn mén" (steamed corn wheat), "thắng cố" (horse soup) and corn wine.
13:30 a.m: You will then start a short walk to Trung Do village which belongs to the Tay minority. The villages of Tay people are always set up at the foot of a mountain or a stream and a mountain, a field, or a river. Each village contains about 15-20 households. A large village is divided into many small hamlets. The houses are built on stilts or level with the ground. You should stop by a traditional Tay house for enjoying a cup of tea before taking a boat cruise upstream the Chay River. The scenery is very beautiful on both sides of the river. The boat trip will end at Coc Ly where your vehicle will be waiting for you for the journey to Lao Cai Station.
If you have a free time, after coming back to Sapa town, you should spend time visiting other destinations. For example, Sapa Stone Church is a famous place where holds many traditional cultural activities of ethnic minorities. Sapa church was made from the shaped stones in combination with a mixture of sand, lime, and molasses even from the smallest details; that makes the church becomes more special. Moreover, it is also the main place for keeping many cultural traditional activities of the ethnic people in there.