Our North Vietnam tour offers a wide range of places to go and things to do across the whole area. Spending 5 days on the North Vietnam will help you get the best trip in several destinations such as a charming colonial city of Hanoi, Halong bay- World-famous UNESCO Natural Heritage Site. The destinations in the trip will adapt to the intoxicating history and culture, stunning natural beauty and the enjoyable beach holiday to an interesting fisherman experience.
Spending 1 days in Hanoi capital in North Vietnam tour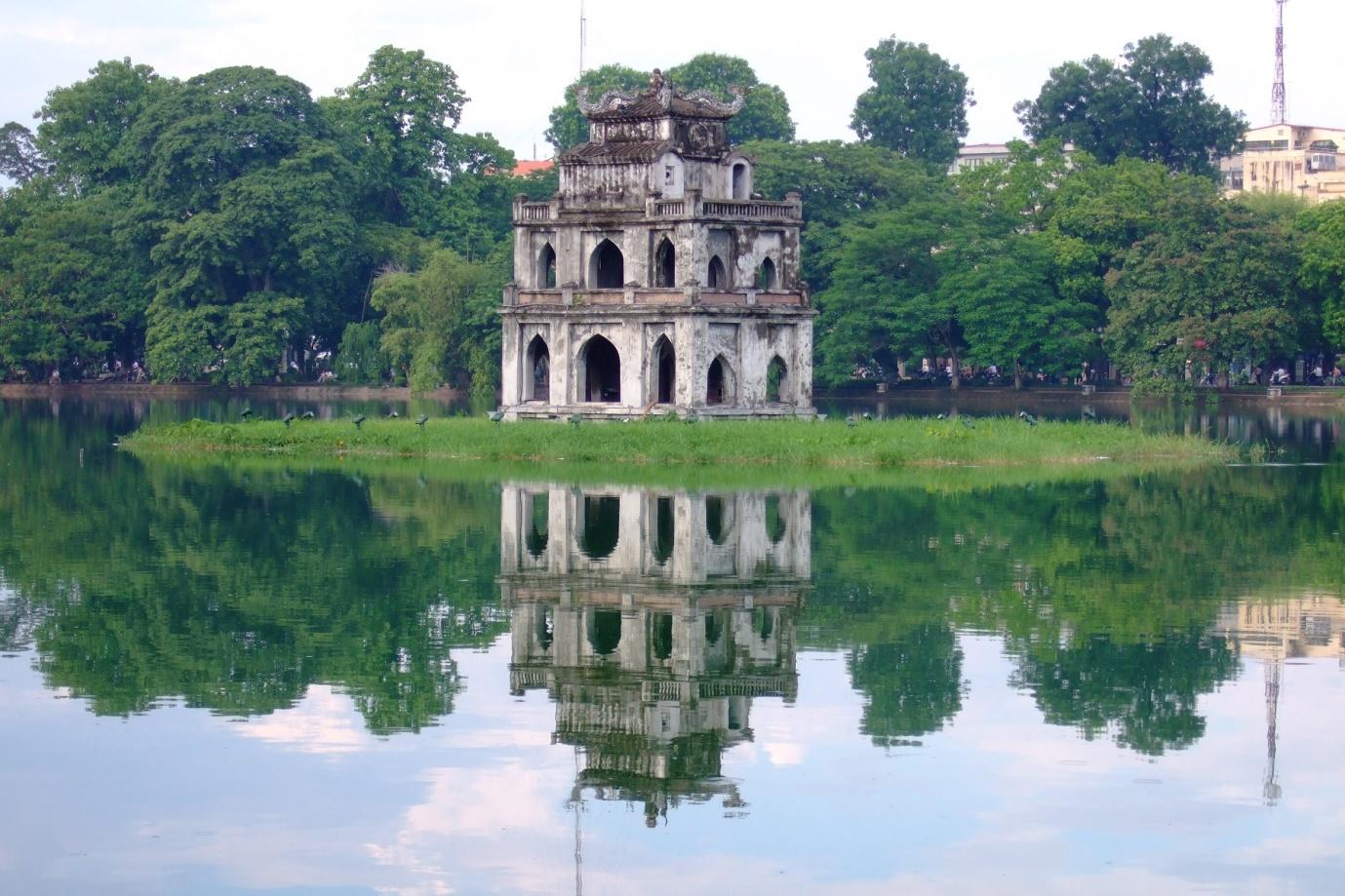 Ho Chi Minh places complex
Firstly, the itinerary will start with well-known sights of the Ho Chi Minh places complex including the Mausoleum, his former stilt-house residence, and one-pillar pagoda. These places are known for honoring the national hero: President Ho Chi Minh, where located in Ba Dinh Square, where our President read the Declaration of Independence on 2/9/1945, giving birth to Vietnam.
Museum of Ethnology
Nearly, you will continue visiting the Museum of Ethnology, widely acknowledged as the best in the country. This museum contains an extensive display of life-size structures dedicated to Vietnam's 54 ethnic minority peoples! However, Museum of Ethnology is closed on Monday so Ho Lo prison will be the alternative site to visit for you. If you want to visit both, you should arrange your time. Next, you should go to Thang Long Water Puppet Theatre to understand about the historical culture in Vietnam.
Hanoi Old Quarter
You should take a cyclo tour of Hanoi Old Quarter will complete your trip to Hanoi. You can grace the views of Hoan Kiem lake when sitting on a cyclo. Next, Hanoi Old Quarter is constructed old-styled streets full of antique brick houses seem to nostalgically resist the historical of time while it is still actively trying to adapt to the dynamic atmosphere of the modern city. You should remember that Vietnam is tropical country so you can follow the weather forecast before deciding trekking and contact with local tour guide about the root. It means that you need to bring some necessaries for trekking mountains like clothes, shoes, medicines and so on.
Thang Long water puppetry
You will spend some minutes in the theater enjoying the Water Puppet show – a traditional show of Vietnamese people. The traditional activities include farming or legends like the golden turtle and the emperor. The more modern version continues the use of water. The instruments of Vietnamese are displayed following to the puppets' actions. Especially, musicians will combined with puppets, which encourage the heroes. Guests of the theater don't need to brave the monsoon weather that would pour on outdoor audiences, but it can sit and enjoy a meal during discovering this ancient dramatic art.

Ta Hien street
Ta Hien street which is a famous foreign street. Coming here, you will know about the culture of the street-food in Northern area with street-beer and special foods. After that, walking on the walking streets around Hoan Kiem Lake such as Ly Thai To, Hang Dao… There are many Vietnamese traditional games with the fresh air.
Spending 2 days in Halong Bay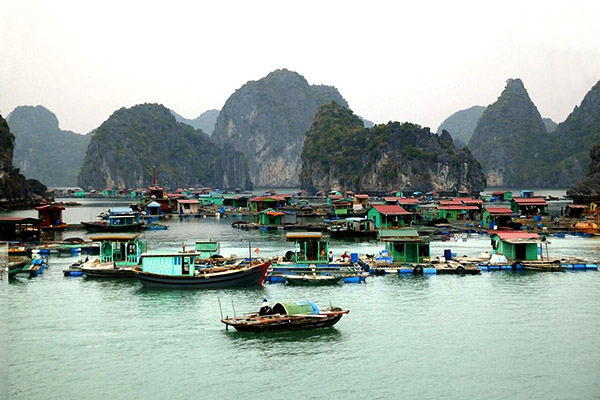 Vung Vieng village
The cruise comes to the limestone islands of Bai Tu Long Bay and head to Vung Vieng fishing village which is one of the largest fishing villages in Halong Bay. After climbing up the mother boat, you will be departed by rowing boats or kayaks to enter Vung Vieng village. This village offers a great opportunity for visitors to experience the villager's daily life as well as observe the traditional culture and customs of the fishermen. Moreover, you have a short visit to Pearl Farm to learn how natural pearls are created. Then you return to the cruise for your leisure or join one of the following optional activities such as sunbathing, traditional massage, swimming and so on. You will take 30 minutes to freshen up and finish packing then upon return to the boat. Otherwise, you have another option in there, it is going kayaking by yourself at Ban Chan island. Ban Chan beach brings a unique masterpiece, bewitching any public mind had. Its landscape is the harmony between the clouds and water. Ban Chan is surrounded by rocks and trees of green forest covering along the sea, nature points with a poetic beauty and charm to heart with the fresh air, blue water and white sand stretching for kilometers beneath blue casuarina pines. It ensures this place is very attractive as you can enjoy yourself on the beach, swim and play some volleyball or try your hand at some kayaking in the magnificent setting of Halong Bay
The activities on the cruise
You have a bath then relax as the sun starts to set. Continuously, you enjoy the Happy Hour at the bar and on the sun deck and take part in our cooking class with the chef of your cruise. On the cruise, you should attend the cooking class to learn how to cook traditional Vietnamese foods. You also participate in the activities such as the light music for dancing in the dining room, film entertainment and playing cards are provided, and massage services are available. Additionally, you may also try squid fishing and fishing from the boat.
In the morning, you should do Tai Chi exercise on the sundeck. Tai Chi is a combination between deep breathing and relaxation with slow, deliberate movements, meditation, and breathing exercises. Tai chi is very good for your healthy and safe for all ages and fitness levels. This session is a great benefit for relaxation and wakes up your body in the morning. It is a very practical way for you to refresh from a mind.
Thien Canh Son
Thien Canh Son Cave is a wild cave located on Bai Tu Long Bay, in the center of Cong Do island. You will have experience in the climbing toward heaven as the pathway to Thien Canh Son Cave is set below the forest canopy and a stone cliff. Clearly, inside the cave, it is an ethereal wonderland with naturally carved images resembling a lotus, and a baby elephant. To visit this cave, you would walk up about 100 stone steps, placed under the foliages and craggy cliffs which bring in a new feeling like climbing on the heaven gate's side. The ceiling of the cave is covered with a shiny 'gem carpet' and a large number of sparkling stalactites like 'hanging lamps'. Stone of seals and flowers build a paradise in the world. Thien Canh Son Cave offers a wild and mysterious beauty. You discover the geological value of the bay, and to enjoy a cozy dinner with family and friends in sparkling candlelight. It attracts so many tourists both domestic and overseas by a rare natural beauty, pristine limestone stalactites and beautiful surrounding landscape.
Spending 2 days on Ninh Binh in North Vietnam tour
Ninh Binh is a wonderful destination to visit for the beautiful views of the countryside. Why do you choose Ninh Binh in the best North Vietnam tour?, because this destination has been recognized by UNESCO. For distance, Hoa Lu ancient capital belongs to the world culture heritage and Cuc Phuong natural park, Trang An caves belong to the world natural heritage. Ninh Binh has voted as the traditional craft villages, cultural heritage to provide tourism.
Ancient Capital Hoa Lu
The ancient capital of Hoa Lu is the first capital of Vietnam in the tenth century. It is located in Hoa Lu district, Ninh Binh province. In 968, Dinh Bo Linh proclaimed himself emperor of Dai Co Viet (GreatViet) and established his capital at Hoa Lu Since then, until the last king of the dynasty of the past. The Emperor Le Dai Hanh has built beautiful palaces, making the capital more sumptuous.
Today, there are only two temples located in Truong Yen commune, Hoa Lu District. The largest is dedicated to worship of the Emperor Dinh Tien Hoang and the other to the Emperor Le Dai Hanh. They are so close, 300mfrom each other, they are called the temples-Dinh Le. There are other vestiges such as the Ma Yen mountain, the mountain Cot Co, Nhat Tru pagoda, Thap Ba Ngo, the caves Am Tiem, etc.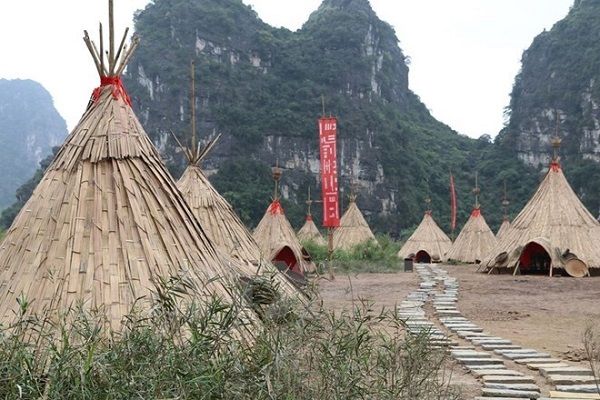 Bai Dinh Pagoda
Owning an area of 700 hectares, Bai Dinh is the biggest pagoda in Vietnam country. This pagoda has been granted with 12 national records by Vietnam Record Books. In addition, there are many other works which are also very mighty, meticulous and impressive such as Tam Quan that is made of wood, 13m wide and 16.5m high; Bell-tower was built in an octagonal architecture similar to a lotus flower, containing a bronze bell and a bronze drum. Additionally, Bai Dinh is one of some places in Vietnam where hosts 6 sarira pearls of Buddha.
Van Long floating village
Van Long floating village is the beautiful wetland of Van Long Natural Reserve. Coming here, you will enjoy spectacular scenery surrounded by rice paddies and towering limestone mountain peaks. Actually, Van Long reserve is a land full of various organisms, which is an ideal home for both of plants and animals. Especially, it is home to 457 species of higher plants and includes eight species listed in Red Book of Vietnam. It comprises 39 species of animals including 12 species are rare and precious as primates, lorises, chamois, bears, etc., and especially the famous monkey pants leg. And Van Long together 32 beautiful caves such as Ca, Bong, Rua, Chanh and so on. Each cave has its original beauty. Van Long is considered as a site of historical heritage. It is a mecca for eco-tourism but also a place to study ideal for researchers, students and Vietnamese and foreign students.