If you want to know how is majestic, let's go to the Northwestern mountains. If you want to know how is vast,let's go to the Vietnam's Central Highlands. The Central Highland  is the land full of sunny and windy, the vast savannah plains, the endless of rolling hills, the tea and coffee gardens are lasted endless sight. So, coming this immense land, you will want to discover all the secrets here.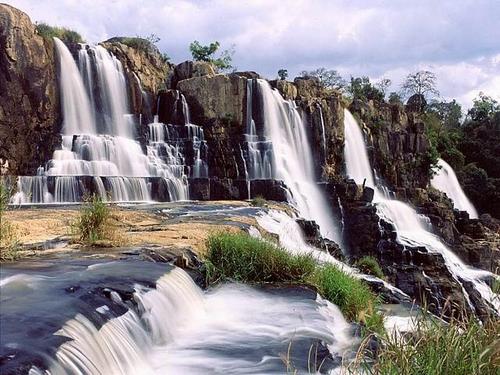 Coming the Central Highland, the most interesting is come in the wild Sunflowers season. You will watch the land with full of windy and sunny and the wild forest which are rolling green leaves. Leaving the winding streets where have beautiful mountain towns, you can see white coffee flowers are blooming on the hillside plateau. The Nature and people here are very attractive and lovely.
After the trip, I was discovered  more interesting things here. I love all the wild flowers, especially is wild Sunflowers that is always make we think about the sun and wind. Wild Sunflowers are adorn for the nature painting which is more anxious colors in the Highland, bold in mind. This flowers are also romantic, wild and burning as the people here. So, i'm thinking about the joy of having when the performers play gong that is traditional instrument. They bring in their bloodstream Highlands filled with desire and vitality of love and life. The people here are still filled with vitality, full of longing  like a KrongPac river.
Say goodbye to this beautiful Highland where is the human and nature are always embedded, love together and closes. Say goodbye to the the forest-wild sunflowers with yellow flowers engrossed in endless. I sure that if you come here once time, you will be deep inside in the yellow flowers. What's fantastic!