Sapa is stunning around a year, there is no word which can describe this beauty. When you have a chance to immerse the picture of cascading rice paddies, majestically green plains, and towering mountaintops, you will be surprised by this landscape. So, your brain malfunctions and stops working momentarily, and you sign up for three days of Sapa trekking.
Before each Sapa trekking tour, you should prepare the necessary things like light package, comfortable shoes, much water… And you can check the weather again because in Highland region, the route is difficult for you to trek, and you should prepare raincoat and plastic boot…
In order to save time when traveling in Vietnam, you should choose a night train or night car, it will take about 6-10 hours. However, if you travel by night train, it will finish in Lao Cai, you will be transferred by a shuttle bus. On the other hand, night car will stop near your hotel, so you can choose the best transportation for yourself.
Day 1 Sapa Trekking Tour: Trekking Matra – Taphin and discovering H'mong villages
After having breakfast in the hotel and short time for relaxing, you will be transferred to Matra village – a very small village in Sapa, hiding away from civilization and start a beautiful hiking day. You will then continue your walk through rice paddy fields and spectacular scenery. In your route, you can be able to visit the local school and meet many children, they are so cute and pretty. Say goodbye them, you and your guide will walk to a local house, have lunch with host and have a small rest.
In the afternoon, you will begin a half day with a 3km trek through the breathtaking landscape to Ta Phin village. On the trekking way, you can hear about the unmixed cultural life of Black Hmong and Red Dao minorities which are 2 largest ethnic communities in the area and you can already recognize them by dressing while they are both very famous of handicraft. The Red Dao are known for their expertise in herbal medicine and they use plants from the land and the forest to treat many illnesses. Your local guide will be able to introduce you to some Red Dao women and they can tell you more about their remedies. Especially, you can have a bath Red Dao herbal medicine when you come back the town, it is so interesting. This service is various in Sapa. On the other hand, your Sapa trekking tour will offer you the opportunity to visit the local houses and visit the local caves. At the end of the first day, you will come back Sapa and enjoy your night.
Day 2 Sapa trekking tour: Lao Chai – Ta Van – Giang Ta Chai villages on the second day
In this trip, you have a chance to discover more about Black Hmong ethnic minority and Red Dao ethnic. In your previous day, you meet both of them, and during that day, you can be easy to realize them. And you will be meet another ethnic, this is the Giay ethnic.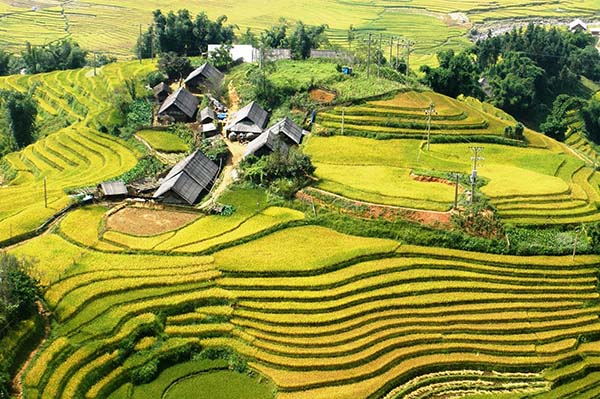 In the morning, you will meet your local guide at your hotel, and you will be transferred to Lao Chai village, have a short trek and meet people in Lao Chai village. After that, you will be able to walk from Lao Chai to Ta Van village where the Giay ethnic minority hill tribe lives.  Ta Van village is a place where many Vietnam ethnic minority groups gathering and living during a long time in harmony with each other. When visiting the village, tourists can admire natural landscapes here, and experience homestay service, as well as enjoy traditional food of this land. This provides a great opportunity to share their customs and home life. Have lunch in the local house.
After having a short rest, you will get ready for upcoming sightseeing this afternoon. Your trek continues to Walk past beautiful terraced rice fields and a bamboo forest to Giang Ta Chai – home of Red Zao, Hmong and Dzay minority. You will be able to enjoy the genuine friendliness and hospitality of the villages and have a chance to speak with the locals. We will cross an old timber and rope suspension footbridge.  After taking a rest nearby a waterfall to refresh, you will start climbing uphill to a road, the car and your driver are ready for your journey back to Sapa.
It is the end of a Sapa trekking tour, you should spend your free time in Sapa. It is the chance to discover Sapa on your own, you can relax after 2-day trekking. You can visit some must-visit destinations here:
Sapa Main Market
The market is opened every day of the week, however on Saturdays are most appealing because it will set up with indoor and outdoor stalls for the day; head to the set of stairs outdoors to find fresh produce as well as medicinal herbs, and beautiful, fresh flowers. This place is ideal for becoming familiar with the different tribal characteristics of each of the tribes and to admire the colorful tribal clothing of the local people.
Stone Church of Sapa
The church of Sapa is a famous place where holds many traditional cultural activities of ethnic minorities. In the front of the church is tennis area which has unique cultural activities of local people on Saturday. You can see flute, trumpet leaves and "xòe" dance, they created a sparkling and magical atmosphere in Sapa.
Thac Bac Waterfall
Thac Bac Waterfall is enveloped by a range of mountains, beautiful, undulating landscapes area created—the falls are a product of the Lo Sui Tong mountain top, where the waterfall's original source lies. Many people say the cascading falls appear as a mighty white dragon peering down onto the valley
Muong Hoa Valley
The Muong Hoa valley's most defining feature is Hoa stream, stretching through the Tan Van, Lao Chai, and Hao Thao villages and there are mysterious carved stones and curious graphics spread over several kilometers