Vietnam's long coastline in the tropical zone is an ideal destination for vacationers searching a beach holiday. Lunar New Year is the best time for traveler discovering the famous beach from North to South in Vietnam so you also approach the culture in Vietnam with both of traditional foods and several festivals. Especially, visiting the beach in particular time, you will enjoy multiple water activities, clean atmosphere and fresh seafood by crystal clear water, white and stretch of waves. See below for the best beach holidays in Vietnam in Lunar New Year.
Halong Bay – Northern Vietnam
Halong Bay is one of the famous world places located in North area, where anyone shouldn't miss during an awesome trip. There are three ways to travel Halong Bay like by seaplane to save time for business, by car before seaplane to save money and by cruise.
Suggestion for you is booking tour to overnight accommodation and having meals on ship in order to join outdoor activities gathering with your friends, family and fellow traveler. It means that one night is staying at a cruise and one night is staying at your hotel or resort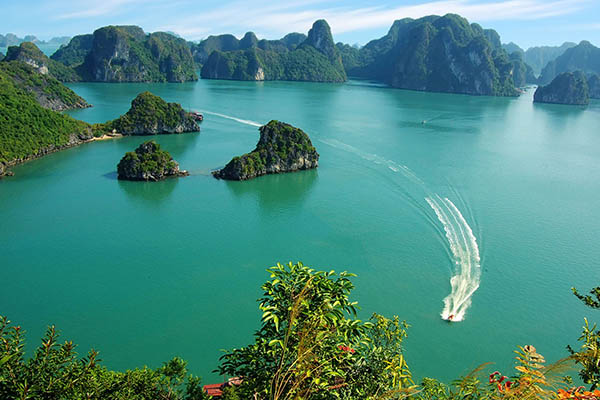 On the first day on cruise
Following to tour guide, you will check in the high-quality cruise then have a lunch in the restaurant. During the meal, time for visiting the most beautiful place of Halong Bay through the unique islands with funny names such as Dog, fighting chickens, incense burner. Besides, almost of travelers are persuaded by the beauty of famous caves. You will discover a number of famous landmarks such as Sung Sot cave, Thien Cung Cave, Dau Go Cave which are the most beautiful caves of Halong Bay. It takes you closer to the limestone formations, natural grottoes and floating villages. In the first evening, you should join to some activities on the cruise such as squid fishing, watching movies, or karaoke.
Besides seafood such as fish dish, saltwater bivalve, succulent texture and a good source of zinc, there is a great variety of Vietnamese food that is not available elsewhere such as Banh Chung, Boiled Chicken, Pickled Onions.
On the second day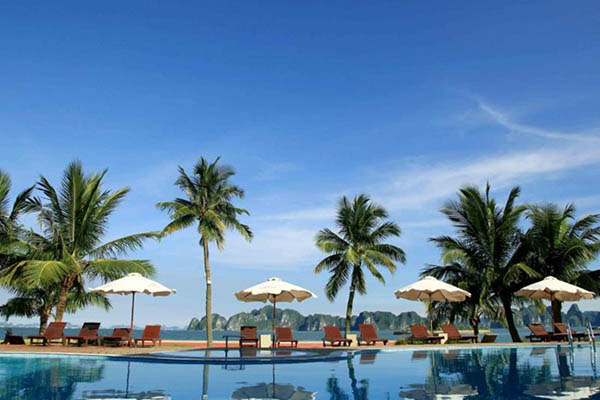 After gracing the sunset on the cruise, you come back to the land where has many popular activities. One of the most satisfying things to do in Ha Long Bay is sunbathing or swimming which brings the benefit for your skin. Besides, the other special water sports are diving and kayaking that you can indulge in. To deeply experience quiet atmosphere as well as scenic setting on the beaches, trekking the peak of limestone island and cycling will become great things to do for tourists. Many private operators close to the bay offer equipment on rent for these adventure activities.
In Tuan Chau, you can grace musical performances, slideshows, sea lions, watching 3D film and so on.
High recommendations some hotel in Halong: Halong paradise Suites hotel, Muong Thanh Halong hotel, Tuan Chau Holiday Villas,…
Nha Trang – Central Vietnam
Nha Trang is as one of the most popular and best beach holidays in Vietnam you could enjoy several activities. Taking a taxi from Nha Trang airport to your hotel, you will be totally witness the blue water of Nha Trang's 6km beach. Nha Trang beach is among the world's top 10 with many affordable resorts and hotels ideal for long stay around the Bay. Nowadays, Nha Trang is becoming an excellent choice for both families and couples and promise a trip in Lunar New Year to remember.
On the first day
For tourists who are travelling with friends and family, we strongly recommend you to visit Vinpearl Nha Trang Water Park, where you will join both of outdoor activities and indoor activities! There are various kinds of water sport such as water motor boat, diving, surfing, parachute jumping, fishing, sailing boats, canoeing, and riding banana boats. In particular time, you also play some games in the street festivals.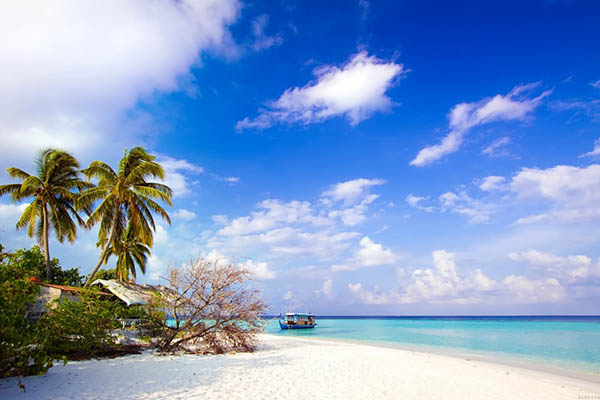 Tourists can enjoy fresh sea foods and traditional foods during Tet holiday.
Especially, you should spend relax time going to bar to enjoy the drinks and atmosphere in there. For example, 5 best nightclubs in Nha Trang involves Skylight Skydeck & Rooftop, Sailing club, Zima club, Yasaka 008 Nightclub and Banana Club Nha Trang
On the second day
You may be interested in ocean activities such as swimming, playing water sports or scuba diving while setting the tour in three islands on the beach.
To finish the trip, you should go to Dam market, Nha Trang where they can buy local foods or souvenirs for their family and friends. Dam market is situated on the center of city with beautiful architecture, which is the biggest market in Nha Trang. This market sells a ton of local products from dried shrimp, soaked squid, sea cucumbers, seaweed to dried sea horses, shark fin and so on.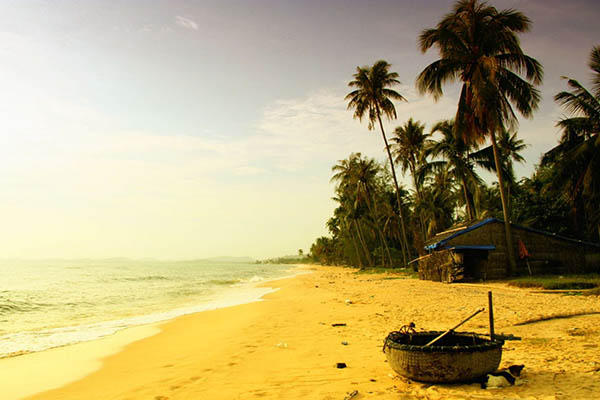 In the evening, one of the most attractive places to visit here on Lunar New Year's Eve would be the Holy Mother Tower, where is the fireflies gather and fly around the tower to warmly welcome the new year.
High recommendations some hotels: Amiana Resort Nha Trang, Vinpearl Nha Trang resort, Muong Thanh Nha Trang, Fusion resort Nha Trang
Phu Quoc – Southern Vietnam
Phu Quoc is also one of the best beach holidays in Vietnam in Lunar New Year. The island is separated from mainland's hectic traffic and offers a relaxing ambiance with well-maintained hotels and resorts. From from Ho Chi Minh City to Phu Quoc, the flight time is about 40 minutes.
On the first day
Let's experience Vinpearl land located up in Ganh Dau Town, which is like Vietnam's version ofDisney Land. Here you will experience a golf course, water-park, a mini zoo of sorts, amusement rides and more. Vinpearl Phu Quoc resort will be celebrating its first Tet here on the island and they plan on hosting a variety of cultural shows at their new theater.
You should stroll on the coastline with a coffee and enjoy the most popular beach on Phu Quoc's sunny western shore. Especially, you can book in the dinner followed by squid fishing at one of the islands many watering holes. We believe that the experience is very interesting to foreigners at night.
On the second day
You should wake up early to grace one of the most beautiful ocean sunrise in Vietnam.
The typical beaches where the waves gently lap and hug the shores, there are ones where the currents are so mild they are barely felt; and the ocean. Therefore, it becomes a giant bathtub where one can dip in the water and relax without disturbances.
If you want to learn about Phu Quoc districts history by the Cay Dua Prison called Coconut Tree Prison. Tour guide will present the deep events and inflicted process in the dark past. The Phu Quoc Prison is now a national heritage site home to a museum, guard towers and tiger cages.
On Lunar New Year's Eve, coming soon the area around the night market and Dinh Cau Temple because these places will be crowded with a good mix of local people and tourists. Moreover, if you come to Vietnam on New Year's Eve, firework is also fired in Vietnam to welcome New Year and all people gather to admire firework display together.
One of the attractive visiting the beach in Lunar New Year is the food which includes both of seafood and traditional food. Seafood in Phu Quoc is quite same to others but traditional foods are different with two areas. There are Chung cake, Te cake (Banh Te), Frozen meat (Thit Dong), Pickled onions (Hanh Nen), Dried bamboo (Canh Mang Kho) and so on.
High recommendations some hotels: Bauhinia resort, Vinpearl Phu Quoc resort, Cottage Village, Palm Hill Resort.
Finally, we hope that visiting the best beach holidays in Vietnam will bring for you the awesome feeling during the trip. Of course, you will come back Vietnam's destinations in the next time.
Suggest tours related to these beautiful beaches in Vietnam:
– Hanoi – Halong authentic beauty