Sapa is one of the most breathtaking hill stations in Vietnam which reflects the signature of French architecture and colorful hill tribal cultures. Exactly, this is home to impressive mountain landscapes, verdant rice terraces, unique stilt villages and Indochina peak, the Fansipan. Travellers are invited to enjoy the best tours from Hanoi to Sapa in Lunar New Year with different taste of seasons and exciting outdoors in other time.
Travelers have some options to enjoy your trip either on spending one day to discover Hanoi city or taking the ticket to visit Sapa from Hanoi if you lack time. Spending two days and three night, visitors completely make the most awesome feeling in Sapa by three methods including train, bus and motorbike. Sapa tours from Hanoi can depart by train in 8 hours while by bus just 5-6 hours and by motorbike near 10 hours. You should consider choosing the most convenient way for you and we always ready to bring you to the charming Sapa.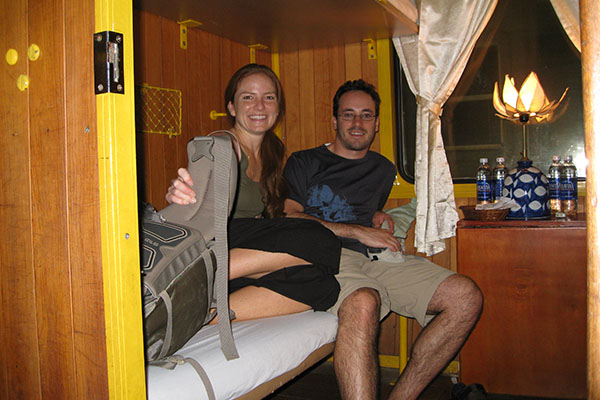 Tet holiday in Sapa seems to be so distinctive; it is not as crowded as weekdays. You may still experience the atmosphere of a cozy spring though the atmosphere is quieter. You will sense warmth spreading out all over from peach blossom, lights from street lamps at night at this mountainous area.
On the first day
7 a.m – 7.30 a.m: After stopping at Lao Cai station, you should take a taxi to your homestay and relax. At homestay, you will have a breakfast before discovering several destinations.
Some recommendations the traditional foods in Lunar New Year for you are Chung cake, Te cake (Banh Te), Frozen meat (Thit Dong), Pickled onions (Hanh Nen), Dried bamboo (Canh Mang Kho) and so on.
To enjoy above foods, you could suggest cooking from local host family because Tet holiday is the best time to be available these foods.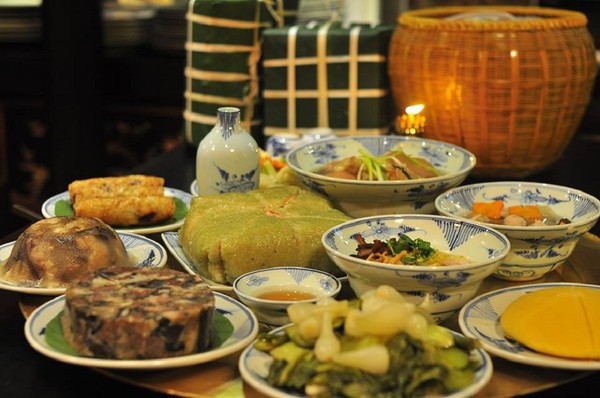 9 a.m: Following your tour guide, you tend to trek Cat Cat village, where is an ancient village of Mong ethnic people and this is a chance to see the hydroelectric power station built by the French. Located nearly 2km from Sapa Town, this village attracts a lot of tourists to visit in every year. Moreover, this village is expanded and developed to be Cat Cat tourist area, which is a traditional destination for everyone. In life, local people in Cat Cat also keep many traditional handicrafts for a long time such as weaving fabrics, planting cotton and so on. Greatly, visiting Sapa in Vietnamese New Year, you will have a chance to experience in local activities in Tet holiday. Especially, you can know the way to make the delicious food accumulated the ethnic group is Dried Pork (Thit Lon Kho).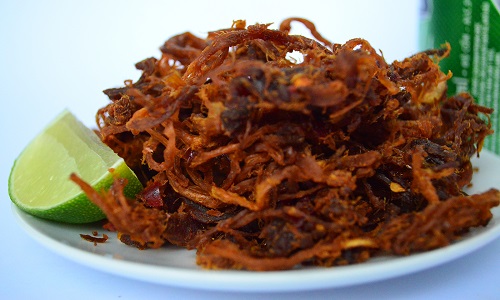 2 p.m: Next, one suggestion destination for you is Muong Hoa which is the most famous destinations for breathtaking scenery and is the largest farmland for rice growing in SaPa. Visiting Sapa's Muong Hoa Valley, you will have an opportunity to enjoy an easy walk downhill and along Muong Hoa River, through terraced fields passing some hamlets of the H'Mong people and watching the locals at work. Otherwise, Muong Hoa River peacefully flows through the valley, weaving itself along foots of mountains, nourishing the earth and the people. On harvest season, the rice farmland valley serves up different shades of green and yellow, in ranges of ranges.
6 p.m: On the way back to homestay, you can take photograph the scene and local people. Almost of houses are decorated making the great color.
In the evening:  you can enjoy local foods like grilled egg, grilled sweet potato and many others ethnic foods. Actually, on New Year's Eva, firework is also fired in Vietnam to welcome New Year.
On the second day
7.30 a.m: Spending the morning visiting local market. Sapa markets in Tet holiday seems to be so distinctive, it is not as crowded as weekdays. Bac Ha markets in the Northern Vietnam are always the colorful meeting places for the hill tribes. This is the last market day of the year and a really a special time to visit. Ethnic groups such as Flower H'Mong, Nung, Day… concentrate on the market with beautiful traditional clothes. The market is a festival, people are happy to buy, sell, drink, shop…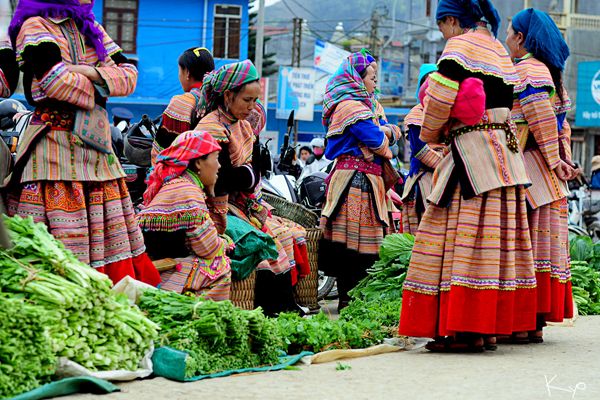 If you can arrange free time to grace the New Year festival of H'mong people is Gau Tao. This  is one of the biggest festival organized by H'mong people to respect ancestors of harvest, cattle and to pray for babies and it demonstrates the features of H'mong culture in Tet holidays. The festival can long 3 days if it's held every year or 9 days if the time period is each three year. In this festival, there are charm-transferring (giao duyen) singing, playing favorite games and activities.
2 p.m: There are a lot of beauty spots for tourists to visit such Sapa as Silver Waterfall or Thac Bac, valleys covered with blooming flowers and Ta Phin village. This opportunity also helps you know the life of Red Dao nation having very colorful red embroideries and coins on their clothing. Silver Waterfall is one of the highest waterfalls in the country standing at 100 meters tall. Besides, a little bit further on the same road of Sapa is Tram Ton Pass at the height of 1,900 meters, which is the highest mountain pass in the country. It is the natural dividing line of the dramatic contrast of the coldest weather in Sapa and the warmest in Lai Chau.
6.00 p.m: Having the good meal with traditional foods and check out homestay.
7 p.m: Ending the best tours from Hanoi to Sapa by transferring to station for overnight train back to Hanoi.
On the third day in Hanoi
One advice for you is spending one day discovering Hanoi in Lunar New Year before moving to others destination because Vietnam capital has many interesting. Different from the days before the eve of Tet, the days after the eve of Tet is solitary as the local people come back to the countryside to gather with their family.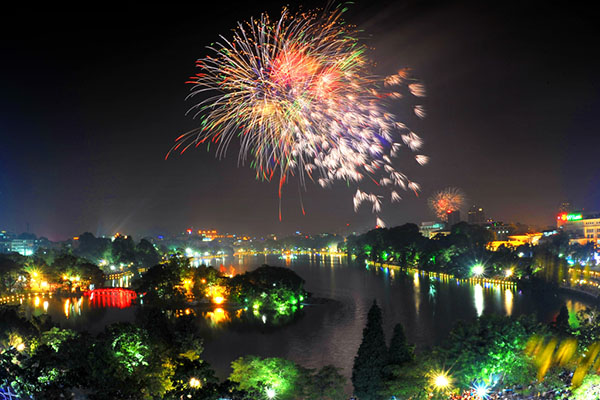 Walking to the famous Hoan Kiem Lake and visiting the Ngoc Son Temple on the lake was a good place to start since these places are decorated very colorful. Hoan Kiem Lake is known as the lake of the returned (or restored) sword, this lake marks the historical center of ancient Hanoi. The famous lake is situated inside a complex of Ngọc Son Temple, The Huc Bridge, and Pen Tower in the surroundings that make a sparkling colorful natural picture.
Otherwise, the destination which you cannot be missed is Tran Quoc pagoda as it brings the cultural of Lunar New Year attracting more visitors. Tran Quoc Pagoda in Hanoi is one of the oldest pagodas constructed in the sixth century. The festival is organized in the elaborate pagoda which is built on the ashes of a Vietnamese hero and it is especially famous for the activity of traditional water puppet.
In the evening, after dinner, you prepare the sandal to walk on Hanoi Old Quarter located in the middle of Hanoi, a rapidly developing city where changes to take place every hour. Hanoi Old Quarter is constructed old-styled narrow streets full of antique brick houses seem to nostalgically resist the flow of time while it is still actively trying to adapt to the dynamic atmosphere of the modern city. You completely grace the street light decorations in Hanoi in New Year.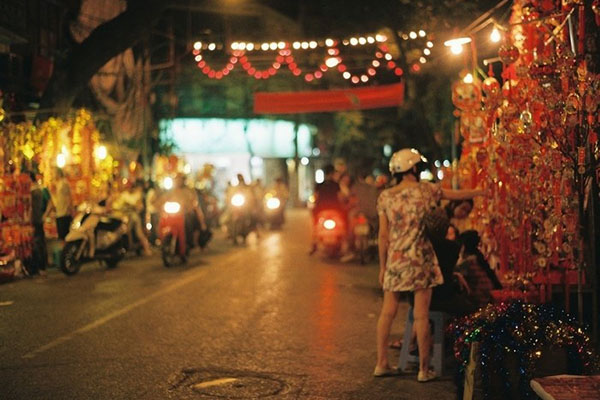 After that, we suggest that you should go to the foreign clubs, bars to join some activities in Hanoi Old Quarter. There are Funky Buddha Club, Hanoi Press Club, Dragonfly Bar and Lounge and so on.
We hope that after the best tours from Hanoi to Sapa in Lunar New Year, you will have an awesome trip with the strange emotion. With clean and such romantic atmosphere, Sapa is definitely going to be an interesting and full of a fun journey for New Year vacation. And one day discovering Hanoi also brings the experience for you.
In vietnamese: "Chuc mung nam moi" (Happy new year)
Related tour: