Hanoi is the capital of Vietnam which has exited the long history by 1000 years with several architectural constructions. As a result, Hanoi has accumulated to the huge of culture and long-time historical sites that attract a lot of tourists nationwide. Have you come to Hanoi, I believe that you can't forget the intimate atmosphere, the peaceful life and shopping in here. The article mentions the expert's advice shopping in Hanoi tips with quite cheap. Shopping in Hanoi is famed for its bustling markets and narrow shop houses but there are a growing number of flash boutiques and shopping malls on the rise and we have compiled the very best retail experiences it's possible to have with our Top 4 Best Shopping in Hanoi list below.
In the streets of Hanoi's Old Quarter, you really discover shopping as part of daily life. Shopping in the Old Quarter can be a challenge. Locals have the practice of shopping from their bikes so they get closer to the edge of the road to look at the items for sale. Then, the sellers bring it to them and if they like it, the close the transaction right there. You have to be super attentive when you walk through the streets. In fact, a huge travellers tend to shopping in above destinations by "Xich Lo" and electricity transport. However, they are willing to walk in streets to discovery deeply Hanoi Old Quarter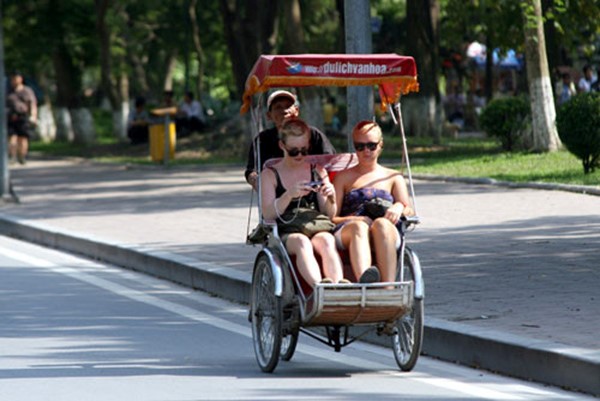 1. Shopping in Hanoi – Vietnam highlights tour: Hang Gai
Hang Gai is one of the most popular streets is well-known by the locals and tourists. Hang Gai street is just North of Hoan Kiem Lake and on the edge of the old Quarter where is the best place in Hanoi to shop for high quality, fashionable silk materials, traditional Vietnamese apparel, and home furnishings. It also is located by many quality hotels based on attracting a huge traveller. They prepare their feet for a day of walking street to be convenience buy something they demand.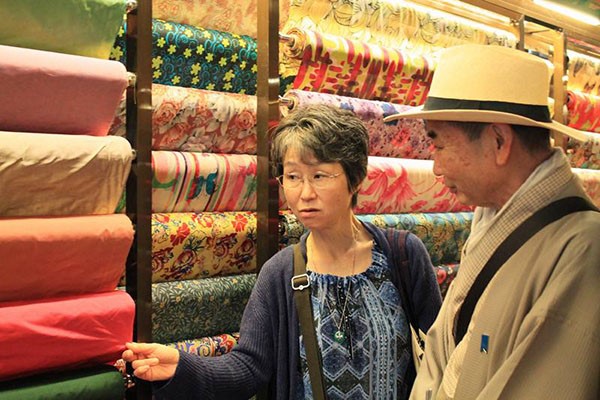 Hang Gai is renowned for its quality and choice of craftsmen though two of our absolute favourites on Hang Gai Street are Le Minh shop and Ta My Design as both stores offer ready-to-wear pieces – perfect if you're too pressed for time to get a tailor-made outfit during your holiday in Hanoi. Suits can be ready within 24 hours, though it's best to allow more time for a second fitting to make sure that your outfit is perfectly tailored. Most stores in Hang Gai Street accept payment via credit cards and it pays to go to a better quality store and avoid the market street traders to guarantee the best quality silk. As with most retail outlets all over Vietnam, bargaining is also highly encouraged to get a decent price – start at 50% off the asking price and pay no more than 70%.
Le Minh has a solid reputation that has been developed since it first opened its doors in 1954. With so many small shops specialize in silk and embroidery, just choosing a shop to enter on Hang Gai can be over whelming at first. Le Minh's Vietnamese-style shirts made out of raw silk with a mandarin-style collar and traditional frog closures are highly popular. Shirts start at $15, tailored jackets $25-$30. You can also find some wonderful embroidered table-cloths ($10-$25). Tan My Design is veritable shopping emporium with over 800sqm of shopping space, selling both the best of Vietnam alongside international products. The beautiful restored French colonial-period villa is filled with gorgeous handmade embroidery, home ware, bed linen, clothing, accessories and artwork.
• Opening Hours: Daily 09:00 – 20:00
• Address: Hang Gai Street, Hoan Kiem District, Hanoi
2. Shopping in Hanoi – Vietnam highlights tour: Dong Xuan Market
Call Dong Xuan Market is Hanoi's largest indoor market, offering a wide range of goods such as foods, materials for producing, clothes, souvenirs and so on. The sellers are looking to shop for souvenirs, head to the upper levels, where they can find numerous stalls selling tee shirts, fabrics, school uniforms, handbags, handicrafts, all of which are sold at wholesale prices. Specially, the travellers usually come here to buy the gifts for their family because of their cheap costs. However, they need to bargain with sellers for the goods demanded.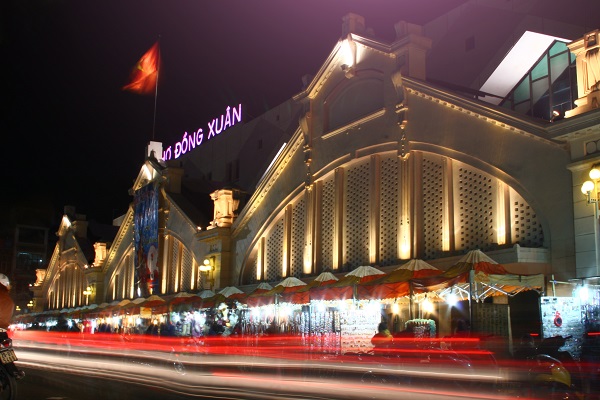 Surrounding Dong Xuan Market are many more shops where you can purchase traditional Dong Ho drawings, Bat Trang ceramics, Binh Da embroideries and laces, and sand paintings. Within walking distance of Hoan Kiem Lake, Dong Xuan Market is a must-visit if you're looking to experience the local lifestyle. The tourists are popular end up leaving with a pair of cheap sunglasses and a Vietnamese conical hat. Dong Xuan Market is one of attractive tourist destinations in Vietnam highlights tour and is the only one of Hanoi' s many efforts to develop tourism and attract international visitors.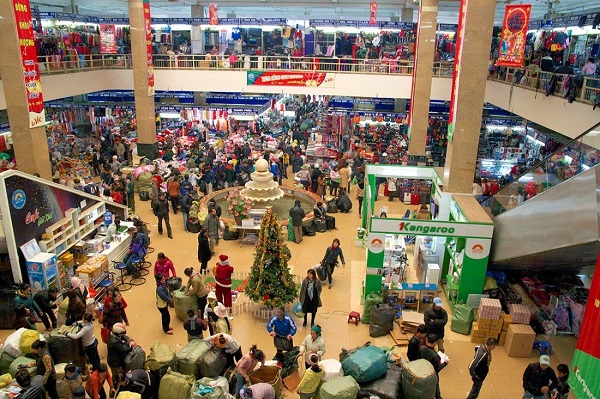 • Opening Hours: Daily 06:00 – 19:00
• Address: Dong Xuan Street, Hoan Kiem, Hanoi
3. Shopping in Hanoi – Vietnam highlights tour: Hanoi night market
Nearly to Dong Xuan Market is Hanoi weekend night market opened in every Friday, Saturday and Sunday, Hanoi Weekend. It happens through the Old Quarter district from 19:00 onwards, starting from Hang Dao Street and running north to the edge of Dong Xuan Market. The night market stretched for about one kilometer and tourists must walk on the street because they forbid the vehicles.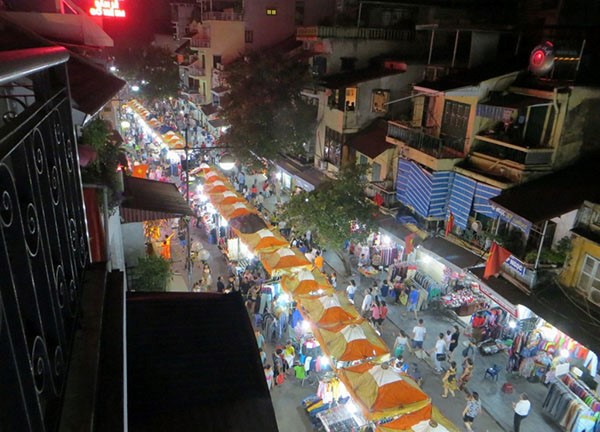 The same to Dong Xuan Market, Night market is displayed shopping-wise, the fashion items including inexpensive t-shirts, handicrafts, accessories, shoes, sunglasses. Therefore, customers feel free buy souvenirs with low price. However, the overall environment is very lively and bargaining is a way of life here – a good start is to offer about 75 per cent off the opening price. The items are not too good but almost foreigners prefer to buy a gift for their family. Visitors have just spend 1$ to buy some gifts to their friends and family during the nice trip. Actually, It is light based on saving the kilogram for you when come back home.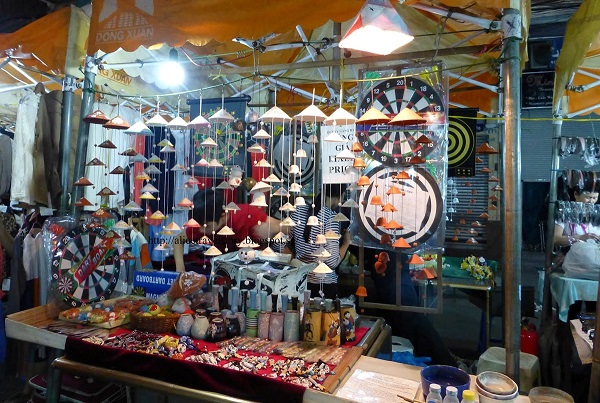 • Opening Hours: 18:00 – 24:00 every Friday, Saturday and Sunday
• Address: Dong Xuan Street, Hoan Kiem, Hanoi
4. Shopping in Hanoi – Vietnam highlights tour: Hang Ma
On the occasions of traditional festivities, the street becomes filled with sounds, colors and light, bearing the imprints of the spiritual life of Oriental. When tourists ask local people or tour guides where they could find a variety of traditional Vietnamese gifts to buy like souvenirs, most of them will get the answer " the old quarter" specially Hang Ma. Hang Ma glimmers with shiny paper products, such as gift wrappings, wedding decorations and miniature paper objects to burn for the dead.
Specially, in the holiday, Hang Ma is where locals and travellers find out the first one to discovery the hot trend. The reason attracting the most exciting tourist areas in Hang Ma street where is seductively attract a lot of foreigner tourists to visit daily, so there are various souvenir and present shops situated in these areas. At that time, the customers have just give from 1$ to 15$ to own a product which you want. For example, house decorations, children toys are the most bought with cheap price. Therefore, if you have a trip in Vietnam in several holidays such as Mid – Autumn Holiday, Mary Christmas, Tet Holiday and so on, you are particular visit to Hang Ma because of its beauty and color.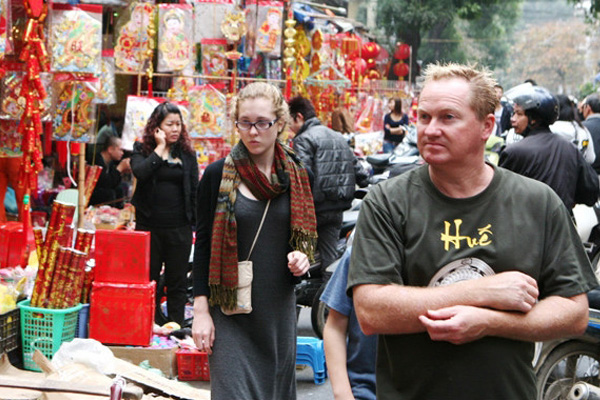 In conclusion, Hanoi is like Bangkok for the sport shopper a good choice for the last destination before flying home, if you want to easily buy and fill an extra suitcase in just a few days. You're visiting the capital city of Vietnam for the first time, make sure you check out our helpful guide on what to buy and where to shop in Hanoi. Specially, Hanoi is willing provide a lot of souvenir for the tourists when visiting Vietnam. Vietnamese citizens always welcome the foreigners to have an awesome experience in the trip.