Northern Vietnam is famous for the capital city of Hanoi, the World UNESCO Site of Halong, and it's a big mistake not to mention the mountainous town of Sapa. If Hanoi is typical of the Vietnamese lifestyle in the delta, Halong is heaven for beach enthusiasts, Sapa brings about a unique impression of less popular communities in the highland.
They are the creators of vibrant embroidery, delicate silverware sold at the local sessional market, the farmers on stunning rice terraces stretching from mountains to mountains, the owners of strangely design stilt house dotted behind the jungles.
They are local ethnic minorities in Sapa.
To fully understand this destination and the way of living here, let's uncover the instincts of the most populated inhabitants in Sapa.
The Truth Untold About Ethnic Groups Residing In Sapa
How diverse Are Minor Communities In Vietnam?
Not only Sapa but Vietnam, in general, is also a country of diversity. It is the home of nearly 60 ethnic groups. However, the demographic distribution differs greatly among different communities.
While the King, the largest groups, dominates most of the delta and coastal areas. Other minor communities are usually uplanders, dwelling in the highlands close to the Vietnamese border.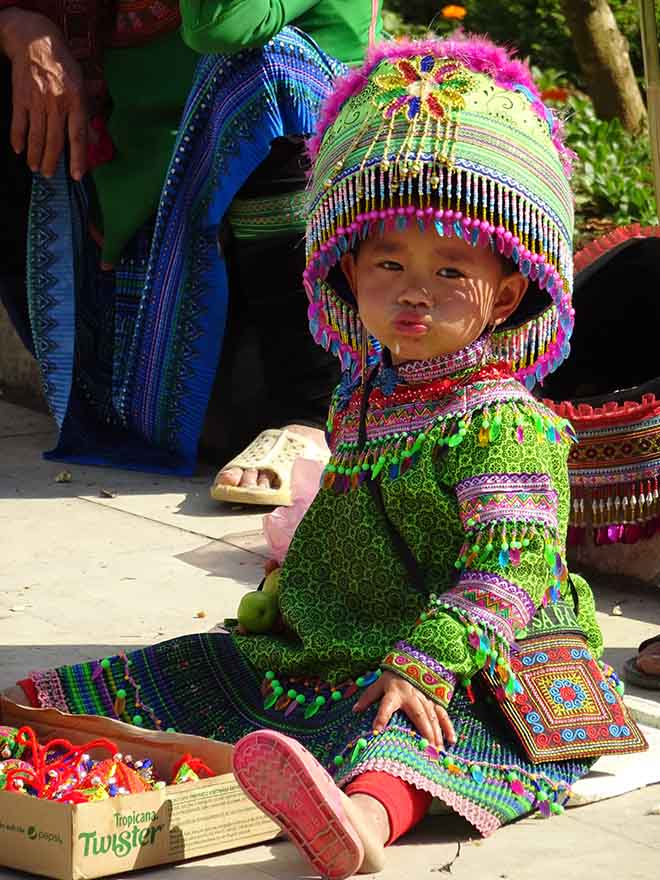 Discover The Most Dominant Ethnic Groups In Sapa
There are quite a lot of different groups of people cohabiting in Sapa. Still, the three most abundant in number are The Red Dao, H'Mong, and Tay
The Red Dao People
Dao people is a major ethnic community in Vietnam, but in Sapa, most of the dwellers belong to the Red Dao, a classification of the bigger group.
You can easily identify Red Dao People with their distinctive costumes, which have a bright red color. The female often wears colorful turbans decorated with silver coins and yellow pompoms.
One of the signatures of Sapa is the lively Love Market, which is actually a cultural trait of The Red Dao. Love Market is where boys and girls dressed in their most beautiful clothes. They come here to not only shop for stuff but also look for the right partner. The market is filled with the chirping sounds of birds, the lovely melodies of Red Dao songs played by traditional instruments.
Marriage practices of The Red Dao group are very special. As they live in stilt houses, the groom has to come up with an idea to take the bride from her house without using the stair on their wedding day. If you have a chance to join in a Red Dao wedding, you can see how friendly, humorous and creative they are.
H'Mong Groups
One of the top tourist attractions in Sapa is Cat Cat village, which is the home of many H'Mong people. They are also the most popular ethnic minorities in Sapa, just behind the Kinh group.
The life of H'mong people depends much on agriculture. Magnificent rice terraces in Sapa are mostly the creation of the H'mong. They cultivate food crops, mostly rice, corn, manioc, and some other kinds of vegetables on high mountains while in their own home, they raise cattle, poultries and other livestock. H'mong people are mainly self-sufficient and only bartering for things they don't grow.
If you visit a H'Mong family, you will be impressed by their hospitality. Even though they don't know you, they will make a feast from the locally sourced food to celebrate the new friend. H'mong people are generous and welcoming.
Also, they much respect the social organization of generations. There are up to five age grouping sharing the same roof.
Subgroups of H'mong minor communities differentiate each other by the colors of their clothes. The Hmong Leng wear costumes with dark shades like black and blue dyed with natural indigo. Over the women's head, there is a stiff indigo-blue turban but they only put it on during special occasions. The White H'Mong use a scarf decorated with many colorful threads to cover their hair. They wear pretty short, waist-long, double-breasted jackets. Each group of H'mong people has distinctive decorative patterns.
Tay Ethnic Community
The Tay group accounts for about 1.6 million people out of the complete approximately 95 million in the Vietnamese population.
The traditional costumes of Tay people are considered the most simple with the plain color of black for both male and female version. They don't embroider a lot of pattern on their clothes, but the dark color works great in highlighting the carefully made silverware such as necklace, earrings, and bracelet.
Music is what this ethnic group can be proud of. They use a wide range of musical performance in both daily life and important life event. "Then" singing is recognized as a national intangible asset. It is a ritual art form with not only singing but also dancing and musical instruments playing. Even though you may not understand the lyrics, you can still emerge in the formal and melodic atmosphere during "then" singing performance.
Ultimate Travel Guides To Enjoy The Local Life In Sapa
When Is The Best Time To Visit Sapa?
All four seasons in Sapa are spectacular.
Spring comes with flower blossoming on every railroad. The weather is cold and foggy, which turns this small town into a mystical place. When the Sun starts to shine more, local people begin a new crop. Water fills in all the rice paddy fields, making a giant mirror reflecting the dazzling sunbeam. Rain may occur once in a while during summertime and the weather can be very bad with thunderstorms.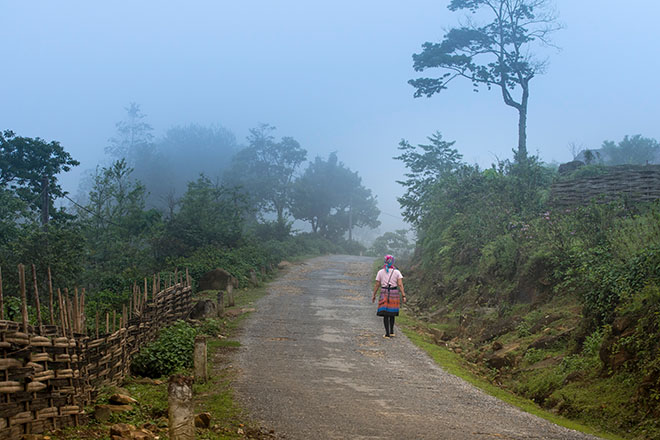 At the end of summer, all the harvested terraces wear a new coat of brilliant yellow color. The temperature also cools down a bit at that time. During winter, you can catch some snow on the Fansipan Peak but rain is frequent, which makes the street very muddy.
So, based on your preference and your free time, you can adjust your schedule and enjoy the best of Sapa in one of the four seasons.
Must-do Activities To Explore Sapa As A Local
To really experience the life of a local resident in Sapa, here is the to-do list for you.
First and foremost, you should take part in a trekking tour around some of the most typical villages in Sapa. Cat Cat, Ta Van, Ta Phin village are 100% occupied by the ethnic minorities, so visiting these places can give you a closer look at the daily activities of the locals.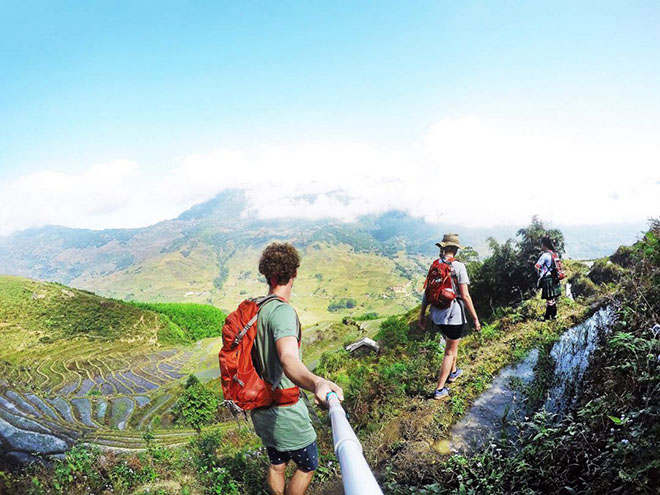 If you want to discover at a deeper level, you can find a homestay to accommodate with a hill tribe family for a few days. This will be an amazing experience as you can try to live in a stilt house, sleeping on the floor with a handmade mattress.
For food enthusiasts, a cooking class featuring local dishes is absolutely must-do. Also, you can wander around local markets to taste some signature dishes such as the colorful rice, grilled pork…
A traditional ritual of the Red Dao is bathing in herbal water, which is said to get rid of bad luck and unclean elements. You can have a bath in the magical water too with a super affordable price.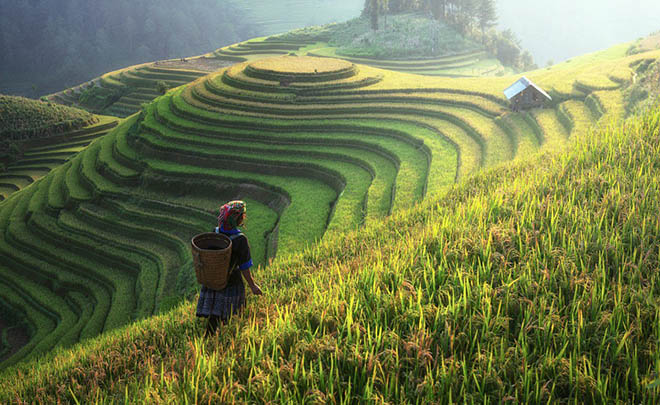 Some Bonus For You
If you don't know much Vietnamese, communication may be a problem. Though some local people can speak English very well, they do it with a purpose, which is not righteous. So, it's recommended that you hire a local tour guide to accompany you during your Sapa exploration.
As a tour operator with the aim to help the local community, we usually employ the local residents to help us satisfy the clients in each journey. You can check out our top-rated Sapa tours and arrange your own trip.
Most importantly, remember to keep your mind open. Life in Sapa can be exotic and very different from your culture. Just give it a chance to make you understand.