Ancient Angkor Wat, superb Angkor Thom, mysterious Ta Prohm, key-gateway Tonlé Sap, exotic food and long-lasting traditional lifestyle are those tourists should never miss on the trips to Seam Reap, Cambodia. Siem Reap here is the country's ancient capital, which is famous for thousands of temples and pagodas, the spectacular Angkor Wat and the bustling night bazaars.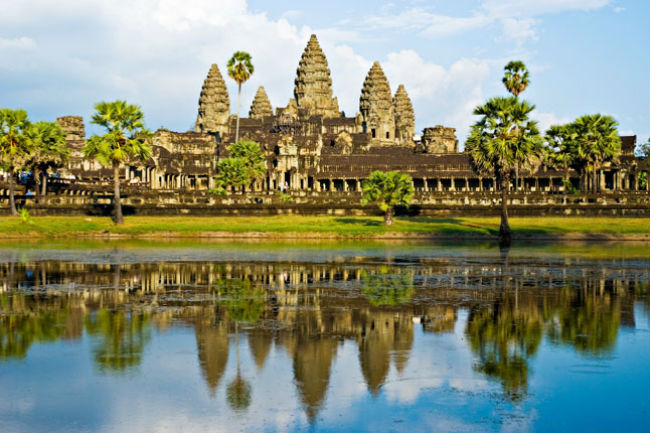 Best time to travel
Siem Reap City is about 300 km distance from Cambodia's capital, Phnom Penh. Cambodia is in the tropics, which means that the weather in Seam Reap is warm to hot all year round. Siem Reap is driest from November to March with hardly any rain falling in December and January, when day after day of cloudless blues skies is a regular occurrence, are also officially winter and the coolest months of the year. But the weather does not bother your trips at all because the temperature here ranges from 21 to 35 °C, so it is very suitable for you taking your visits to the beautiful Siem Reap all year round.
Visiting to the Wonderland of "Wat"
A "Wat" in Cambodian means a monastery-temple. In Siem Reap, Angkor architectural ensemble with more than 100 stone temples built in the 9th century to the 15th century can be seen as one of the most impressive destination that tourists are extremely recommended to pay visits. All decorative stone, monuments, embossments and the long corridor of stone bearing looks very natural and smooth and of course, blended magically with each other thank to both nature and mankind.
1. Angkor Wat
To be the most well-known "wat" of Angkor architecture, Angkor Wat is the central feature of the Angkor UNESCO World Heritage Site preserved the magnificent recalls of the Khmer. Ancient architecture over the centuries remains all intact with the images of lively carved reliefs. The whole temple is surrounded with ditches and jungles, which creates superb scene of the nature. The main temple which has nearly 400 rooms with stone carvings on the ceilings of rooms, corridors, balustrades, etc. shows extraordinary strength and skillful hands of the ancient Khmers.
2. Bayon
Bayon Temple is located in the center of Angkor Thom, including 54 large and small towers that are sculpted face of god Avalokitesvara (Bodhisattva Avalokitesvara). Indeed, it is a maze of large faces of stonework that keep you interested in seeing them all, especially if they are in light of sunset, it shall be really recommended. It is considered as a sacred destination for you tripping in Seam Reap, and particularly in Angkor Thom Town. Bayon's structure consists of three stories that though all three stories are much dilapidated, sprawling rubble everywhere, it is created a wonderful harmony of ancient and sacred scenes. This shall be one of the must see bucket list items you do not want to miss if you tour in Seam Reap, Cambodia. Going to the North West of Bayon, you will meet King Phimeanakas' Palace.
3. Ta Prohm
The temple is unlike most of the temples of Angkor Architecture Complex; and Ta Prohm has been largely left to the clutches of the living massive jungle. With its dynamic interaction between nature and man-made art, this atmospheric temple is a favorite for many – who can't help but feel a little like Indiana Jones or Lara Croft (Tom Raider) as they pick through the rubble and magnificent jungle. The way the trees intertwine with the temples is so amazing and this place is definitely one of tourists' favorite temples. The massive roots and trees engulfing the ruins make this a magical place and of course this is the best place for someone who likes discovery as in Indian Jones. Though Ta Prohm is extensively ruined, you can still discover numerous towers, close courtyards and narrow corridors, hidden gems of stone reliefs beneath the encroaching foliage to get best memories of Seam Reap.
4. Preah Khan
The temple located 2 kilometers north-east of Angkor Thorn on the Grand Circuit is one of the greatest stone statutes of Angkor. This temple is probably the least busy temple we can visit during our entire stay. It is huge though and takes a long time to walk through, so you need to prepare your time to enjoy the entire beauty here. It would be recommended a guide to tell you about the temple and its history so that it will increase your experience and for some at-your-own pace exploring. Preah Khan is in ruins, which the moss and forest are taken over that side making everything look like a green wonderland.
You are also recommended to visit to other superb temples like Banteay Srei, Banteay Kdei, Bakong, Beng Mealea.
Discovering Tonle Sap Lake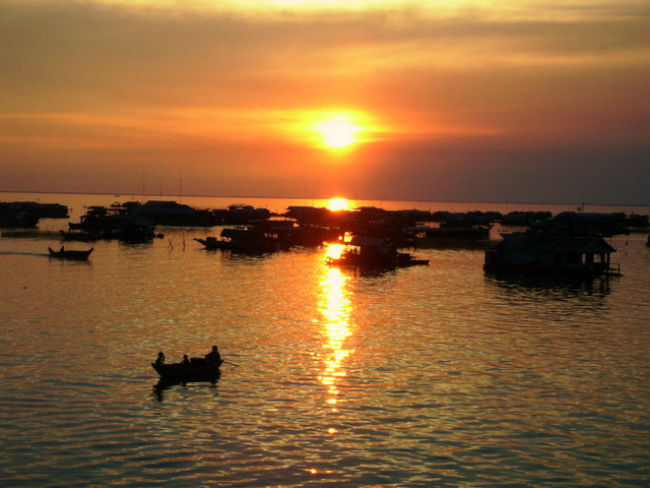 Tonle Sap Lake is a key gateway in Seam Reap and displays many essential activities in Cambodian normal life. The Tonlé Sap, "Large Fresh Water River", but more commonly understood as "Great Lake") is a combined lake and river system of major importance to Cambodia, and Seam Reap in narrow sense. It is located about 30 minutes from Siem Reap town centre and shows focal transportation. Stretching across the northwest section of the country, the Lake is the largest fresh water in South East Asia. In the harmony with the specialized ecosystems, features on the lake are similarly distinctive – floating villages, towering stilted houses, huge fish traps, and an economy and way of life deeply intertwined with the lake, the fish, the wildlife and the cycles of rising and falling waters. In Tonle Sap lake there are numerous wonderful views of the floating village from the lake such as Chong Kneas floating village, Kampong Pluck floating village and many more uniquefloating villages in provinces surround the lake.
Exploring Cambodian lifestyle
Despite international influences, Siem Reap and its people have preserved much of the town's image, culture and traditions; therefore, it is so recommended you to enjoy the peacefully traditional life of the Cambodia. Actually, Siem Reap, the developing resort town in Cambodia, ranks 4th based on the World's Best Cities of Travel and it is very your precious destination. Tuk-tuk is the local taxis and the easiest or most convenient way to go around this town. You can obviously find a tuk-tuk for quick but excited trips in Seam Reap anywhere. After a long day trekking, it is recommended you to get a fishy foot massage. Let your feet be at ease by this wonderful kind of massage to prepare for the next day adventure. You also do not miss out on the experience on floating villages and night markets because it is really wonderful to memorize your trip to Seam Reap. One more recommend for you is enjoying cocktail and French cuisine in Pub street or trying dished offered on the sidewalk, including insect-made food like spider, worm. Finally, watching a traditional Apsara dance since it is well-known as an impressive classical dance and martial arts performances, which is indeed worth you a visit.
Tips for you
– From Siem Reap city, if you want to visit Angkor Wat, Angkor Thom or any other temples or relics, you need to buy a ticket and it is effective for any destination.
– The best recommendation for transferring among relic sites in Seam Reap is tuk tuk, a kind of tri-vehicle. Only should go by bike around city center and go on foot in night markets.
– Cambodian souvenirs are almost hand-made but they are not really typical due to Vietnamese and Thai influences. Thus, if you want to buy something symbolize for Seam Reap, go to Old Market or other night market to buy some handicrafts like reliefs.