If you have time to visit Cambodia, you should not miss Siem Reap province with occult Angkor Wat. Angkor Wat is a great temple and scared historical relic in Cambodia for several centuries, one of 7 world wonders. Tourists would be fascinated by the mystery of ancient Angkor Wat matching with the most glorious civilization once. It contains imprint of Khmer old kingdom and image of Cambodia country at present and in the future.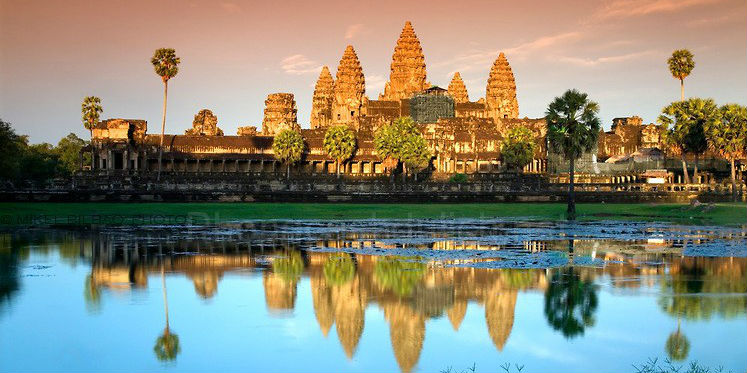 The best time to visit Angkor Wat
As located near the equator, the high tourism season in Cambodia is from November to April of the next year. By this time, the weather is quite pleasant and very convenient for you to experience the mystical Angkor Wat.
Angkor Wat was built by the king Suryavarman II in 12th century to worship the Vishnu God of Hinduism. The main temple was divided into 3 floors: hell, earth and heaven. It includes 398 rooms with stone carved on ceilings, handrails… The Angkor complex was decorated with reliefs running along corridors. Most special are 1700-Aspara dancer statues with different facial expressions and dancing postures. Because it is very large, you can spend more than one day to visit the whole Angkor complex.
Things To Do In Angkor Wat
1. Explore Angkor Wat temples
The majestic and imposing main temple Angkor Wat draws most of tourist when coming to the Angkor complex. It will make people amazed with sculptures carved subtlety and skillfully on the walls and statues. Inside the temple there are over 1850 separate statues. Each of which is a work of art, a lifestyle and a dissimilar perspective about life. That would give you very interested stories. Especially when stay in Angkor Wat till late afternoon, tourists can enjoy amazing sunset moment.
Ta Prohm temple is the most charming site in the Angkor complex. Here you will see the faithful tree. Its roots entangle and attach to each other, that become a symbol of love. According to some legends couples would love each other forever if they take a photograph together under the tree. Among temples in the Angkor complex Ta Prohm is very famouse. Because it was the main studio for the well-known film "Secret of the Tomb" by Hollywood.
Angkor Thom is as famous as Angkor Wat. They are two most typical temples in the Angkor complex. Angkor Thom was built a hundred years after Angkor Wat is known as the last capital of Angkor empire. It is surrounded by stone walls and canals of 3-metter long for each edge. Angkor Thom means 'the great city'. The temple is so large that you may need a haft day to explore the entire royal tombs and admire all antiquities of the Khmer here.
Bayon lies on the right of Angkor Thom. It is really impressive with 216 enormous smile faces containing full of mystery. Until now, local people as well as scientists still don't have any idea about the meaning of mysterious smile faces. Besides, Bayon temple keeps a lot of pictures talking about old Khmer's life and a big sculpture describing a battle. People said that you can touch the statues in order to pray for happiness and luckiness.
>> Related Content: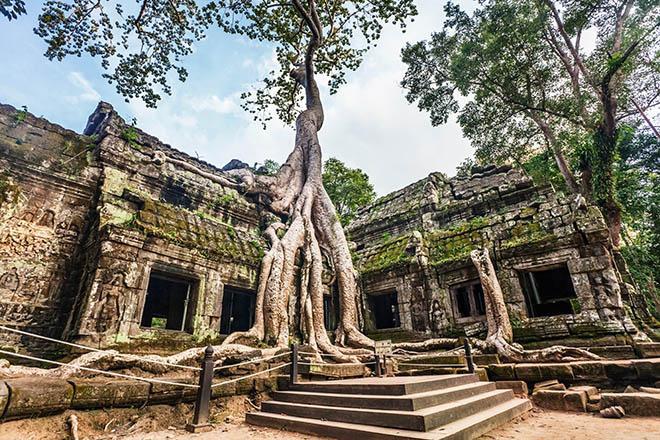 Ta Prohm – The Tree Roots Temple
2. View the beautiful Angkor Wat temples from Pakheng Hill
From top of Pakheng hill (also Pakheng temple) at 65 meters you can have a look of the entire Angkor complex. It is the most delightful place among Angkor temples to enjoy the sunset. It lasts just for a short time from 5.30 pm to 6pm. By sunset the light turns softened, the sun like a giant gold plate slowly sets down in the sky tinged with red color and iridescent clouds. The romantic dusk constantly changing colors in mystical Angkor is really impressive for tourists.
3. Go shopping at prominent markets
As one of the Cambodia highlights, when visiting Angkor Wat temples, tourists are pleased by not only its landscapes but also its services, specially, shopping.
The old market is as same as its name, has been existed for a long time so it carries traditional culture and antique architecture. In the old market, you will find a lot of products, from souvenirs to fashionable things, from popular street food to fine restaurants for upper class. You may also find numerous style and diverse stores here.
Angkor night market is something you shouldn't miss. It is a big market and we seem to find everything here. Moreover, the market opens until midnight so it is always busy. You could buy traditional souvenirs of Cambodia such as patterned silks or shimmer jewels while dropping in this place. The sellers speak English very good and they all are friendly and hospitable. In addition, Angkor night market is an ideal place for you to walk and relax at night.
4. Taste special Khmer food
When traveling to Angkor Wat, it would be a regret if you don't try local food or eat at restaurants where Apsara dance is performed on stage. You should also try palm juice in Angkor Wat, local food at Khmer village restaurant, dragon fruit and Angkor beer.
Useful notes for you
Beside the renowned Angkor complex, there are other beautiful places in Siem Reap province you can discover such as markets, floating villages to know more about normal life of local people.
There is a variety of gifts with cheap price in markets so you do not miss chance to buy meaningful souvenirs for family and friends.
The temple complex is very large and visitors need to walk a lot. Thus, you had better prepare a good walking shoes.
You should dress formally when visiting temples to show respect.
Recommended Tour: Angkor Wat 4 Days