Being known as the land of temples, Cambodia attracts tourists with its splendidly ancient temples, pristine beautiful beaches and islands and mystical Angkor Wat. Cambodia is a wonderful harmony of antique and modern architectures, which appeals so many visitors, especially who loves spirit adventures and historical ruins.
The best time to travel
As other Southeast Asian countries, Cambodia has two distinct seasons: dry (October to late April) and wet (May to late September). In general, the temperature here ranges from 21 to 35 °C, so it is very suitable for tourists taking their trips to Cambodia all year round. Thanks to the hot weather, Cambodia is indeed a paradise of crystal blue water beaches, superb waterfalls, full sunshine temples and green tropical forests.
Things to do in Cambodia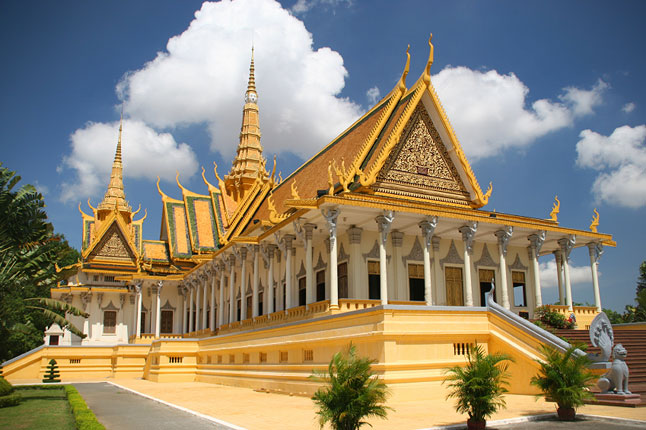 1. Touring in Phnom Penh
Coming to Phnom Penh, visitors will be surprised easily by the gorgeous buildings in Art Deco style with massive central domes. Besides, you can visit the National Museum, where the exhibits reflected the cultural life of the Khmer are now preserved. Then, Royal Palace is an ornate complex of architecture with yellow walls surrounding, gold palaces and over 20 small palaces inside. Phnom Penh is also proud of many temples; one can see the large pagodas like Silver Pagoda (Wat Preah Morakat) with the famous Emerald Buddha. Visiting to the Killing Fields and Toul Sleng (S-21) prison is also an interesting experience.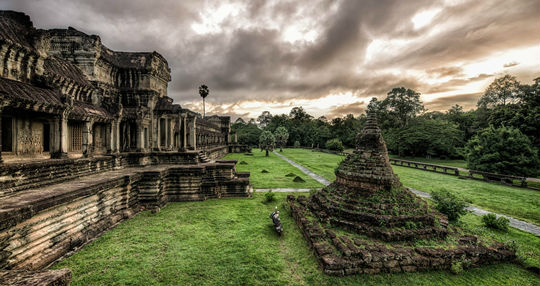 2. Visiting Seam Reap
Besides Phnom Penh, Seam Reap is obviously the highlight destinations for tourists coming to Cambodia. Located in northern Cambodia, about 20 minutes to the north, Angkor Archaeological Park- the most important archaeological sites in Southeast Asia is worth experiencing as its countless attractions of the spectacular Temple of Angkor Wat, Angkor Thom and the Bayon Temple with its innumerous sculptural decorations along with Baphuon Temple, Elephant Terrace, Terrace of the Leper King. Touring in Angkor, visitors will see certain mythical figures and other motifs appearing repetitively, riding elephants to reach Phnom Bakheng on the hill and contemplate the beauty of nature when walking across five big paddy fields to Angkor Thom. Visitors can enjoy sunset drinks with a leisurely boat ride on the moat here because twilights in Angkor are so amazing. Then, let's take a trip to Little Circuit to discovery Ta Prohm- an architecture built by both nature and human and other interesting places.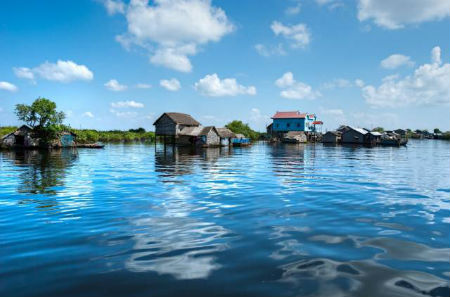 3. Travelling to Batdambang city and Great Lake
This is the second biggest cities, 29 km distant from Phnom Penh to northwest. The beautiful city located on the banks of the river retains many ancient features of colonial architecture, which makes visitors immersed in the poetic landscape with famous Tonlesap lake (Great Lake). Tourists can take cyclos to ride through the streets to soak up the city's modern architectural heritage, swim in waterfalls, paddle kayaks, sail to Tol Preak for discovering the Bird Sanctuary, or simply being on a night tour of Khmer Rouge's old fort at Anlong Veng to make best memories in Cambodia. You also have chances to be closer to the nature by watching over 100 species of birds have been spotted here, 15 of them endangered and a wide variety of wild animals like tigers, bears, wolf snake, etc.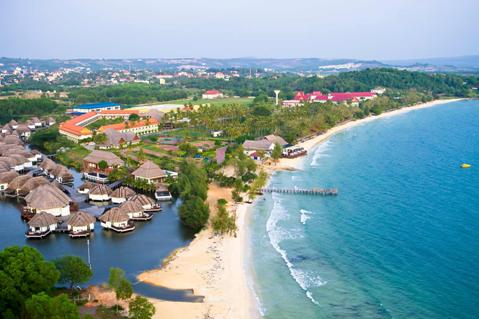 4. Traveling to beautiful Sihanoukville
Located in the south of Cambodia, 230-kilometre southwest of Phnom Penh on a small peninsula, Sihanoukville is known as Cambodia's paradise of beaches. Thus, it is time for your experience of watching sunset on Victory Beach, enjoying the pristine beauty of Hawaii Beach and relaxing on Independence and Sokha Beaches. You should visit the islands instead of just the land near the beach because the sea surrounded island is nicer and cleaner. If going in group, it is recommended to hire a boat privately to discovery Bamboo Island, Rabbit Island, Monkey Island, etc. for a safe and cheap trip.
Enjoying exotic cuisines and shopping
Coming to Cambodia you should not miss out on famous specialties made from all kinds of insects such as crickets, scorpions, spiders, grasshoppers which are deeply fried or soaked in alcohol, Ang dtray meuk (grilled squid), amok fish cooked with kroeung curry and coconut, Cha houy teuk (agar jelly pudding) or Cambodian-styled BBQ on Pub streets in Siem Reap. There are a lot of markets in Cambodia where you freely buy Khmer antiques as well as tourist souvenirs for friends like Cetral Market and Old Market.
Notes for tourists
– Visitors can join in Water Festival taken place from late October to mid-November.
– Remember to wear light and flat-sole shoes or sandals as climbing pretty much in Angkor.
– If you are in Phnom Penh, should not go out after 12 pm at night for safe
– Make sure that you know exactly about Khmer customary.
– Cambodia is a lefthand drive country and the transportation is quite chaotic.
– Because of the large area, it is recommended that you should rent a bike for cheaply and convenient touring on your own way, besides taking buses, hiring motorbikes or getting tuk tuk – a kind of tri-wheel vehicle.
Tours in Cambodia
Angkor Wat Tours lets you an insight into the rich heritage and culture of South East Asia. Angkor is the containing land full of glamour, charm and mystery. This has been a prosperous about economic development, science and ancient culture of the Khmer empire in the past and has been become the intersting place for tourists from over the world.
Have you ever discovered Cambodia where hasAngkor is the containing land full of glamour, charm and mystery . This has been a prosperous about economic development, science and ancient culture of the Khmer empire in the past and has been become the intersting place for tourists from over the world.
– Visit Wat Phnom, the historical cradle of Phnompenh Capital,
– Discover to the Khmer traditional culture at National fine-art Museum
– Visit Floating village and view sunset at front of the Royal palace
– Visit Royal Palace and Silver Pagoda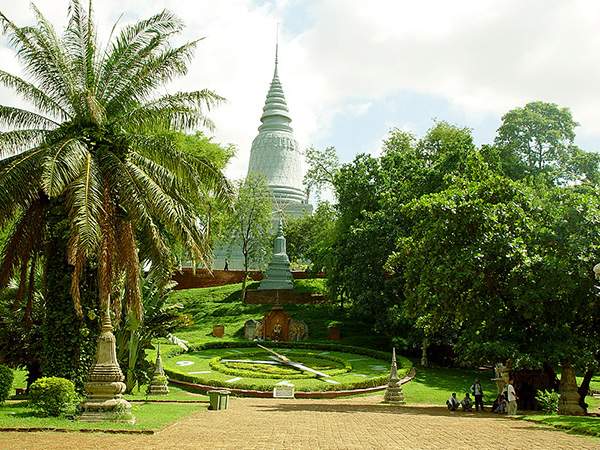 Cambodia highlights brings to you the most wonderful trip in your vacation. You will discover the best places in Phnom Penh, Siem Reap and relax on Sihanoukville beach or the beautiful Song Saa Private Islands.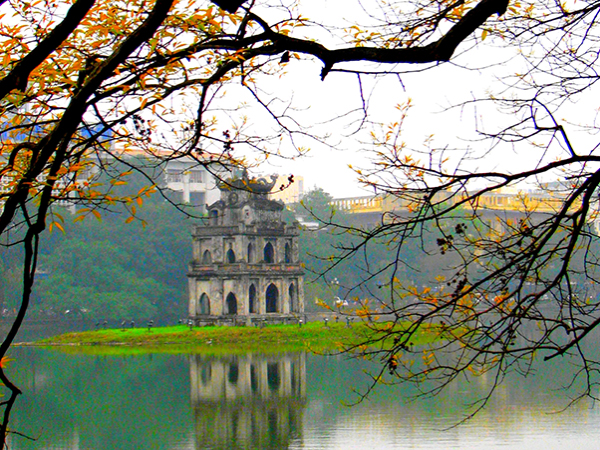 These are the North Vietnam – impressive destination for you to explore the beautiful landscapes with Hanoi capital which is the heart of Vietnamese. That's amazing when you cruising around Halong Bay that was called one of the nature wonder heritage of the world.
90% our clients customize their trip with our local experts. Send us an email Sales@travelsense.asia to work with our local expert for your wonderful holiday in Cambodia.