Ho Chi Minh, located on well-off south Vietnam, shares borders with the south of south eastern Vietnam and the north edge of south western Vietnam. It is the biggest and most crowed city in Vietnam. Being a tourism centre and tourism gateway, Ho Chi Minh city has systems of infrastructure and tourism service developmentally. Tourists can select a variety of tourism activities from visiting tourist destinations, leisure centers to hotels and restaurants. Also, its people are extreme easy-going and liberal welcoming visitors all over the world.
The best time to travel to Ho Chi Minh city
Ho Chi Minh city has two highlight seasons: dry and rainy season. Weather becomes wet from June to November, others are dry months. Generally, you can visit Ho Chi Minh all year round because its weather is quite pleasant and comfortable, it is not so hot in dry season and not too long when rainy season comes. However, you had better not visit Ho Chi Minh on Tet holiday while people habitually return their hometown to get together with family. In festivals, shopping and entertainment activities are taken place ebulliently and busily At Christmas, roads turn out so charming with full of light, busy with traffic. It is great time for you to enjoy chilly but warm atmosphere in Ho Chi Minh city.
Things to do in Ho Chi Minh city
Visiting and shopping at Ben Thanh market
Situated on the city centre, Ben Thanh market is really close and familiar with  Vietnamese and foreigners when coming to Ho Chi Minh city. To go through historical times, Ben Thanh market witnesses the rise and fall of Vietnam history, it is not only a big trading centre but it is also a visit place to understand more cultural and historical values. Beside Ben Thanh market, Big market is an attractive destination in Ho Chi Minh city, too. Going to Big market, people usually drop in a restaurant to enjoy delicious food or visiting busy trade activities. Big market is living place of numerous Hoa people. Going to Big market, tourists can visit, go shopping and observe Hoa's life emigrating for over a decade at same time.
Going to Notre Dame Cathedral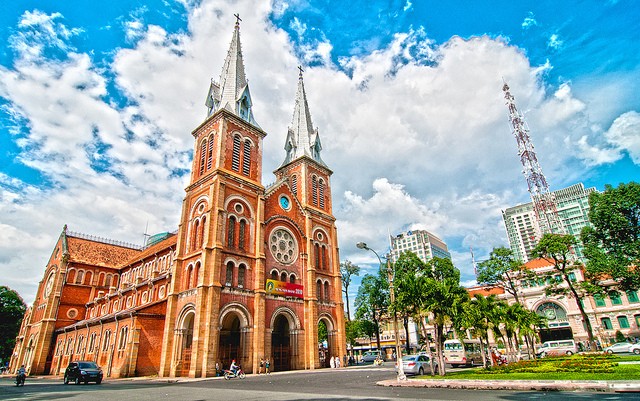 It (known as the biggest catholic masterpiece in Vietnam), is located on The Paris Commune square in Ho Chi Minh centre. Notre Dame cathedral was built in 1877 and completed in 1880 with the aim of being officially a spiritual and cultural representation of the French presence in the orient. It is a place for catholic congregations to perform services and celebrate ceremonies. Passing periods of history, Notre Dame cathedral has changed over time and today, it becomes a famous place to travel in Ho Chi Minh city. Coming to here, you will have experience of living in stunning and splendid atmosphere, you also contemplate its subtle and unique architecture.
Admiring museums in Ho Chi Minh
Museums in Ho Chi Minh city are great destinations for travelers who want to learn about the city's history and culture from its foundation to today. Vietnam historical museum mainly exhibits antique arts of some European countries. Meanwhile, museum of fine arts shows art paintings and statues, traditional handicrafts of Oc Eo and Cham cultures. Visitors will study about glorious feat of arms of Vietnam people's army in war against America when visiting museum of Ho Chi Minh campaign.
Sightseeing by rowing on river
It is an extreme pity if you forget to take a visit along river in Ho Chi Minh city. Rowing a small boat along waterway helps you visit wonderful lands, breathe cool air and have more knowledge about Ho Chi minh city: From simple sceneries such as green coconut trees, beautiful orchards to modern city with tall buildings, from boat docks with a lot of fresh fruits and other agricultural products to Sai Gon port as the biggest port in Vietnam, from Nha Rong wharf where Uncle Ho started journey to find nation's independence to Bach Dang wharf where serves cruises on river.
Enjoying special and delicious food
As the centre land of rich south Vietnam, Ho Chi Minh is well-known for diverse cuisine. Moreover, it is the gateway of trade, economy, culture and tourism in Vietnam and the place of exchanging with foreign countries. Thanks to these, Ho Chi Minh cuisine becomes so plentiful and attractive because of receiving quintessence from other places in the world. Travelling to Ho Chi Minh city, you have a guide to try pho served withflat rice noodles in a beef broth that usually takes several hours to prepare, banh mi, com tam (broken rice), bun thit nuong (roast meat noodle) or hu tieu . You do not miss out on tasting specialties such as  durian, rambutan mangosteen…
Notes for tourists
Actually, there are too many  tourist destinations in Ho Chi Minh city, you should make a list of places that you want to visit and categorize into groups of museums, parks, tourism area or markets, entertainment centers to go easily. It is convenient if you hire a motorbike and run around city in order to view its entire beauty, drop in attractive destinations.
Markets like Ben Thanh or Big market are abundant in products which have different materials, sizes, colors, styles…that you are advised to choose carefully.
Taking a trip to Ho Chi Minh city will bring you excellent feeling in this stunning, beautiful and friendly city.
Explore Ho Chi Minh city and surroundings with local expert's suggestion:
Combine your Must see places in Ho Chi Minh city with Mekong delta will be perfect trip to Southern Of Vietnam in a week. The bustle of modern city contrast with peaceful life in Mekong delta will bring you unforgettable experience.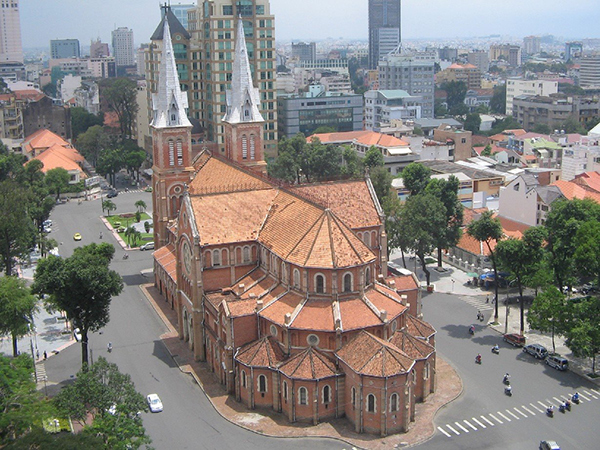 Classic South Vietnam will take you come to Vietnam's history in the pass and Vietnam's local people daily life at the moment. Visiting Cu Chi tunnels which is the longest Tunnels was recognized by Asian record and was a Viet Cong base during the war. Coming here, we sure that you will be fascinated by the ghostly battle map of the Cu Chi Tunnels. Especially, taking a cruising along Mekong river, among local barges full of fruits and vegetables and the sweet singing of the girls on the Southwest waterfront will be attract and gives you great feeling about the land and the people here. you'll see the local people make bricks, salts and coconut… That's a peaceful life at the sides of river. Finaly, the last point of your trip are welcome by shopping in Ben Thanh Market where is one of the best bastle in Ho Chi Minh city. Hence, your trip will be more interesting because you have more knowledge and histories of Vietnam. Let's travel with Classic South Vietnam and try all special local foods in the lands that you've gone through and keep more memories with Travel Sense Asia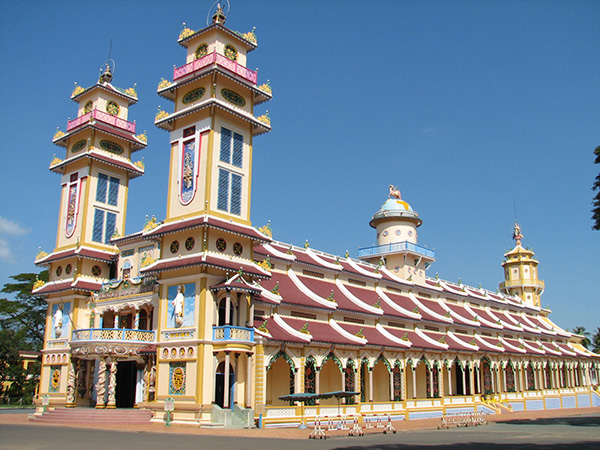 Highlights of Southern Vietnam 5 Days
One of the best product for Southern of Vietnam suggested by our local expert. The highlights are Cao Dai temple, Cu Chi tunnel and Mekong delta with Cai Rang floating market…check the detail.
Feel free to send our local experts an question or customize your trip : sales@travelsense.asia