Hue – the dreamlike city, is situated on a narrow strip of land in the central region of Vietnam. Hue city is prominent in the long-term culture and the complex of valuable cultural and historical heritages. In Hue, tourists can visit the famous temples and royal tombs of the imperial Nguyen Dynasty or the hundred- year-old gardens, sightsee the natural and charming scenery, make the most of quiet and gentle land like stepping into a very beautiful, light, smooth, dreamlike and unique picture.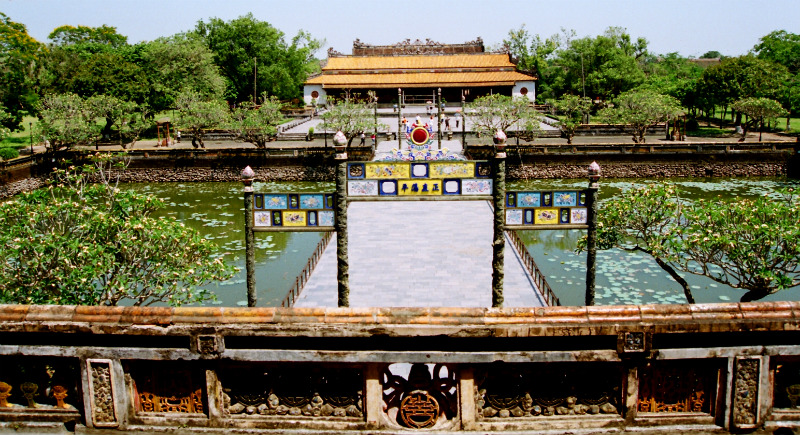 The Best time to travel
Hue city has two seasons: dry and wet. The period of December to June is the dry time and July to November is the wet season. The environment in the dry season seems more comfortable and pleasant than in the wet. However, throughout the year weather almost stays cool and comfortable except few months. It should be recommended that the great time to visit Hue city is from February to April when the rain is less and weather is cooler than summer.
Tourist attractions in Hue
1, Visiting pagodas and mausoleums
Hue city is the ancient capital with a lot of well-known pagodas and mausoleums attracting millions of domestic and foreign visitors each year.

Thien Mu pagoda ( 5km from Hue city), located on Ha Khe hill, Huong Long commune, is one of the most famous pagodas in Hue. Along with advantages of geographical location- the peaceful and romantic Perfume river view, Thien Mu pagoda is an impressive destination by its ancient beauty and the light, peaceful atmosphere. Moving Thien Mu pagoda, tourists come to Huyen Khong pagoda for blending in the mysterious spirit world.
From the southern bank of Perfume river, tourists go across Trang Tien bridge, walk along Poinciana-lined walkway to Kim Long suburb area, get across Thien Mu pagoda and through the picturesque pathway to see Cham mountain- the location of Huyen Khong Son Thuong pagoda. the natural atmosphere combined to wild-mysterious landscape is really a promising destination. To continue the trip, tourists come to see Thien Lam pagoda (also named as: the Standing Buddha- the lying Buddha pagoda). It was established in 1960 by Ho Nhan Buddhist priest. In the pagoda, tourists can be interested in finding many different architectures such as statue, the tombs, Buddhist stupas…located on different sites.
Another tourist attraction, which is the most precious historical relic of the historical complex recognized as the world heritage by UNESCO, is Hue citadel. Once every two year, this place welcomes millions of tourists coming to a big cultural festival. Besides, tourists may travel to well-known mausoleums of the imperial Nguyen Dynasty. Firstly, visiting Khai Dinh mausoleum with the unique architecture and the combination of European's modern architecture and Vietnamese's classical materials will certainly be a great place to visit. Next, tourists visit Tu Duc mausoleum (8km far from Hue centre), it was build in a beautiful valley, located in an immense pine forest that belongs to Thuong Ba village, Thuy Xuan commune. Tu Duc mausoleum do not only impress tourists with wonderful land also with the beauty of the imperial architecture.
2, Sightseeing Hue's scenery
From ancient times to today, Ngu mountain and Perfume river are two most beautiful landscapes of Hue city. When mentioning to Perfume rive, people will think of Ngu mountain or vice versa. The innate beauty blessed by nature and the natural bond made by matchmaker help Ngu mountain and Perfume river to become a close-knit and faithful couple, this brings tourists with feeling of particular beauty that they do not find in anywhere else. Perfume river like a gentle and endless silk is flowing to led tourists to Vi Da garden , to Thien Mu pagoda in the reverse way, to Huyen Khong after going across Bach Yen river for floating into wind and clouds.
At night, tourists may be on charming boat in the romantic Perfume river and listen to music that will be very exciting. Rowing in Perfume river to explore Hue's fantastic picture, to taste fragrant fruits, to enjoy the quiet, smooth and romantic air will be unforgettable. Moreover, tourists might be fascinated with Bach Ma mountain's sight. Standing on the peak of Bach Ma mountain, tourists will contemplate the splendid panorama of Hai Van mountain pass, Tuy Van mountain, Cau Hai lagoon and the shimmer of electric light of Hue city at night.
3, Relaxing at beaches
Lang Co is a peaceful and pristine beach matching with fine white sand and the blue sea voted to be the most beautiful bay in the world. Here, tourists can stay at Lang Co resort near Lang Co beach- a place of calm and serene. Along with Lang Co beach, Thuan An beach is a masterpieces of Hue which attracts a numerous tourists. Thuan An is a most famous beach in Hue that people come to Hue cannot overlook. It is loved by both the Hue and foreign visitors. Going to Thuan An, tourists can also know about old history because Thuan An is the key to enter palace. The French was used two words "The city" to call Thuan An.
Enjoying food in Hue
In Hue, It is easy to find local dishes which are delicious, made by the skillful and careful hand of the Hue. There are some following dishes that tourists should try when visiting Hue. Com Hen (rice with mussel) is a very unique cuisine of Hue. Com Hen contains rice, boiled mussel, star fruit, fish sauce, cabbage, onion, pepper, peanut, chili, and a variety of herbs. Com Hen has an extremely spicy flavor as gastronomes remember it just after one time enjoying.
Bun bo Hue (Hue style beef vermicelli) or Bun bo gio heo (beef and pig's knuckle vermicelli) is also one of the most typical foods of Hue. Banh beo (water fern cake) is a kind of small steamed rice pancake. The name is to refer from the shape of the cake (like a water fern-Beo in Vietnamese). It is white in color, sometimes nearly transparent and usually has a dimple in the center, which is covered with savory recipes including chopped dried or fresh shrimp, scallions, mung bean paste, crispy fried shallots, fish sauce, rice vinegar, and oil.
Useful notes
Coming to Hue is a great experience for those who prefer the cultural and historical heritages, the peaceful atmosphere.
The picturesque scenery including romantic Perfume river, Bach Ma-imposing mountain , beautiful beaches…in Hue is worth taking photos. It is recommend that tourists carry camera to take photos when coming to wonderful lands.
The weather in Hue is quite severe, tourists should know about the weather before starting the trip so as to prepare necessary things such as warm clothes, umbrella,..etc
Tourists can choose a variety of souvenirs in Hue. Buying a Hue conical hat, a handmade product,….will keep nice memories about Hue city, Vietnam.
Hue city tour will make you know clearly about the structure of the tomb of kings or gates, houses in Nguyen Dynasty. Another special thing is spending your time on Perfume River to relax by listening to tradditional music on board.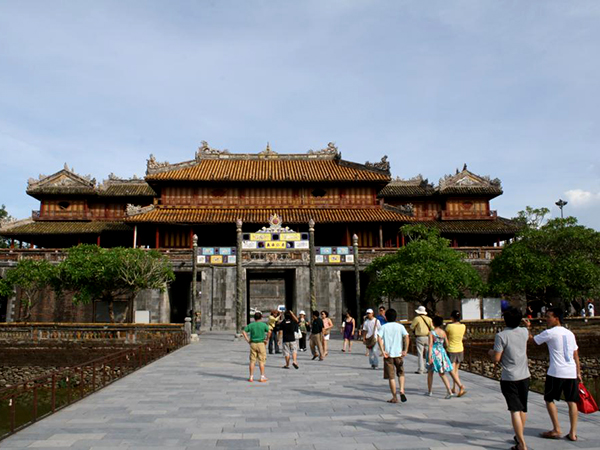 Central Vietnam known as the region of heritage sites. You will travel on heritage road in this tour to visit Hue-Hoi An – My Son. On the other site, Central Vietnam also well-known with food as one of highlights in this region. Our local expert will let you know all in one. Check it now!
check other suggestion for tours in Hue here or send us an email : sales@travelsense.asia to customize your trip.