Laos – the country of cultural tourism, is renowned for Buddhist temples and festivals. Laos also has many beautiful landscapes with pristine mountain and tranquil countryside. While Vientiane is famous for cultural tourism with ancient temples and pagodas. Xieng Khuan has pristine, peaceful and picturesque sceneries and Luang Prabang is well-known for world heritages…Each of place possesses its specific beauty and builds Laos culture imbued with national identity.
The best time to visit Laos
We can visit Laos all-year-round because of its favorable weather condition. In spite of having two distinct weather season, dry season (from October to late April) and wet season (from May to late September), Laos's weather system is relatively straight-forward compared with much of Asia. In Laos, there are two hottest months are May and June. Meanwhile, other months is quite moderate with temperatures average around 29°C in the lowlands and 23°C in the mountain valleys in rainy season and around 30°C in dry season.
Things to do in Laos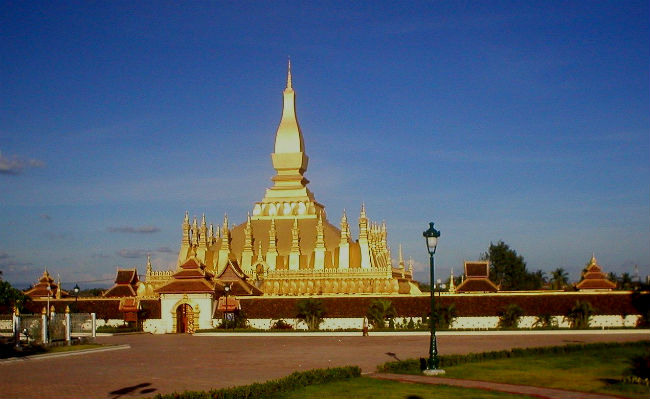 1.Visiting That Luang in Vientiane
Tourist attractions in Vientiane with specific features make Laos cultural tourism. Nowhere in Laos attracts tourists with ancient, unique and sacred temples as Vientiane. To refer Laos, people will probably think about That Luang because it is a well-known stupa in Laos which is the symbol of nation, Laos national emblem and printed on Laos paper money. That Luang was built in 1566 under the reign of Xiet- tha- thi- lat King designed the same as small wine bottle model. That Luang was greatly damaged by the Burmese, Chinese and Siamese during invasions in the 18th and 19th centuries then it was basically left alone until French colonial times. It was completely restored in 1900 by the French in 1930 for the second time with the help of the French. In That Luang stupa, you can both visit unique architecture and enjoy the peaceful atmosphere. Besides, the Boun That Luang festival is held in Vientiane in November every year fascinates tourists from all over Laos and neighboring countries. Coming to That Luang festival, you do not only have chance to pay respect to the stupa, also enjoy colorful events including parades, live music and religious ceremonies.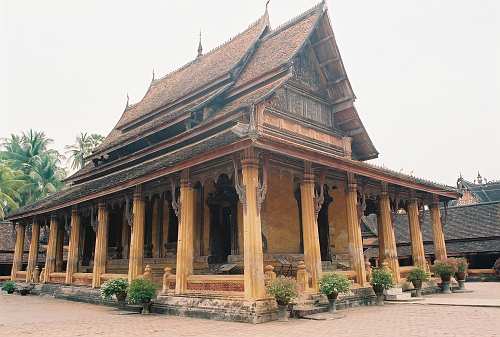 2. Viewing Wat Sisaket in Vientiane
Travelers to Vientiane cannot ignore Wat Sisaket where keeps more than one thousand small and big Buddha statues and is the library of old handwritings on palm leaves. That Luang and Wat Sisaket are two of three oldest and most famous temples in Laos. Wat Sisaket was built in 1818 under the reign of Chao Anouvong king basing on Bangkok architectural form. It has a large campus, the roof covered with dark, reddish-brown tiles and antique moss green that invoke the nostalgic feeling. You may visit nice homeland and also take beautiful photographs thanks to impressive and beautiful angles of shooting.
3. Traveling to the plain of Jars
The Plain of Jars is considered the most distinctive and enigmatic of all Laos attractions. It is the main town of Xieng Khouang province in Northeast Laos dotted with stone jars but which of existence is still a secret. Actually, there are many Jar sites; however, you should spend time visiting three most popular sites here: Site 1, 2, and 3. Site 1 is the place of biggest jar. While Site 2 and 3 offer picturesque views of farmlands and villages. In addition, you may also visit the known routes considered as the most heavily bombed country in the world.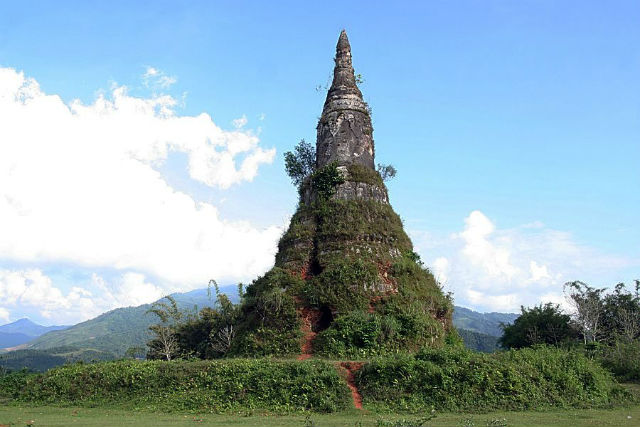 4. Seeing That Foun Stupa
In Xieng Khouang, tourists should not miss chance to visit That Foun Stupa. That Foun Stupa is located in Muang Khoun district, where has the natural, poetic, and charming landscape. With a high of 30m, That Foun was built to be the burial place of the Buddha's remains brought from India in 1576. It contains thrilling legends of the Buddha. the mysteries and traces generally make its fascinating and unique characters that attracts large numbers of tourists and Buddhists to pilgrim and visit.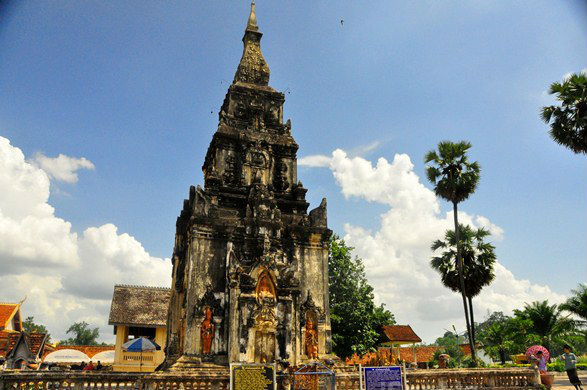 5. Visiting That Ing Hang Stupa in Savannakhet
Being compared with SaiGon of Vietnam relying on the development and influence of its economy, Savannakhet is an appealing tourist destination with famous historical landmarks. That Ing Hang Stupa (about 15km from centre of Savannakhet in the Northeast) is considered the substantial pilgrimage site in the south of Laos. It has beautiful and attractive landscape. Here, visitors can see tattoos, be chanted and blessed for your trip by monks.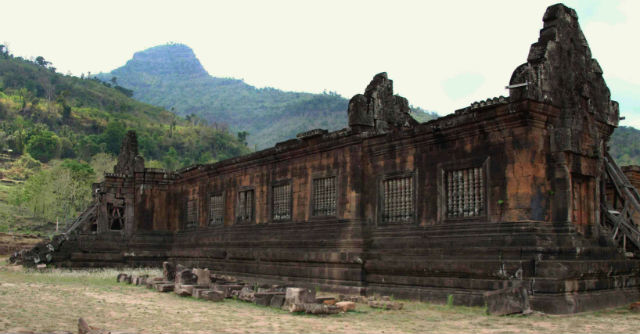 6. Contemplating Wat Phu in Champasak
Wat Phu (meaning 'mountain temple'), on a hillside with stunning views over the surrounding land and Mekong Rive, is recognized as the world heritage by UNESCO. For visitors who are interested in art and history might be amazed by the magnificent workmanship in this ruined Khmer temple complex in the form of temple pillars, barays, lintels, pediments, terrace, courtyard, walls, doorways, sanctuary, shrine, library and palaces. If you go to Wat Phu on the full moon of the third lunar month (usually in February), you will come across the temple's biggest annual festival with many impressive ceremonies and fun activities going on during the week-long period.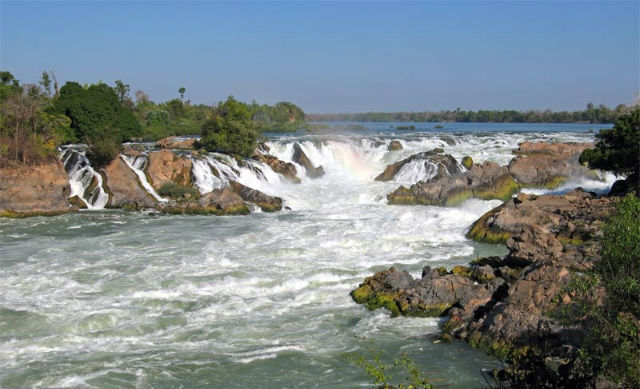 7. Admiring Khone Phapheng waterfall
Being another treasure of Chamasak, Khone Phapheng (also named as Niagara of Asia) is the largest waterfall in Southeast Asia, 12km in length. It has a huge amount of water filled sediment. Tourists could be impressed by the spectacular waterfall when it falls down. Moreover, Khone Phapheng also draws tourists because it is the only place in Southeast Asia where you can admire porpoises. When coming to Khone Phapheng waterfall, you can see local people catch fish, hire a canoe to go fishing or drown yourself freely on block of stones inshore and hear thunderous echoes of waterfall.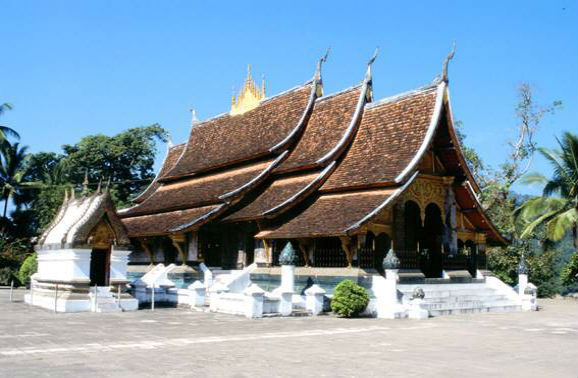 8. Visiting Luang Prabang
Along with Wat Phu in Champasak, Luang Prabang ancient capital is recognized to be the world heritage. Luang Prabang was the ancient royal capital of the Lan Xang Kingdom until King Phothisarat moved the administrative seat to Vientiane in 1545. Regardless, it has continued to overlook Vientiane as the destination of choice with its amalgamation of crumbling French architecture, glistening temples and extensive natural beauty. In Luang Prabang, you will visit unique museum following French architectural style. It is a beautiful landscape with two rows of towering palm trees leading to entrance. You can admire wonderful garden with many kinds of plants, flowers, sparkling lake, and butterflies.
Enjoying special food and shopping
When traveling, each traveler surely want to drop in souvenir shops to buy lovely gifts for family and friends. Goods in Laos is not as rich and abundant as in Thailand or China. However, tourists can definitely choose unique items that make you pleased. You may go to Talat Sao market to buy handicrafts when staying in Vientiane, to Luang Prabang night market or Kopnoi market when coming to Luang Prabang, to bookstores in Vientiane for selecting interesting books….After that, tourists are recommended to come local restaurants to enjoy special food such as Laos Noodle Soup (Khao Piak Sen), Baguettes (Khao jee), Minced Pork Salad (Laab Moo), Fresh Spring Rolls (Yall Dib), Lao Beef Jerky (Sien Savanh)…etc.
 Tours in Laos
Laos Special 11 days 10 nights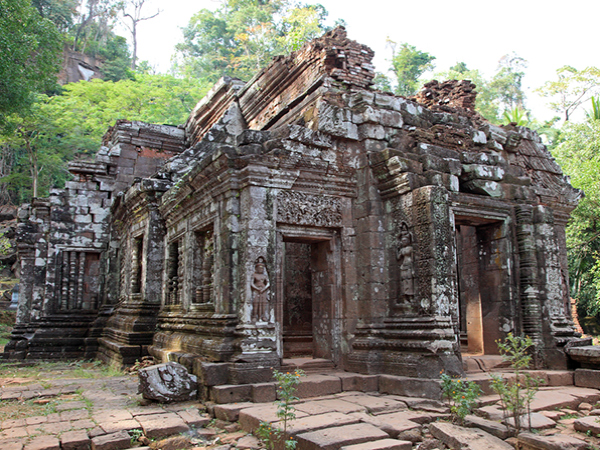 This trip, you have chance to discover the best majestic and intense waterfalls of Laos. Especially, visiting an impressive archaeological site where hundreds of large stone jars are littered all over the plateau orwe may see the old capital of Muang Khoum and its surrounding villages which are home to the Hmong hill tribe who have an interesting local culture and a colourful history.
Laos Impressive 7 days 6 nights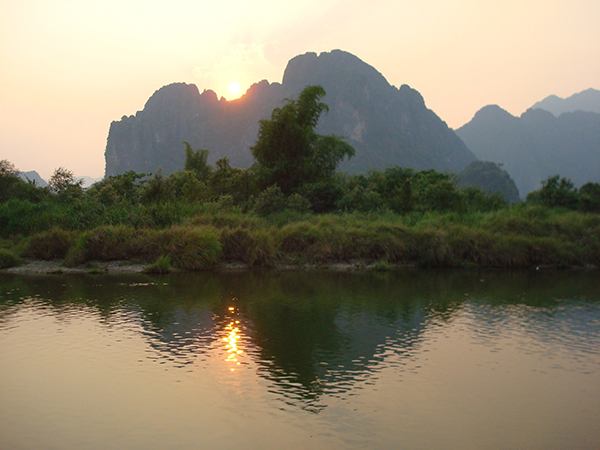 Laos Impressive will bring you a wonderful journey with beautiful culture and history that is the most enriching aspect of your trip. After that, we visit many different ethnic minority villages, exploring enchanting caves, temples and many other places of interest. Moreover, you have time to enjoy the most interesting capital as Vientiane that is a charming and fascinating capital, with an interesting mix of Lao, Thai, Chinese, Vietnamese, French, Soviet and American influences.
Do you love the charm of architectural, historical and cultural Laos. Let Travel Sense Asia support you the trip Timeless Laos 6 days 5 nights and discover mystery Laos. Beside that, the feeling deep inside in the peaceful time and slowly atmosphere in Luang Phrabang, wake up early start gives you the fantastic opportunity to participate in the daily morning rituals of saffron-clad monks collecting offerings of Alms (often in the form of sticky rice) from the faithful residents there, you'll have more knowledge about Laos's culture. Let's enjoy your wonderful journey in Laos, we sure you will have great time for relaxing and keep more memories in you vacation.