Myanmar, also known as Burma, is considered as the land of the temples because wherever you go, you also see many famous and giant temples. Coming to Myanmar, coming to one of the mysterious country in South East Asia, you will get its cultural and geographical diversity which has retained much of its historic and unique character.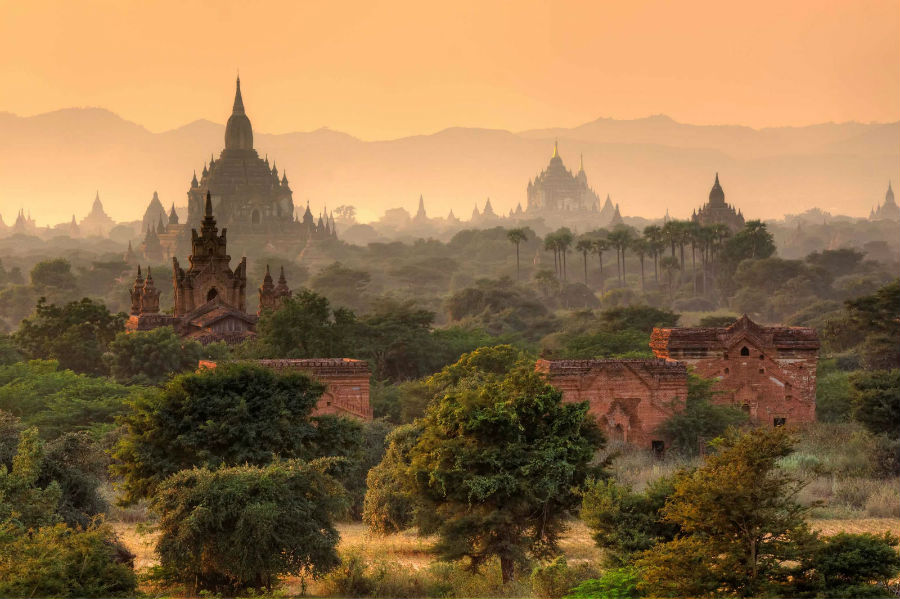 When to visit Myanmar
There are three seasons in Myanmar due to the position of this country between the Tropic of Cancer and the Equator. The cool, dry season between November and February is the best time to visit because of temperate climate. Days remain very warm and it can get chilly at night. In the rainy season (between July and September), there is a few of tourists coming here because it will be raining all day and night. The summer lasts from February to June and visitors wont go there in this time because of hot weather. The average temperature in Myanmar is about 21oC. Anyway, such a
Things to do in Myanmar
1. Exploring Yangon – the former capital of Myanmar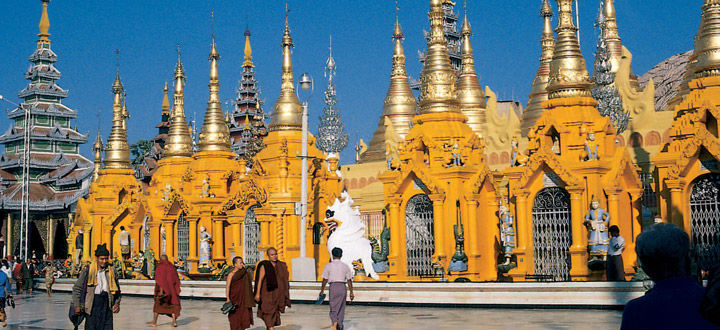 Yangon, formerly known as Rangoon, is the first choice for visitors when they come to Myanmar. It is known for its colonial architecture, which has the harmonious scenery combination of the nature, human beings and the architecture. Traveling to Yangon, you can see friendly street vendors, traditionally dressed local people, attracting old Chevrolet buses and trishaws, all make a feel like a museum of Yangon downtown life.
Shwedagon, which is called the heart of Yangon, is the most profoundly honoured pagoda in the country and it also has interesting history behind. Moreover, it is one of the wonders of the world and the most revered pagoda in Southeast Asia. In addition, there are many other places attracting visitors such as Sule pagoda, museums, parks or entertainment & shopping centers in the city.
2. Sightseeing Bagan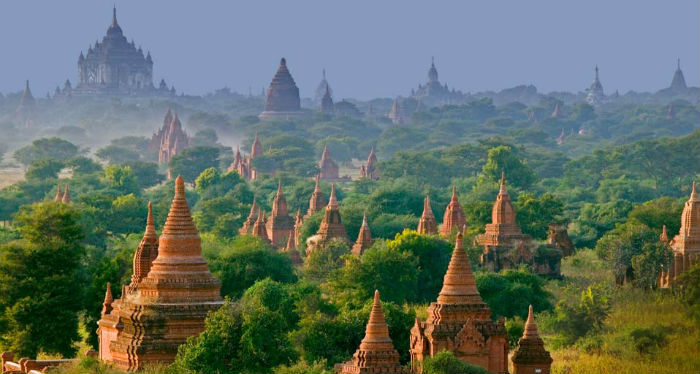 Bagan, located in the upper part of Myanmar, is not only the capital of Myanmar's first dynasty but also the place where the heart of the country ancient architecture lies. The most interesting thing in Bagan is that you can see hundreds of temples with different sizes covered in reddish color and religious monuments. There are different methods of transportations are available such as: by car, horse cart, bus but it is the best way for you is cycling to do sightseeing around Bagan. What is more, visitors can also enjoy an idyllic sunset boat trip along the Ayeyarwaddy river to enjoy the beautiful sunset while enjoying a cold drink or even going by balloon to enjoy all the view of the city from the air and have amazing pictures.
3. Travelling to Mandalay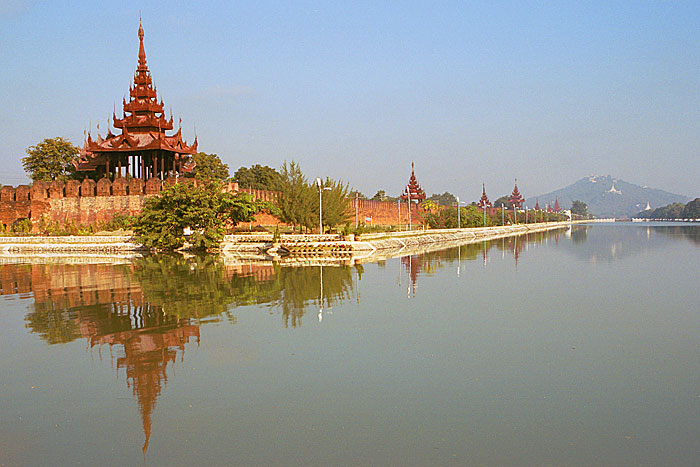 Mandalay, nearby Bagan, is located between one of the most historical Ayeyarwaddy river and the Shan state. Climbing up to the top of Mandalay under the glow of dawn or during the sunset is a fantastic memory. Besides, you can learn about the culture and people of Myanmar by having small talks to the religious. An other wonderful destination is a teak wood bridge called U Bein which is the longest and oldest bridge in the world. You will have a great time when walking 2 kilometers on this bridge to see many kinds of fish swimming on the very blue water or people passing by here in the sunset
4. Discovering Inle Lake – one of the prides of Myanmar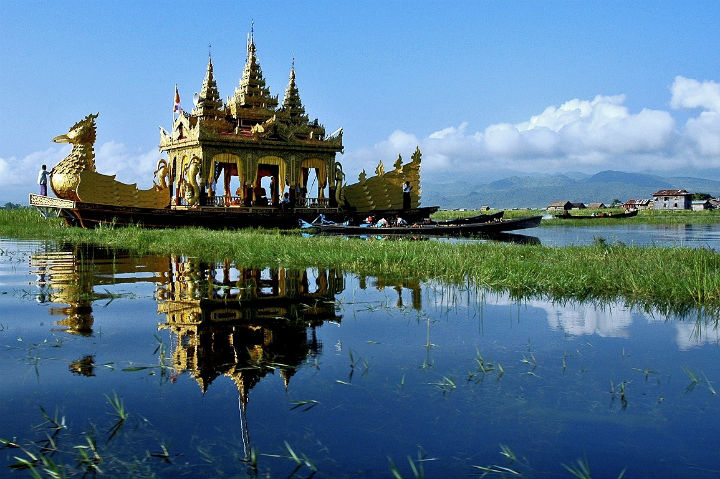 To Myanmar, Inle is the most beautiful lake in the world. It is located in the Shan Hills in Myanmar and is a freshwater lake with numerous villages against the foggy mountain ranges. Visitors will see fishermen use their legs to row boats, not hands because it is a part of the unique culture of the Inle tradition itself. The friendliness of the local people and their unique daily life activities will attract visitors and they want to enjoy a pleasant trip alongside the lake to see floating tomatoes fields around the lake, gardens of flowers properly anchored to the lake bed with bamboo poles. Moreover, Mrauk U ancient city, Hpa An city, Ngapali, Ngwe Saung beaches, local markets located near Inle Lake are other major attractions deserving a look.
5. Visiting to Golden Rock- known as KyiteHteeYoe Pagoda (in Burmese)
Golden Rock, located in Mon State at the height of 1,100 meters and 200 kilometers far from Yangon , is a sacred place for Myanmar people. The rock and the pagoda are at the top of Mt. Kyaiktiyo. Myanmar people have strong belief in the Buddhism so they often offer flowers the pagoda and hug, kiss the golden rock. They also think what they do will make them wealthy and prosperous. Visitors can enjoy the significant scenery of the golden rock from dawn to dusk because it gleams in different shapes.
Shopping in Myanmar
This is also a land for shopping with lots of souvenirs and handicrafts deserving a look. Precious stones with different sizes are very famous in Myanmar so you can easily to buy one at everywhere. However, if you do not buy them before, it is very difficult for you to choose the real one. Besides, there are many kinds of souvenirs made of bamboo, teak wood, pictures made of stone or sand with fairly cheap price.
Other interesting thing that visitors expect to do is walking around local markets in Myanmar. You can find lovely and favorite items from street vendors but you should bargain to have a reasonable price. Anyway, coming to Myanmar, you can get plenty of precious experience in unique landscapes, culture, cuisine and its hospitable people.
Tips:
– Take off your shoes when coming into pagodas or Myanmar people's houses. It is easier for you to travel if you wear sandals.
– Bring essential things such as hat, umbrella, sun cream, raincoat because the weather will change when you go to the mountain, especially visiting Golden Rock.
– Do not wear skirts. Wear trousers and long-sleeved dress when visiting pagodas and temples.
– Be careful when ordering food. Because Myanmar people like spicy dishes, if you cannot eat these food, you should ask the waiter.
– Exchange dollar before going if you want to go shopping in Myanmar.
 List Myanmar Tours: Click here