Have you ever thought of visiting the famous country for temple and tower- Cambodia? If so, you should not hesitate, pack clothes and catch a plane to there! Because Cambodia and its beautiful city- Phnom Penh is highly worth seeing. Taking a trip to Phnom Penh will give profound experience about Asian characteristic features, Indochina's graceful beauty and Cambodian's hospitality to tourists. Phnom Penh is known as the city of river junction (Mekong river, Bassac river, and Tonle Sao river) and politics, economy and commerce beside being the capital of Cambodia. Stepping into Phnom Penh, you do not only visit renowned temples but also admire famous historical places or participate in cultural activities like festivals, colorful markets….etc.
The great time to travel to Phnom Penh city
Phnom Penh's climate is generally tropical with the average temperature of 28 to 33 degrees celcius. Phnom Penh has three seasons year-round, the cool season (from November to January), the hot season (February to May) and the rainy season (between June and October). When you travel to Phnom Penh in rainy season, you may have experience of monsoon climate and It has rained for a long time. In summer, Phnom Penh becomes hotter because the weather tends to get scorching hot with unbearable levels of humidity. If you take a visit at this time, you are advised to drop in hotels and restaurants are well-cooled, either with air conditioning or with fans in order to hide from scorching sun. Essentially, the best time to visit Phnom Penh is in winter when temperature is cooler, less humid and so comfortable. In this time, you will indulge in visiting and enjoying great atmosphere here.
Things to do in Phnom Penh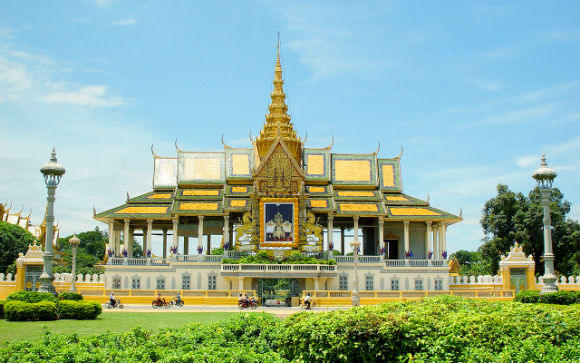 Visiting Royal palace in Phnom Penh
Cambodia's Royal Palace with its ancient and magnificent beauty is one of 13 most famous royal palaces in the world always having particular attraction to tourists. The Royal Palace in Phnom Penh is combination of buildings built over last century to be the housing of monarch, monarch's family and the foreign visitors. Besides, it is also the place of celebrating diplomatic protocols and royal ceremonies. Approaching to Royal Palace, you will admire a high wall with sculpted motifs and yellow pyramid structures standing imposingly up in the open sky. Inside the Royal Palace area, high walls with stylized bo-tree leaves keep from the noise of streets outside. The ornate and sumptuous palaces among well- cared tropical gardens seem to lead tourists to a peaceful landscape. Except for royalty's housing area (Khemarin Palace), others and Silver Pagoda are willing to welcome tourists. However, you are recommended not to visit Royal palace while diplomatic protocols and traditional holidays are operated.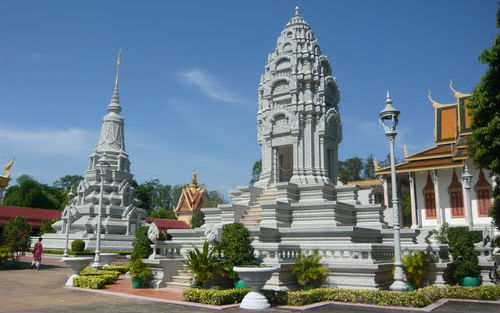 Visiting Silver pagoda
Silver pagoda is actually located on Cambodia's Royal Palace complex on the left side of dedicated gate for visitors. Visiting in Silver pagoda, you might sightsee stateroom with luxurious throne and royal ceremonies, Chanchhaya stage, Hor Samran Phirun (palace of peace), Hor Samrith Phimean (copper palace) or flower garden. Silver pagoda is on river direction so it is likely to be cool and quiet that is indispensible site for your trip. Along with Royal Palace, Silver pagoda is attractive to explore culture and history in Phnom Penh.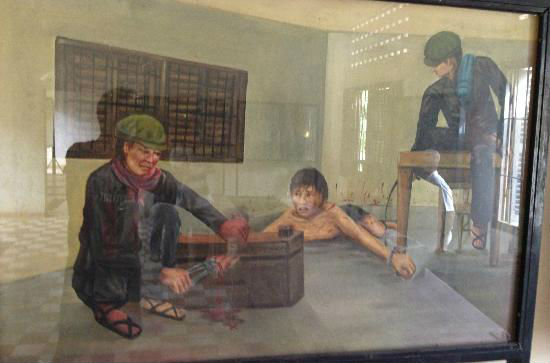 Visiting historical monuments: Tuol Sleng Genocide Museum, Choeung Ek killing field in Phnom Penh
Killing field "Choeung Ek" and Tuol Sleng prison become historical museums and to be more attractive domestic and foreign tourists. Many artifacts and pictures are displayed at Tuol Sleng prison, such as equipments, vehicles used to transport prisoners, prisons, executive office of carnage, collection of images of murdered victims, poisons room, warehouse of instruments of torture and death penalty. Besides, you also see crime evidences of Khmer Rouge force when going to killing field. Tuol Sleng prison and Choeung Ek killing field is suitable destinations for tourists who are keen on studying history, you may have strong feeling of war crime and understand more about Cambodia's history when visiting here.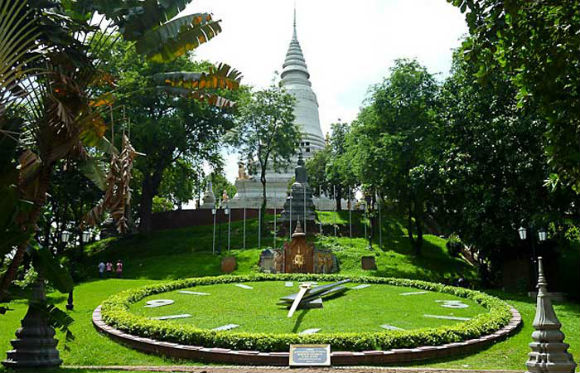 Making a pilgrimage to Wat Phnom pagoda
The historical pagoda Wat Phnom is the most important pagoda in Phnom Penh, it is ancient and typical for temple architecture in Cambodia. Today, many people come here to pray for good luck and success. Set on top of a 27m-high tree-covered knoll, Wat Phnum pagoda is known to be the highest place in Phnom Penh, from the top of pagoda, you can observe panoramic view of the capital. Also, you are probably interested in riding elephants round nice scenery.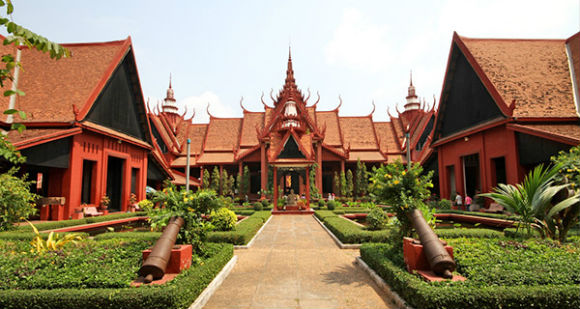 Visiting national museum of Cambodia
National museum of Cambodia (located on central of Phnom Penh) was built in 1917 and completed in 1920. The museum has unique architecture with harmonious combination of Khmer's art and French's style. Moreover, it shows more than five thousands of artifacts about Cambodia's rich culture. If you choose Phnom Penh for your trip, you should not miss out on national museum so as to learn cultural and historical values of Cambodia.
Going to animate markets in Phnom Penh
Apart from palace and temple, Phnom Penh is also very fascinating with other tourist attractions like Oodong ancient capital, Sisowath Quay road- an ideal place to walk and take fresh air, and especially, crowed and busy markets. I suggest you coming to famous markets such as Sorya, Russian market, antique street, central market and Phsar night market. Here, you can see a variety of products, catch unique things and buy special gifts.
Enjoy delicious food in Phnom Penh
When traveling to Phnom Penh, you do not forget to enjoy tasty food here. Food as bread with Num Pang, Nom Banh Chok noodle, Mi Char fried noodle or fresh fruits, coconut milk will bring special and unforgettable taste to guests.
To tour in Phnom Penh- Cambodia, almost tourists possibly feel certain historical values shrouded by marked architectures and sceneries and tourists may love this city much more by its ancient, distinctive, harmonious and living beauty that is totally appealing to anyone.