Vietnamese cuisine is distinct, mouth-watering and bursting with flavor. There are many restaurants, street-corners offering thousand of delicious dishes for visitors as this country is the perfect destination for foodies. Vietnam is popular for its delicious and diverse food and beverage choices that contain a lot of healthy soups, seafood, and vegetables. But it's not a secret that we always look for new life experiences, travel destinations and some never tried before dishes.
Crumbling old quarters have been transformed into fine dining eateries, headed up by globally respected chefs, and the street food scene is flourishing as ever. But with thousands of restaurants up and down the country, it's almost impossible to decide which restaurants to go to for the best in providing quality Vietnamese food, a great atmosphere, and a luxurious flare. Here Travel Sense Asia will list the best restaurants in Vietnam by region for travelers.
Hanoi
Hanoi is now becoming one of Asia's most popular travel destinations, which has many stunning places and various dishes.
Porte D'Annam
To adapt the favorite of visitors, Porte D'Annam serves many the foods found on the sidewalk in the luxury atmosphere. Hence, you have just come to this restaurant to enjoy a perfect meal and don't need search for more street-corners. Name of the chef of Porter D'Annam is Didier Corlou who belongs to the top of pioneers of Hanoi's upmarket dining scene. Located in a colonial-era villa near the famed St. Joseph's Cathedral, this restaurant serves Corlou's known brand of Franco-Vietnamese fare. The menu is very diverse with the foods of four seasons and in three regions, which are a sesame-laced seabass carpaccio, and sweet and saucy pork ribs—that's also earned him acclaim at his nearby Madame Hien and La Verticale.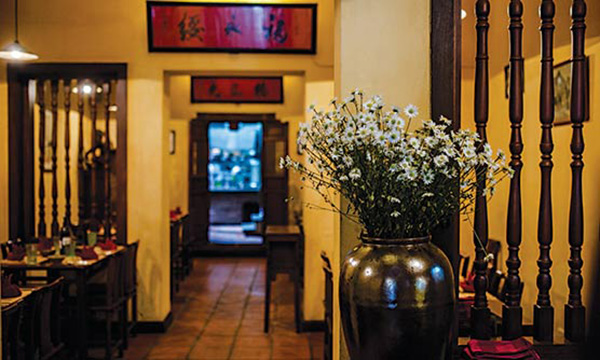 Address: 22 Nhà Thờ, Hoan Kiem, Hanoi
Duong restaurant
Currently, Duong restaurant is the hotkey in researching of visitors. Owner of this restaurant is the top Master Chef Vietnam. You not only enjoy fantastic local dishes, you can join in the cooking class. This restaurant makes some of the best local food that you will ever taste. And if you want to take some of their skills home with you, be sure to sign up for one of their acclaimed cooking classes. Duong restaurant is a traditional food court where can bring the regional specialties from across Vietnam, all cooked fresh to order. Nutritious soups, salads, rice and noodle dishes are made from fresh ingredients which are the healthiest diets in the world. Ingesting food slowly is better for the digestive system because nutrients are absorbed and used more effectively by our bodies.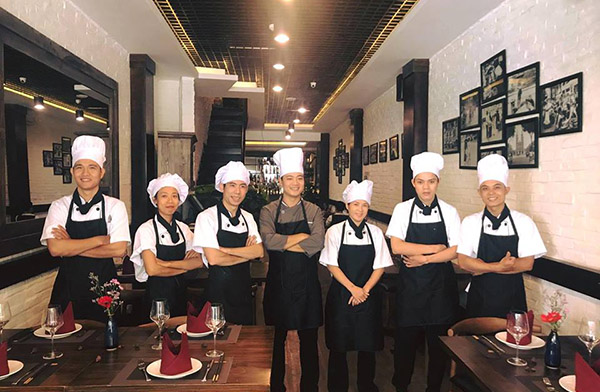 The cooking class is taught by Hoang Duong chef, will show you how easy it is to make mouth-watering, nutritious Vietnamese food. The chef will share their cooking experience with you, and teach you how to choose the fresh ingredients into delicious dishes.
Address 1: 27 Ngo Huyen, Hang Trong street, Hoan Kiem district, Hanoi

Address 2: 101 Ma May, Hoan Kiem district, Hanoi

Address 2: 27 Dong Du, District 1, Ho Chi Minh City
Da Paolo West Lake
If Da Paolo restaurant in Hanoi had an alternative name it would certainly be "Little Italy". This place managed to accommodate all the Italian cliches, that are so loved by people around the globe, under one roof. The owner of the restaurant is Italian, which explains it all: delicious Italian food accompanied by warm and welcoming atmosphere, cozy interior design and very reasonable prices. The owner might also welcome you with a happy smile on her face just like any true Italian.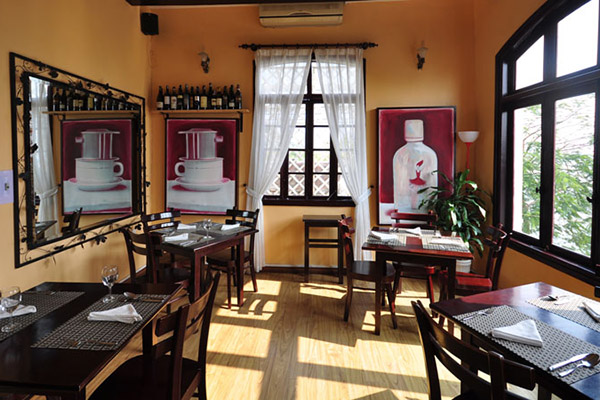 As many Italian restaurants outside of Italy, it has all well-known dishes listed on the menu. Anything you wish for when coming to an Italian restaurant is here, but pizza is the leading option to please your taste. Tables can always be reserved in advance, but the restaurant is very packed, many thanks to its amazing reviews, so make sure to book in advance
Address: No. 18, Lane 50/59/17, Dang Thai Mai Street, Tay Ho District
Sen Hanoi
If you want to get a buffet, Sen Hanoi is the best option. Sen Hanoi is designed with a black-and-white theme, tablecloths, chandeliers, mirrors, wooden furnishing, a massive buffet area set up in the center, and spacious seating arrangements. The tastes in menu adopt to plenty of Asian and European, including over 60 traditional dishes from three regions in Vietnam such as Vietnamese spring rolls, lotus rolls, grilled fish, grilled pork with noodles, and Vietnamese cake. There are grilled lobsters, fresh salmon, oysters, sashimi, crab, and escargot. The atmosphere of the restaurant is very interesting, but it can get very crowd during peak dinner hours. No doubt, the service here is professional and English-speaking staff. Sen Hanoi is famous for the good quality and diverse menu that's also excellent value for money. Thus, it is a good idea to make a reservation before making your way to Sen Hanoi.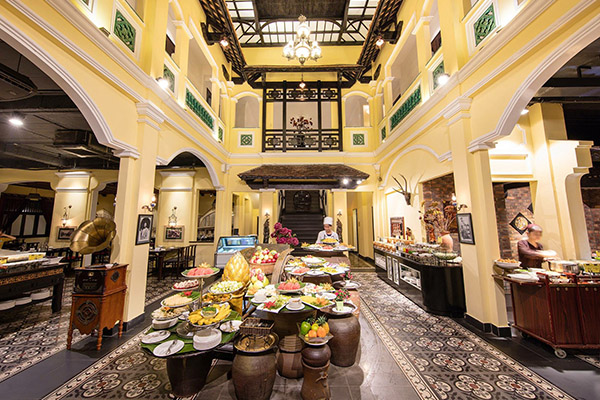 Address 1: 60 Ly Thai To, Hoan Kiem district, Hanoi

Address 2: 61 Tran Hung Dao, Hoan Kiem district, Hanoi

Address 3: 614 Lac Long Quan, Tay Ho district, Hanoi
La Verticale Hanoi
La Verticale Hanoi is a French stylish restaurant. The restaurant is designed by the white walls and tiled floors intact, wooden furnishing with white tablecloths. It is said that La Verticale Hanoi always provides the comfortable armchairs and excellent views from the center of the capital. Choosing this restaurant, you can enjoy 5 spices of Hanoi, artichoke leaves in Dalat, Halong curry sauce, and Mekong fruits sorbet. Many delicious foods and imported wine are set up on the menu with desserts and optional wine pairing. You will be offered bottled spices such as peppercorns, wild pepper, star anise, and aged nuoc cham sauce. When you enjoy the foods here, you will love a stylish spice shop that resembles an apothecary. La Verticale is the excellent food-and-beverage, romantic ambiance so the price range is much higher than others.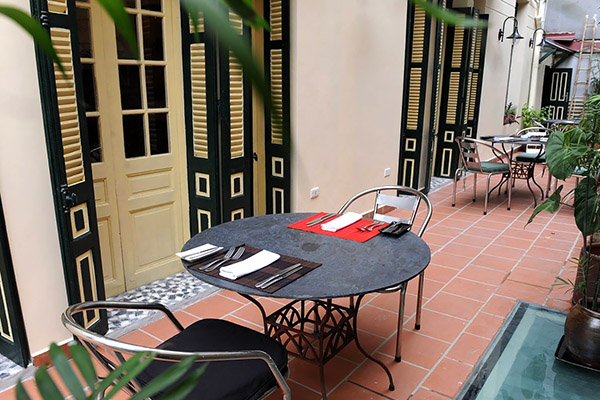 Address: 19 Ngo Van So Street, Hoan Kiem District
Green Tangerine Restaurant
Hanoi Green Tangerine Restaurant Hanoi is more and more famous for the authentic Vietnamese and French cuisine. The brasserie-style restaurant is designed to the rustic décor, bare bricked walls, and antique furnishing. Green Tangerine Restaurant Hanoi tends to build the artful style. For example, duck breast carpaccio in red fruit is served with gizzard candied in ginger, eggplants rolled in spinach is presented on a lotus cake made with mashed carrots, taro, and cilantro. During the day, the cookers offer the two-course or three-course lunch set, which comes with a starter, main, and dessert. You will be satisfied with the homemade desserts in this restaurant such as apple crumble with red fruits sauce and Calvados, both of which are served with a scoop of ice cream. Green Tangerine Restaurant is one of the places Where to eat in Hanoi in order to make a reservation.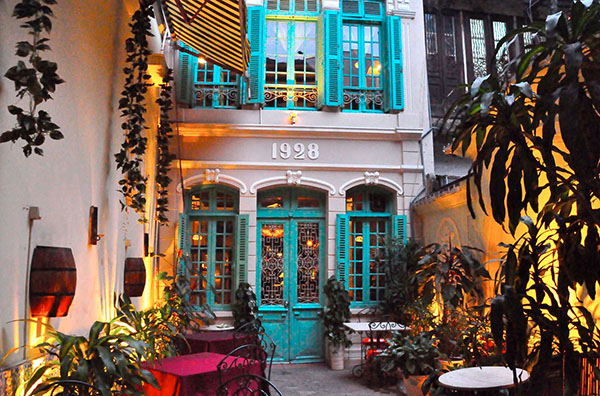 Address: Hang Be street, Hoan Kiem district
O'Douceurs Hanoi
Another place in the best restaurants in Vietnam is O'Douceurs Hanoi which is built follow to French patisserie. Choosing this restaurant, you can enjoy fresh bread, and cakes like these smoothies, coffees, and teas in a cozy setting. O'Douceurs Hanoi offers a wide selection of sandwiches and croissants as well as desserts such as macaroons, fruit tarts, and cookies. Thus, it is more and more attractive to foreigners. The chef cooks the chocolate fondue and the fresh strawberries, bananas, and cookies. Cakes are made from vanilla raspberry eclair, and chocolate feuillantine.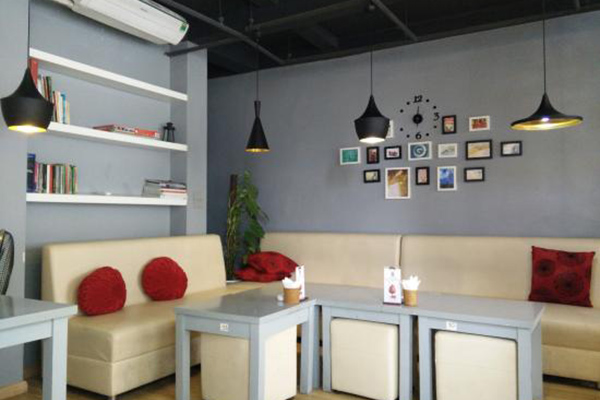 Address: 91A Tran Hung Dao, Hoan Kiem District, Hanoi
Hoian
The particular destination in Central region is Hoian which is famous for many local specialties to eat. Especially, they adopt all things like quality, fresh seafood, prices, so a seafood feast can easily fit any budget.
Mango Mango
Mango Mango sits just across the riverbank, standing here, you will admire the whole city. It offers a nice meal away from the buzzing city center including a variety of both Vietnamese traditional recipes and Western dishes. While enjoying the menu, you can grace the stunning view of the river as this restaurant is located near the Japanese Bridge. In the evening the river lights up with many colors, street vendors and Chinese flying lanterns.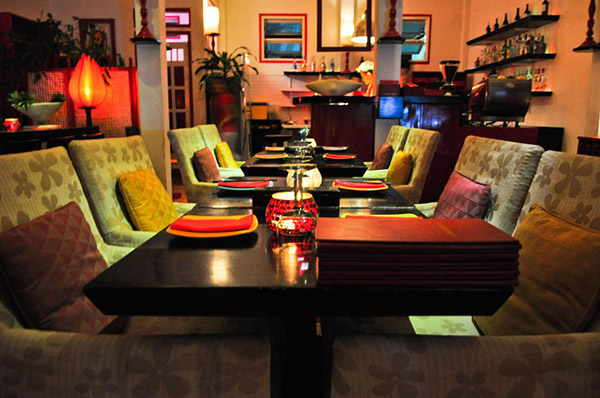 Address: 45 Nguyen Phuc Chu, Hoian
Ancient Faifo
Ancient Faifo combines the local food, music, the interested culture. It is a beautiful place which always attracts almost foreigners by its artistic style. Tourists are seeking the restaurant set a bar area, a relaxing cafe space with oil paintings, antique furnishing and ceramics. Moreover, Ancient Faifo has displayed Vietnamese artists like art gallery that showcases local Vietnamese artists' works on a regular basis. The restaurant offers four different set menus – good selection of tapas to visitors which present ancient recipes with a touch of modern fusion.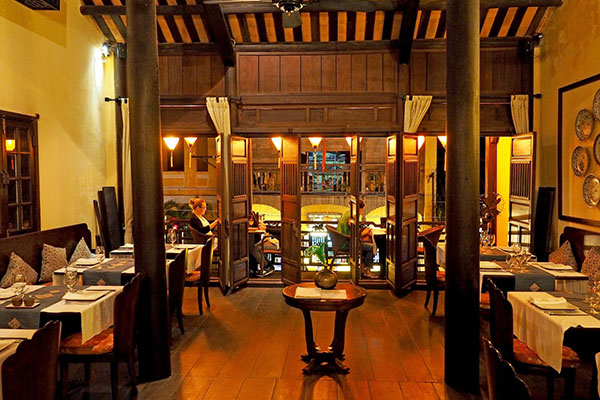 Address: 66 Nguyen Thai Hoc Street, Hoian, Vietnam
Ho Chi Minh
Ho Chi Minh is one of the most popular destinations in Vietnam with not only many culture places but also the traditional cuisines.   
Inter Nos
The restaurant is located in District 2, one of the most popular districts among expats in Ho Chi Minh City. You will enjoy the relaxing atmosphere and modern interior design with different dining areas, which gives you a lot of options to choose from when picking a table. You might get welcomed and seated by the owner of the restaurant herself, at other times there is always a team of professionals guided by the restaurant's experienced manager.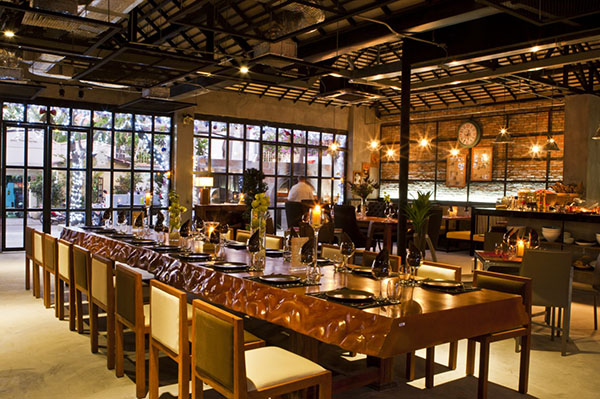 The menu is created by an Italian chef, who is always at your service and has a lot of classic Italian dishes and some chef's specials for gourmands. The chef's grilled salmon with vegetables served as a side dish is the first must-try. Lasagna fans, this is an excellent place to stuff yourself with it. While waiting for your orders, breadsticks will do their job on making you beg for more. You might get lost in the beverage list, but a well trained professional server will give you a hint depending on your meal. For soft drink lovers they have a list of freshly pressed juices. A great dessert list will be the cherry on top of a pleasing dinner.
Address: 26 Le Van Mien, Thao Dien Ward, District 2
Casa Italia
Casa Italia wins the hearts of its clients with the restaurant's cozy interior design and overall warm atmosphere that represents the Italian spirit at its best. The restaurant always has a variety of promotions to offer: depending on the night, you can witness a live music show accompanied by finger food and wine selection.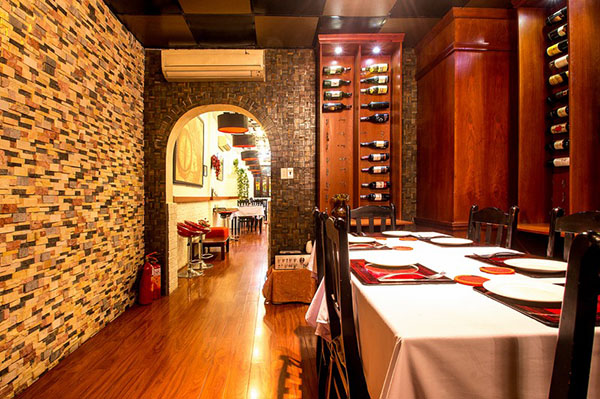 The restaurant's staff is very friendly and helpful, especially when it comes to menu choice, they will always recommend the most suitable option for your preferences. Chicken parmigiana is definitely a must-try for poultry fans, somehow they manage to make a whole new juicy dish out of a simple chicken breast. Don't narrow your choices, try something you never expected from an Italian restaurant, and you won't be mistaken, because anything they serve at Casa Italia is almost inevitably delicious.
Address: 86 Le Loi Street, District 1