Winter holiday is coming, yet you don't have any travel plan for your family? Consider some of our expert suggestions below as we offer you some fascinated experiences during Vietnam highlight tour which can turn the coldness into enthusiasm. In December the temperature in Northern Vietnam usually gets under 15°C and opportunely it's the perfect time to take part in these activities:
This December, 4 must-do activities when joining Vietnam highlight tour
Enjoy Hanoi street food in Vietnam highlight tour:
Hanoi cuisine is specific not by expensive dishes in luxury restaurants but the street food which is made mostly by locals and sold on the sidewalk or inside a small cozy kiosk.  In winter, when walking along narrow streets in the Old Quarter of Hanoi, it will worth your time to stop by some well-known address and try these dishes:
– Bun oc: the best dish to serve when the coldness comes, Bun oc will give you hot spicy taste in winter time, it is basically vermicelli served with stir-fried snails but specific seasoning will give you an unforgettable taste of your lifetime.
– Egg coffee: Vietnam takes pride in coffee industry and it will be a pity if you don't try this drink when wandering around Hanoi. Take a brief walk toward the St. Joseph's Cathedral and let a hot egg coffee eased your mind as you sit on the sidewalk watching the old street.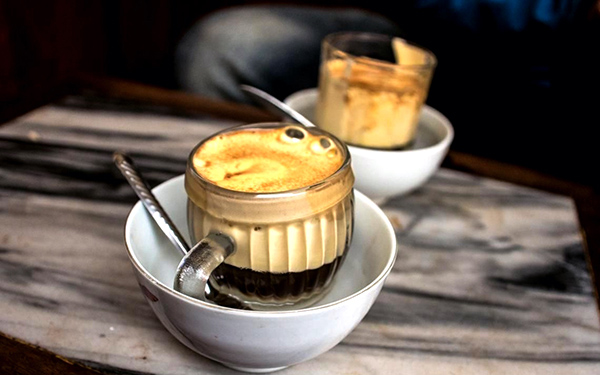 – Banh goi, banh ran: At late afternoon, you should definitely try some "banh goi" and "banh ran" sold on the pavement, it is a kind of Vietnamese donut with meat, mushroom, vegetable and deep-fried egg and flour wrap outside.
Throughout Vietnam highlight tour, there are many other special dishes that you hardly can try them all in a few days but Hanoi cuisine in winter can't be passed.
Trekking through ethnic villages in Sapa:
As one of Vietnam northernmost province, Lao Cai temperature in winter can be lowered to 0°C and below. Warm up yourself by a trekking tour around Sapa town – one of our destination in Vietnam highlight tour, famous for its fine, rugged scenery and rich cultural diversity of many ethnic minorities.
– Lao Chai village, Cat Cat: inhabited by Black H'Mong, the largest ethnic groups living in Sapa area. Their feature is the shining silver jewelry from necks and wrists which is opposite with their black handmade costume.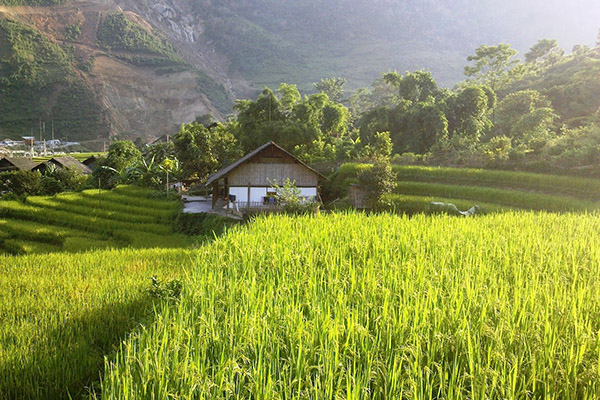 – Ta Phin villages: the village of Red Dao people, their traditional outfits are colorful in red tone. The best way to recognize a Red Dao lady is the scarlet hues of the turban on her head. Besides, their bathing method with the herbal remedy is special as well.
At the end of the trekking tour, you will also visit Giay people village in Ta Van. Along the dirt trail through rice fields and villages, with all the different colors from ethnic groups appears at the same time on a gloomy sky background, Sapa in winter has an extraordinary beauty, unlike others.
Board on a fairy-tale cruise in Halong Bay
In every Vietnam highlight tour, Halong Bay's always a popular destination thanks to imposing natural landscape and when winter comes, its attraction won't decrease but make a blaze in another way. December mostly occurs cloudy days and it's, fortunately, the ideal condition for sightseeing and some outdoor activities in case you don't prefer summer's intense heat.
– Visit some famous caves: Sung Sot Cave will amaze you by lots of interesting imaginations inspired by limestone formations while Thien Cung Grotto is considered as a fine-art museum due to its animated beauty made from a stalactite. Dau Go Cave is also worth your time to visit if you would like to learn about the history of Commander Tran Hung Dao and his famous fight against Mongol invasion.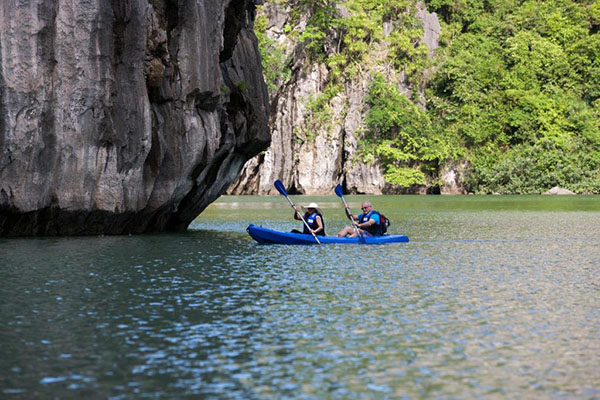 – Outdoor activities: Swimming in winter will give you extraordinary chilling time but kayaking or climbing can be the alternative activities. Luon Cave is the perfect mixture of natural features including rocky cliffs, rugged mountains, and high biodiversity and can only be entered by small boat or kayak. In addition, climbing 427 stone steps and reaching the top mountains at Titov Island will give you the incredible 360º view of Halong Bay.
– Cruise relaxing: Besides cooking classes and Tai Chi exercises which are organized daily, you can simply relax with hot tea while sailing through World Wonder and enjoy the cool windy weather filled with ocean humidity. Floating among enormous limestone mountains and mistful breath slightly flies around the boat turns your cruise into a fairytale-like trip.
If you have a think that a beach trip toward bays and islands must be taken during the hot season then you might be surprised when cruising at Halong Bay in winter. Whether or not you enjoy the bustling of summertime or the calmness in winter time, join Vietnam highlight tour and Halong Bay absolutely will enthrall you on both sides.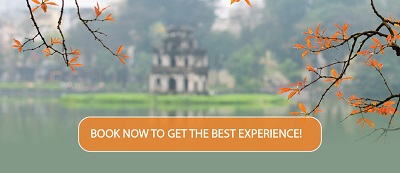 Back in time at ancient capital Hoa Lu – Trang An (Ninh Binh)
Known as the "Halong Bay on land", Ninh Binh is a quintessential land consists of Vietnamese precious history and cultural values. You can take a visit to the spiritual region of Ninh Binh by joining Vietnam highlight tour. There are 2 main touristic sites comprised in this UNESCO declared mixed natural and cultural property:
Historical Hoa Lu – the former capital of Vietnam in the early of feudal system – witnessed many important events in the past. Visit Hoa Lu, you can't miss the remaining of ancients fortress built 1000 years ago and the sacred temples to worship the Emperors and royal people. Winter is the best time to learn about the ardent love of Vietnamese during fights against invaders over the country territorial.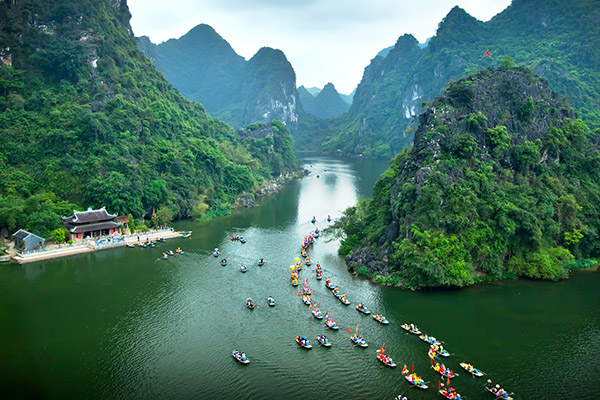 The grotto system of Trang An Scenic Area: Take a sampan and sail among emerald water for a couple of hours, after the rice paddies and rugged forested mountains come to the area surrounded by thousands of limestone caves and hills. It is considered an "outdoor geological museum" makes tourists dazzle by 48 water caves and 31 narrow valleys with fresh air and soft light. If you require for a peaceful and tranquil trip with fewer tourists, we highly recommend a float down the river in Trang An this December.
After enjoying the monsoon climate of Northern, Vietnam highlight tour will continue to the tropical zone with solar heat and warm weather in the South. If you wish to experience 2 specific climates of Vietnam within one trip don't be hesitate to join us this December.