If you are going to Vietnam and you are fancy of trekking, you should go to Sapa. This destination is, after all, one of the most beautiful areas of North Vietnam with its rice terraces carved into the beautiful mountains in the foothills of the chain of the highest mountain of Vietnam and the beautiful valleys. It was incredibly picturesque, the cool mountain air was refreshing, and it was just great to be out exploring nature. How to get the best trip in this destination? You need to know the tips for Sapa Valley trekking.
Where are the best trekking valleys in Sapa?
Sapa is a perfect destination with many magnificent places for trekking, sight-seeing and taking photo with many magnificent places as Cat Cat village, Thac Bac (Silver Waterfall), Muong Hoa Valley, Terraced rice fields…
Cat Cat village
Located in a beautiful valley about three kilometers from Sapa Town, Cat Cat is the old village of ethnic groups which attracts tourists from all over the world. Because its distinctive customs and practices have been lost in almost ethnic villages. This is a village of Black H'mong people where you can discover many interesting facts about their daily life as well as culture and architecture. In fact, it is also a good opportunity to purchase some traditional souvenirs and handicrafts right from the craftsmen such as twisting flax and weaving fabric.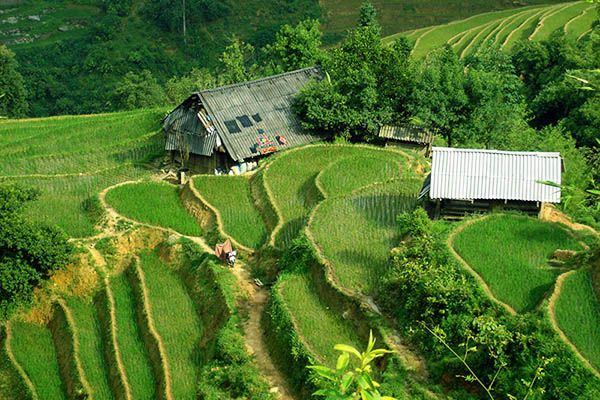 Y Linh Ho village
Continuously, A suspension bridge will lead you uphill to Y Linh Ho village, which is a small commune composed by many small hamlets scattering on the very tough mountain terrain with high and steep mountains. Y Linh Ho village is a place where the Black H'mong lives. They wear the dark clothing and navy dyed with indigo which often seen in the hands of older H'mong women. Their houses are built on their farmland and on the mainly cultivate corn, dry rice on the steep hillsides. As a result, the only way to get to the village is on foot on the road.
Muong Hoa Valley
It is easy to walk to Muong Hoa Valley. You must take about an hour to catch up a footpath downhill. Actually, Muong Hoa is considered as the largest farmland for rice growing in Sapa. Moreover, it is a place accumulating strange carved stones, along through the mountains. Of course, you need to explore the magnificent Muong Hoa Valley to enjoy its breathtaking landscapes. Then you will visit small, isolated hamlets and villages in order to meet the Black H'mong, Zay and Red Zao at home. Muong Hoa River peacefully flows through the valley. On rice season, the rice farmland valley is mixed different shades of green and yellow. Terraced rice fields are the attractive things of best tours of Vietnam as they were voted as one of seven most beautiful and impressive terraced rice fields of Asia. If you come to Sapa in two months like September and October, you will grace the terraced rice fields like golden silk scarves above green mountain slopes, making the mountainous beautiful landscape.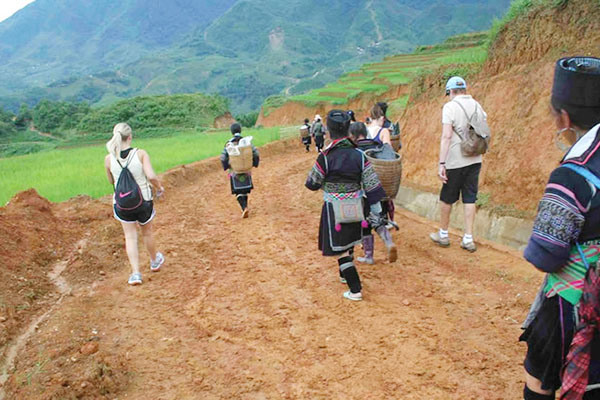 Lao Chai village
You will move to Lao Chai village, have a short trek and meet people in Lao Chai village. After that, you will be able to walk from Lao Chai to Ta Van village where the Giay ethnic minority hill tribe lives. Ta Van village is a real place attracting tourists in the world. This village is where many Vietnam ethnic minority groups live during a long time in harmony. When coming here, you can grace natural landscapes here, and experience homestay service, as well as enjoy traditional food of this land. This provides a great opportunity to share their customs and home life. Have lunch in the local house.
Giang Ta Chai village
Your trek continues to Walk past beautiful terraced rice fields and a bamboo forest to Giang Ta Chai – home of Red Zao, Hmong and Dzay minority. You will be able to enjoy the genuine friendliness and hospitality of the villages and have a chance to speak with the locals. We will cross an old timber and rope suspension footbridge. After taking a rest nearby a waterfall to refresh, you will start climbing uphill to a road, the car and your driver are ready for your journey back to Sapa.
Silver Waterfall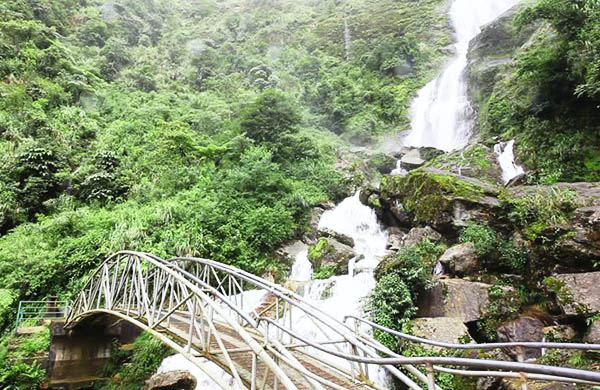 Thac Bac Waterfall is enveloped by a range of mountains, beautiful, undulating landscapes area created—the falls are a product of the Lo Sui Tong mountain top, where the waterfall's original source lies. Many people say the cascading falls appear as a mighty white dragon peering down onto the valley.
What to bring necessary items to Sapa valley trekking?
Of course, a trip needs to be prepared very well with necessary items such as luggage, visa, devices, cash…First of all, you will have to submit your application, passport along with two standard passport photos, and the required fee to apply for a visa. We will note some necessary items in the above for you.
Small luggage
Actually, before any tour, you should find information about the destination which you will visit and trek. It is very important. And, you need to search for the weather forecast to bring the suitable clothes. The guide is not a carrier, so only bring what is absolutely necessary to you. Remember, your bag will be heavy when you wear trekking. It was a bit of an open-concept with lots of mattresses and a mosquito net over top, but you had clean bed sheets, warm blankets for the night, and fresh towels.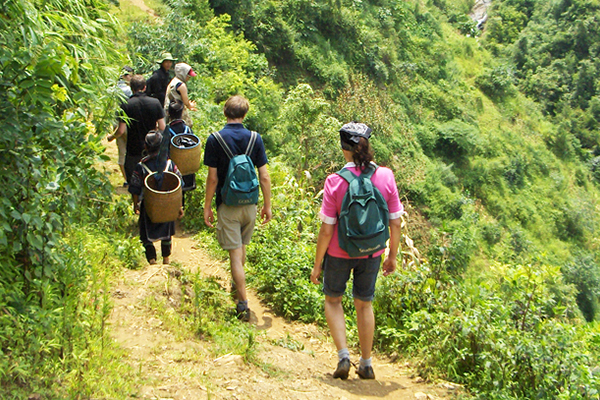 Lots of water
During the trekking, you will be thirsty. It's really horrible to realize that you just drank the last drop of your water and there are still another two hours of walking ahead. To not die of thirst, take plenty of water with you. Otherwise, you can bring a little bit fast food like candy, snacks and so on to provide the energy during trekking process.
Devices
The scenery in Sapa and the surrounding region is stunning so you will want to make sure you bring your camera and that the battery is fully charged. You are free to take lots of photo breaks every time. Especially, the best moment should be gained when you came over a hill or reached yet another lookout point. Additionally, you also bring the mobile phone, traveling notebook and camera to search more clearly the knowledge anytime you want.
Choosing the local guide
When you have a plan Sapa Valley Trekking, it is important to travel with a clear plan. For example, there are trekking in a whole day or even half-day excursions, you can do by yourself. However, if you want to spend a few days in the mountains, it is better to be accompanied by a local guide who is familiar with the terrain, weather changes, and the best vantage points in trekking trail. You should choose a local guide or experienced leader for your trekking because they have in-depth knowledge of this route and easy to solve the dangerous problem during the trekking tour. You can find their information in the travel forum like TripAdvisor or via a travel agency, they willing to help you. Local travel agencies offer English-speaking tour guide at prices ranging between USD 30-50 or you can go with a local person who can speak English and this is the best way to discover the daily life of ethnic minorities.