Hanoi is the capital of Vietnam which has appeared the long history by 1000 years with several architectural constructions. As a result, Hanoi has created to the huge of culture and long-time historical sites that attract a lot of tourists. Have you come to Ha Noi, I believe that you can't forget the intimate atmosphere and the peaceful life in here. Moreover, make sure visit as many of these attractions in Hanoi as possible because they all offer entertainment, beauty, and education at different turns. The article will mention the useful information to travelers the top ten places to visit in Hanoi.
If you have a question travel by what transport, I advise you should call to Uber taxi or Grab taxi as they cost quite cheap. However, if foreigners want to travel some landscapes in countryside, let's go by bus to save money.
Temple of Literature
Firstly, Temple of Literature is one of top ten best places to visit in Hanoi where is attracting numerous visitors. The Vietnam's first university is called Quốc Tử Giám (or National University), was established within this temple to educate Vietnam's mandarin class in 1076. The university functioned for more than 700 years, during which, 2,313 doctors graduated. Temple of Literature is accumulated old-traditional appearance, which is the first reason why it becomes one of most Vietnam Popular Destinations for tourists. Especially, almost of universities in Hanoi has come here to take photograph yearbook before graduating, which is a characteristic culture. It consists of five courtyards lined out in order, entrance to the first, through the impressive twin-tiered Van Mieu gate leads to three pathways that run through the length of the complex.
Price: 20.000 VND/ Ticket
Open hour: 8 a.m – 5 p.m
Locate: 58 Quoc Tu Giam, Dong Da district
Imperial Citadel of Thang Long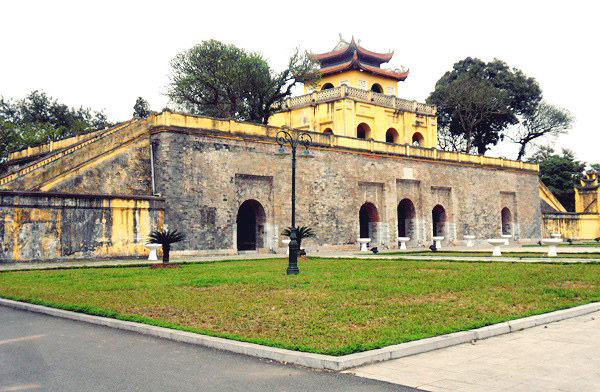 Second, I will mention to Imperial Citadel of Thang Long nearly and located on the same. The Imperial Citadel of Thang Long is a UNESCO World Heritage Site owning an intriguing relic of Vietnam's history and, signifying its historical and cultural importance. The Forbidden City wall surrounded Kinh Thien Palace. The main part belongs to Imperial Citadel of Thang Long is building D67 was the General Headquarters of the North Vietnamese Armed Forces during resistance war against American imperialists. From the outside, it appears much like an ordinary single storey house with a flat roof, but the detail of its construction betray its military importance.
Price: 30.000 VND/ Ticket
Open hour: 8.30 a.m – 11.30 a.m and 2 p.m – 5 p.m without Monday
Located: No.18 Hoang Dieu
Ho Chi Minh Mausoleum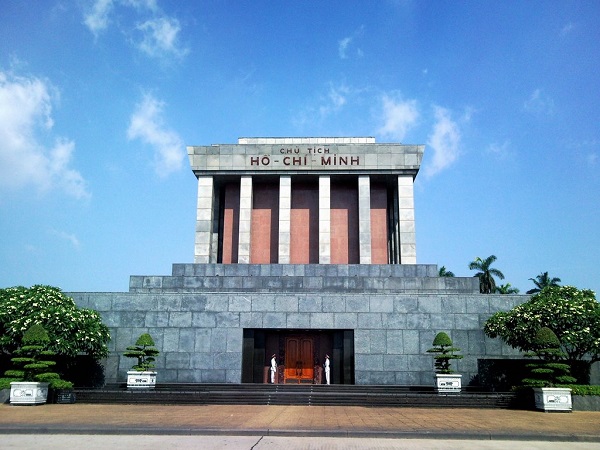 Thirdly, Ho Chi Minh Mausoleum is listed in the top places to visit in Hanoi. Ho Chi Minh Mausoleum is an important historical attraction of Hanoi that is known for honoring the national hero: President Ho Chi Minh. The building is where visitors can express their admiration and their gratitude toward the common father/uncle of Vietnamese who has led the country to independence and reunification. It is known among Vietnamese as Uncles' Mausoleum, for the intimate and familiar atmosphere Ho Chi Minh created when he was alive. No short skirts or tank tops are allowed and there is high level of security check upon arrival. Day packs can be put in a safe deposit before you enter but make sure you do not carry many valuable items with you.
Price: Free ticket
Open hour: 7.30 – 10.30 without Monday and Friday.
Locate: 17 Ngoc Ha, Ba Dinh District
Hoan Kiem Lake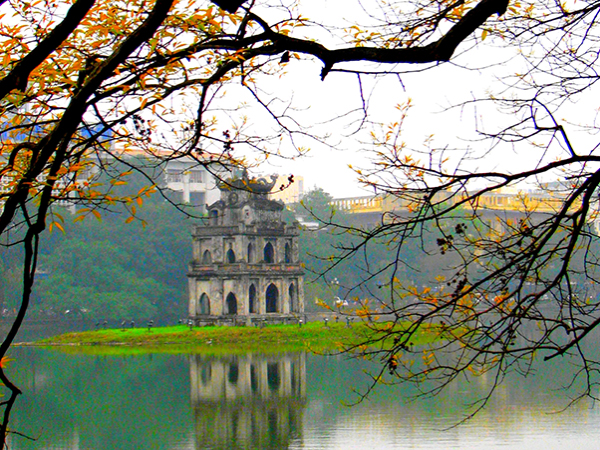 Fourth, Hoan Kiem Lake is known as the lake of the returned (or restored) sword, this lake marks the historical center of ancient Hanoi. Ngoc Son Temple was built in the 18th century on Jade Island in the centre of the 'Lake of the Returned Sword' or Hoan Kiem Lake. Hoan Kiem Lake is now situated inside a complex of Ngọc Son Temple, The Huc Bridge, and Pen Tower in the surroundings that make a sparkling colorful natural picture. Visiting this unique historical vestige comfortable lying around Hoan Kiem Lake, tourists get lost in a totally different world from the rest of the city and have the opportunity to explore the modest but energetic life of the local a hundred years ago, where there were no high-rise buildings, too much traffic or fancy stores.
Open hour: Free time
Locate: Hang Bac, Hoan Kiem District
Hanoi Old Quarter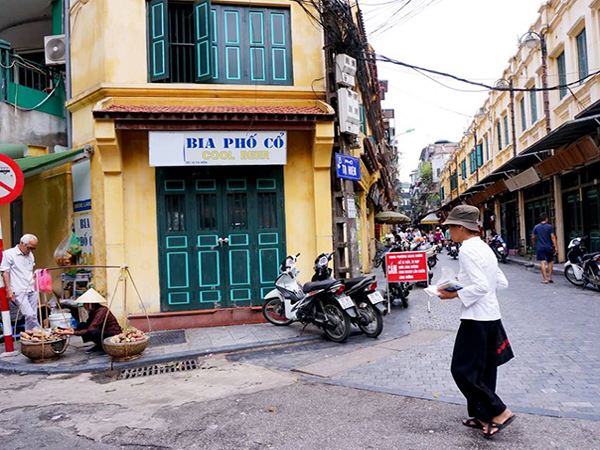 Fifth, Hanoi Old Quarter has another name is Ha Noi 36 – old streets, which is the top special historical vestige and sighted of the capital, luring international visitors caused by its construction. Located in the middle of Ha Noi, a rapidly developing city where changes to take place every hour, Ha Noi Old Quarter with its old-styled narrow streets full of antique brick houses seem to nostalgically resist the flow of time while still actively trying to adapt to the dynamic atmosphere of the modern city.
Once a bustling area where merchants and artisans gathered to sell, Ha Noi Old Quarter consists of many small streets, meandering streets, each bears the name of the goods that was specifically displayed there such as Hang Bac (Silver Product), Hang Ma (Paper Product), Hang Go (Wood Product), just to name a few. Almost of foreigners want to have a background of Hanoi Old Quarter and Hoan Kiem lake by Electricity bike and "xich lo"
Open hour: Free time
Locate: Near Hoan Kiem Lake
Hanoi opera house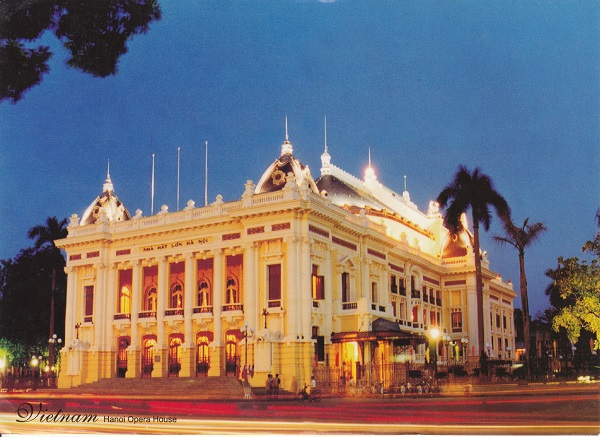 Sixth, the Hanoi Opera House is the biggest theatre in Vietnam and speaks volumes as historical and cultural evidence of Vietnam. The interior is even more magnificent than the exterior with many arguing it is aesthetically even more appealed than the Paris Opera House. Visitors today will be entertained at this architectural landmark which features a range of events including local Vietnamese opera, traditional folk music, ballets and many international concerts. The Hanoi Opera House is also the first choice for international meetings and conferences so you need to check online before visiting the Opera House ensure a performance is scheduled.
Price: 200.000 VND/ Ticket
Open hour: Specific time (search website)
Locate: No1 Trang Tien, Hoan Kiem district
Hoa lo prison
Seventh, The Hoa Lo Prison is sarcastically changed the Hanoi Hilton by American POWs, was originally built by the French to become a house Vietnamese political prisoners. The North Vietnamese Army later used the prison likes the house prisoners during the Vietnam War. Well-known figures such as Senator John McCain, James Stockdale and Bud Day were many prisoners of war that spent time in this prison. Two-third of the prison was torn down to make way for the Hanoi Towers, the rest is turned into a museum and now is a popular tourist attraction in Hanoi. Older American tourists still come to Vietnam to look for signs of the war and to contemplate the significance of long-ago struggle. But a small group of young visitors shuttled by guides to catch up memories about the War.
Price: 20.000 VND/ ticket
Open hour: 8a.m – 5p.m without Monday
Locate: 1 Pho Hoa Lo is right at the corner of Pho Ha Ba Trung
Water puppet show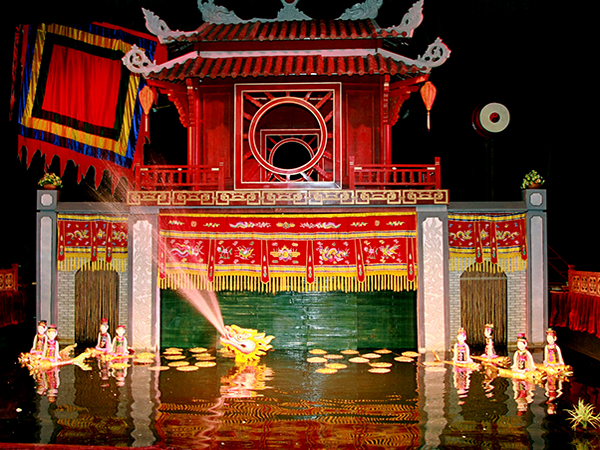 This theater used to celebrate a peasant art form that began in the rice paddies over a thousand years ago. Puppets were simply carved. Puppeteers would stand in the water of the paddies, using it as a prop. The traditional activities include farming, or legends like the golden turtle and the emperor. The more modern version continues the use of water. Traditional Vietnamese instruments perform an opera narrating the puppets' actions, and musicians will interact with puppets, which encourages the heroes and warning them of impending danger. Guests of the theater don't need to brave the monsoon weather that would pour on outdoor audiences, but it can sit and enjoy a meal while discovering this ancient dramatic art.
Price: 100.000 VND/ Ticket
Open hour: from 3 p.m to 9 p.m
Locate: 57 Dinh Tien Hoang, Hoan Kiem District
Bat Trang
Bat Trang likes the seven-century old pottery village which is an interesting attraction in Hanoi that tourists should not ignore. Bat Trang ceramics are produced for daily household use (bow, cup, plates, pot, bottle…), worshipping, or decoration purpose. Nowadays, the pottery artists bring ceramics to many innovations in production techniques and creation in products' features. As a result, many new products have been born, and even daily household items may have the beautiful decoration. Visiting Bat Trang, tourists can take a walk or join a buffalo tour for sight-seeing and shopping. Without many ceramic stores along the road in the village, tourists should visit Bat Trang Porcelain and Pottery Market where they can directly create pottery products by themselves. Many youngsters and foreign tourists are interested in this pottery gaining experience. Especially, they spend a whole day in the market to make a gift for family or friends.
You can catch the bus 47 (Long Bien- Bat Trang) that stop just a few steps from Dong Xuan market with the end terminal in Bat Trang. The bus runs every 20 minutes.
Open Hour: 7.30 p.m to 9 p.m
Locate: Gia Lam district, Hanoi
Duong Lam village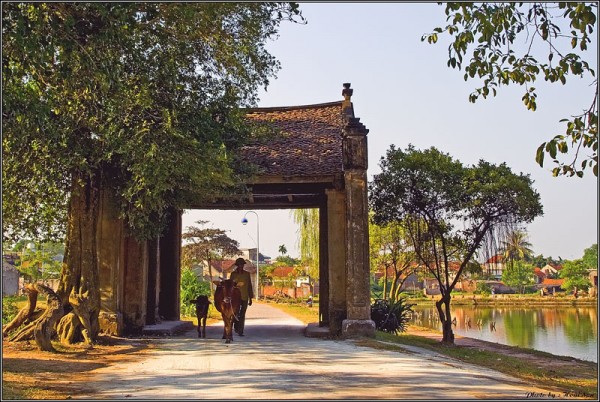 Finally, Duong Lam is a commune of Son Tay town located on Hanoi, Vietnam. Duong Lam becomes the first ancient village in Vietnam. This village has a history of about 1,200 years with many houses dating back up to 400 years. Today, Duong lam village still retains almost of the traditional features such as with port village, trees, courtyard, temples, well, water fields…
Duong Lam has 956 traditional houses, Dong Sang has 441 houses, Mong Phu has 350 houses and Cam Thinh has 165 houses. Many buildings have been built for a long time. Characteristics of the old traditional houses are completely built from blocks of laterite. For intangible cultural relic, Duong Lam has preserved variable festivals, customs and literature on the people and land of Duong Lam through different period of time. Đường Lâm village is very popular tourist destination at the weekends.
Open Hour: Free time
Locate: Sơn Tây Town, 40 km to the west of Hanoi by bus number 71 at My Dinh station
Hanoi is a famous city with a lot of landscapes attracting foreign travelers. If you spend 2-3 days to discovery almost of places, you will gain more experience about cultures, foods, clothes and so on.