Vietnam's handicrafts have a long tradition and history, which is associated with wet rice civilization, streets and is manifested by handmade products with unique features, sophistication and perfection. Handicrafts not only bring about economic benefits, but also contain many customs, traditions and traditional cultural beauty of Vietnamese villages.
Fortunately, there are many unique and unique traditional villages still preserved today. So let's take a look to see what is our top 10 traditional craft villages in Vietnam!
1, Bat Trang pottery village (Hanoi)
Bat Trang pottery village, which is around 500-year-old, is known as a place for producing high quality ceramics with patterned images on products bearing Vietnamese culture and customs.
The name Bat Trang means "big yard", a land reserved for professionals. According to Dai Viet, the history book of the whole correspondence and Du Dia Chi of Nguyen Trai, Bat Trang pottery village was formed in the Ly dynasty. When King Ly Thai To moved the capital from Hoa Lu to Thang Long, 5 famous clans of pottery villages of Bo Bat village, Yen Mo district, Truong Yen district decided to moved to Thang Long capital to find the place to settle down. Over 500 years of ups and downs, successive generations have preserved, handed down and made a reputation of a craft village in the country and abroad.
Nowadays, Bat Trang pottery village is famous both domestically and abroad. The lineages still retain the quality inherited by their ancestors, making the products all distinctive and sophisticated. Ceramic products have also exported to many parts of the world.
Bat Trang pottery village is attracting a large number of domestic and foreign tourists to visit, learn about both the history and the production process of Bat Trang ceramics. Coming to Bat Trang pottery village, you can visit the pottery village, participate in making pottery by the artisans and eat traditional dishes. If you love the history of ethnic culture, this is a very popular tourist destination.
Location: Bat Trang commune, Gia Lam district, Hanoi.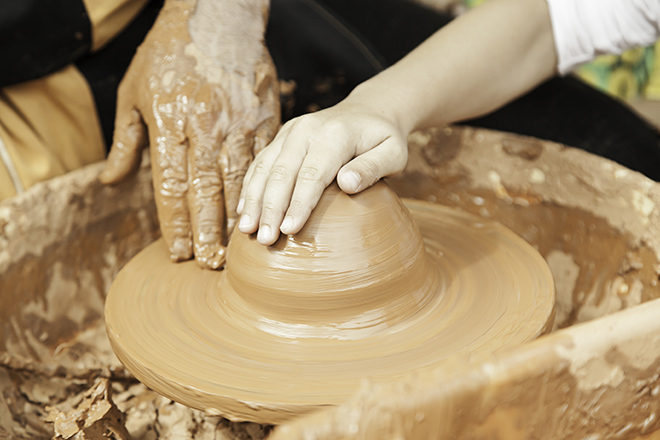 2, Dong Ho folk painting village (Bac Ninh province)
Dong Ho painting village is a famous craft village in folk painting, which is located in Song Ho commune, Thuan Thanh district, Bac Ninh province, about 25 kilometers from Hanoi and is located on the southern bank of the Duong River, next to Ho wharf.
The characteristics of Dong Ho folk paintings lie in the composition of paintings, printed paper, harmonious colors. The people of Ho village have learned how to apply and distill from natural materials to create traditional colors that are both fresh and color fast, such as the green from copper rust, indigo of indigo tree or crimson from the flowers.
Dong Ho folk paintings contain many fields: animal paintings: dogs, cats, buffaloes, cows, chickens, pigs …, the "catch coconut" paintings; "rat wedding" paintings, which are  very eye-catching.
Most Dong Ho paintings are to express the desire for peace, happiness, and wealth so they are often hung in the house in Tet holiday.
The full name of Dong Ho paintings is Dong Ho folk wood carving, a branch of Vietnamese folk paintings. The tradition of producing paintings by hand from the phase of paper making to engravings since the 16th century still remains up to now. The period from the second half of the 18th century to 1944 was the peak of Dong Ho painting village, with 17 families participating in this traditional work.
Dong Ho village had a bustling painting market on the occasion the 12th month  of lunar calendar with 5 markets on 6th , 11th , 16th , 21st, 26th . Each market has thousands of paintings of all kinds are sold to traders, or retail to families who buy Tet picture paintings to bring wealth and glory to their homes.
Due to the technological development, the Ho village folk paintings are now not consumed as much as they used to be. Currently, there are only two artisans' families Nguyen Dang Che and Nguyen Huu Sam and their descendants are engaged in painting, preserving Dong Ho painting heritage.
3, Van Phuc silk village (Hanoi)
Van Phuc silk village belongs to Van Phuc ward, Ha Dong district, which is about 10 kilometers from the center of Hanoi
Van Phuc silk weaving products have many high-quality types. Van Phuc silk is famous for its smooth and cool sense when people touch it. Therefore, Van Phuc silk is now not only consumed domestically but also exported to many countries in the world.
Anyone who was born in Van Phuc silk village must have heard about the legend of the silk weaving craft. Legend has it that, more than 1100 years ago, A La Thi Nuong was the wife of Cao Bien, who used to live at in another village called Van Bao. During the time being here, she taught people how to do business and teach silk weaving. After her death, she was made a village tutelary god.
In the past, Van Phuc silk was used in many royal courts thanks to its good quality and beautiful pattern. Then, Van Phuc silk was first introduced internationally at the fairs of Marseille (1931) and Paris (1932), which were evaluated by the French as the sophisticated product of Indochina. 
Currently, there are up to 800 households doing business, in those families, they still retain the old weaving looms and modern mechanical frames. In many families, ancient looms are retained, interspersed with modern mechanical looms.
With a famous brand and a long tradition, a tour of Van Phuc silk village promises to bring many interesting things. Coming here, tourists have the opportunity to shop for genuine silk products, and to observe the process of making silk sheets by talented artisans.
4, Doi Tam drum village (Ha Nam province)
Doi Tam drum village, located in Doi Son commune, Duy Tien district, Ha Nam province, is well known for making the biggest drum in Vietnam.
Doi Tam drum is famous for its durability, beauty and perfect roundness, which is thanks to its own secret of the village and the dedication of the drum makers. Doi Tam drum village has been recognized as a typical traditional village of the country and Doi Tam drums have been exported to European countries, which proves the high quality of Doi Tam drum products.
Doi Tam drum village was very famous by its 1,000-year-old history of drumming profession with many famous craftsmen throughout the region. Drum making in Doi Tam is a hereditary career that has been handed dowwn generation after generation to preserve and develop the tradition that people people make all kinds of drums every year.
Currently, Doi Tam drum village has about 350 households, all of them are in the occupation of making drum, and there are already large-scale business establishments. The reputation of the village gradually grows, however, there are still banyan trees, wells and communal yards of a typical ancient Vietnamese village.
5, Non Nuoc stone carving village (Da Nang city)
Non Nuoc stone carving village is located in Hoa Hai ward, Ngu Hanh Son district, Da Nang city.
Non Nuoc stone carving village has been very famous both in the country and abroad for marble handicraft products. Visiting stone village, you will have the chance to admire the artworks made from stone, each of which shows the talent and sophistication of the artisans. You can also witness the variety of products, from the statues of Buddha, of human and of Vietnamese celebrities or heroes. All products are carved with meticulous and sophisticated patterns. This is a destination promising many interesting things for tourists.
This craft village formed in the 18th century by the Thanh Hoa artisan named Huynh Ba Quat. Materials first used to make products are marble previously exploited in Ngu Hanh Son Mountain. Ngu Hanh Son mountain's stone has many colorful stones, high-class beauty, is a popular item in construction and architecture. From emotionless rocks, artisan artisans have blown into it the soul of man to create sophisticated products.
Over many generations, the stone carving village is now always preserved and widely developed to create products of high artistic value, promoting the beauty of a traditional Vietnamese village throughout the world.
6, Tuyet Diem salt making village (Phu Yen province)
 "Tuyet Diem" means pure white salt particles. In Phu Yen province, there are 3 traditional salt-producing villages over 300 years old, namely Trung Trinh, Le Uyen and Tuyet Diem
Tuyet Diem salt salt is delicious, clean, and superior quality because of the terrain conditions where the sea is deep in the mainland, creating a salt yard. This sea water is clear, clean, and the salinity is suitable for salt quality. The salt making yard is very spacious and clean.
Tuyet Diem salt making village was formed in 1870, until now Tuyet Diem salt field, Xuan Binh, Song Cau and Phu Yen communes is over 140 years old.
Many people say that salt making is much more extreme and painstaking than agricultural occupation. Every year, salt farmers expect only a few months of sunshine. The more scorching the sunis, the more fragrant and purer the salt gets, and  the more sweat on their thin shoulders but they still did not give up the profession that was attached to their ancestors and until now they still preserve and develop this profession.
Salt-making trade village is a unique feature of Vietnamese craft village culture. It is also a coastal tourism, but instead of a vacation, how about visiting Tuyet Diem craft village? You will experience and learn about a sea village that contains the cultural history and characteristics of the typical coastal village in Vietnam.
7, Son Dong craft village (Hanoi)
Son Dong trade village is located in Hoai Duc district, Hanoi, which is about 20 kilometers from the center of Hanoi.
Son Dong traditional craft village in Hanoi has existed for thousands of years and associated with the spread of Buddhism into Vietnam. The village is famous for carving wooden objects, besides sculpting and painting to create statues such as thousands of eyes and thousands of hands – Shakyamuni Buddha, Amitabha Buddha, etc. Besides, the village is also famous for worshiping objects of all kinds, especially, the  art of gold paint business card is only in the village of Son Dong.
Son Dong craft village has been established and developed for over 1,000 years. The tangible imprints of 1,000 years of Thang Long such as Quoc Tu Giam Temple, Khue Van Cac, Ngoc Son Temple, The Huc Bridge, One Pillar Pagoda were all produced the talented hands of Son Dong artisans
Son Dong arts village was eroded in the years of resistance against the US and the subsidy period, but was later restored by artisans Nguyen Chi Dau and Nguyen Duc Cuong in 1983.
Up to now, the village's traditional profession spreading  generation to the generation is mainly oral, without any written books. Experiencing ups and downs to survive a thousand-year-old trade village, today, the people of Son Dong have taken the 6th of the 2nd lunar month every year as a village festival, villagers who are even living elsewhere reunite and and join the festival.
At present, the whole commune has more than 4,000 thousand laborers working in handicrafts regularly, of which more than half are excellent workers honored and awarded the title of craftsman.
Products of Son Dong Handicraft Village account for over 50% of the national market share of statues and worshiping items painted in gilded lacquer, silver gilded with gold color, serving the spiritual and cultural life of people. It is worth mentioning that customers who need to make any worship statues, the workmen here can do it immediately without available samples.
8, Quat Dong hand-embroidered picture village (Hanoi)
About 25 kilometers from the center of Hanoi, Quat Dong village (Thuong Tin district, Hanoi) attracts tourists from many regions not only by the beautiful natural landscape, but also by the uniqueness hidden in each hand-embroidered picture.
The work of embroidery does not require a lot of strength but requires a lot of techniques, especially skillful hands with the elaboration of each needle and the delicate perception of color, a sensitive soul, into every detail in order to create a lively, delicate, harmonious work. Depending on the difficulty and size, a product may take from several days to several months to complete.
From the 17th century, Quat Dong hand-embroidered village has appeared, artisans with skillful hands distilled the most quintessential things of the nation to create brilliant and vivid works. At the entrance of Quat Dong village is the temple of Le Cong Hanh, the ancestor of the village's embroidery and also the embroidery ancestor of the whole country.
So far, Quat Dong hand-embroidered products still have their own reputation in the market. It cannot be mixed into the series of industrial embroidery products by the uniqueness, by the affection, the enthusiasm that every artisan has embodied in every needle and thread.
9, Tay Ho – Phu Vang conical hat village (Thua Thien – Hue province)
Tay Ho trade village is located on Nhu Y river, in Phu Ho commune, Phu Vang district, Thua Thien – Hue province.
The "non bai tho" (poetic conical hats) of Hue are made from young leaves of the dandelion tree (or coconut leaves, oak leaves) after picking in the forest and dried to reach the golden yellow like the bright summer sunshines. Tay Ho leaf cone is famous for its thinness, bar, background color and needle line, even and beautiful stitches. Therefore, conical hats here have took many consumers' love. Not only famous for the poem leaves hats, the people of Tay Ho village are also very skillful when creating durable, beautiful, cool, double-layer embankment hats.
Traditional conical hat making village was formed hundreds of years ago and the 'poetic conical hats' appeared faround the late 1950s – early 1960s of the twentieth century.
Walking around Tay Ho village, tourists will not only experience and immerse their souls into the rice fields, rustic villages, the simple and rustic natural scenery typical of the ancient capital and learn about the process of making conical hats.
Hue conical hats not only help women to cover their heads to avoid the rain, the sun but also contribute to making the special beauty of Vietnamese woman. They are considered to be an indispensable accessory for a charming, flowing long dress like "ao dai"
Hue conical hat village has retained the traditional value of Hue conical hat and Vietnamese cultural value in particular. Along with that, the craftsmen of the conical village are increasingly unique in design and color with interesting ideas, beautiful verses, and landscapes are also presented on each leaf hat.
10, Tuong Binh Hiep lacquer painting village (Binh Duong province)
Tuong Binh Hiep painting village, located 7km to the north of Thu Dau Mot city is the most famous lacquer painting village in Binh Duong province
Tuong Binh Hiep lacquer products have long been famous throughout the country for their quality and gentle craftsmanship in Asian style. Products in Tuong Binh Hiep lacquer village include many types such as: lacquer painting, flat paint, emboss painting, gold and silver forms, etc.
Around the middle of the 18th century, lacquer painters from the Central region during the migration process brought paint jobs to the country of Dong Nai and Gia Dinh, including Tuong Binh Hiep. Initially, the village only had a few households specializing in making lacquer, gilding and then paint. Later, Tuong Binh Hiep craft village gradually developed, and the lacquer worker here became famous throughout the Southern region of the province.
At the same time, lacquer craft in Tuong Binh Hiep was passed down through the generations as dedicated artisans opened vocational training classes. The appearance of Thanh Le lacquer workshop in the 1950s marked a new development step for Tuong Binh Hiep lacquer village. From here, the village has many talented and excellent artisans such as Thai Van Ngon, Ngo Tu Sam, Truong Van Cang, Tran Van Nam, who have greatly contributed to promoting the development of craft villages.
Experiencing ups and downs of history, Tuong Binh Hiep lacquer village in Binh Duong province still bears the traditional cultural identity, stands with the profession and continues to develop. Visiting the village today, visitors will have the opportunity to observe each stage to create an elaborate and beautiful lacquer painting.
Here are the Top 10 traditional craft villages famous for unique and sophisticated products that I want to share with you. I hope you can come to visit at least 2 – 3 craft villages once and can better understand the history, the culture and the people of Vietnam.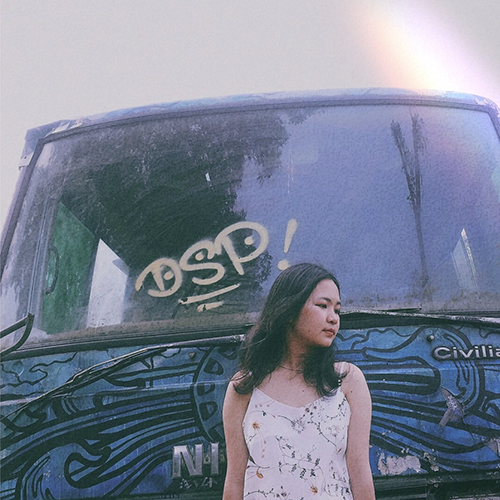 A wanderlust who is into photography and has special interest in chasing clouds and admiring the sky. Hoping that someday I will be able to see the sky from every part of the world.

Alida - Travel writer