Con Dao is regarded as Vietnam's the historical relic matching with turbulent past of the nation. In the past, when referring to Con Dao, everyone will think about awesome prison. However, today, Con Dao becomes an attractive destination for island tourism, one of the nicest island attracts people by pristine and grandiose beauty. Pure blue sea, smooth white sand and cool sea-breeze makes both Vietnamese and international tourists fascinated right from the first moment.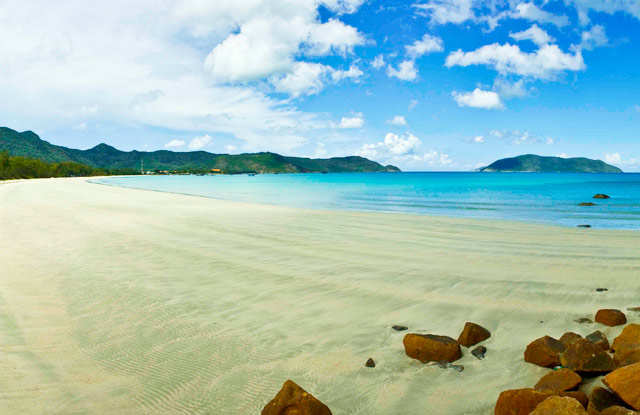 1. To explore Con Dao prison
In the period of 1862 to 1975, Con Dao was known as a cruel prison for those against French colonialism and the former Saigon regime. When dropping in Con Dao prison, tourists can learn about history of Con Dao and feel losses revolutionary soldiers had to overcome in the past as well. You are recommended to visit Con Dao museum which remains relics identified with magnanimous past of Con Dao. Coming here, you will watch objects, documents kept during the period of French domination. Besides, visitors can study life, brutal torture, living space of imprisoned soldiers in Phu Son prison, Phu Hai Con Dao or Tiger Cage historical relic complex where Ms. Vo Thi Sau ( the Vietnamese national heroine) was in captivity.
2. To pay a visit to Lady Phi Yen temple
Nestled in the bank of Ot stream, Lady Phi Yen temple also called An Son temple has been scared place in the spirit of local people. According to the Con Dao's people, this holy temple is associated with sorrowful story about the beautiful and talent, virtuous, patriotic woman. After she died, local people built the temple to worship her. Through ups and downs of history, the temple had been restored and it now draws numerous travellers every year.
3. To visit revolutionary heroine Vo Thi Sau's grave at night-12 o'clock 
A highlight of the trip to Con Dao is to visit Vo Thi Sau's grave. People always impart an interesting experience to visit at 12 P.M . It is different to our thought that the site becomes quiet, deserted at night; in contrast, so many tourists still come here even late at night. Furthermore, stores in the cemetery turn on bright lights to sell offering for visitors all night.
4. To ride bicycle along seashore-road
It can be said that Con Dao beauty is perfect because it luckily gathers all best conditions to be an extremely beautiful beach. To fully experience amazing seascape as well as enjoy fresh air in the island, you can hike a bike and ride along Con Dao's coastal way. Since, you may be passionately enchanted by pure and  natural landscape here, you will admire vast blue sea and imposing mountains, breathe cool sea wind, wallow in fresh space at the same time that certainly remains spectacular picture and unforgettable feeling in your mind forever.
5. To scuba-dive for enjoying coral reefs
Con Dao comprises various islets such as Bay Canh, Tai, Trung, Trac, Tre, Cau…which are home to coral reefs with the highest density in Vietnam; therefore, there is no doubt here is really ideal place for exploring particularly interesting marine world activities. Now, tourists can choose a variety of snorkeling tours, you can ask the hotel's receptionist to help for service. Averagely, the price of snorkeling tour including necessary equipment is over 500.000 VND/ 1 person.
6. To discover Ong Dung beach
Ong Dung is considered as the nice and great beach of Ong Dung forest located in Con Dao national park. When you travel to Ong Dung beach, not only you can indulge in soaking up warm, blue water around year but also immerse yourself  in colorful natural life with a wide range of rare plants and animals. Fascinatingly, you will feel so excited instead of being tired as you have to cross forest path about one hour to reach to Ong Dung beach for the following reason: you will see fish freely swimming on pure blue water near beach or enjoy the stunning coral reefs, how exciting they are! Blue sea, white sand, cool air seems to warmly salute you. Why don't you leave stress, pressure, difficulty behind and absolutely enjoy restful time here?
7. To fish at night
Con Dao in South China sea with plentiful supplies of seafood promises to be an enjoyable voyage to piscatorial fishers. The great location to fish is in Nhat beach where is famous for "Love point" of Con Dao. Experienced fishermen say that: "you should go fishing when night falls down, yet how much fish, big or small fish can you catch that bases on weather condition and water". Surely, Con Dao with countless kinds and colors coral reefs living with marine organisms creates extremely rich and seductive undersea. Using the specialized equipment, floating on boat and together pulling unexpected big fish will be wonderful experience which you can find nowhere else.
8. To tour in Bay Canh island
Being placed in the East of Con Dao, Bay Canh island is covered by primary and mangrove forests of tropical island ecosystem with 882 plant and nearly 150 animal species. When travelling here, tourists have excellent chances to dive for watching coral reefs, fish, as well as other organisms living on coral reefs. Bay Canh beach is long, unspoiled, simply and closely beautiful will make you relaxed and completely comfortable. Moreover, you may collect natural gifts with fancy shapes such as shells of snail, coral…
9. To watch turtle lay eggs
Covering an area of 14000 ha waters, Con Dao has a very large population of sea turtles. In the breeding season every year (from April to September), thousands of sea turtles move to sandy beaches to lay eggs. To catch in own-eyes and record time of tortoise digging nest, laying egg definitely give absorbing seconds to you.
10. Relax in a Con Dao's resort
The tranquil and fresh life in Con Dao will be special right place for those people who want to relax in luxurious setting, experience slow living, escape from bustle and hustle daily life.Wonderfully, you will have a lot of choices for renting modern hotels or beautiful resorts in Con Dao to meet your demand already.