Laos and Cambodia are two neighboring countries with many similarities in culture and cuisine. However, each country has unique characteristics that can not be confused with any others. In Cambodia Laos Itinerary, you should not ignore to discover the cuisine, especially the familiar street food of local people here. Surely it will help you have a memorable trip to these two countries of Indochina.
Cambodia's best foods in Cambodia Laos Itinerary
Not only be the country of the famous Angkor, Cambodian cuisine is also extremely colorful and attractive. If you have ever tried, you will be impressed by the unique taste of this country. Here is the list of 8 dishes that tourists should try when visiting this beautiful land.
Bai Sach chrouk
This is the food that is always available on the streets of Cambodia early in the morning. This is a simple and very popular dish in this country. Bai Sach chrouk consists of white rice and thinly sliced pork, marinated in garlic or coconut milk. After that, the meat is grilled on charcoal so that it is slowly permeable and has a naturally sweet taste. Accompany that soup bowl is cooked from chicken, a small bowl of  radish pickled ginger and fresh cucumber.
Amok fish
Amok is a very popular dish in Cambodia with full of the taste of this country. It has the taste similar to the dish of Vietnam. Amok is made from coconut milk, tamarind juice, prohok. All are wrapped in a banana leaf. You can enjoy different types of amok such as amok fish, amok chicken,… Amok fish is usually made from catfish or snakehead. Grated beef, sugar and eggs are mixed into a mixture, then cooked, then wrapped fillet with the mixture, some slok Ngor, a local herb and then wrapped Banana leaves and steamed.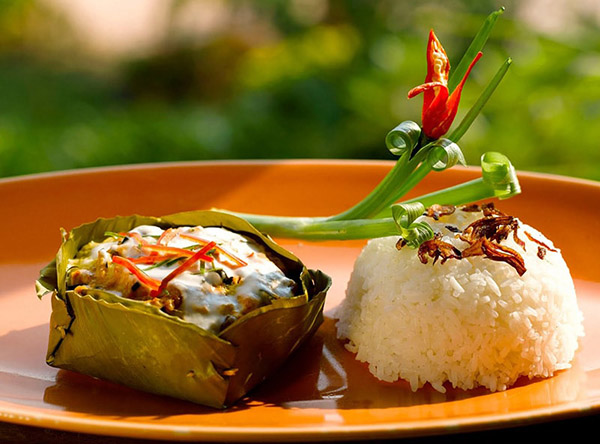 Khmer red curry
Khmer red curry is usually made from beef, chicken or fish, eggplant, green beans, potatoes, fresh coconut milk, citronella and very little chilli. Less spicy than the curry of neighboring Thailand, it will be easier to eat. This dish is often eaten with bread – influenced from the French and is served at Cambodian special occasions such as weddings, family gatherings and religious holidays such as Pchum Ben, or ancestral date – the occasion for Cambodian people to make dishes to offer the monks on behalf of the deceased.
Lap Khmer
Lap is the name of the Khmer beef salad. Its ingredients include sliced beef. They are marinated with lemon juice, mixed with lemongrass, garlic, onions, fish sauce and herbs, and of course, lots of fresh chilies. This is a very popular dish of Cambodian, especially of Cambodian men.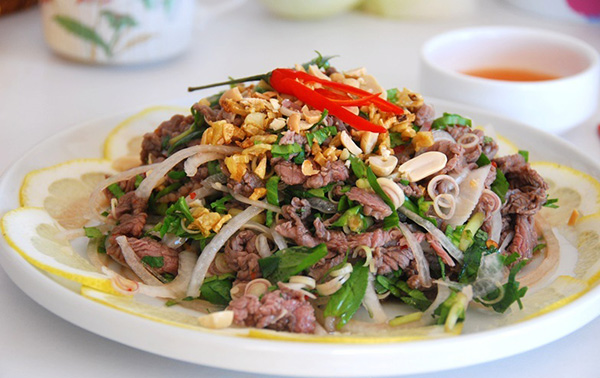 Nom banh chok
Nom banh chok is a very popular dish in Cambodia, so in English it is simply called Khmer Noodle (Khmer noodles). As a typical breakfast snack, visitors will find this dish sold on the street side of the women.  Nom banh chok consists of rice noodles with water made from traditional spices, banana, fresh mint, cucumber and other green vegetables.
Kdăm Chaa (fried crab)
Fried fish is a specialty dish in coastal towns in Cambodia. An indispensable spice of this dish is the Kampot pepper. Kampot is a famous spice in the world of gourmet cuisine, although visitors can find this pepper in dry form but can only enjoy the unique flavor of these green peppers. in Cambodia. Once you have the opportunity to go to the coastal areas of Cambodia, do not overlook the taste of fried crab with garlic and pepper.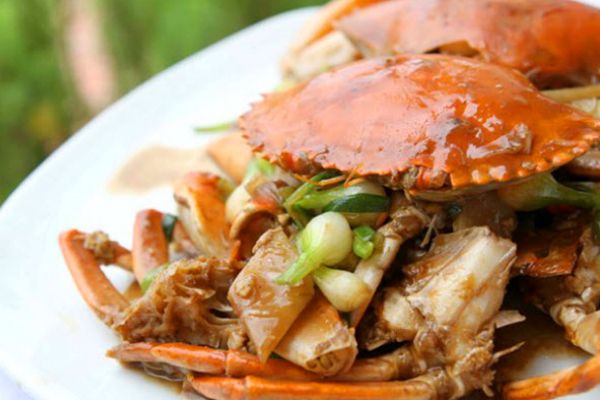 Grilled beef with ant
Insects are a very ordinary dish in Cambodia, you will find all kinds of insects on the menu at the restaurant in this country. And one of the most tempting dishes you should try is the fried bean with beef and basil. Ants with sizes ranging from small to invisible or about 1 inch long will be fried together with ginger, citronella, garlic, shallots, and sliced beef. The dish has a unique taste due to its subtle sour taste and the penetration of beef. This dish is usually served with rice.
Ang dtray – meuk (grilled squid)
In coastal towns such as Sihanoukville and Kep, visitors will easily see seafood vendors, carrying small charcoal on their shoulders and serving tourists right on the beach. Squid will be marinated with fish sauce or lemon juice, then be roasted on wooden skewers and served with a typical Cambodian sauce, made from fresh chili, garlic, fish sauce, sugar, and lime juice.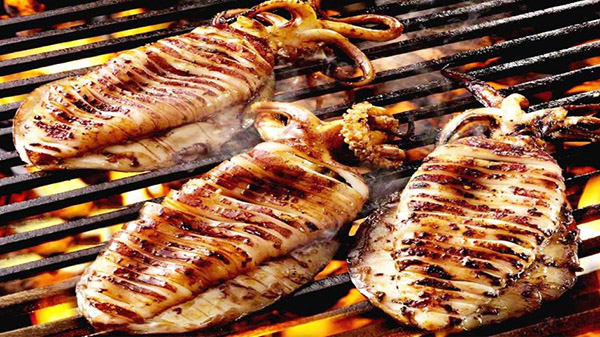 Discover Laos's Special cuisine
Laos is a country best known for its festivals and culinary culture. If you set foot on this land, you definitely do not miss 8 famous dishes of this country festival.
Sai Oua
Sai Oua is actually sausage of this country with the main ingredient is pork and popular spices such as lemon, garlic, chili … to increase the deliciousness and attractive for the dish. With this dish, the pork will be ground to a very small until it is smooth, then mixed with the spices to soak it, then put in the pig's heart, depending on the preferences of each person that can. Boiled or fried are very delicious. Sai Oua is one of the most attractive dishes in Laos that you should not miss.
Laos sticky rice
Lao sticky rice is a very fragrant delicious rice. the rice grain is elongated shape and white but not opaque like glutinous rice in other regions, so sticky Laos also has its own characteristics. The rice is stick, but not sticky hands, after the people here cooked in hot bamboo basket so this dish have a very attractive aroma. With sticky rice, Laos people taste it  with grilled chicken and boiled vegetable with a little "cheo boong" – a unique sauce of Lao people that are extremely strange and delicious
Sindad
Sindad is a special dish of Lao people, the perfect combination of grilled and hot pot thanks to the special design of the float. In the middle of the pot, it has a round griddle, around the tray is hotpot depending on the preferences of each person. You are able to enjoy the hot pot or enjoy the flavor of the grill. Sindad is very rich from meats to vegetables and fruits for the diners to choose from. This is also considered one of the best dishes in Laos.
Or Lam
Like vegetables, soup in many other countries, Or Lam is a delicacy made from top-quality night-time vegetables to form a dense, juicy mixture that is incredibly delicious and rich in nutrients. Or lam is also the main dish of many families in Laos. The main ingredients for making this dish are usually vegetables, legumes, black fungus, dried gourd, and indispensable chili to create a pungent taste for the dish. Many visitors come here to enjoy the taste of this simple but attractive dish.
Savannakhet chicken
Savannakhet Chicken is one of the most popular delicacies in Laos that many visitors arrive here to enjoy it. A delicious and mouth-watering taste make it unforgettable. Chicken to make the brand of Savannakhet chicken must be fed rice, so its meat is fragrant, firm but sweet and soft. So that when it's grilled on the charcoal, it will have a charming aroma and crispy crustacean. The chicken's meat is sweet to the bone. When being eaten with white rice and "cheo deck", it has a delicious ecstasy can't forget.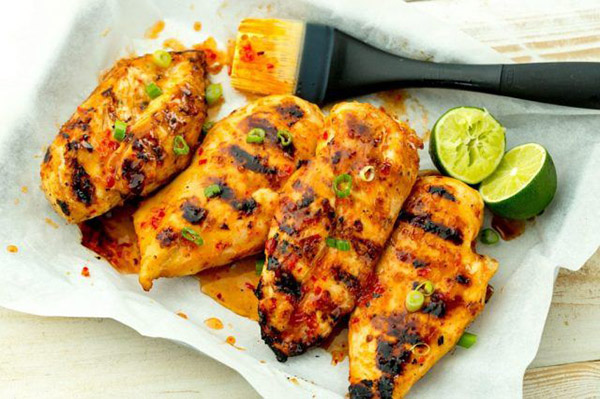 Khausoy
Khausoy is a famous dish in Laos with raw materials and very simple processing but still attractive. So whoever has tried Khausoy cannot forget the taste of it. At first sight, Khausoy will be similar to ''Phở'' of Vietnam but not really. This dish does not need to use stewed water. Just boil water, filter the noodles until cooked, then add vegetables and finally Khausoy with a little pepper on top of it. Khausoy is a dish made from pork minced and finely ground with garlic, tomatoes, and spices characteristic to make the unique flavor of the dish.
Khao Jee
Khao Jee is a street food of Lao people that are enjoyed by many tourists because it is fast, convenient and extremely delicious food. Khao Jee is actually burgers, tomatoes, cheese with a lot of chili sauce. The crust is heated and crunchy to eat. You can easily feel the crunchy crunch of cake in the sweet taste of meat, tomatoes and the spice of hot pepper. It's really fascinating.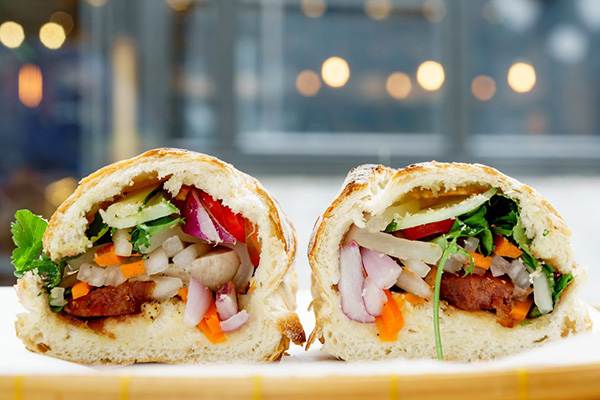 Lap Laos
Lap is a typical dish of Laos that is considered "national real" of this country. Not only the indigenous people attach importance to it but also many international friends love it. The main ingredient for this dish is meat such as beef, chicken or pork, and then mixed with minced liver along with other spices such as lime juice, chili, galangal, and auditory. All make fragrant aroma, sour extremely attractive. Lap is often eaten with vegetables to create more coolness for the dish. If you have the opportunity to visit the country " a million elephants" do not forget to enjoy this best specialty in Laos.
Culinary is a part of life and makes the uniqueness of each country. Hope that through the Cambodia Laos Itinerary, you will be impressed with the food as well as these two countries.