The peak season for sea vacation is often in summer. But do you know that some beaches bring a natural beauty without the hustle and bustle around in dry season, especially in February? In this time, those top 5 best beaches in Vietnam become more beautiful than ever…
Top 5 Best Beaches In Vietnam Look Like Paradise In February
1.       Phu Quoc
2.       Danang – My Khe Beach
3.       Con Dao
4.       Quy Nhon
5.       Ninh Van
1. Phu Quoc
Located in the southern coast of the country, Phu Quoc is the largest island in Vietnam, it is also the largest of 22 islands in this population. Crystal clear water, peaceful streams and many unique seafood are great advantages of Phu Quoc tourism.
In general, you can be assured of Phu Quoc tourism at any time of the year because the annual average temperature is around 28 degrees.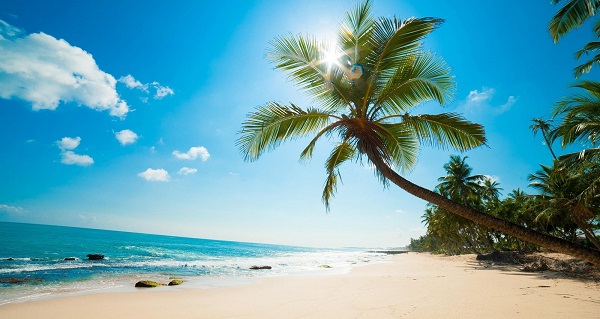 The island is still not overrun by development so it is the room for exploration and escaping. The majority of Phu Quoc Island is dedicated to National Park and protected marine environment, providing a memorable experience, with plenty of exciting activities and places to visit.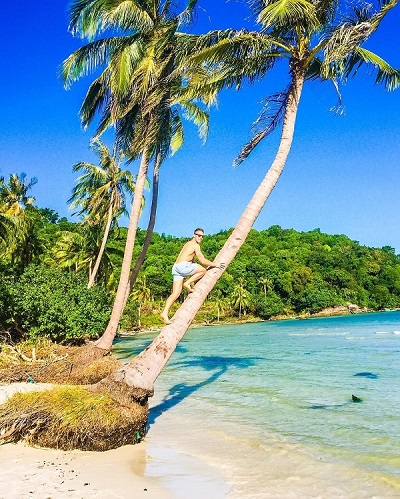 When you are in Phu Quoc, do not forget to do some wonderful things like staying out in the sun on the long white sandy beaches and playing under blue water, walking in the night market, visiting the scenic spots such as Dinh Cau, Sao Beach, Long beach, myrtle forest, pepper garden, fish sauce production facility. Enjoying fresh seafood and visiting Phu Quoc prison are also need for your trip.
2. Danang – My Khe Beach
Located near Da Nang city center, My Khe beach is one of the best attractive beaches for both local people and tourists, especially in the summer holiday. Moreover, in 2005, it is voted as one of six most charming beaches in the planet by the Forbes. With 900 m in length and large space, nice sunrise view and the good service serving by the hospitable locals, My Khe beach is really the best choice for you when visiting the central Vietnam.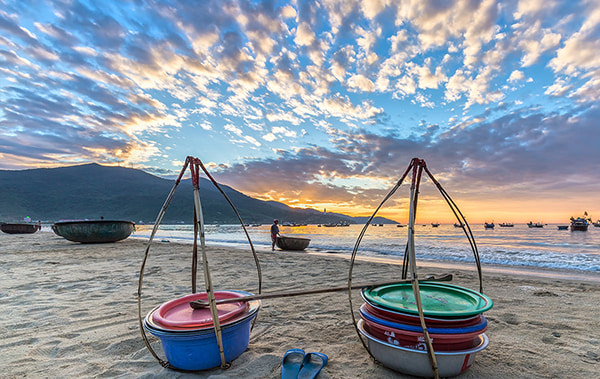 Sea water in My Khe beach is cool (around 25 Celsius Degrees) with little wave so visitors can bath all the year, especially from May to September each year. The lack of large wave, the cool water, the good service make the beach a safe place for both adults and children. Looking from above, My Khe is fascinating by the blue color stretching to the horizon. Especially at the sunsets, it put on a new color which is quieter, creating a beautiful scene.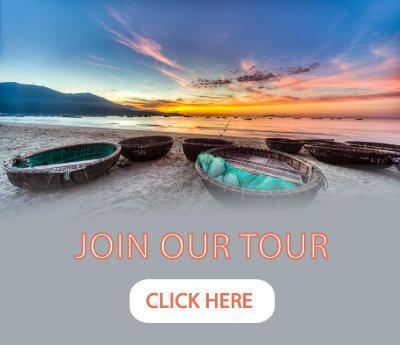 3. Con Dao
Con Dao – the tourist destination attracts both domestic and foreign tourists, is located in Ba Ria – Vung Tau. Con Dao Island is known for its crystal clear beaches, white sand, pristine beaches, fresh seafood, sincerely local, especially it is also a historic landmark of Vietnam.
The weather in February in Con Dao might be windy with large waves, but these things will not affect too much on the beauty of this amazing place.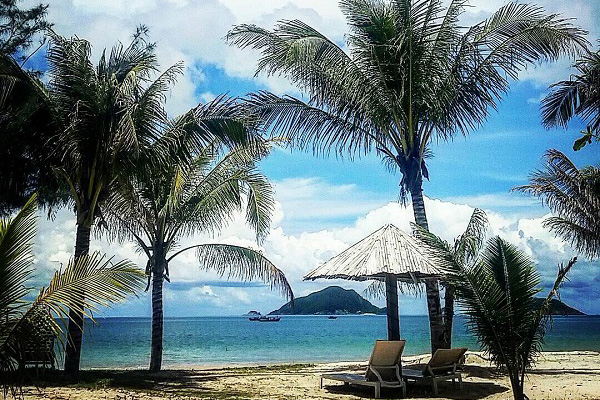 On the main island, you cannot ignore Dam Trau beach which has white sand as cotton, mountains embrace the beach. Especially, the beach on the island always has a perfect combination of blue mountains with rocky undulating and white sandy beaches.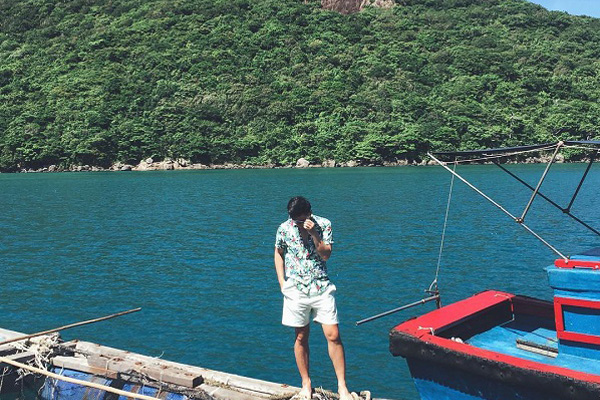 You should hire canoes to visit Hon Bay Canh, the second largest island after Con Dao. It has mangroves and the beautiful coast. However, it is no food there, you have to carry food if you intend to stay for all day.

4. Quy Nhon
Quy Nhon is still neglected because tourism development has not been as strong as Da Nang, Nha Trang, and Phan Thiet. The coastal city in recent years has been known more than ever partly thanks to direct flights from Hanoi and HCM City. Quy Nhon brings a peaceful beauty of nature and hospitality people.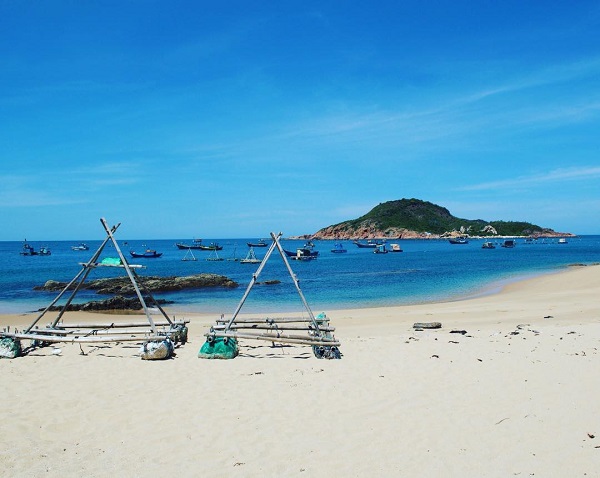 Quy Nhon had several attractive tourist destinations for visitors like Twin Towers, Long Son Pagoda, Long Khanh Pagoda, Eo Gio, Ganh Rang – Tien Sa, Thi Nai Bridge, Hon Kho, Ky Co beach… Quy Nhon had plenty of catering for tourists near the beach. Specialties may be mentioned as "bánh ít lá gai", "rượu bầu đá", fish ball noodles, king crab, spring rolls, "nem chợ Huyện", the fresh and dried seafood… Quy Nhon is considered as one of the cities with the most delicious fresh seafood in South Central. On Xuan Dieu Street stretching you can find a lot of dishes from seafood to different kinds of local noodle and sticky rice. All of those are very delicious and affordable.
You should go to Quy Nhon in May 2-8 of the year, because this time the weather in Quy Nhon is quite stable, sunny and no hurricanes, which is suitable for traveling Vietnam beach holiday.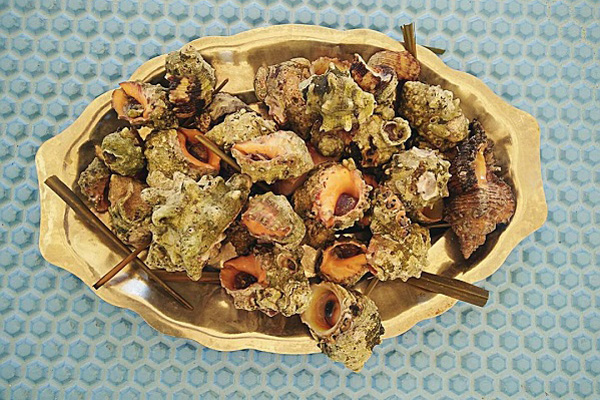 5. Ninh Van Bay
Ninh Van Bay (Khanh Hoa) is a "hidden place" because it is almost literally separated from the world outside. Although tourism has been exploited by the high-end resorts, but Ninh Van space retains wild character. Currently, Ninh Van bay has become an ideal destination for vacations, honeymoon.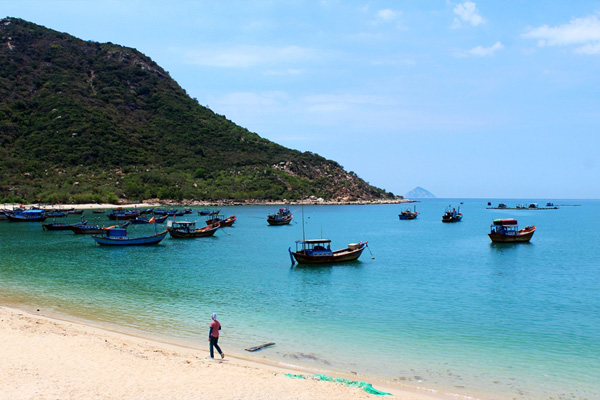 If Nha Trang is located in the top of the world's most beautiful bays, the Ninh Van is a pure beautiful location of Nha Trang. Many people compare Ninh Van with crystal sand when the waves spill into the sea and then return, leaving droplets sparkling in the sunlight.
People going to Ninh Van usually are those who love nature, want to relax and run away in a short period of time. It is completely separate from the town and had no leisure services noisily. Visitors can explore a rainforest or immerse in the cool waters.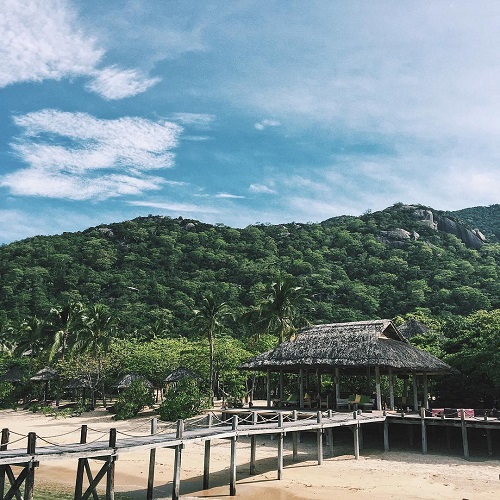 Nature in Ninh Van gives people a real sense of intimacy and truly relax because of scented of flowers, tropical plants and the sound of leaves rustling, whispering of sea waves. Leave the rooms, just a few steps away, visitors can touch or see the waves of ancient trees. So, you are "hidden" without feeling lonely. After days of hard working, where people need to balance their life and learn lessons from nature.