Mekong Delta land is a fertile alluvial region, which is widely known to have  various types of fresh fruits all year-round. In the past, we could only see those markets selling vegetables, fruits, and some plain groceries. However, the quality and the quantity have changed much to meet the needs of more people.
And that is why the Mekong Delta or the Southwest region is tourist attraction for not only domestic tourists but also foreigners.
#1: Cai Rang floating market (Can Tho province)
Opening time: 4-5 a.m. to 8-9 a.m.
Goods: Due to the diverse shopping needs of the market, the market not only has fruit boats and agricultural products but also many unique services such as coffee, floating pubs, pho or noodles… An exciting thing that may attract your attention right away when you arrive here is that vendors these markets do not have signs to tell people what they sell. Instead, they hang the products for sale on a pole, which is called "cay beo" by local people. You can notice this in most floating markets in the Southwest of Vietnam.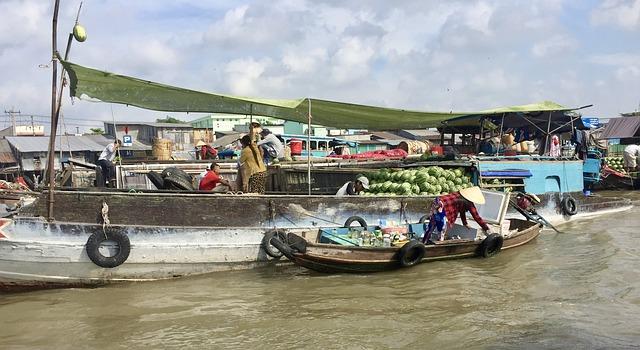 Activities: The boat will take you around Cai Rang market to buy seasonal products gathered directly from the garden. You can also have the chance to enjoy the local food here, besides you will be immersed with the bustling atmosphere of the floating market and learn people's lifestyle here by chatting with friendly vendors. Many people who had come here told me that the salespeople there were willing to tell lots of thing about the trading traditions of which they are very proud, with stunning smiles.
Special features: Cai Rang floating market cultural space integrates many types of intangible cultural heritage: social practices and beliefs, folk knowledge, folk performing arts (folk songs)… and cultural relics, which are still being preserved and handed down.
Transportation: If you go there with your group, you can rent a private boat, a boat can carry from 10 to 12 people with prices from 500,000 VND to 800,000 VND depending on your bargaining ability.
In general, it will take about 30 minutes to take a boat from the pier to Cai Rang floating market.
#2: Phung Hiep floating market (Hau Giang province)
Open time: We cannot know exactly the time when all the vendors gather, but it starts very early in the morning apparently from 4-5 a.m.
Goods: As other floating market, vendors here sell almost all kinds of merchandise, from fruits, agricultural products to household appliances, handicrafts, seafood, et cetera. Especially, there is also a "snakes market" which provides snakes, turtles, birds, squirrels, varanies all year round for sale.  Besides, the dinghy, small boats sell traditional dishes such as Banh cuon, Pho and Banh xeo which are typical dishes of Southern cuisine. You can observe the bright red of rambutan, yellow nursery of the mango and the sweet taste of durian, those are all fresh fruits picked during the day to catch the early market. Overlooking the whole river is like a colorful shimmer of silk. All are delicious fruit specialties of the Southwest region that you can buy as gifts for friends and relatives at very affordable prices.
Activities: Tourists often come to observe the dynamic and ebullient selling and purchasing atmosphere with wide range of goods. Besides buying for yourselves favourite things, you can also discover the cuisine of Southern Vietnam here with many traditional dishes.
Special features: This floating market is said to have a more convenient transportation than others. And this is one of the most long-lasting floating markets in Vietnam with large scale of operation. The market was formed in 1915 at Nga Bay Phung Hiep, the center of the biggest waterway transport hub in the region.
Transportation: As usual, the best way to have a overview of this place is to rent a boat and let the boatman lead you to significant destinations professionally.
#3: Cai Be floating market (Tien Giang province)
Open time: From early morning (4 a.m.) to 8 p.m.
Goods: This market contains various types of goods as many other markets. However, Cai Be floating market is most famous for specialized fresh fruits such as green skin grapefruit, Cai Be tangerine with inexpensive price.
Activities:  You can purchase fresh fruits, agricultural products. You can also buy a package ticket to be able to visit the floating market, traditional villages, orchards and folk songs performances.
If you love the noisy, crowded, want to see the bustling trading activities of the people of the river and enjoy the sunrise, come here in the early morning around 5 a.m.. But for those who love the peaceful, quiet space you can come here at around 4-5 p.m. to admire the sunset on the river, it is considered the best moment at Cai Be Floating Market.
Special features: It is adjacent to the three provinces of Tien Giang, Ben Tre and Vinh Long. This place is also known to export fruits to other provinces such as Vinh Long, Ho Chi Minh City, Ca Mau.
Transportation: You can rent a boat to Cai Be floating market with about 10 to 15 seats, the price ranges from 500,000 to 800,000 VND. If you want to more interesting experience here, you can rent a Ba la dinghy with cheaper price from 150,000 to 200,000 VND for 3-5 seats. 
#4: Vinh Thuan floating market (Kien Giang province)
Open time: 4 a.m. – 6 p.m.
Goods: The items here are mainly agricultural products, such as gourds, cucumbers, pineapple. As we can gather, many of them are imported from other areas. This market also have many kinds of fish for sale if you are a fan of seafood.
Activities: You can choose to be a part of all the exchange and trades here by being a customers to the lovely salespeople here, or you can just simply observe those activities happening around to have deeper insights into this special kind of trading and fill your blank stomach with some local dishes.
Special features: The special thing in this floating market is that the goods are loaded on the vehicles, the commercial lake does not offer or hang the goods dangling from the trees placed in front of the boats like Cai Rang floating market, but customers often know which position, which boats of which goods to sell … And they find each other, the quick trade exchange takes place as a contract before.
Transportation: You can travel around by boats and ferries whose owners are always willing to welcome the tourists.
#5: Long Xuyen floating market (An Giang province)
Open time: 5 a.m.
Goods: Long Xuyen floating market has the same characteristics as many other floating markets in the West of Southern Vietnam, but there is  a special feature is that while most other floating markets mainly sell fruits, Long Xuyen floating market specializes in fresh vegetables and tubers.
Activities: You can try out many kinds of dishes for breakfast here like pho, "Bun rieu cua" and then enjoy a cup of iced tea with condensed milk. Then travel around and admire the beauty and dynamic atmosphere of Long Xuyen floating market.
Special features:  Another feature is that Long Xuyen floating market still has few tourists visiting, which makes Long Xuyen floating market not commercialized by tourism, very suitable for those who love to discover new interesting things. without being bored. There are also many people have stick to this career as a vendors for a long time. A man named Hoang once said that "From a young age, I followed my father and mother to do business in the floating market, then as I grow up  I started to riding boats to serve tourists."
Transportation: You will also have the amazing experience visiting this place by boats or ferries as in many floating markets with approximately the same price.

Trip to Southern Vietnam: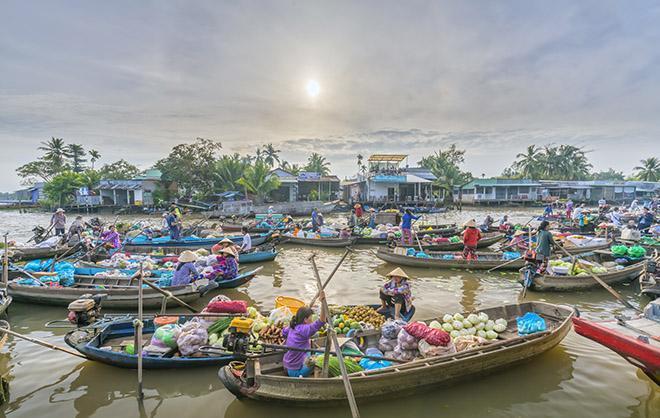 Essential South Package 6 days
Essential south package 6 days will be really wonderful when you discover the most bustling city in Vietnam. Visit Cu Chi tunnels – the historical place as well as some famous temple in the South. Move to the Mekong Delta to see amazing tributaries hidden among vibrant tropical fruit gardens, bustling floating markets that offer a cornucopia of items, and acres of emerald rice fields.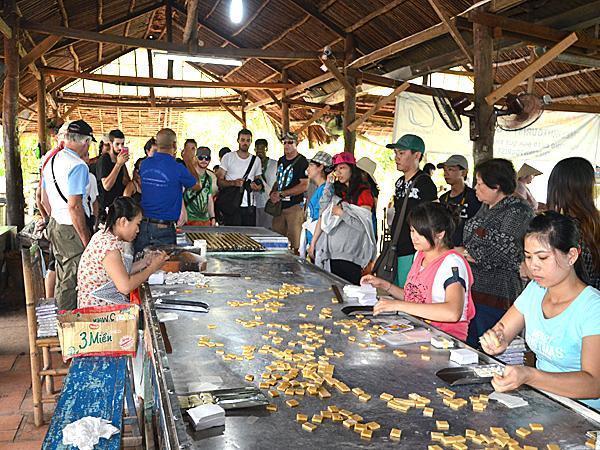 This two days trip, just give you a glancing for the local life of Mekong Delta. It is not enough time to see much , because life in the Mekong Delta revolves much around the river, and many of the villages are often accessible by rivers and canals rather than by road. Learn, relax & enjoy to touching on the Amazing Waterway on Mekong magic with Minh Viet home stay.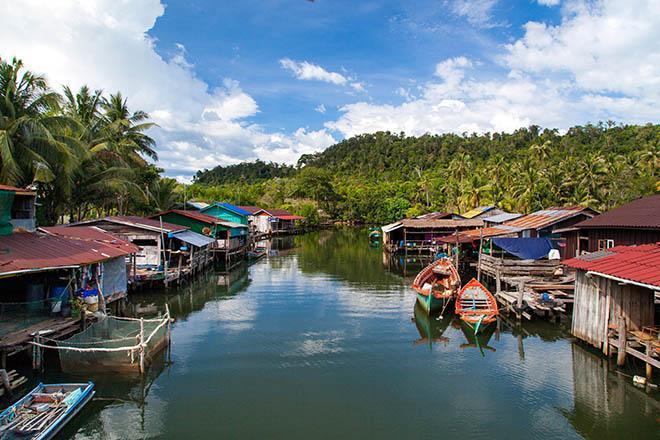 The Best South of Vietnam and Cambodia 7 Days 6 Nights
This 7-day package tour will offer you the sightseeing the best highlight of Vietnam and Cambodia. Specifically, you will discover the symbols of the biggest and busiest city of Ho Chi Minh. You also learn more about our Vietnam war by discovering the most complicated tunnels system in Cu Chi to know how we flight the invader. Adidtionally, a quick sightseeing to Mekong delta to enjoy the local atmosphere and know more about heir culture will be a highlight of this package. Coming to Cambodia, it offers you the visiting to Angkor complex, which cannot be missed while travelling to this small country.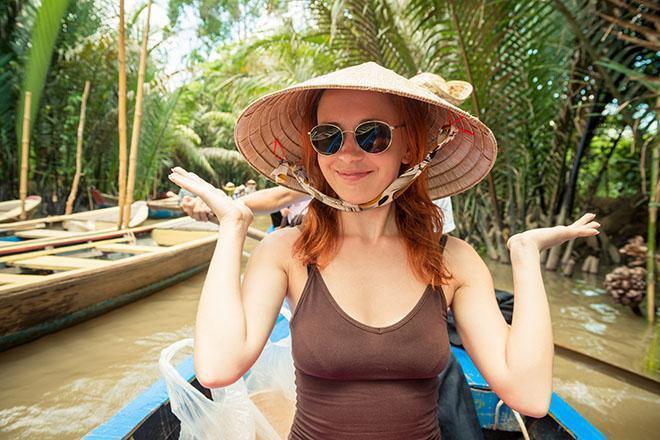 North and South of Vietnam Package 7 Days 6 Nights
Do you have some ideas for your holiday? If no, an ideal holiday in the North and the South of Vietnam is such a great choice for yours. You will be back to the old time with historical highlights in Hanoi and how exciting it is when enjoying cyclo around the Hanoi Capital City. It is really cool that you can spend your valuable time on cruise in Ha Long Bay to contemplate the splendid landscapes. To experience lively lifestyles, Ho Chi Minh is such a good destination for your trip. Everything will be wonderful if you pay your energy to discover Vietnamese war in Cu Chi tunnels system. And the unique atmosphere around Mekong River where you relax on boat to float to, will not make you disappointed. Let's go to Vietnam!
Or more Vietnam Tours.