Thailand is no doubt one of the most popular travel destinations in Asia and visiting floating market is something you shouldn't miss during your trip to Thailand. Not only crowded shopping malls or night markets in city center, but also local floating markets are tourist attraction and culture highlight of Thailand. Around Bangkok you can find the floating markets which are always full of tourists. They offer variety of seafood, fruit,vegetables and many other things… In this post Travel Sense Asia Team would like to recommend you Top 5 Floating Markets around Bangkok that you should visit.
Damnoen Saduak
Address: Damnoen Saduak, Ratchaburi
Opening hours: Sat & Sun from 7-12h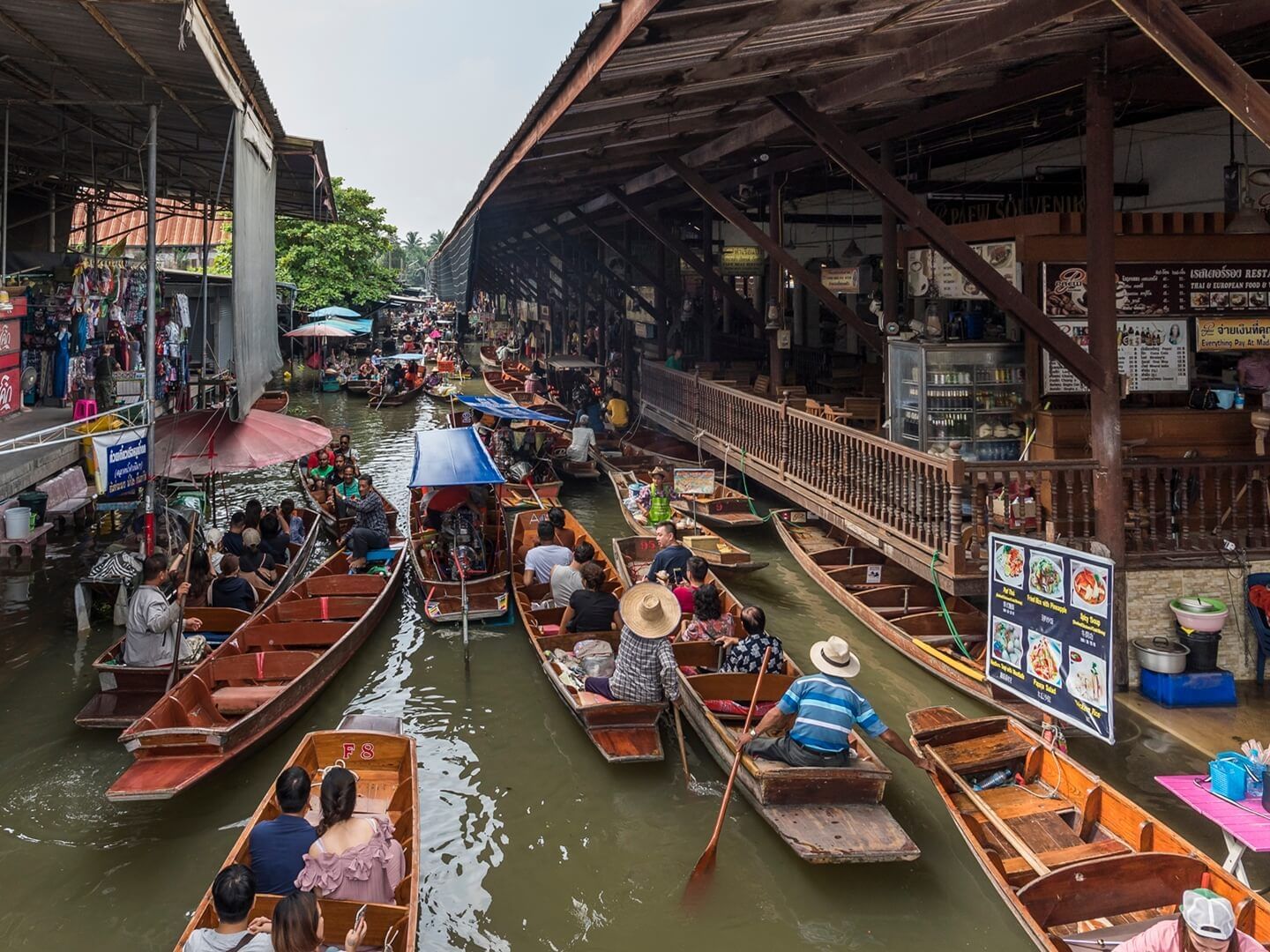 This is one of the oldest floating markets in Thailand. At the weekend, hundreds of merchants in boats gather in the market area from the early morning till noon. Local vendors float along narrow canal and introduce to tourists what they sell. Their boats are full of colourful fruit and vegetables and plenty of tasty Thai food to try from freshly-made coconut ice cream to boat noodles etc. On the canal bank you can also find busy stalls selling souvenirs and other things.
Damnoen Saduak is only an hour transfer from Bangkok, so it is always crowded and full of tourists. You can walk around or take a boat ride into the market to enjoy beautiful scenery around the canal and take pictures of this lively floating market.
Amphawa
Address: Amphawa, Samut Songkhram
Opening hours: Fri to Sun from 12-20h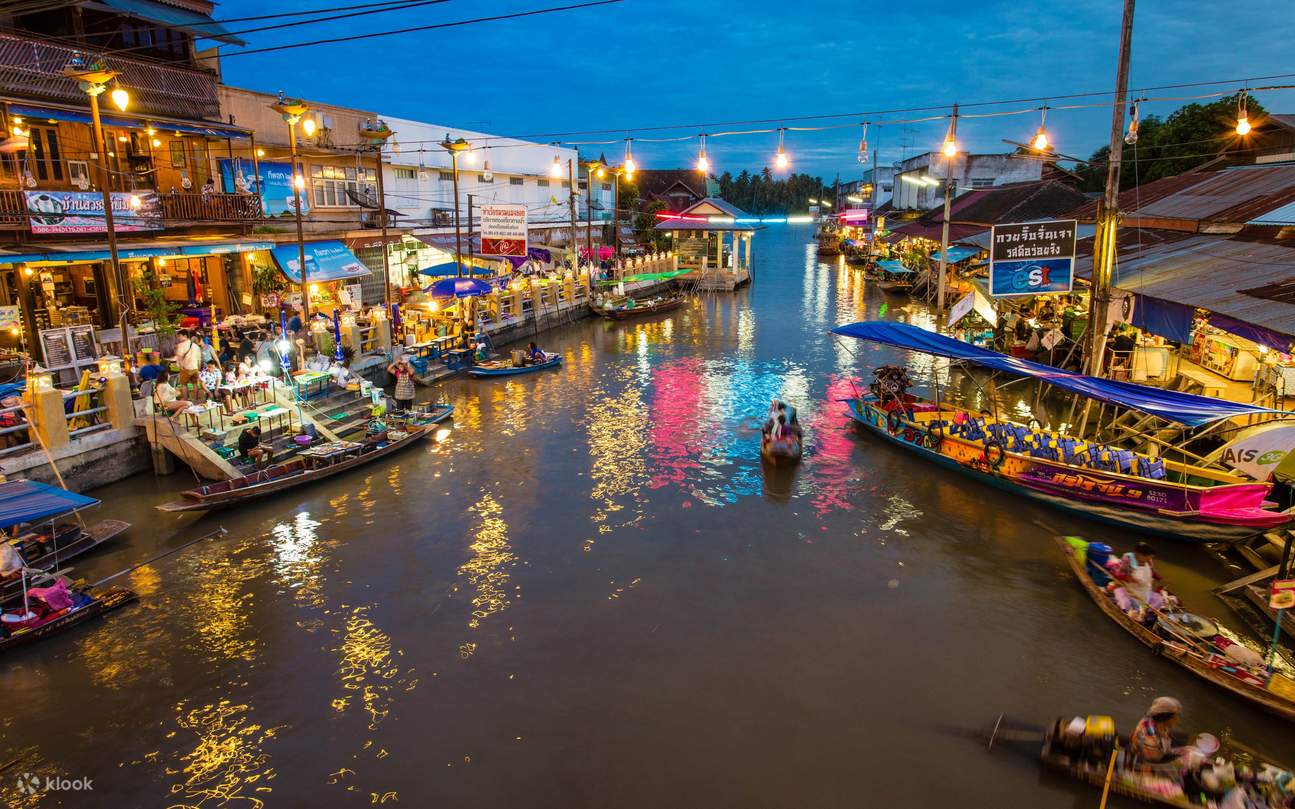 Well, unlike other floating markets around Bangkok, Amphawa is open to visitors in the afternoon. It is about 50km away from the capital t the southwest. Althoug not as big as Damnoen Saduak, it is still one of Thailand's floating markets which is very popular among tourists.
Amphawa is a right place for food lovers. Local vendors here pack their boats with food and drinks, such as fried sea mussel, noodles, coffee, sweets etc. Especially, seafood here is very cheap and fresh.
Taling Chan
Address: Taling Chan, Bangkok
Opening hours: Sat & Sun from 8-16h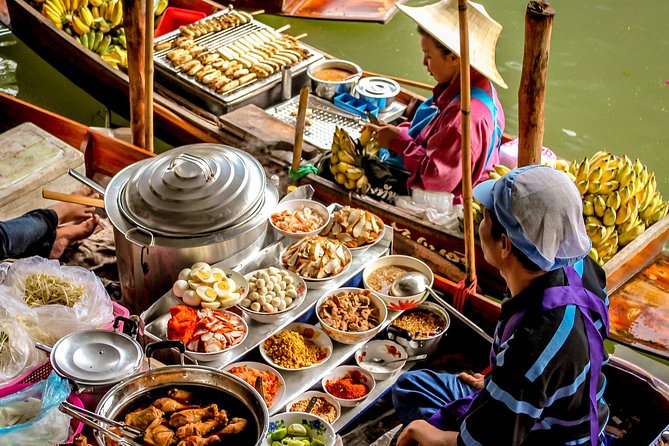 This is the most closest among floating markets around Bangkok, only 12km from city center. Taling Chan is quite small in compared with Damnoen Saduak or Amphawa so not too touristy. It brings visitors a real market atmosphere.
The boats here offer mostly orchard produce such as fruits, and vegetables, as well as seafood. You can see the foods are prepared right on the boat. There is tables on the riverbank where you can take a sit and try Thai local food. The market is open to visitors for whole day.
KhLong Lat Mayom
Address: Taling Chan, Bangkok
Opening hours: Sat & Sun from 7-17h
KhLong Lat Mayom is also located in Taling Chan district, nearby Taling Chan floating market, about 20km from Bangkok away. It really has the charm and authenticity of a local market. Not so many tourists know about this place so it can be considered as an insider tip.
The canal at Khlong Lat Mayom is very narrow, so there are only a few boats in the market. These boats usually prepare foods for customers who sit at low tables on the waterfront. Thes most ordered dishes here are boat noodles, pad Thai, cold rice vermicelli or oyster omelette. The main part of Khlong Lat Mayom is built on firm ground, where you can find lots of tropical fruits such as huge papayas, large green or ripe mangoes, rose apples, sapodillas, pomelos etc. There are also other stalls selling cheap clothing, home décor, accessories, toys, and fresh flowers.
Bang Nam Pheung
Address: Phra Pradaeng, Samut Prakan
Opening hours: Sat & Sun from 8h30-17h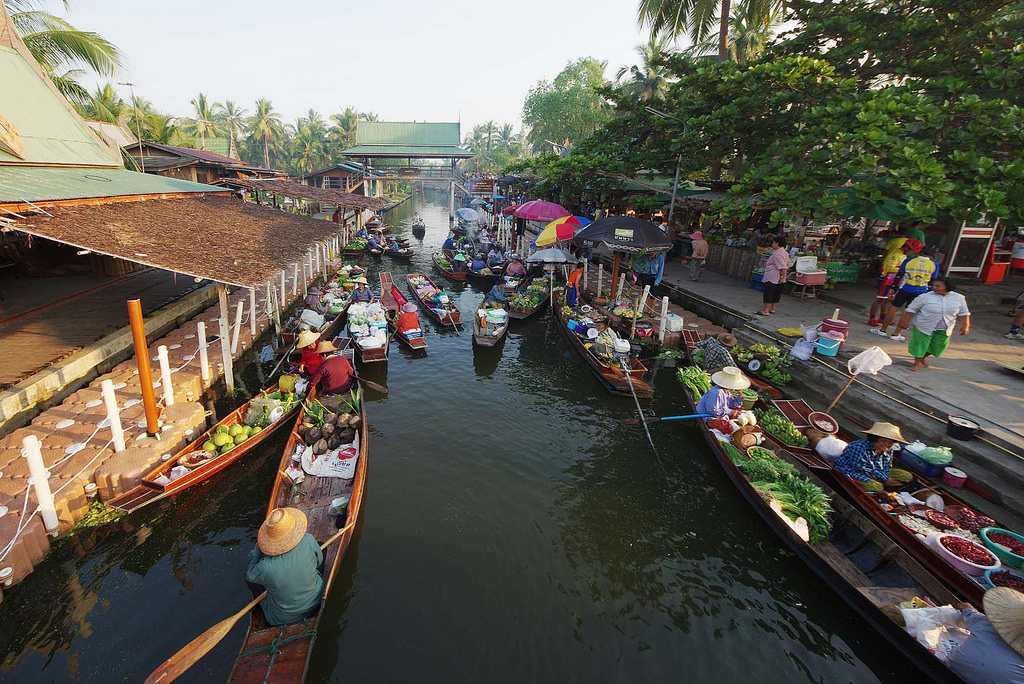 Bang Nam Pheung is a small floating market, located on the same name river, 20km from Bangkok away. The most special thing in this market is the green surrounding area. Like almost floating markets around Bangkok, it offers delicious Thai food including fresh vegetables, meat, seafood, dried shrimps, ready-to-eat dishes, and fruits.
Most of floating markets around Bangkok are only open at the weekend. Therefore you need to make sure that your itinerary is arranged suitably.