If you are a real traveller and hungry foodie, you shouldn't miss the chance to enjoy foods in Hoi An – the tastiest city of Vietnam. This bewitching city of Hoi An – as one of spot in Vietnam highlights tour – can make any traveler's mouth water by its unique cuisine with plenty of traditional foods. It might take you a very long time to explore all of Hoi An' food and enjoy the beauty and peace of this ancient city. However, in case you are a busy traveller or spend just a few days in Hoi An, this list of the top 5 foods will help you.
Cao Lau – Mixed noodle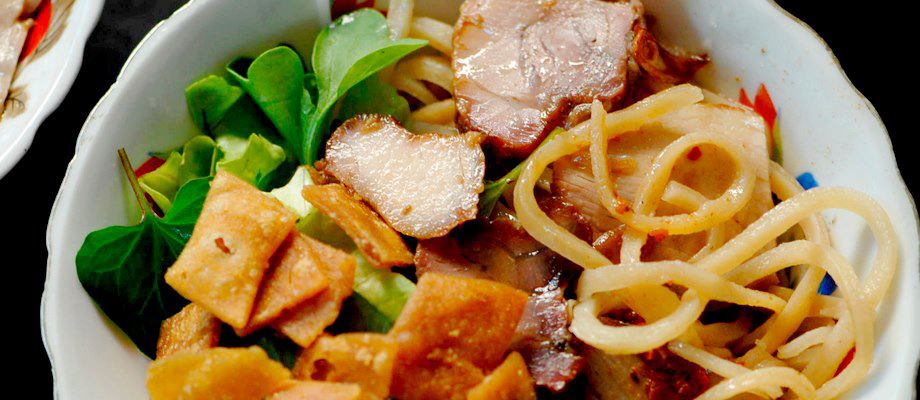 Probably at the very top of the list of foods to eat in Hoi An, Cao Lau can enchant any traveller by its unique and unforgettable taste. That is the combination of various flavors such as sweet, sour, bitter, savory and pungent. This dish is an amazing mix of chewy noodles, barbecued pork, sauce, and local vegetables. Obviously, of all the ingredients, the noodle is the most important one and the locals have a legendary recipe for it. To make Cao Lau noodles, the rice needs to be mixed with special kind of water and ash. More particularly, water is taken from an ancient Cham well named Ba Le and ash comes from a type of firewood that can only be found in Cham Island. It is the unique ingredient that makes Cao Lau have its own taste and become the icon of Hoi An's cuisine.
Mi Quang – Quang Noddle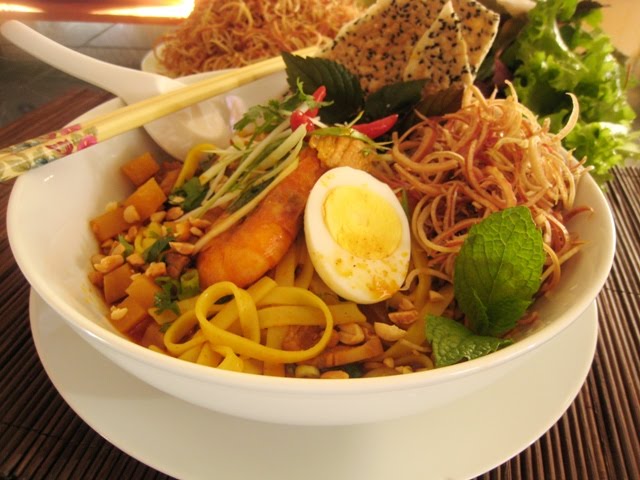 When listing top 5 traditional and iconic foods in Hoi An, it is a must to add Mi Quang. Mi Quang is not only a specialty in Hoi An, Quang Nam but also a popular dish in the Central Vietnam. However, only in Hoi An, travellers can enjoy to the fullest taste of Mi Quang. This dish is made with simple and popular main ingredients which are noodles, pork, shrimp, vegetables and broth. To make the broth, people will simmer meat and bone with fish sauce and add black pepper, shallot and garlic. Besides the main ingredients, some pieces of toasted sesame rice crackers and a half sliced boiled egg are placed at the top to not only enhance the flavor but also make a bowl of Mi Quang more eye-catching.
Com Ga – Chicken rice
The journey exploring the tastiest foods will be incomplete if you depart Hoi An without trying a wonderful culinary treasure, Com Ga. Probably, Com Ga can be easily found in the menus of many restaurants all over Vietnam, however, only in Hoi An, you can indulge yourself with the most outstanding different and delicious Com Ga. Fluffy rice with yellowish color, tender and juicy chicken with spicy sauce, crunchy carrot, papaya and onion slices,. all these ingredients compose a perfect dish that can allure every consumer even the pickiest one. The most unique ingredient that makes Com Ga really different is chicken. The chicken meat has to be torn into small pieces by hand and mashed with crushed onions and other spices for more intense flavor.
Banh bao, banh vac – Hoi An dumpling – White rose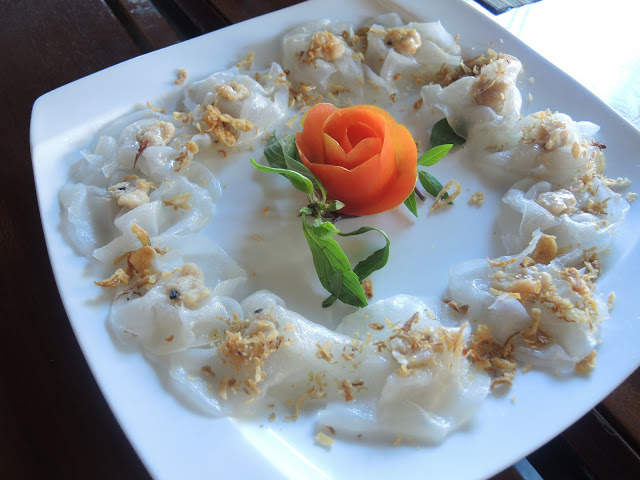 This type of dumpling becomes the favorite food of many tourists not only because of its delicious flavor but also thanks to the beautiful appearance. By its look, the Colonial French name it after a charming and gorgeous flower, that is, white rose. White rose includes two kinds of dumpling which are banh bao and banh vac. The dough of both dumplings is made from rice flour and the filling has shrimp, ground pork and onion as the main ingredients. After filling and wrapping, the dumplings are steamed then their edges turn soft, chewy and curly, which makes the dumplings look like white roses. About 15 white roses are placed on a plate, topped with crunchy toasted garlic and served with sweet and sour sauce. It is real treat for the eyes and the mouth.
Che Bap – Corn sweet soup
By the end of the day, after enjoying all four tasty main dishes mentioned above, a dessert will satisfy you and Che Bap is an ideal choice. Che Bap can be easily found in every city of Vietnam because it can please even the pickiest eaters. However, you will get a total different experience with this dessert in Hoi An. What makes it truly unique is the tasty and sweet type of corn which can not be emulated. Che Bap, for a long time, has become the comfort food of many people because of its original taste and cheap price. To eat a truly genuine and delicious bowl of Che Bap, Cam Nam village is place you should go to. The mildly sweet flavor will never make you feel unappetizing.