From Hanoi – the heart of Vietnam to Halong – the UNESCO World Heritage or the modern metropolis of Ho Chi Minh City, Vietnam is one of the most exciting holiday destinations in the world. It is a country the culture is as diverse as the landscape, from beach lovers and foodies to adventure seekers and culture buffs. Where to go in Vietnam completely depends on what type of holiday that you really want. Let's check out my pick of top 8 best deals Vietnam holidays and get ready for an unforgettable time in this lovely country!
1. Ha Noi – one of the best deals Vietnam holidays
Hanoi is the capital of Vietnam – a 1000-year-old city – one of the best deals Vietnam holidays that you should visit.
Hanoi has long been so vibrant. In fact, every corner in this city is interesting enough to be explored. The worldwide famous city has attracted a large number of travelers and anyone coming here has a good impression, making it a must-come destination of Vietnam. It is appreciated by not only Asian but also American and European travelers.
While you visit, let the atmosphere of the city with over 1000 years old of traditional culture seep in. Hanoi exudes culture with countless offerings. Some attractions you shouldn't miss when coming to Ha Noi are The Ho Chi Minh Mausoleum, Uncle Ho's Stilt House, and One Pillar Pagoda, The Vietnam Museum of Ethnology, the Temple of Jade Mountain, the Temple of Literature…
The tourist like walking in the city's old quarter the most. It is the oldest and most popular area in the city where you can have the capital city to yourself.
Then stop in Dong Xuan market to enjoy a wide range of delicious Vietnamese traditional dishes such as pho, banh mi, bun cha, Banh Cuon (Vietnamese rolled rice cake), cha ca, etc. with reasonable prices.
2. Ninh Binh – the ''Ha Long Bay on land''
Ninh Binh is a province in Red river delta, about 90 kilometers from Hanoi. Nature blesses this land much fascinating landscape, famous caves to make it one of the best deals Vietnam holidays.
When coming here, you have opportunities to discover and enjoy many other famous places such as Kim Son, Trang An complex, Tam Coc Bich Dong, Phat Diem cathedral, Van Long natural reserve…
Hoa Lu (Ninh Binh) was once the ancient capital of Dai Co Viet from 968 to 1010. That's why this land has many historic relics such as the Non-Nuoc pagoda Hoa Lu ancient capital, Phat Diem cathedral,… All of them have become an attractive place for tourists.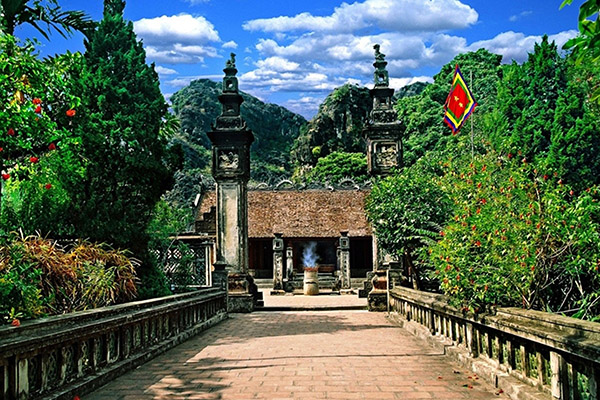 Spiritual tourism is one of the strongest of Ninh Binh. This is the capital of three feudal dynasties. It witnessed major shifts in the history of the nation. In addition, Ninh Binh is the convergence of many religions, especially Buddhism and Christianity and other religious structures – that is why it possesses valuable cultural architectures.
The special dishes in Ninh Binh include Kim Son wine, Ninh Binh'eel vermicelli, burned rice and goat meat – the most famous and unique dishes here.
3. Sapa
Sapa owns many beautiful sights that will captivate you immediately. It's also one of the best deals Vietnam holidays in the Northen Vietnam. Travel to Sapa for an authentic taste of Far North Vietnam. Winter or summer, morning or evening, rain or sun, Sapa has the enthralling ability to always create a great impression.
The Fansipan Mount is the highest mountain peak in Vietnam and Indochina. It can be explored easily from Sapa town. You can also see the beautiful terraced rice fields in Sapa that were ranked as the world's most beautiful terraces by USA Travel and Leisure Magazine.
Some other places will attract you right away such as The Silver Waterfall, The Heaven's Gate, or some village of locals: Mong Sen village, Ta Phin village, Cat Cat village, Y Linh Ho village…You can experience the culture and cuisine of ethnic people here
Sapa is also the only place in Vietnam where you can see snow in winter, but spring and summer are the best seasons for going hiking. Come here and you will have memorable memories of northern Vietnam!
4. Halong Bay
Ha Long is a popular travel destination – one of the best deals Vietnam holidays. This place is also a UNESCO World Natural Heritage Site.
It is generally encompassed by the Cat Ba Island to the west and southwest, Gulf of Tonkin to the south and southeast, as well as China to the north. A total area of 1.553 km2 here includes about two thousands of islands in various sizes and shapes.
The natural environment, ideal geology and harmonious combinations of cool weather,… all have made Halong become the rich biological spot that is highly perfect for ecotourism.
While you make a travel plan to the bay, you can enjoy sumptuous meals on a great cruise, extraordinarily shaped-limestone islands around, visit the Lom Bo Islet – home of a famous Mê Cung Cave and other untouched caves
You can also join in the squid fishing activity, start your new day with Tai Chi exercises, come to Titop Island – a perfect stopover for Halong's stunning view and beach and enjoy all types of seafood at low prices
5. Hue City
If you love discovering the exotic cultures, Hue – former Royal Capital is one of the best deals Vietnam holidays for you.
This city represents the outstanding demonstration of the power of the vanished Vietnamese feudal empire, including a complex of pagodas, monuments, and tombs. All attract tourists coming from not only Vietnam but also all over the world.
Ensure to visit the Imperial City where you can feast your eyes on old-age temples, tombs, and ornate gardens. Alternatively, the Citadel is also ideal to explore as it was the private residence of emperors in the past. Hue is also best known for a lot of cooking schools. This is where you can tickle your taste bud with a wide range of local dishes and exotic food.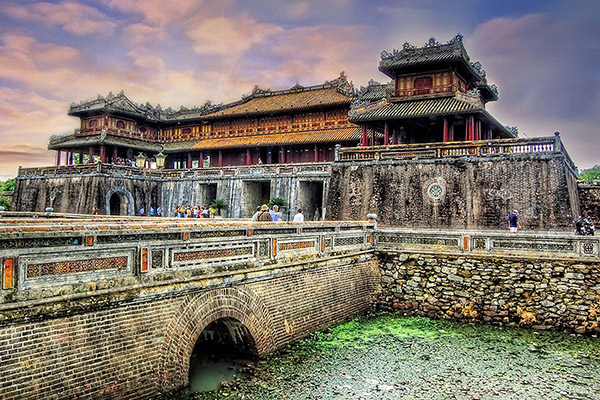 The must-do activities below are what you should perform during a trip to the city such as visiting Thien Mu Pagoda, taking a leisure boat trip along the Perfume River, taking a short drive into a lush valley of the river where seven tombs, visiting Imperial Citadel and the Forbidden Purple City
6. Nha Trang
Nha Trang – the city of pristine beaches will be the next destination in the best deals Vietnam holidays.
In terms of relaxation and really getting away from the noisy and busy life, nothing can beat a beach holiday. Over 400 kilometers northeast of Ho Chi Minh City, Nha Trang is an enticing destination with many beauties of Hon Tre, Hon Mun, Monkey Island, Orchid Island,…
Coming here, you can watch the white-sand beaches along the coast, the busy entertainment centers. In addition, the centuries-old temples and palaces are perching on hilltops will also make you enjoy.
Besides, that's very exciting to join a lot of water activities like swimming, scuba, diving, water sports, thrilling games… So, there are many reasons to travel to this city.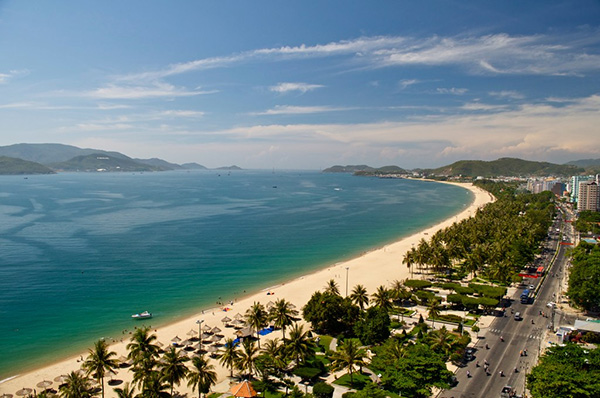 While on holiday in Nha Trang, you can take part in clubbing in a diverse range of restaurants and bars particularly around the beach area, historic cultural sites like Yan Po Nagar temple tower and Long Son Pago, or shopping heaven in Cho Dam market.
7. Ho Chi Minh City
Full of hustle and bustle, Ho Chi Minh, or also called Saigon, offers amazing cultural and urban experiences for visitors to explore. That's really one of the best deals Vietnam holidays
Ho Chi Minh City has all the features, from the classic French architecture to the magnificent skyscraper, the historic to the contemporary, the memories of war to the turbulent political landscape, the motorcycle scooter to the luxury cars, the coffee culture to the exotic food, the lovely local markets to the busy shopping malls…
Some noticeable attractions in Saigon you should check in once in a lifetime are Ben Thanh Local Market, The Reunification Palace, The Central Post Office, The Notre Dame Cathedral, Cu Chi Tunnels, Binh Tay Market…
The food list you should try in this city is Broken rice, rice paper, pancakes…
8. Mekong Delta
Mekong Delta is a river world of floating markets, wooden boats, mud-colored waters, rustic and rugged houses associated with crowds, noise, and shouts,
Here, you will see a lively picture of the rhythms of the mighty Mekong, where boats, houses, and markets float upon the innumerable rivers, canals, and streams that crisscross the landscape like arteries.
Make sure to have yourself immersed in the natural wildness by navigating through forests of cajuput and mangrove, or rows of coconut palms.
Thanks to the region's diversity and vastness, a journey to Mekong Delta is so imposing and mesmerizing that there are numerous options and activities for you to do.
Our recommendations on what to do while you are here: Visit Vinh Trang Pagoda in My Tho City, enjoy the coconut candy in a local house in Ben Tre, take a wooden boat along the narrow channels under the great shadow of water coconut trees…
Here you will have different experiences that will not be available elsewhere. So, Mekong Delta is really one of the best deals Vietnam holidays.
Here are some destinations for your best deals Vietnam holidays. Each place has its own charm and beauty that you should explore one by one. Hope you 'll have nice memory when coming to Vietnam.