Sapa has been considered as the second Dalat of Vietnam, which was discovered and built by French in 1880s. This place attracts a lot of attention of many visitors both locally and internationally; as a result, there are a lot of people taking the train from Hanoi to Sapa Vietnam every month. The reason is simply that Sapa does not only have comfortable weather conditions but also interesting tradition. People coming here can go sightseeing, go trekking or take part in the cultural trip, as it is the home of many ethnic minority people such as H'mong, Dao, Tay. On top of that, the cuisine there can make the pickiest eaters' mouths water since they are so delicious and fresh.
If you are interested, here is a link to a guided tour in Sapa Vietnam.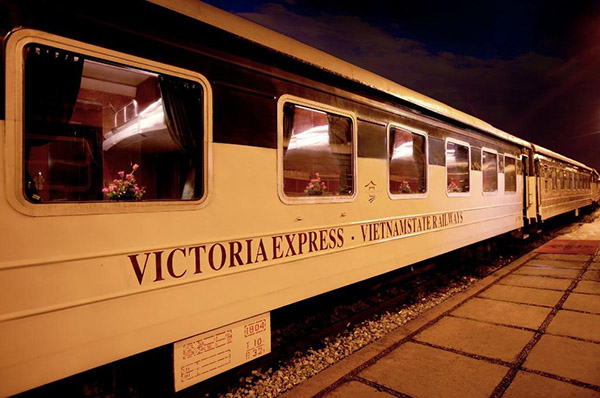 Tips to go by train from Hanoi to Sapa Vietnam
There are many convenient ways for tourists to reach Sapa from Hanoi such as by car, bus, plane or motorbike. Every means of transport can bring you different benefits and drawbacks. For example, traveling by bus or car might be faster as there is a new highway from Hanoi to Lao Cai. If it takes tourists around 8 to 9 hours to travel by train, visiting Sapa by bus or car might need only half of that time amount. If traveling by motorbike, travelers can experience the adrenaline rush by riding through one of the most difficult and challenging roads. However, to people who suffer car sick or find hard to get some sleep in cars, this 4-wheel automobile is not the best choice. To visitors who do not have a driving license, exploring a new land with scooters might sound charming but not possible, as you might break the law. Especially those who travel with family having kids, cars and motorbikes might not an ideal solution. What is the answer for them? Yup, a train from Hanoi to Sapa Vietnam can solve all problems. In fact, it is the most favorite choice of people when getting to this romantic Northern town in Vietnam.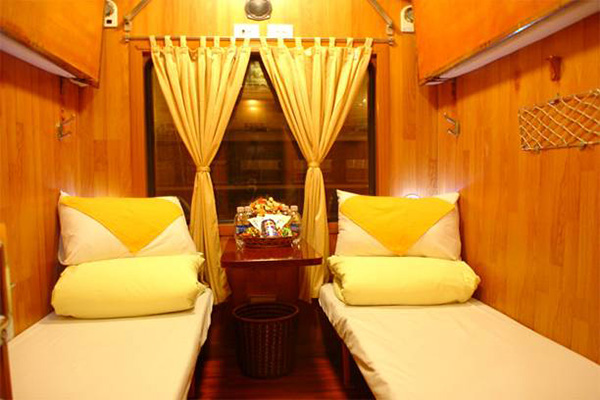 Buying ticket
In order to buy a ticket to Sapa, you can go to Hanoi train station on Tran Quy Cap street. It is necessary that you book your tickets early as the train from Hanoi to Sapa is quite high in demand. Buying the tickets early will ensure that you stick to your itinerary and the price is usually cheaper compared to the ticket purchased on traveling days. Especially, on holidays like 30th April (The Fall of Saigon day), the 1st of May (Labour day), the 2nd of September (The independent day), the number of tourist pouring to Sapa increase dramatically, which leads to the lack of ticket, the high price, uncomfortable seats. The price can rise by from 100 thousand VND to 250 thousand Vietnam dong. In order to have the best trip, if possible, tourists should avoid arriving Sapa on Thursday, Friday, and Saturday; and avoid leaving this town on Sunday, Monday and Tuesday. They are peak days as local people tend to travel back and forth in those days.
The train seat types you should know
There are 7 main kinds of train seats you should be aware of if you want to take a train from Hanoi to Sapa Vietnam.
Hard-seat with/ without air-conditioner
Hard-berth lower with/ without air-conditioner
Hard-berth middle with/ without air-conditioner
Hard-berth upper with/ without air-conditioner
Soft-berth lower with/ without air-conditioner
Soft-berth upper with/ without air-conditioner
Supremely deluxe option: Two berths per cabin. They are King express, Livitrans Train, Victoria Train and Sapaly.
Type of luxurious trains from Hanoi to Sapa Vietnam
Since the length of your trip from the capital, Hanoi to this sweet town, Sapa is quite long, roughly 8 hours, we highly recommend that you take a Supremely luxurious option. When getting on those trains, you and your travel partners will have time to rest and recharge your battery before arriving Sapa. As a result, you will be at the height of your physical and mental health, especially when you travel with kids. It might sound extremely tiring if your children are exhausted after a long night on a train and might not be able to complete the dream trip. And here are the most favorite luxurious train services voted by many passengers.
Livitrans Train
Livitrans Train is a new train opened and run by the two state-own companies, namely Vietnam Railway Corporation and National Coal and Mineral Industry Corporation. Many people think that it is one of the most comfortable trains from Hanoi to Sapa because it has one of the largest carriages whose capacity is more than 35 passengers. The train is wood-paneled with contemplate style and tastefully designed with sophisticating furniture similar to a deluxe 4- stars hotel. Each carriage is composed of approximately 7 private cabins, including one clean private bathroom, and each cabin is equipped with modern amenities like LCD TV. Of course, an air conditioner is available for passengers to make sure that their trips will be as convenient as possible. There are a bar and restaurant on the train, where visitors will have a chance to enjoy tasty food under cozy and warm atmosphere.
Schedule:
Depart from Hanoi at 21:40 and arrive at Laocai station at 5:00 am
Depart from Laocai at 20:15 and arrive at Hanoi at 4:30 am
Victoria Express Train
Victoria Express Train service is established by one of the most lavish resorts in Sapa – Victoria Resort and Spa; as a result, undoubtedly, it is always thought as one of the most luxurious and excellent trains from Hanoi to Sapa and even in Vietnam. The Victoria train carriages are in fact a small version of Victoria hotel on land with many of this hotel's signature services.
These carriages are tastefully designed and elegantly decorated with high-quality furniture, so it creates an amazing impression for visitors using this train service.
Moreover, the berth carriages are equipped with modern amenities to match the requirement of 4-stars hotel room; so passengers are believed to enjoy their wonderful time.
Many people claim that "Le Tonkin", a deluxe restaurant, serving many different sorts of delicious foods and beverage to satisfy all demands from the customers. The train often has 6 trips per week.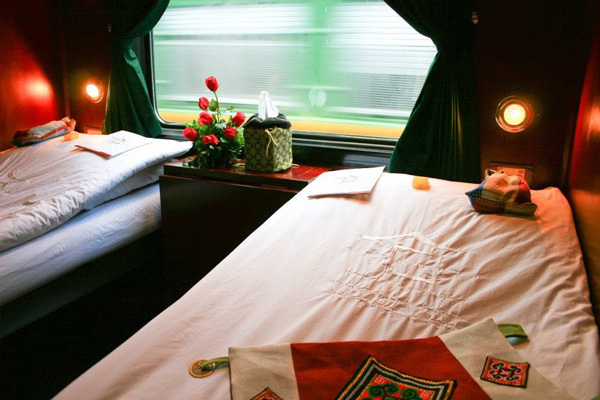 Victoria Train Schedule:
Weekday: Monday, Tuesday, Wednesday, Thursday, Friday (Lao Cai – Hanoi) & Sunday (Hanoi – Lao Cai)
Weekend: Friday (Hanoi – Lao Cai) & Sunday (Lao Cai – Hanoi)
Victoria Train Hours:
From Hanoi at 22:00 to Laocai at 6.00 am (except Saturday)
From Lao Cai at 21:05 to Laocai at 5.30 am (except Saturday)
If you want to know more about other train services, there will be some upcoming writing pieces dedicated to this topic. For now, hopefully, this article has helped to provide you with some useful information. If you are wondering where to stay, what to do, what to eat in Sapa, there are others articles which already mention these issues. You can choose what is the most suitable for you and your conditions. We sincerely hope that you will have a nice trip there while discovering a new interesting land whose people are friendly and culture is rich. Of course, without any doubt, you and your beloved people will have a whale of a time wherever you go, whatever you do, whoever you meet because you deserve to have the best trip as possible. Thanks for reading, and again we wish you to have a nice time ahead and amazing trips in 2018.