Although Laos is not blessed with many wonders, its peaceful beauty is prominent feature to traveler's memory. And, Luang Prabang- a remarkable city is factually favorite destination to every visitor when coming to the "Land of Million Elephant"
Luang Prabang, is 425 kilometers far from Vientiane to the North, was the Capital of Kingdom of Laos from 14th century to 1975. Nowadays, the ancient Capital Luang Prabang has been recognized to be the cultural heritage of World by UNESCO Organization. The most attracting thing about Luang Prabang is tranquil beauty of scenery, architecture to daily life. Imagine of monks in their typical orange costume walking along old streets in early morning to beg for alms is probably the characteristic symbol of Luang Prabang city. Tourists will have chance to experience simple and peaceful picture when getting up early to join with local people to give food and candy respectfully to mendicants.
Laos is the country of temples, of course, being a city of Laos- Luang Prabang also owns itself old, unique temples.
Wat Xieng Thong temple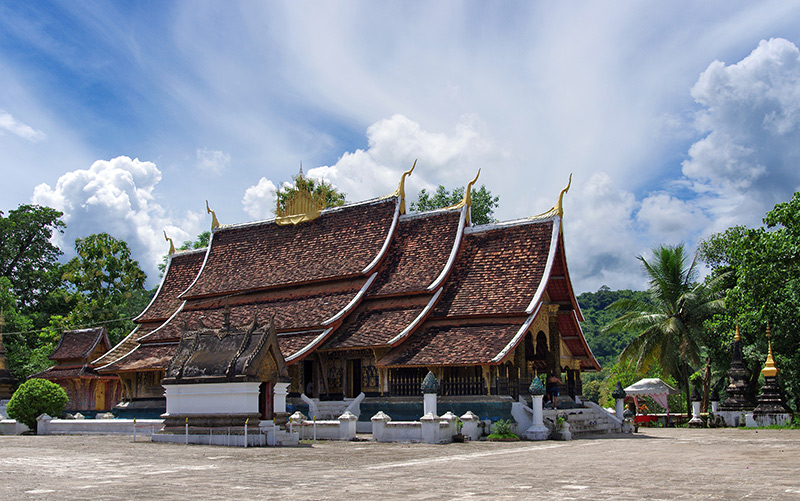 Wat Xieng Thong temple situated on the crossing where Mekong River joins Nam Khan River is one of the most important temples of Laos's particular architecture in the country; its roofs sweep low to the ground and there's an idiosyncratic 'tree of life' mosaic set on its west exterior wall. Wat Xieng Thong is considered to be not only a symbol of historic importance but also magnificent masterpiece that highlights of the Luang Prabang style, features and elaborate tree of life mosaic, intricately carved walls. Reaching inside the temple, visitors will admire sophisticated sculpture, embossment characterized Buddhism vestiges. On sunny day, visiting the famous temple, feeling quiet atmosphere and tasting cool wind from Mekong River will be wonderful experience to everyone!
The National Museum of Laos
Laos National Museum or the Palace of the Kingdom of Laos in the past is second guide for tourists in Luang Prabang city. On the way to enter the museum, we see two ranges of very high palm tree welcoming visitors. While approaching inside, we will catch the French specific architectural feature which is modern but subtle. In addition, the antique Palace is till preserved Prabang Golden Buddha statue which is known as a treasure of Laos. The National Museum is surrounded by the nice Royal Garden including rare plants, valuable flowers, glittering lake, undulating birds and butterflies…
The colorful mountain- PhouSi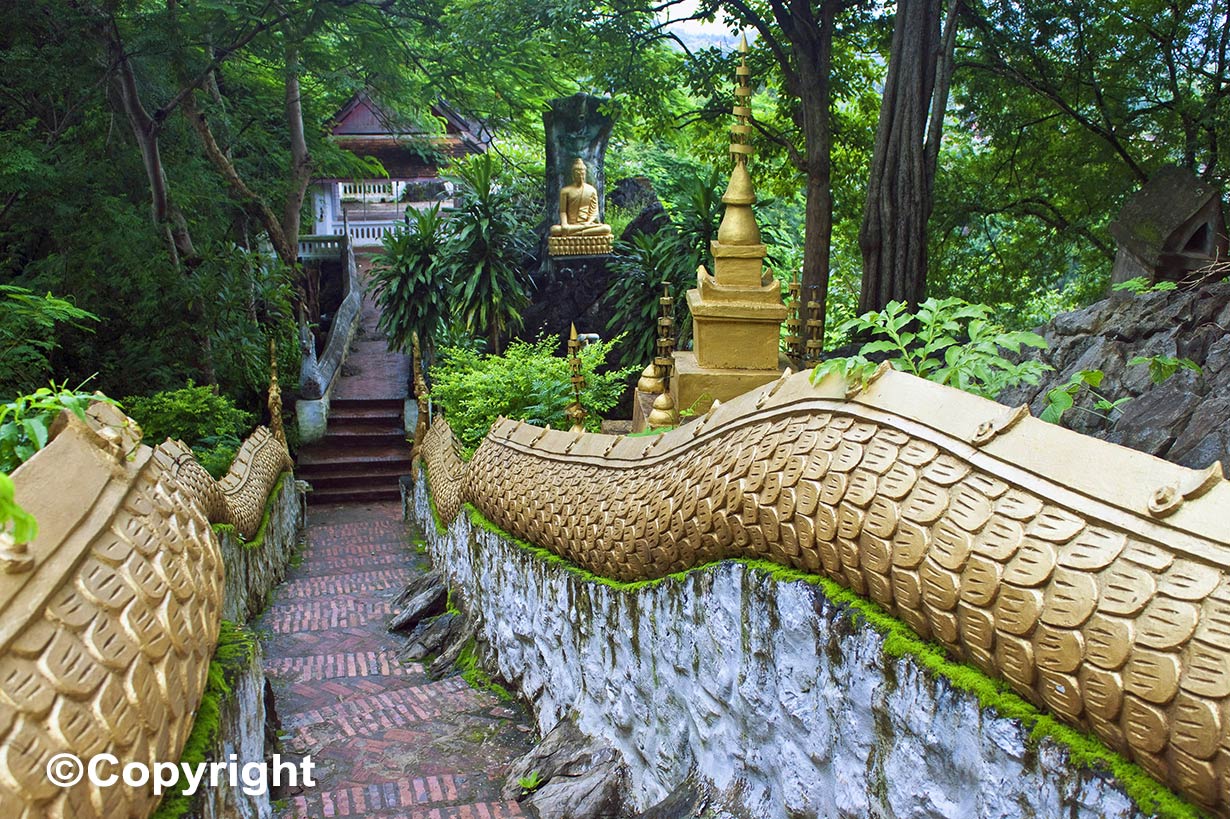 Luang Prabang people have a sentence" if you do not come to Phou Si Mountain, you will be likely not in Luang Prabang". In Laos's language, the word "Phou" means "mountain", and "Si" means "colorful". The 150-metre-hill above the center of town, Phou Si Mountain outstands in Luang Prabang skyline. This is an ideal place to watch sunrise and sunset over Mekong River. By passing over 300 steps, you are now standing in the vantage point to contemplate the panoramic view of pretty town and enjoy the feeling of cool, rest, peace as in fairyland. From the highest point of Phou Si mountain, we can look very beautiful surrounding landscapes: Nam Khan River is winding then joining in Mekong River is colored by crossing bridge on the left. On the right, we will see a gentle, quiet Luang Prabang dream in poetic valley. Large ground of Palace, splendid Royal Garden, curved rooftops are gradually appearing in front of eyesight. On the backward, the immense Mekong River is flowing incessantly. Especially, many tourists choose time in late afternoon to watch the sun set over Luang Prabang and the surrounding countryside at once in order to take impressive pictures.
Night market in Laos
The Former Royal Capital Luang Prabang is both beautiful in daytime and charming, gentle at night, absolutely! Some tourists said that "If you're in Luang Prabang you can hardly miss the night market, because markets are operated on main streets every night". Truly, night market in Luang Prabang opens from 5 p.m until very late at night when all roads in city are garnished with striking lights. You can wander around night market and find some unique items. Night stores display a lot of souvenirs like brocade, jewelry, antiquity or handicraft (woven scarf, small wallet, pillow, sliver, wooden products…) with good prices to server for customer's various choices. Excitingly, the Lao people are extremely gentle and shy, they will not make noise and loud sounds between seller and buyer, they bargain and exchange softly so that when you take stroll around the market and not feel hassled anymore, even, you can only hear some words of "Sabaydee" (hello) and "Khobchay" (goodbye). Moreover, to have full experience in Luang Prabang, you should not miss its cuisine; the night market's food is great, too. Dishes are well prepared with fresh ingredients and cooked in traditional way will bring you specific flavor of specialties, surely.
Among the most atmospheric and popular destinations in Laos, Luang Prabang distinguishes itself as a charming city, spiritual heart, a rich meld of French Indochinese architecture, Theravada Buddhist temples and magical atmosphere are awaiting for visitor's exploring!