Despite the considerable distance from the northern hemisphere where Canada is set to Southeast Asia in the South hemisphere, a lot of Canadian come to visit Vietnam annually. Thanks to the facilitating policy the Vietnamese government imposes to boost the country tourism industry, it has become easier than ever to travel from Canada to Vietnam and explore the ultimate beauty of this nation. In today's article, we will reveal the quickest way for Canada passport holders to pay a visit to Vietnam.
Vietnam is an ideal destination for all kinds of travel. It's a place to strengthen your relationship with your loved ones. Solo travel in Vietnam is also famous as this is a pretty safe and stable country in Asia. The hidden pearl of Southeast Asia grants tourists the chance to experience authentic cuisine, enrich knowledge with the country's proud history, and take photos of the spectacular nature.
Therefore, follow the below guidelines to enjoy the best Vietnam expedition from Canada.

Vietnamese Visa For Canadian Passport Holders
The Vietnamese government does exempt visas for some nationalities. Unfortunately, Canada isn't included in the list. Still, don't worry because, since 1996, any Canadian passport holders can apply for a visa on arrival. It means all the application process is done online, and you can get the stamp for Vietnamese visa on the Vietnamese airport. This hassle-free procedure reduces, to a great extent, the paperwork as well as red tape. It has done an excellent job to bolster Vietnamese tourism.
You can go to the official website of the Vietnamese government at https://www.immigration.gov.vn/web/ to apply for an e-visa.
This visa can be used for many types of class from an ordinary tourist visa to a business visa and other specific purposes. Currently, you can enter and exit Vietnam using a visa on arrival at 33 ports. Read the full list of international ports to accept e-visa here. For Canadian visitors, we suggest you choose to land in Vietnam at three major international airports: Hanoi, Danang and Ho Chi Minh
But wait, there's more good news.
If you are planning to visit Phu Quoc, you will get a visa exemption for 30 days. Even though you arrive at another port rather than Phu Quoc, this policy is still applied as long as you provide enough information to prove that you will go to Phu Quoc afterward.
The Quickest Transfer From Canada To Vietnam
As a matter of fact, Canada is such a big country located on the other half of the globe that there is no direct flight between this nation and Vietnam. From Canada, there are nowadays four cosmopolitan cities that you can take off to visit Vietnam. They are Toronto, Vancouver, Montreal, and Newfoundland. Most of the flights from the abovementioned airports will reach Vietnam at Hanoi International Airport, Ho Chi Minh International Airport or Danang International Airport. If you want to go to Phu Quoc because of the 30-day visa exemption, you must book a flight from either Toronto or Vancouver.
The total flight time ranges from 17 hours to more than 30 hours. The most popular transit places are Taiwan, South Korea, and Japan. There are many airlines operating flights between Canada and Vietnam, such as Air Canada, All Nippon Airways, Cathay Pacific, China Airlines, American Airlines, China Eastern, Korean Air, Westjet, China Southern, Alaska Airlines, and Philippine Airlines. United Airlines. As a result, depending on your budget, you can easily find a suitable flight for your Vietnam adventure.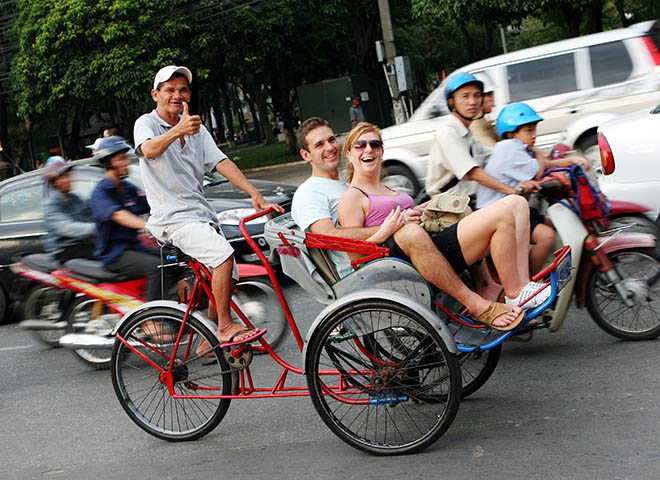 Some Essential Information For Travelling From Canada To Vietnam
Vietnamese Currency
The official currency in Vietnam is Vietnam Dong (VND). The current exchange rate is 1 CAD = 17,558.35 VND. However, cash with face value less than 5,000 VND is rarely used, so if you exchange money, choose the 100,000 or 500,000 VND.
U.S. dollar can be accepted in some Western restaurants and hotels. But if you want to chase authentic Vietnam, some Vietnamese notes in your wallet is a must. Also, ATMs in most tourist cities like Hanoi, Danang, Ho Chi Minh do accept international cards like VISA, Mastercard, PayPal. So, if you don't want to carry plenty of cash, you can bring along your credit card.
Accommodation In Vietnam
Like any other emerging country in tourism, Vietnam offers a wide selection of hotels and resorts. However, a unique thing in Vietnam is the family stay with local ethnic minorities in the Northern mountains. This kind of homestay is a striking feature and an exotic experience when you come to Sapa. Instead of residing in 5-star hotels with usual architecture design, you will be staying in the stilt house of the hill tribe, observing and joining with their daily life. Sound fantastic, doesn't it?
Vietnamese Climate And Packing Tips
The climate of Vietnam varies considerably from region to region due to its stretching of over 1,650 km (1,025 miles) in length. Additionally, this country has approximately 3,260km (2,026 miles) long coastline, making it a year-round destination to travel. 
The north of Vietnam is considered the coldest region of the country. It has four main seasons. The weather gets colder in the beginning and the end of the year. On the other hand, the hottest and wettest months are from May To September.
Therefore, if you want to explore Northern Vietnam during summertime, remember to bring an umbrella or a raincoat to avoid catching the rain. In case you don't have one, look for a convenient store on the street, you will find a wide selection of water-proof items there. Traveling during the winter, prepare some warm jackets, sweaters, scarves, and gloves. If you are living in a temperate or frigid zone, Vietnamese winter may not cause any trouble. But, if you are accustomed to high temperatures, be ready for a heat shock!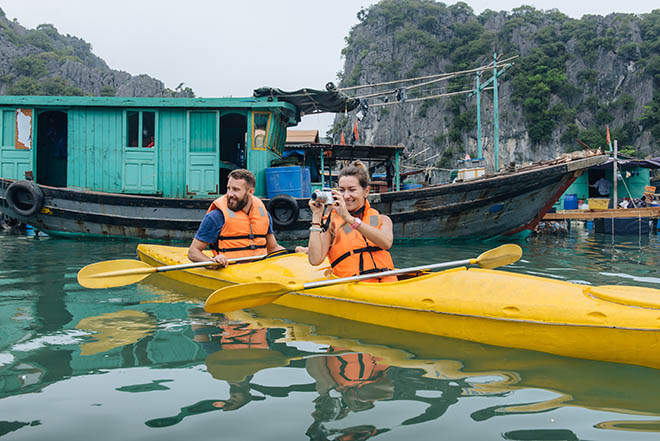 With two sub-regions, coastal lowlands and central highlands, Central Vietnam has the most extreme weather types. Average rainfalls and the number of high-temperature days are the highest. This region also suffers from tropical storms more often than in the other two areas. The best thing about Central Vietnam is the long coastline, which facilitates a lot of outdoor activities. You would be regret not bringing swimsuits, sunglasses and a pair of flip flops to enjoy the sunshine and the turquoise ocean. 
The Southern part of the country, merely 8 degrees north of the equator, experiences little variations in terms of temperature (around 27-37). There are two main seasons: the dry and the rainy. The best time to visit is in the dry. It falls from November to April: beautiful weather, sunshine, temperatures between 23°C and 34°C.
Packing for a trip to the south of Vietnam is pretty simple. A reuseable bottle of water would be of great help to keep yourself hydrated. Sneakers are the best for a leisurely walk around the cities as well as little adventures into small villages.
Cultural Differences Between Vietnam And Canada
Greeting
It's common for French Canadian to lightly kiss both cheeks when greeting each other. However, the Vietnamese may consider that kind of intimate contact a bit awkward and even rude. Salutation in Vietnam is pretty simple. Local people often say Hi, Hello or "Xin chào" and wave their hands. Some do shake hands and hugs but this only happens when they have been knowing each other.
Find out more about Vietnamese Greeting here.
Table Manner
If it's the first time you are exposed to an Asia culture, you will have to learn to use chopsticks. Normally, the Vietnamese don't have forks and knives on the dining table. So prepare to progress in chopstick skills to enjoy the excellent culinary techniques of Vietnam.
Try to use chopstick during your visit to Vietnam
Vietnamese Destinations To Visit
Hanoi
Located on the banks of the Red River, this city is well-known for its exceptional coffee culture, vibrant nightlife, and multi-cultures that are influenced by Chinese, French, and Russia. Hanoi is most famous for its Old Quarter – the busiest place with narrow streets, outdoor markets, and dense small shops. Despite the crowd, this city has a lot of charms from its shopping streets, colonial buildings, ancient pagodas, and unique museums.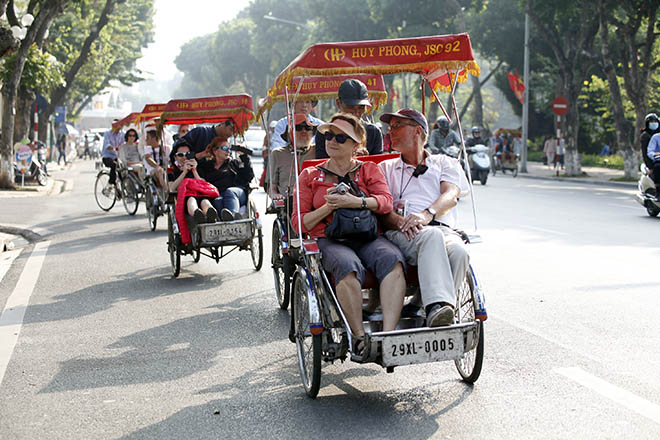 Just 4 hour driving from Hanoi, this beautiful natural wonder is well-known worldwide. This extraordinary area was declared a UNESCO World Heritage Site in 1994. With a wide range of biodiversity, thousand limestone islands, this surrealistic destination was the scene of famous movies like Indochine (1992), and Skull Island (2017).
Sapa
308 km (191 miles) northwest of Hanoi, Sapa is always one of the top attractions. You will be delighted with the unique culture of ethnic groups, admire the 3143m Fansipan mountain – the peak of Indochina and stunned by its amazing rice terrace fields – one of the eight most breathtaking rice terraces in Asia when it turns from green to yellow color in September.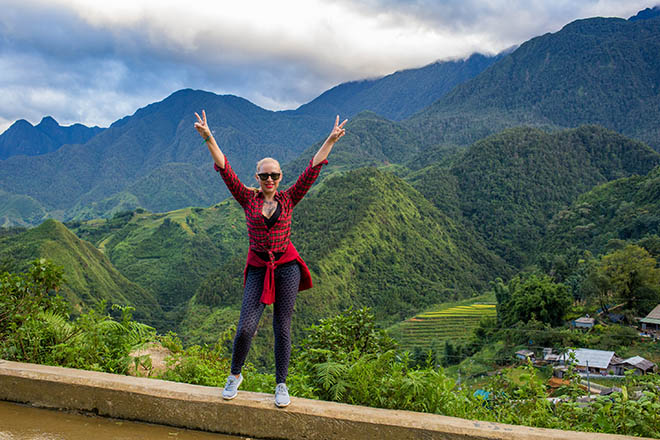 Danang
Danang is an emerging destination in Vietnam with the world-famous Golden Bridge, but it's not all. Beaches here are definitely worth your visit because of the gorgeousness.
Ho Chi Minh
Saigon (or Ho Chi Minh City) is the busiest city in Vietnam. Its speed of life can make everyone dizzy. The city breathes life into all who settle here. From the most luxurious hotels to cheapest guesthouses, the finest of restaurants to the tastiest of street food stalls, the museums to the flashy nightclubs, Saigon is all about energy and discovery.