Recently, international arrivals from the United Kingdom to Vietnam have surged more than 7% compared to last year's statistics. Such an increase might be due to the super open visa policy between the two countries. The thing is, a large number of British travelers are unaware of the Vietnamese visa procedure. Therefore, it takes them much longer to be able to set their foot on the stunning country of Vietnam.
The secret treasure of Southeast Asia is nestled on the Indochina Peninsula, it covering a total area of around 331,210 km2. Also, Vietnam stretches a coastline of 3,260 km and a party of rivers, channels, and canals. With a diversity in terrain from high mountain to flat delta, this country allure visitors with an extensive selection of sights and unique cultures across Buddhist temples, exotic beaches and bustling cities.
British passport holders, this piece of writing is for you to achieve the best journey in Vietnam.
Vietnamese Visa Policy For The UK
Visa is the very first thing to pop up in everyone's mind when it comes to international travel. The greatest news for you is since July 1st, 2018, the Vietnamese government has passed the laws to allow visa exemption for several European countries, including the 'British Citizen' passport holders traveling for tourism or business can enter Vietnam for up to a maximum of 15 days (inclusive of dates of entry and exit) without a visa.
If your Vietnam adventure lasts longer than 15 days, you will have to apply for a visa. Another good news is Vietnamese visa application can be made online. The e-visa allows you to stay a maximum of 30 days and limit the entry and exit points to 33 ports only.
Moreover, if your destination is Phu Quoc Island, you can choose not to take the visa stamp as the authority accepts for visa-free entry of up to 30 days. This is valid for Phu Quoc only and affects entry requirements for onward travel elsewhere in Vietnam.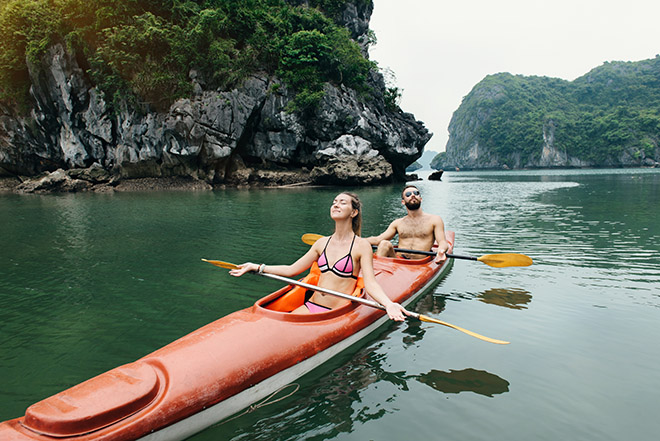 Transportation From the UK To Vietnam
The most convenient way to get to Vietnam from the UK is by plane. There are a lot of flights from Britain to many tourist attractions in Vietnam. But the only direct flight is from Heathrow, London to Noi Bai International Airport, Hanoi. Also, only Vietnam Airline operates the direct flight on alternate dates. That's why it costs more than 800 pounds, nearly doubling the price of flights with one or two transit. Some affordable airlines running between the UK to Vietnam include Emirates, Qatar Airways, British Airways, Turkish Airlines, Cathay Pacific.
You can also enter Vietnam by land. Vietnam shares land borders with three countries: Laos, Cambodia, China. If you travel to Vietnam from China, make sure that you already have a visa before going through immigration and customs. For entry attempts from Laos and Cambodia, visa services are available at most land borders.
Important Contrast Between Vietnam And The U.K.
Shoes Taking Off
In Western countries, people usually wear shoes in their homes. But in the Asian world and in Vietnam particularly, they will take their shoes off before entering. This is strictly applied when you visit religious places such as temples and pagodas. When you get inside the worshipping houses, it's a must to put your footwear outside.
Present Giving
As for the British, according to cultural practices, they will open the gift right after receiving it. It's a sincere way of showing gratefulness for the giver. However, that's not how Vietnamese people do it. When given something, the Vietnamese often open in the absence of the giver. They open it right away, it is considered a sassy, lack of delicacy and politeness!
So, in case you give presents to a Vietnamese family, don't be taken by surprise when they don't open it.
Dining Etiquette
Traditional Vietnamese meals usually contain shared dishes. Each person will have a separate bowl, a pair of chopsticks, sometimes a spoon for soup. All the plates will be shared among all people. Forks and knives may be available upon request, but make sure you notice the waiter and waitress in advance 

Main Characteristics Of Vietnamese Weather And Essential Guides For Packing
The entire country is divided into three subregions, namely the North, the Central, and the South.
From November to March, the weather gets colder and colder, until it comes to a leap into the summer in April. Averagely, the temperature oscillates between 8 – 17°C. In the highlands, it can dip to 0°C on some days with high humidity, the heavy grey sky, and even snow. Therefore, remember to pack warm clothes such as jackets, sweaters, gloves, scarves…
May to August is summertime with temperature from 28-40 degrees. Tropical heat is usually interrupted by heavy rain at the end of the day, especially in the rainy season from July to August. Going to Vietnam during this season, sunscreen is a must to avoid the dreaded sunlight.
September, October, and November correspond to the autumn and the best time to visit northern Vietnam. Travelers are likely to experience pleasant mid-tempered days with low humidity and sunshine. 
March and April are the best time to visit too. You will expect more possibility of rain showers as it is the start of the first hot season. The temperature is from 25-35 degrees with moderate humidity and sunshine. 
November to April is best time to visit Northern Vietnam
It is recommended that you visit the main cities such as Hue, Danang, Quy Nhon between late February to May. Especially, Hoi An is perfect for a beach escape from March to July when the weather is relatively hot and dry. When it comes to a beach holiday, a swimsuit is a must. A pair of sunglasses also make you look great and ward your eyes against the fierce sun. If you want to visit some religious sites, bring along below-the-knee skirts or trousers.
Two most prominent towns in the highlands, Dalat and Buon Me Thuot, are generally cool throughout the year. Do expect some fog and high humidity late at night and in the morning. The best months to go are from October to May. 
Hoi An is perfect for a beach escape from March to July
May to November is the rainy/monsoon season. You will expect downpours nearly every afternoon, which sometimes causes street flooding in Ho Chi Minh City. Keep your digital belongings on a ziplock bag to prevent water. When you go out, carry an umbrella or a raincoat. Or else, you can find a convenient store on the street to buy one when it rains suddenly.
In case you think about a beach vacation, this destination has its rainy season starting in September and ending in January. Con Dao island is ideal for visiting around February and August. 
During the rainy season, the weather is unstable with heavy rains, high humidity and sometimes heat haze.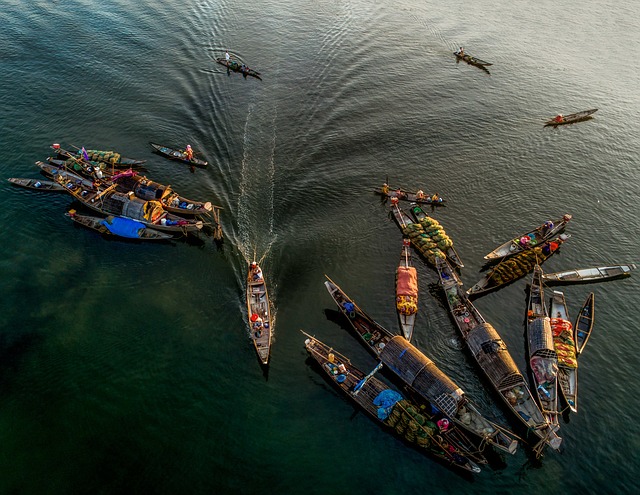 See more: 
– What To Know About Rainy Season in Vietnam?
Top-rated Cities To Visit In Vietnam
Hanoi
Set in the heart of Northern Vietnam, Hanoi has been the capital city for more than a millennium. No wonder it puts on an antique vibe from rustic terraced houses covered with mossy tilts. The Old Quarter, the remaining of the oldest part of the city features long, narrow alleys, revealing some significant strokes of French and Chinese design during colonial periods. 
Halong
Perching above the Northern coastline, Halong is unquestionably a must-visit destination in an excursion to Vietnam. Also known as Land of the Descending Dragons, Halong Bay is an island complex with nearly 3000 islands dotted with magnificent grottoes, creating ethereal beauty. An overnight cruise in the Bay not only takes you close to nature but also gives you a chance to witness the daily life of local fishers living nearby.
Sapa
Sapa is a small town in the northern mountain ranges of the Tonkinese Alps, right before the shared borderline with China. Fansipan, the rooftop of the Indochina peninsula, is the most popular attraction for adventurous souls in Sapa. The high concentration of various ethnic minorities also creates an outstanding characteristic of Sapa with boundless rice terraces hiding small houses of the hill tribes. Conquering the Fansipan or trekking along local villages are top-picked experiences in Sapa.
Da Nang
Da Nang is an emerging city in terms of tourism. Mother Nature grants the city pleasant weather with an abundance of sunlight, ideal for recreational activities and vibrant festivals on the turquoise beaches. Ba Na Hill, with the newly completed Golden Bridge, is a magnet for international visitors.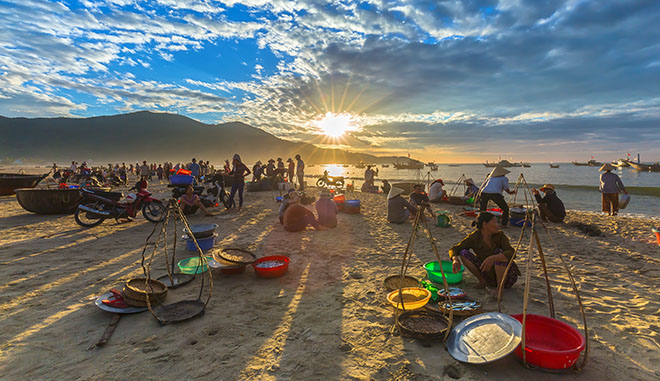 Hoi An
Rustic and elegant, that's what you feel about Hoi An, an ancient town in the middle of Vietnam. Used to be the most bustling port in Southeast Asia, Hoi An still preserves its heyday in quaint cobblestone streets embracing small yellow houses selling gorgeous handicrafts. That's why it was acclaimed as a World UNESCO Site. Also, Hoi An is famous for its excellent cuisine culture with an array of dishes such as Mi Quang, Banh mi.
Ho Chi Minh
Ho Chi Minh or Saigon is the commercial hub in Southern Vietnam. The city is replete with high-rise buildings and state-of-the-art shopping malls. However, there are still plenty of remnants from the good old days left in the Notre Dame Cathedral, Ben Thanh Market, the Reunification Palace, and the War Remnants Museum. Cu Chi tunnel, approximately 40 km from the city center is another historical witness for the history of Ho Chi Minh. Here you can also find lively nightlife in sleepless bars and pubs.