Do you have any plan to visit Hanoi – the capital of Vietnam? If you have a Hanoi tour, take the chance to visit historical places and enjoy the most famous and delicious dishes, especially Pho.
Thach Lam, a famous writer wrote in "Hanoi, Thirty Six Streets" that "Pho is a special dish of Hanoi. It is not only in Hanoi, but it is delicious just in Hanoi". What an exact verdict! At anytime, in the past or now, Pho Hanoi has still remained its unique favor. CNN Go listed Pho at number 28 on "World's 50 most delicious foods" in 2011.
Pho Hanoi is a great combination of Bánh Phở (linguine-shaped rice noodles), broth, meat and some spices. Bánh phở requires appropriately toughness and write color of rice. Pho is delicious or not depending on Broth. Broth is cooked by simmering beef bones with spices such as ginger, coriander seed, cinnamon, clove and herbs. Pho is served with beef or chicken, lemon, chilli, vinegar. Especially, Hanoi-styled pho is eaten with quẩy (fried bread). However, it has tasty and speacial favor depending on not only experience but also arcana of chef.
Nobody knows exactlly time appearing pho, but it is estimated to exist more than 100 years. This was only beef pho in the early period, and it is not until 1950s that chicken pho was born. During the subsidy period, "Pilotless pho" ,which included only bánh phở and broth, was served. In the past, sá sùng, also known as peanut worm, was used when simmered with beef bones to savour sweetness of broth. It is worth noting that mobile "pho ganh" was served in every coners of Hanoi by vendors was very popular and it was an indentity of Hanoi at that time.
"Pho ganh" now is beautiful memory about old Hanoi. Nowadays, it is very easily to find a pho restaurant. Some ingrediants are omited like peanut worm. pho also has various kind, for example, under-done or stir-fried beef pho. From pho, many related to dishes make use of pho noodles including pho cuon (rolled pho), pho xao (stir-fried pho). Instead of tasting pho in sidewalk by vendors in the past, you can find some famous pho restaurants such as Pho Thin, pho 10 Ly Quoc Su, pho Hang Dong,etc.
Thousands of word can not describe attraction and delicious favor of pho, an identity of Hanoi cuisine. If you still doubt about the verdict of Thach Lam, please taste for yourself!
Tours in Hanoi
Hanoi Street Eats and Market Tour
One of the factors making up the Thousand Year Hanoi's historicalis Hanoi traditional food. It's not only nice in the way they cook, also nice inthe taste of each dishes. Diversity, plenitude, Hanoi traditional foodis the meeting of elite culinary since thousand years and delicious foodis gift from Vietnamese's ancestor. In addition, yin-yang balance inyour dishes as more attractive and will definitely stay deep in your mind. That's wonderful when you walk around Hanoi old quarter, drink fresh beer ( Bia Hoi) with snack, try Vietnam's rice noodles (Pho bo, Pho Ga, Bun Cha) or stopping in the café and enjoy ourtraditional coffee and feeling about our taste.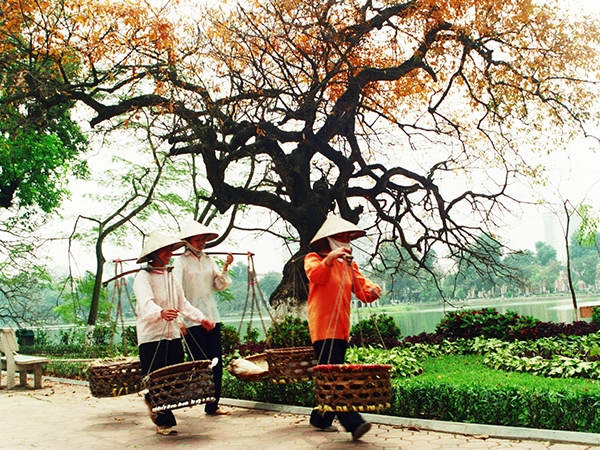 It is said that tour to Southeast Asia is believed to be incompleted unless you visit Hanoi where is known as the "Paris of the East". A visit to Hanoi will let you explore the hidden beauty of the Northern region. You can book Hanoi Tour Package withTravel Sense Asia. The incredible vivacity and intense charisma of the Asian Colonial Capital will leave you spellbound the moment you will arrive here. Hanoi Tours allows you get an insight into e the culture and the history that has been attracting visitors from all over the world. Set yourself for a journey that will leave lasting impression on your mind.